Bharatiya Poshan Krishi Kosh
---
On 18th November, 2019, the Union Ministry of Women and Child Development (WCD) along with Bill Gates, co-chair of Bill & Melinda Gates Foundation launched the Bharatiya Poshan Krishi Kosh (BPKK), to address the menace of growing malnutrition in the country.
Aim
To reduce malnutrition through multi-sectoral results-based framework which includes agriculture, among women and children
To promote primary dietary practices
Need
Increasing Modern Food System: The advent of modern food systems has resulted in a loss of knowledge on and consumption of traditional and local nutrient-rich foods in favour of less nutritious industrialised and processed food products, leading to rise in health related issues in all age groups.
Lack of Diet Diversity: There is lack of diet diversity in the country, which is one of the major reasons for the prevailing malnutrition.
Rice and Wheat Dominance: In the last few decades, only two cereals- rice and wheat has been the mainstay of the Indian diet, over shadowing all other nutritional cereal grains.
About BPKK
The BPKK will serve as a repository of diverse crops across 128 agro-climatic zones in India for better nutritional outcomes.
In consultation with WCD Ministry and the foundation, the project team will select around 12 high focus states which are representative of the geographical, social, economic, cultural and structural diversities of India.
In each of the states or group of states the team will identify a local partner organization which has relevant work experience in Social and Behavior Change Communication (SBCC) and nutrition for developing the food atlas-Poshan Atlas.
Further, a five-point action programme has been proposed to make India nutrition secure-

To ensure calorie rich diet for women, expectant mothers and children
To ensure intake of proteins in the form of pulses to eradicate protein hunger in women and children
To eradicate hidden hunger due to deficiency of micro nutrients like vitamin A, vitamin B, Iron and Zinc
To ensure clean drinking water supply
To spread nutrition literacy in every village particularly in mothers with children less than 100 days' old

The five point action programme aligns with different Sustainable Development Goals (SDGs) such as SDG 2 (Zero Hunger), SDG 3 (Good Health and Well Being) and SDG 6 (Clean Water and Sanitation).
Poshan Atlas
The ministry along with the Harvard Chan School of Public Health and the Bill and Melinda Gates Foundation will document and evaluate promising regional dietary practices and the messaging around them and develop a India's First Poshan Atlas, under POSHAN Abhiyan, government's multi-ministerial convergence mission with the vision to ensure attainment of malnutrition free India by 2022.
Importance
The POSHAN atlas will map the crops and food grains grown in different regions of the country because the solution to tackling malnutrition lies in promoting regional cropping patterns and embracing local food that are rich in protein.
The information gained through the Atlas will be disseminated at the district level for implementation through cooperative tasks among all the stakeholders - farmers, food supply intermediaries and consumers
Significance
Guiding Force: It would serve as guiding force, propelling parents and communities to rethink on what to feed and what to consume.
Push for Behaviour Change: Awareness and knowledge about our crop diversity and regional variations in nutritious food will provide a nudge for behaviour change across the country propelling demand which, in turn, will provide opportunities to farmers and agro-processing units to address consumer needs.
Different Collaboration for Better Result: Further, the project would see government, academia, the scientific community, private sector and cultural groups join hands and take a major step towards finding local, workable solutions to be implemented at community levels.
Global Hunger Index – 2019
---
On 16th October, 2019, annual Global Hunger Index (GHI), a report jointly published by Irish aid agency Concern Worldwide and German NGO Welthungerhilfe was published.
The 2019 GHI - the 14th in series, presents a multidimensional measure of global, regional, and national hunger around the globe.
Major Highlights of the Report
India and Neighbouring Countries Findings
India is ranked 102 of 117 countries in the GHI, 2019, behind its neighbouring countries. Its GHI score has also decelerated — from 38.9 in 2005 to 32 in 2010 and then from 32 to 30.3 between 2010 and 2019, putting it in the serious hunger category.
The share of wasting among children in India rose from 16.5% in the 2008-2012 period to 8% in 2014-2018.
India's child wasting rate is extremely high at 20.8% - the highest wasting rate of any country in this report for which data or estimates were available.
India's child stunting rate, 37.9%, is also categorized as very high in terms of its public health significance.
However, India has shown improvement in other indicators such as the under-5 mortality rate, prevalence of stunting among children and prevalence of undernourishment owing to inadequate food.
The report also mentions the central government's Swachh Bharat programme.
Neighbouring countries like Nepal (73), Sri Lanka (66), Bangladesh (88), Myanmar (69) and Pakistan (94) are also in the serious hunger category, but have fared better at feeding its citizens than India, according to the report.
China (25) has moved to a low severity category and Sri Lanka is in the moderate severity category.
Global Findings
Out of 117 countries that were ranked, 43 countries have serious levels of hunger.
South Asia and Africa South of the Sahara are the regions with the highest 2019 GHI scores, at 29.3 and 28.4 respectively, indicating serious levels of hunger.
One African country, the Central African Republic, suffers from a level that is extremely alarming, while four countries—Chad, Madagascar, Yemen, and Zambia—suffer from levels of hunger that are alarming.
The GHI scores for Eastern Europe and the Commonwealth of Independent States, Latin America and the Caribbean, East and Southeast Asia, and the Near East and North Africa range from 6.6 to 13.3, indicating low or moderate hunger levels.
Seventeen countries, including Belarus, Ukraine, Turkey, Cuba and Kuwait, shared the top rank with GHI scores of less than five.
Global Hunger Index
The GHI scores are based on a formula that captures three dimensions of hunger—insufficient caloric intake, child undernutrition, and child mortality—using following four component indicators:

Undernourishment: The share of the population that is undernourished, reflecting insufficient caloric intake.
Child Wasting: the share of children under the age of five who are wasted (low weight-for-height, reflecting acute undernutrition.
Child Stunting: the share of children under the age of five who are stunted (low height-for-age, reflecting chronic undernutrition.
Child Mortality: the mortality rate of children under the age of five (partially reflecting the fatal synergy of inadequate nutrition and unhealthy environments).

The GHI ranks countries on a 100-point scale, with 0 being the best score (no hunger) and 100 being the worst, although neither of these extremes is reached in actuality.
Values less than 10.0 reflect low hunger; values from 10.0 to 19.9 reflect moderate hunger; values from 20.0 to 34.9 indicate serious hunger; values from 35.0 to 49.9 are alarming; and values of 50.0 or more are extremely alarming.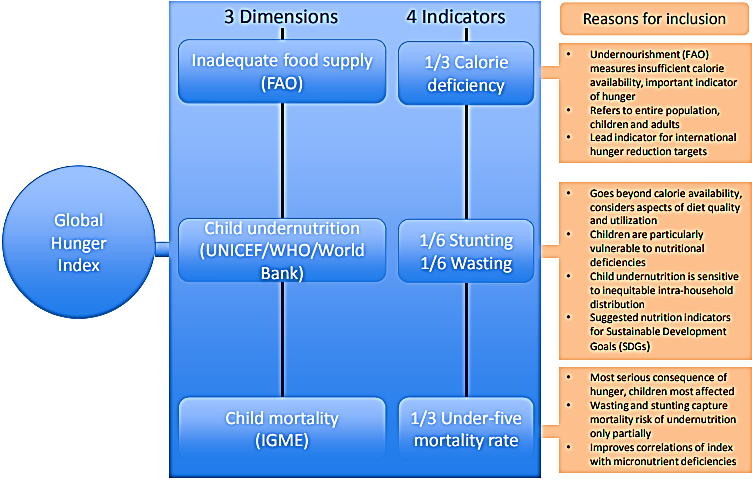 Source: ZEF
Significance
The Global Hunger Index (GHI) is a tool designed to comprehensively measure and track hunger at global, regional, and national levels.
It shows that while the world has made gradual progress in reducing hunger on a global scale since 2000, this progress has been uneven. Hunger persists in many countries, and in some instances progress is even being reversed. The GHI highlights where more action is most needed.
This year's report focuses on climate change, an increasingly relevant threat to the world's hungry and vulnerable people that requires immediate action.
Impact of Climate Change on Food Security
Climate change has direct and indirect negative impacts on food security and hunger through changes in food production and availability, access, quality, utilization, and stability of food systems.
Impacts on Food Production
Food production is likely to fall in response to higher temperatures, water scarcity, greater CO2 concentrations in the atmosphere, and extreme events such as heat waves, droughts, and floods.
.Climate change will also increasingly affect water resources for food production as it alters the rates of precipitation and evaporation as well as groundwater levels. At present, 1.8 billion people - just under one-quarter of the world population—live in water-stressed areas, and this number is expected to grow to about half of the world population by 2030.
Climate-related disasters, namely droughts, floods, and storms, account for 80 percent of all internationally reported disasters.
Impacts on Food Access
Climate change can affect food prices and consequently food access, impacting badly a major chunk of hunger ridden population around the world.
Given the high degree of cross-connectedness between global food systems, more frequent and extreme events in one region have the potential to disrupt the entire global food system.
Low-income countries are understandably deeply concerned about their food security and their capacity to adapt to climate change, especially given that low-income countries and vulnerable people cannot easily absorb or adjust to sudden shocks.
Impacts on Food Quality and Nutrition
Climate variability can also affect nutrition and food safety in several ways. Climate change may reduce production and thus reduce food availability even further. Alternatively, it may extend the lean season, thus exacerbating the negative effects on people's nutrition.
In addition, climate change can worsen the nutritional value of the food that is cultivated. Higher CO2 concentrations reduce the protein, zinc, and iron content of crops. As a result, by 2050 an estimated additional 175 million people could be deficient in zinc and an additional 122 million people could experience protein deficiencies. These impacts will be felt most keenly by people living in poverty, who depend heavily on plant sources for their nutrition.
Climate change will also affect other crops and food sources that are essential for good nutrition and food security.
Finally, erratic rainfall and higher temperatures affect the quality and safety of food. Higher rainfall intensity leads mold to grow on field crops, with some strains producing toxins, such as aflatoxins, that can lead to stunting among children.
Inadequate post-harvest management practices as the result of changing growing conditions lead not only to loss of food in terms of quantity but to a degradation in quality, including its nutritional value.
Impacts on Food Value Chain
A changing climate may worsen food losses in a global food system in which massive amounts of food are already lost or wasted.
Given that the current food system contributes 21–37 % of total net anthropogenic emissions, these losses exacerbate climate change without contributing to improved food security or nutrition.
It can exacerbate this situation in low- and middle-income countries. Changing rainfall patterns can make crops more vulnerable to pests and fungal infections, leading to losses in both food quantity and quality.
Way Forward
Climate change is affecting the global food system in ways that increase the threats to those who currently already suffer from hunger and under nutrition.
In this context, ending hunger and under nutrition demands large-scale action that seeks to address the inequities raised by climate change while staying within planetary boundaries.
It requires ambitious leadership showing that an alternative future, including adaptation and mitigation actions on a broad scale, is possible.
Global solidarity with the most climate-vulnerable communities and countries must be fostered, and high-income countries must take responsibility for mitigating causes and supporting low- and middle-income countries in adapting to these changes.
Furthermore, good governance, capacity building, participatory planning, and downward accountability are essential to help people and institutions negotiate and define measures that are fair and sustainable.
Achieving these goals will require a radical transformation that enables changes in both individual and collective behaviors and values and a fairer balance of political, cultural, and institutional power in society for the benefit of the food security and nutrition of all people.
---