'Role' more than 'Rule' is important for today's Civil Servant
Winner Of CSC September 2021 Essay Competition : Harmanjot Singh Gulmohar City, Jalandhar (Punjab)
---
"Administration is meant to achieve something and not to exist in some kind of an ivory tower following certain rules of procedure and Narcissus-like looking on itself with complete satisfaction.The test after all, is the human being and their welfare."
– Pandit Jawaharlal Nehru
Civil Services: Steel Frame of our Country
Civil services, since independence, has been regarded as the steel frame of our country. From the echelons of high offices of superior officers to the last rung peon, civil services has a strong presence and foundation in our country. Civil servants perform a magnificent range of services from railways to public sector units, and from district administration to policy making.
Articles 308 to 323, under part fourteen of the Constitution, deal with civil services and various incidental and supplementary matters related to it. Our great national leader, freedom fighter, and unifying force of country 'Sardar Vallabhbhai Patel' envisaged a robust and efficient civil service, full of strength, to fulfill the vision of father of our nation Mahatma Gandhi.
But, sadly, our steel frame is experiencing rusty trends that range from corruption, apathy, inefficiency, partisan behaviour, regular interferences, and lack of modern day technology-driven approach on a large scale. The dominating reason for this state of affair is conventional civil services approach.
Conventional Civil Services Approach
Conventional civil services approach or 'rule' based approach is traditional style of governance that we borrowed from our colonial masters. This approach lays stress upon legislative acts, conduct rules, departmental regulations and bye-laws, with other administrative conventions as the guiding light for service delivery and governance.
This type of governance suffers from a serious lack of contact with the ground realities. The 'rule' based civil service is present across the length and breadth of our country and at times, it acts as a hindrance in nation-building.
In order to galvanize our steel frame from rusting, our Prime Minister with leading think-tank Niti Aayog and other public and private sector entities, tasked a mission named "Karmayogi"- National Programme for Civil Services Capacity Building (NPCSCB). In the 'Mission Karmayogi', we can find essence of intelligent guidance of Second Administrative Reforms Commission. All these developments lead us to a new form of civil services – the modern civil services.
Modern Civil Services Approach
Modern civil services approach or 'role' based approach towards civil service deals with matters related to civil service, service delivery, and governance from outcome point of view and not from only fulfilling formal requirements. 'Role' based approach envisages 'role' not 'duty' as the main characteristic of the modern civil services. It tends to break the rigidity of traditional civil services and gives due respect to flexibility required on the ground by any committed civil servant.
It enables a civil servant to understand ground realities and come out with innovative, out of the box wisdom of self and community, powered with technology, to get desired and required outcomes.
Niti Aayog's 'Aspirational District' administrative structure demonstrates role based approach followed by administration's members with a sharp focus on outcomes. 'Role' based approach greatly relies on the capacity of members to produce outcomes. Thus, capacity building is an integral part of 'role' based civil services.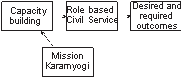 'Role' based civil services helps in not only ameliorating unfavorable effects of 'rule' based civil services but also helps meet nascent challenges.
'Role' based civil services drives service delivery in the march of our welfare state in well-targeted, analysed, and planned manner. It ensures that no one is left behind, that none of the needy citizens are out of the nets of social security and that the hard-earned money of tax-payers is put to good use. It leverages technology-enabled platforms like public finance management system, unified payment interface to foster direct benefit transfers and helps in setting examples of quality governance.
It helps in checking corruption, inefficiencies and interference of bad intent. 'Role' based civil services tries to inoculate new public administration approach as recommended by the Second Administrative Reforms Commission.
'Role' based civil services promotes a civil servant in the role of 'service delivery' and to provide quality governance. Thus, setting up of a transparent and accountable framework for civil servants, that will discourage partisan approach as well as undue interferences.
A 'role' based civil service will help us in setting up a benchmark for civil services around the globe. The pandemic raging around the world has shown significance of welfare governance that is needed by all countries - developed, developing and least developed. 'Role' based civil service will set up virtuous cycle of universal good governance.