Role of Research and Innovation in India's Economic Growth
Winner Of CSC May 2022 Essay Competition : Deepika Singla
---
Historically, technological progress via new innovations has been a key force behind sustaining economic growth, improving living standards and offering better health outcomes. In the present era too, innovation has shown that it is the savior of human civilization. Innovation has been at the forefront of our battle against the unprecedented crisis created by the pandemic, and will be pivotal in driving the country's resilience and self- reliance.

Realizing this India is making great initiatives to become the part of global innovation hub. This has been evident by India's rising trajectory, over the past several years in the Global Innovation Index (GII) of the World Intellectual Property Organisation from a rank of 81 in 2015 to 46 in 2021. This boost to innovation culture has helped India to maintain a reinvigorating economic growth in the country.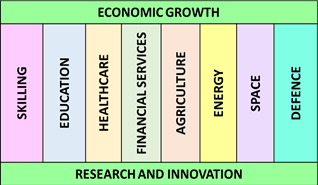 Innovation Fueling Economic Growth in India
Be it skilling, education, healthcare, financial services, agriculture, environment, energy, space or defence, research and innovation plays a crucial role in propelling the economy, leading to acceleration of economic growth.
Skill and Education: Education and skills improve human capital of the country. Realising this India has continuously made innovation in education by making elementary education a fundamental right and then synchronising policy on education with changing needs. Currently the education ecosystem is at the intersection of the offline and online modes due to the pandemic. This has greatly accelerated digital adoption in education delivery. So new initiatives like STARS project, Happiness curriculum of UP government, 'Unnayan: Mera Mobile, Mera Vdyalaya' mobile application, etc. will help to add to human capital, increasing economic growth.
Healthcare: Healthy and productive demographic dividend is an important ingredient of economic growth. Research and innovation plays an important role in promoting healthier lifestyles; medical and pharmaceutical innovations have led to more effective treatments against a wide range of diseases. Telemedicine; Biofortification of crops to improve nutritional security; development of eCovSens, Feluda test, COVIRAP, etc. for rapid testing of COVID; Plasma therapy, Covaxin, BBV154 vaccine, etc. for COVID treatment and discoveries like hydrogel derived from spirulina for rapid recovery of injuries in diabetic patients; etc. have highlighted role of innovation in maintaining healthy population.
Financial Services: Financial system is an integrated part of the economic system. With increasing complexity of business processes and emergence of new financial risks, financial innovation becomes necessary to propel economic growth.
There are many financial innovations that have had a significant positive effect on the economy like venture capital, microfinance and various financial technologies like automated teller machines, National Electronic Fund Transfer (NEFT), mobile- banking, online share trading, E-banking, etc. RBI has allowed payment upto Rs 200/ transaction in offline mode to give push to digital transactions in areas with poor internet connectivity. Further, the UPI service which was limited to smartphones will be available for feature phones without internet connection. Such innovations have made credit available and accessible to wide range of customers and increased digital financial inclusion.
Agriculture: Agriculture is the backbone of Indian economy providing employment to more than 50% population. Genetic modification of crops to improves yield and quality; use of fertilizers, pesticides and improved agricultural implements; PUSA decomposer and torrefaction technology to reduce stubble burning and convert them into resource of increasing income; etc. have helped to improve the efficiency of agriculture. These innovations in agriculture have helped to increase productivity and increase farmer's income boosting rural economy thereby strengthening backward linkages of economy.
Environment: A clean and healthy environment is must for sustainable economic growth. Huge expenditure is required to manage the harm caused by unclean and deteriorating environment. The development of new technologies like Artificial leaf, Khadi Prakritik Paint, electric vehicles, use of fly ash in concrete production, soil stabilization, green crackers, ENFUSER, plasma arc gasification technique, use of bacterium Zobellella denitrificans ZD1, etc. for reducing carbon dioxide emissions, waste management and mitigating pollution have helped to keep the economic growth within carrying capacity. Such innovations can help to avoid the extremities associated with changing environment resulting in loss of life and livelihood. Thus, people can contribute effectively to the economy.
Energy: Energy is an essential driver of economic growth. Innovation to harness the potential of renewable resources like sun, water and air and other resources like hydrogen, helium, Dimethyl ether to derive energy to meet the increasing energy demand help in contributing to the growth of economy. Moreover technologies to convert waste to energy resources like CSIR- Indian Institute of Chemical Technology's high rate biomethanation technology based on Anaerobic Gas lift Reactor, Integrated Municipal Solid Waste disposal system, etc. have helped India convert waste to wealth.
Administration: Good governance is the foundation stone for a country aspiring for economic growth. A government that is responsive, accountable, transparent and efficient in delivery of services helps its citizens to develop their capacities and work in full potential contributing to economy.
Innovations in public service can serve as a core driver for ensuring competitive, efficient, cost-effective and accountable public administration. The innovation in administration could be related to technological solutions, better management of processes and practices, strengthening citizen rights and revamping governance models. Mission karmyogi, mygov, Portals like e-Chhawani, e-dakhil, UMANG, etc. all are innovations in administration which ensure efficient, effective, responsive and transparent government.
Space: Innovations in space such as RESOURCESAT, INSAT, BHUVAN, CAPE,
FASAL, EDUSAT, etc. play an important role in sustenance and functioning of sectors like agriculture, weather, communications, military, defence, banking, monitoring, and surveillance, etc. They help to provide national space infrastructure for telecommunications and broadcasting needs of the country, provide satellite services required for weather forecasting, monitoring, etc., provide satellite imagery required for the natural resources survey, management of natural disasters, public good services and monitoring of environment in the country. All these developments are necessary to keep the economy of a country in healthy state.
Defence: Defence sector can be the catalyst for the growth of the Indian economy. It can play an instrumental role in making India a $10 trillion economy by 2030. As India imports 60% of its defence weapons from foreign markets, innovation in defence sector can help in encouraging indigenous design, development and manufacture of defence equipment thereby reducing dependency on imports in the long run, safeguarding its forex reserves, boosting industrial development and creating employment opportunities promoting virtuous cycle of economic growth.
Stumbling Blocks
Research and innovation which form the bedrock of economic growth of a country is crippled with numerous challenges in India- economic, political and social- that hinder its qualitative growth. With the expenditure less than 1% on research and development, the new inventions to tackle the emerging challenges cannot be taken in full swing.
Adding to the fire is low availability of skilled scientific R&D professionals either due to brain drain, lack of an effective education curriculum imparting necessary skills, poor scientific outlook of youth or lack of career opportunities in basic sciences. The admission in science stream during senior secondary classes does not turn into an equal number of science graduates and post-graduates.
'Lab to land' time is too long in India whereby the rate of transfer of innovations from laboratories to field for society benefit is very slow. The link between research, higher education and industry is not only nascent but weak too resulting in poor information dissemination and marketing of the technological innovation. Further only the experienced and established products and technologies get support of government and industry. Bureaucratic hurdles, procedural delays and complexities are slowing down innovation.
Get the Ball Rolling
The innovative startup challenges being launched by government in different sectors like iDEX, etc. are a welcome step. The need of the hour is to increase investment in research, development and innovation not just via the budgetary support but by roping in the private sector as well. Focus should be shifted to brain drain and efforts should be made for promoting brain gain via incentives, scholarships and providing ample opportunities for career advancement. Awareness has to be created among teenagers and youth to think beyond doctor and engineering profession after opting for science stream. The culture of science, technology and innovation need to be made a reality where each component does not work in isolation but in synchronization as envisaged by Science Technology and Innovation Policy. If the fruit of economic growth is to be reaped, it is necessary to sow the seeds of innovation.