Engineering Shines Despite Challenges
With more than 6200 engineering and technical institutions enrolling close to three million students with about 1.5 million of them in the job market every year, engineering has cemented its positions in the minds of the students as a promising career. Careers are always a hot topic- you will hear various career options being talked about and preferences shifting over time but there are a few classic ones that continue to be the most preferred choice, one of them being engineering.
Engineering & Technology, according to the AISHE Report 2017-18, is the third major stream with an enrolment of over 40 lakh students in UG courses and 1.92 lakh students in PG courses. Though the stream has seen a slight decline in the last two years in student enrolments but if seen over a span of few years, it has only risen - from 27.5 lakh in 2012 to 40.1 lakh in 2018 in UG courses and 1.45 lakh in 2012 to almost 2 lakh in 2018 in PG courses.
What are the Challenges?
Though this career choice has constantly been basking in the glory, there are equally enough challenges that it brings along. Firstly, according to academicians, there is a need to constantly tune the curriculum of the courses with needs of the market and also introducing newer courses so that the graduates are ready for the market. There are thousands of institutes which exist to cater to the lakhs of students in this field and the number of institutes is growing year on year. Except for a few of the well-known quality institutes, nobody- neither the students nor the parents are sure of how the results of their investment is going to turn out to be. There are many institutes that just exist for the business not focusing on what they are producing for the industry.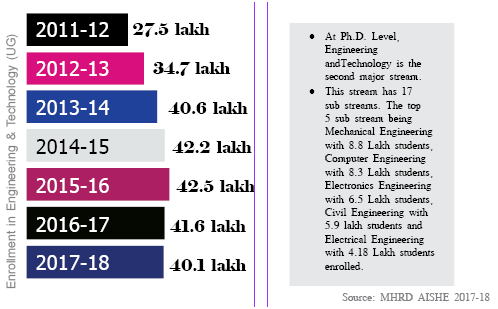 Exposure to Reality
Engineering & Technology majorly involves technical concepts and subjects. It becomes essential for students to be exposed to examples of the use of engineering principles as applicable in real situations. The problem of less exposure to real life has constantly been highlighted and considered to be limited at present. Along with it also comes the aspect of industry exposure given to students; industrial visits, seminars etc. are definitely being practiced in institutes but a check on how effective are these would really help, as exposure to the industry while gaining education widens the thought process of the students.
Soft Skills & Automation
A common problem as seen by the educators is that the education is more text book focused and hence application of what students learn, or developing soft skills take a back seat. Engineering calls for lateral thinking, this does not happen in many cases. Also, companies prefer candidates with good communication skills which has become a major challenge in placements for many students.
Another challenge right now is that of automation, IT companies are recruiting less people now as they shift increasingly to automation. Companies are looking for niche skills for core product development which they find lacking in the students.
Nevertheless, a Promising Career
Being a field of creativity and challenges, engineering also offers a wide range of specializations to choose from. The most preferred ones being, Mechanical, Electrical and Computer engineering; the latest one catching up on trend is Mechatronics engineering which combines the aforementioned together.
With constant endeavor, numerous growth opportunities will be lined up for you. Initially, it may seem to be as a not very rewarding job but once you're into it, discovering new ideas and applying them, then certainly, sky is the limit. Also, interestingly, engineering based education develops your skills like problem solving, innovating, project management, team working that allows to give exposure to transfer those skills in various other industries and careers. After certain years of corporate exposure, one may even consider shifting to a different career- say management, marketing, government jobs or anything else that interests you.
A Strong Potential
For a soon-to-be fully developed India, engineering is the fulcrum around which the wheel of growth will revolve and the country has all the potential for this to happen. In spite of the challenges, it won't be wrong to say that engineering is a better skill and area to prove one's determination. This field boasts of varied employment potential ranging from the core to allied fields like Informational Technology. What is important to be noted is that, engineering is never static; fairly it is dynamic and always looking for ways to connect to numerous fresh areas beyond the ordinary.
Engineering education being what it is today, a student can modify their own specialization and sub-specialization. Also, with new curriculum shaping up as and when necessary, students have a good level of flexibility to take up new courses and open electives like languages, product design, sports, law, IPR, philosophy, hospitality management, etiquettes and mannerisms and public speaking, to mention a few. Induction of training programmes; a good number of lectures from industry experts; hands-on experience; and of course, the potential for research, innovation and entrepreneurship- these are a few measures that makes an engineering degree more effective.
Many premier engineering and technology schools are already starting to identify and foresee the challenges and putting in their best efforts to generate the endless potential that engineering graduates can have and hence making them fit and desirable for their industry on a global level.