The desire to be one's own boss, the willingness to develop and nurture a plan right from the ground level, to have things in owns control, the motivation to explore unexplored opportunities and take risks, any of these or all of them could be your kick to set out on the path of entrepreneurship.
There is no denying the fact that entrepreneurship has become one of the most pursued career choices off lately. A few momentous in like opening of the world economy in 1990's have unlocked new and unexplored horizons for ambitious ones who do not want to be put into a pre-decided "good career" bracket.Irrespective of one's area or level of study, fueled by the determination to innovate, lead, pioneer and compete in the global market, many have chosen to begin their own start-ups.
So what do you require to become an Entrepreneur?

To become an entrepreneur, talking in terms of academics, there is no specific eligibility criteria that you need to fulfill. A strong business background, however, may be of great help while stepping in the area of entrepreneurship. Things work out differently for every individual. For instance, many people eschew the MBA degree and go on to launch their companies based on their planning and research whereas there are others who opt for a MBA degree before setting out on their start up journey. Another thought that people take up is to hone skills of the industry they're willing to set their venture in; say for example you are an aspiring restaurateur, you might want to work on your culinary and hospitality skills, practically and theoretically, by taking up a specialized MBA or a certificate course which will train you well in your field.
Entrepreneurship is not just about running a business, it is about creating something new that has a market can solve some issues and holds the potential to earn profits. Apart from academics and technical skills, you need to be well thought on a few essential aspects before joining the bandwagon which are as follows:
The idea/ concept and its demand
Process of developing and promoting your product/ service
Networking with the right people
Funds sufficiency to start and sustain the plan until you start earning profits
How important is a Management Degree for Entrepreneurship?

Mark Zuckerberg, Evan Williams, Steve Jobs, Bill Gates, Michael Dell etc. are some of the most successful entrepreneurs that the world knows today and guess what, they do not hold a MBA degree. But does that mean MBA does not hold any value if you want to become an entrepreneur? For every non-MBA successful entrepreneurs, there are even more entrepreneurs with MBA degree who have made an impact too- Mart T.Barra of GM Motors, Tim Cook of Apple, Phil Knight of Nike, Elon Musk of Space or for that matter let us consider a few Indian entrepreneurs- Abhinay Choudhari of Big Basket, Sanjeev Bhikchandani of Naukri.com and Richa Kar of Zivame are all B-School graduates, currently leading in their field.
Though there cannot be a clear answer as to if MBA is really necessary for entrepreneurship, as we've heard success stories of entrepreneurs with and with a MBA, but surely a few ways a MBA degree can really help in your process of becoming an entrepreneur are listed below:
B-Schools is a safe opportunity for you to test your most creative and ambitious ideas without the pressure of failure. With teachers, mentors and other guidance, you'll get really valuable insights as to how and why your plan may or may not work.
It will build up a foundation for you. Gaining knowledge on "how to?" of various processes (say funding, setting up etc.) while studying will make the journey easier for you; at the time of actual execution, you will be at a better position. Also, it will bring you into the business world and help you build your network which is essential.
The ultimate choice depends on the decision maker. It works differently for every individual and so is the case with you- you need to figure what works for you. MBA may make you a great manager but that does not suffice in case of entrepreneurship- you need to have the ability to sense opportunities and challenges, assess risks in uncertain situations apart from the abovementioned skills which one needs to acquire on a personal level. What is worthy to note here is that the learning that you will gain from starting a company would probably be more as compared to doing an MBA. While on the other hand, MBA certainly offers great value, but you need to assess it for yourself in terms of willingness to spend, how much do you want to wait before starting and other factors that matter to you. Most importantly, if you have just the right plan and determination, sky is the limit for you in the entrepreneurial world.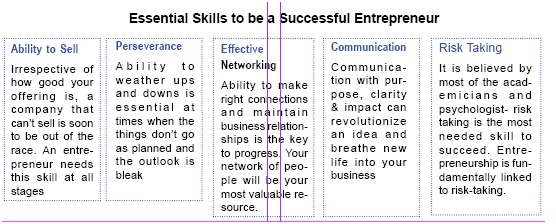 Institutes offering Specialized

MBA in Entrepreneurship

MBA in Entrepreneurship is focused on developing the entrepreneurial skills needed to start, fund, and manage your own business, as well as overcoming the inevitable setbacks that derail new businesses ventures.For some, the degree provides big help in terms of building professional network, seeking funding and building a foundation. Here are a few courses in India offering specialization in Entrepreneurship:
Management Programme for Entrepreneurs and Family Businesses, IIM Bangalore
PGDM- Business Entrepreneurship, Entrepreneurship Development Institute of India, Ahmedabad
MBA (Entrepreneurship & Family Business) - NMIMS, Mumbai
Master of Arts (Social Entrepreneurship), Mumbai
PGP for Certificate in Entrepreneurship Management, XLRI, Jamshedpur
MBA (Innovation & Entrepreneurship), SIBM, Pune