National Mission On Interdisciplinary Cyber Physical Systems
In the era of Fourth Industrial Revolution, Government of India needs to enable revolution of "smart" devices and systems from smart cars to smart grids, which collectively would give rise to smart cities and address the most pressing national priorities. To realize this dream a pan India comprehensive mission which seeks to address technology development, application development, human resource development & skill enhancement, entrepreneurship and start-up development in Cyber Physical Systems (CPS) needs to be evolved.
In this scenario, the National Mission on Interdisciplinary Cyber-Physical Systems (NM-ICPS) was launched. This mission is to be implemented by Department of Science &Technology for a period of five years. The successful implementation of the mission will lead to establishment of Technology Innovation Hubs (TIH), Application Innovation Hubs (AIH) and Technology Translation Research Parks (TTRP) that would help Indian society to adopt emerging and disruptive technologies and drive economic and societal progress.
What is meant by Cyber Physical Systems?
Cyber Physical Systems (CPS) are systems that link the physical world (example, sensors or actuators) with the virtual world of information processing. They integrate sensing, computation, control and networking into physical objectsand infrastructure, connecting them to internet and to each other. It is an interdisciplinary field that deals with the deployment of computer- based systems in various areas such as smart grids, robotic systems and autonomous automobile systems.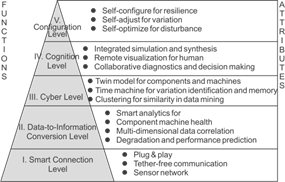 Aim of the Mission
Develop Cyber Physical Systems (CPS) and associated technologies in the country
Adoption of CPS technologies to address India specific National and Regional issues
Produce Next Generation skilled manpower in CPS
Catalyze Translational Research
Accelerate entrepreneurship and start-up ecosystem in CPS
Give impetus to advanced research in CPS, Technology development and higher education in Science, Technology and Engineering disciplines.
Place India at par with other advanced countries and derive several direct and indirect benefits.
Benefits of shifting towards Cyber Physical Systems
Improves efficiency and safety in homes and offices, for example monitoring and controlling heat and humidity in home.
Supporting elderly people living alone, for example by detecting problems (such as illness or accidents) and raising the alarm automatically, using non-intrusive wearable sensors or detectors installed in the house.
Monitoring movement of passengers in public transport system, or vehicles on a road network to ensure safety.
Optimizes crop yield and reduces pesticide/fertilizer use
Help implement intelligent, efficient production systems and manufacturing lines.
Monitor health and wellbeing of livestock and raising automatic warnings of illnesses or injuries.
Monitoring and tracking shipments intelligently for optimal logistics and stock control.
Collecting environmental data to support decision-making and public policy-setting, or to generate warnings of environmental threats such as wildfires, earthquakes or volcanic eruptions.
Monitoring human health and fitness