---
India's First E-waste Clinic
---
On 5th October, 2019, the Central Pollution Control Board (CPCB) and the Bhopal Municipal Corporation (BMC) signed a Memorandum of Understanding (MoU) to set up the country's first e-waste clinic in Bhopal, Madhya Pradesh.
Initially, it will be a three-month pilot project and being successful, it would be replicated elsewhere in the country.
The clinic is being conceived in compliance with the Solid Waste Management Rules, 2016.
Objective
The initiative would enable segregation, processing and disposal of waste from both household and commercial units.
Mode of Action
Under this, electronic waste will be collected door-to-door or could be deposited directly at the clinic in exchange for a fee.
Door-to-door collection will happen in two ways.-
Separate carts for the collection of e-waste will be designed
Separate bins will be attached to existing ones meant for solid and wet waste.
Significance
In the absence of a safe disposal mechanism, electronic waste at present is being disposed of along with other waste. The new initiative would ensure scientific handling, disposal and recycling of e- waste leading towards more sustainable e- waste management system in the country.
Electronic-waste Scenario in India
Electronic waste (e-waste) typically includes discarded computer monitors, motherboards, mobile phones and chargers, compact discs, headphones, television sets, air conditioners and refrigerators.
According to the Global E-Waste Monitor 2017, India generates about 2 million tonnes (MT) of e-waste annually and ranks fifth e-waste producing countries, after the US, China, Japan and Germany.
In 2016-17, India treated only 0.036 MT of its e-waste.
In India, among top ten cities, Mumbai ranks first in generating e-waste followed by Delhi, Bangalore, Chennai, Kolkata, Ahmadabad, Hyderabad, Pune, Surat and Nagpur.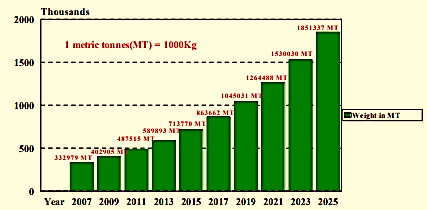 Source: Department of Information Technology
Impact of e-waste
Effect on Human Health
In India, 90 percent of the recycling and disposal of e-waste is done by the informal/ unorganised sector. Additionally, the amount of human health issues increases significantly the closer these people are to informal e-waste recycling areas.
Many of the workers are children who work with their bare hands, dealing with enormous quantities of toxic metals. The heavy metals present in e-waste are known to cause neurological and skin diseases, genetic defects and cancer in workers who handle them.
The cathode ray tubes (CRTs) present in computer monitors, with heavy metals like lead, barium and cadmium, may be harmful during the improper processing and cause an adverse impact on the human nervous and respiratory systems.
Lead and cadmium present in the printed circuit boards, beryllium of the motherboards, mercury in switches and flat-screen monitors, cadmium in the computer batteries, polyvinyl chloride (PVC) in the cable insulation and bromine in plastic housing may cause damage to the human body parts such as nervous system, kidney and liver, lungs and skin, heart, lever and muscles, brain and skin, kidney and liver, immune system and endocrine system respectively.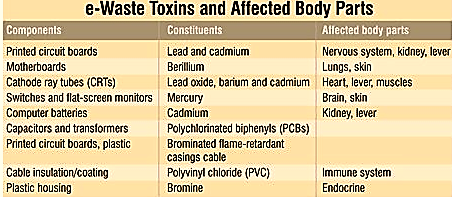 Source: electronicsforu
Impact on Environment
Effects on air

One of the most common effects of e-waste on air is through air pollution. These wastes are often burned in open air in order to extract valuable metals from the.(for ex. Copper metal), which can release hydrocarbons into the air.

Effects on soil

Due to unscientific recycling methods, toxic heavy leaches out into the soil, leading to soil contamination. These chemicals are not biodegradable—they persist in the environment for long periods of time, increasing the risk of exposure.

Effects on water

When electronics containing heavy metals such as lead, barium, mercury, lithium (found in mobile phone and computer batteries),are improperly disposed, these heavy metals leach through the soil to reach groundwater channels which eventually run to the surface as streams or small ponds of water, leading to serious health issues.
Government Initiatives
E-Waste management Rule, 2016
The Ministry of Environment, Forest and Climate Change has notified the E-Waste Management Rules, 2016 in supersession of the e-waste (Management & Handling) Rules, 2011.
It now includes Compact Fluorescent Lamp (CFL) and other mercury containing lamps, as well as other such equipment.
It brings the producers under Extended Producer Responsibility (EPR), along with targets. Producers have been made responsible for collection of E-waste and for its exchange.
The ministry is also implementing a scheme called the 'Creation of Management Structure for Hazardous Substances', which includes an awareness programme about the new Rules and its implementation.
Awareness Programme on Environmental Hazards of Electronic Waste
The Ministry of Electronics and Information Technology has initiated a pilot project 'Awareness Program on Environmental Hazards of Electronic Waste' under the 'Digital India Initiative'.
The Scheme aims to provide financial support to Societies, Academic Institutions, Industry Associations and professional organisations for organizing workshops/ seminars for schools/ colleges/ Resident Welfare Associations (RWAs)/ Bulk Consumers/ Regulatory bodies, media engagement etc. and making campaign material for wide circulation on ill-effects associated with e-waste.
Besides awareness, the programme would also undertake inventory study for estimation of the quantum of e-waste in few selected cities.
Central Pollution Control Board (CPCB)
Constituted in September 1974 under the Water (Prevention and Control of Pollution) Act, 1974, it is a statutory body, entrusted with the powers and functions under the Air (Prevention and Control of Pollution) Act, 1981.
It also provides technical services to the Ministry of Environment and Forests regarding the provisions of the Environment (Protection) Act, 1986.
Functions
To promote cleanliness of streams and wells in different areas of the States through prevention, control, and abatement of water pollution.
To improve the quality of air and to prevent, control or abate air pollution in the country.
Extended Producer Responsibility (EPR)
EPR is as an environmental policy approach in which a producer's responsibility for a product is extended to the post-consumer stage of a product's life cycle.
It can help an organisation to demonstrate a deeper commitment to reducing its environmental impact.
An EPR policy is characterised by:
the shifting of responsibility (physically and/or economically; fully or partially) upstream toward the producer and away from municipalities.
the provision of incentives to producers to take into account environmental considerations when designing their products.
Benefits of EPR
Generation of positive producer responsibility opportunities
Improved environmental credentials
Competitive advantage over others in your industry
Can create jobs in local communities
Strengthened customer loyalty
International Initiative
Basel Convention
The Basel Convention on the Control of Transboundary Movements of Hazardous Waste and their Disposal controls the international trade in hazardous wastes.
The Convention was adopted in 1989 and entered into force in 1992. Under the Convention's provisions, trade in hazardous wastes generally cannot take place:
without the importing country's written consent to a particular export
where the exporting country has reason to believe that the particular wastes will not be handled in an environmentally sound manner.
Objective
To protect human health and the environment against the adverse effects of hazardous wastes.
Aim
Reduction of hazardous waste generation and the promotion of environmentally sound management of hazardous wastes, wherever the place of disposal
Restriction of transboundary movements of hazardous wastes except where it is perceived to be in accordance with the principles of environmentally sound management
A regulatory system applying to cases where transboundary movements are permissible.
Way Forward
E-waste generation in India is estimated to increase by 500 percent by 2020. Producers, recyclers and policy-makers need to work together simultaneously to cover this gap in waste-management.
Lack of awareness at all levels including corporate is a major challenge that hampers or slows down the collection.
Governments should assist producers in driving awareness of proper disposal options and should also promote awareness of current and pending legislation as well as of available producer recycling programs.
Legislation should require recycling standards equivalent with globally-recognised standards to ensure those materials are managed in a socially and environmentally sound manner, ensuring a level playing field for all recyclers.
Apart from better implementation of existing policies, a need for strengthening of existing infrastructure through public-private partnership can play a pivotal role in balancing the deficit in recycling capabilities. Recycling infrastructure need huge boost and attention from the Government as well as from electronic and electrical product manufacturers.
Immense potential is there in augmenting e-waste recycling in the country. There are some forward movements in this direction, however, lots of ground has to be covered through awareness campaign, skill development, building human capital and introduction of technology while adopting adequate safety measures in the country's informal sector.