Current News - National - National Security
A recent research paper revealed that Artificial Intelligence (AI) can decode passwords by analyzing the sound of keystrokes, highlighting the accuracy of Acoustic Side Channel Attacks (ASCA) when using advanced deep learning models.
Key Points
Understanding ASCA: Acoustic Side Channel Attacks (ASCA) exploit the sounds produced by a keyboard to analyze keystrokes and decipher sensitive information being typed.
These attacks use sound as a side channel to compromise security.
ASCA Explained: ASCA attacks have been around since the 1950s when acoustic emanations from encryption devices were used for security breaches.
Dangers from Sound: They leverage sounds emitted by devices, such as keyboard clicks, to gather information and compromise security.
ASCA's Resurgence with AI: While ASCA attacks have been known, the growing use of AI and deep learning models has made them more potent.
Modern technology has increased the number of microphones in proximity to keyboards, making it easier to collect and analyze acoustic data.
Protecting Against ASCAs: While there's no foolproof defense against ASCAs, users can take steps to reduce risks.
Using touch-based typing can make it harder for threat actors to recognize keystrokes.
Changing typing styles and creating complex passwords with a mix of upper and lower-case letters can also thwart ASCAs.
Avoiding easily predictable phrases further increases security.
On 12th August, 2023, Union Home Minister inaugurated three connectivity projects worth Rs 360 crore in Gujarat, emphasizing the significance of coastal security and infrastructure development for border protection.
Key Points:

Enhancing Border Vigilance: The three projects, collectively funded at Rs 360 crore, are aimed at bolstering surveillance capabilities along international borders, contributing to heightened security measures.
Protecting National Borders: Through these initiatives, the government aims to fortify the protection of the nation's borders, ensuring safety and security for the country and its citizens.
Investment in Infrastructure: The substantial investment in these connectivity projects reflects the government's commitment to advancing infrastructure development for strategic defence and surveillance purposes.
Holistic Surveillance Approach: The inauguration of projects showcases a comprehensive approach to surveillance and security management along coastal and border regions.
Geographical Significance: The projects' locations in Kutch district hold geographical importance, contributing to the overall maritime and land security framework of the region.
Technological Advancements: The virtual inaugurations highlight the integration of technology in modern security measures, exemplifying the government's commitment to adopting innovative approaches.
Strengthening Peace and Vigilance: These connectivity projects not only strengthen border vigilance but also contribute to the maintenance of peace and security, safeguarding the nation's interests.
Amid the growing menace of cyber and malware attacks targeting national defence and critical infrastructure, the Defence Ministry has embarked on a significant shift, opting to replace the Microsoft Operating System (OS) with an indigenous alternative named 'Maya.'
Key Points:

Indigenous Solution to Cyber Threats: The Defence Ministry's proactive response to escalating cyber threats involves transitioning from the Microsoft OS to the newly developed 'Maya,' tailored to offer seamless functionality and familiar user experience while bolstering cybersecurity.
User-Friendly Transition: Officials assure that Maya's interface and functionality will closely resemble that of Windows, ensuring a smooth transition for users while enhancing cybersecurity measures.
Installation is slated for computers connected to the Internet within South Block by August 15.
Complementary Protection System: In tandem with the transition, an 'end point detection and protection system,' dubbed 'Chakravyuh,' is being deployed to fortify the security of the systems.
Gradual Implementation: Currently, Maya is being introduced within the Defence Ministry's systems, with future plans to extend its deployment to the networks of the three Services.
The Navy has already endorsed the system, while the Army and Air Force are currently in the evaluation phase.
Swift Development: Maya's creation was a collaborative effort involving government development agencies, resulting in a locally developed solution that aims to mitigate the risk of malware and cyberattacks that have surged dramatically.
Alarming Increase in Cyberattacks: The decision to adopt Maya stems from the urgent need to counter a rising tide of malware and ransom attacks on critical infrastructure and national security systems.
Historical Endeavours: Efforts to replace the Windows OS with an indigenous alternative have been explored previously within the Defence Ministry, underscoring a longstanding commitment to enhancing cybersecurity measures.
Recently, the central government has swiftly enforced import restrictions on laptops, tablets, all-in-one personal computers, ultra-small computers, and servers, necessitating government permission or licenses for inbound shipments.
Key Points
Objective of Restrictions: The move is strategically aligned with the recently renewed production-linked incentive (PLI) scheme for IT hardware.
By imposing these restrictions, the government aims to stimulate domestic manufacturing in this sector, thereby fostering self-reliance.
Enhanced Security Measures: Given potential security-related concerns and potential risks to sensitive data, these limitations have been introduced.
Some hardware components could compromise personal and confidential information.
Exemptions and Transition Provisions: Importers are allowed to apply for licenses starting from August 4, and the transition provisions of the foreign trade policy (FTP) state that import consignments with issued or opened bills of lading and letters of credit before August 3 can be imported.
The exemption extends to import of a single laptop, tablet, all-in-one personal computer, or ultra-small form factor computer, subject to duty payment.
Implications for Local Manufacturers: Domestic electronics contract manufacturers experienced a surge in their share prices after the announcement.
Tech giants like Apple, Lenovo, HP, Asus, Acer, and Samsung will need to reassess their strategies for importing laptops and computers. This could lead to price increases for existing products in the Indian market.
Market Dynamics and Impact: While existing laptop prices in India have not been altered immediately, the import restrictions might affect sales and discounts offered by retailers and companies.
Recently, the Standing Committee on Defence, led by Jual Oram, gave its approval to the Inter-Services Organisations (Command, Control and Discipline) Bill, 2023, which seeks to grant disciplinary and administrative powers to the Commander-in-Chief and Officer-in-Command of Inter-Services Organisations (ISOs).
Key Points:

Empowering Commanders: With the existence of various Inter-Services Organisations (ISOs) and joint training establishments, the Bill aims to empower the Commander-in-Chief and Officer-in-Command of ISOs with disciplinary/administrative powers over personnel from other services.
Challenges with the Current System: Currently, personnel serving in ISOs need to be reverted to their parent Service units for undergoing disciplinary or administrative action.
Loss of Man hours: This process involves the movement of individuals and witnesses to their respective commands/headquarters, leading to delays in case finalization and loss of man-hours.
Importance of Passing the Bill: Enacting the Bill is expected to streamline the disciplinary process, expedite the dispensation of justice, and enhance the administering of discipline within ISOs.
Tangible Benefits of the Bill: There are various benefits of enacting the Bill, including the maintenance of effective discipline and efficiency in Inter-services establishments.
The Bill aims to abolish the practice of reverting personnel under disciplinary proceedings to their parent Service units, leading to expedited disposal of cases of misdemeanor or indiscipline.
On April 27, 2023, the Dimasa National Liberation Army (DNLA)/ Dimasa People's Supreme Council (DPSC), an insurgent group operating in the Dima Hasao district of Assam, signed a peace agreement with the state Government and the Centre.
Under the agreement, the DNLA representatives have agreed to give up violence, surrender their arms and ammunition, disband their armed organization, vacate all camps occupied by DNLA cadres, and join the mainstream.
As a result of this agreement, more than 168 armed cadres of DNLA surrendered with their weapons and joined the mainstream.
The MoU also provides for the appointment of a Commission to examine the demand for the inclusion of additional villages contiguous to the North Cachar Hills Autonomous Council (NCHAC) with the Council.
The agreement includes necessary measures to be taken by the Government of India and the Government of Assam to rehabilitate the surrendered armed cadres of DNLA.
A Special Development package of ₹500 crore each will also be provided by the Government of India and Government of Assam over a period of five years for all-round development of NCHAC as well as Dimasa people residing in other parts of the State.
The DNLA was established in April 2019, seeking a sovereign territory for the Dimasa tribals and launched an armed insurgency to achieve its goal.
The DNLA had declared a unilateral ceasefire in September 2021 for a period of six months following an appeal by the Chief Minister, which has been extended since then.
Recently, on December 19, 2022, Rajya Sabha passed the Anti-Maritime Piracy Bill which the government said would provide an effective legal instrument to combat Maritime Piracy.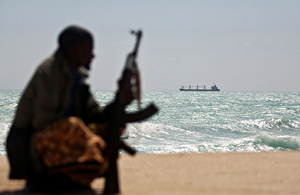 Highlights of the Bill
The Bill enables Indian authorities to take action against piracy in the high seas.

The Bill brings into law the UN Convention on the Law of the Sea (UNCLOS). It applies to the sea beyond the Exclusive Economic Zone (EEZ), i.e., beyond 200 nautical miles from India's coastline.

The Bill defines piracy as any illegal act of violence, detention or destruction against a ship, aircraft, person or property, for private purposes, by the crew or passengers of a private ship or aircraft.
Piracy also includes inciting and intentionally facilitating such acts of violence, and voluntarily participating in the operation of a pirate ship or aircraft.
Committing an act of piracy will be punishable with:

life imprisonment; or
death, if the act of piracy causes or seeks to cause death.

Participating, organising, aiding, supporting, attempting to commit, and directing others to participate in an act of piracy will be punishable with up to 14 years of imprisonment, and a fine.
The central government, in consultation with the Chief Justice of the concerned High Court, may notify Sessions Courts as the Designated Courts under this Bill.
The Designated Court will try offences committed by:

A person in the custody of the Indian Navy or Coast Guard, regardless of his nationality.
A citizen of India, a resident foreign national in India, or a stateless person.
UNCLOS
It is an international agreement that establishes the legal framework for marine and maritime activities.
It came into existence in 1982.
It is also known as Law of the Sea.
It divides marine areas into five main zones namely- Internal Waters, Territorial Sea, Contiguous Zone, Exclusive Economic Zone (EEZ) and the High Seas.
In 1995, India ratified the UNCLOS.
Recently, Ministry of Electronics and Information Technology (MeitY) organized 25th Chief Information Security Officers (CISOs) Deep Dive Training program under Cyber Surakshit Bharat initiative.
It aims to strengthen the cyber security ecosystem in Government organizations in the country.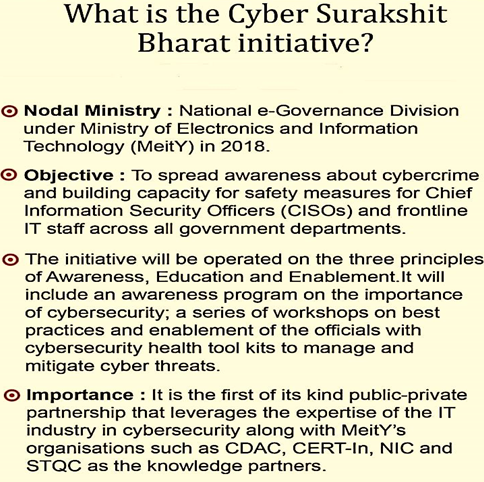 Need
Cyber fraudsters are using the COVID-19 pandemic as a cyber-attack vector for their own notorious gains.
During the COVID-19 time, there has been a surge in cyber incidences.
The primary set of attacks has been phishing attacks to steal information and drop malware.The attackers devise new strategies to target victims with scams or malware campaigns.
Impact
It is expected that the training will provide necessary exposure to latest tools and technologies in the cyber security and requirement for legal compliance.
The knowledge gained during training can help you to prepare cyber security policies and Cyber Crisis Management Plan for respective organizations.
About Cyber Surakshit Bharat Initiative
Launched in 2018, it aims to ensure awareness about cybercrime and adequate safety measures for Chief Information Security Officers (CISOs) and frontline IT staff across all government departments.
It includes an awareness program on the importance of cybersecurity; a series of workshops on best practices and enablement of the officials with cybersecurity health tool kits to manage and mitigate cyber threats.
It is operated on the three principles of Awareness, Education and Enablement.
On 11th October, the Union Home Ministry allowed the Border Security Force (BSF) to "arrest, search and seize" within 50 km from the international boundary in Assam, West Bengal and Punjab, Union Territories of Jammu and Kashmir and Ladakh.
Earlier, the BSF's limit was fixed up to 80 km from the International Boundary in Gujarat and 15 km in Rajasthan, Punjab, West Bengal and Assam.
The new order replaces a 2014 order under the BSF Act, 1968, which also covered the States of Manipur, Mizoram, Tripura, Nagaland and Meghalaya.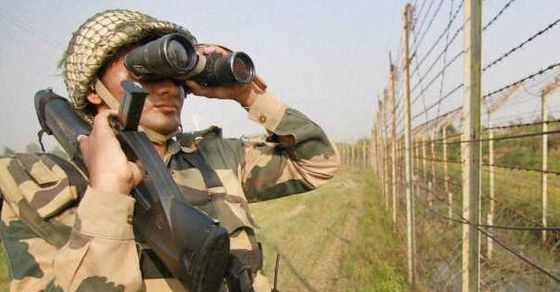 (Image Source: DD News)

On 8th September 2021, the Cabinet Committee on Security approved the procurement of fifty six C-295MW transport aircraft from M/s Airbus Defence and Space S.A., Spain for the Indian Air Force.
C-295MW aircraft is a transport aircraft of 5-10 Tonne capacity with contemporary technology that will replace the ageing Avro aircraft of IAF.
The aircraft has a rear ramp door for quick reaction and para dropping of troops and cargo.
Sixteen aircraft will be delivered in flyaway condition from Spain within 48 months of signing of the contract and forty aircraft will be manufactured in India by TATA Consortium within ten years of signing of the contract.
This is the first project of its kind in which a military aircraft will be manufactured in India by a private company.
All fifty six aircraft will be installed with indigenous Electronic Warfare Suite.