---
Torrefaction Technology
---
Pollution from stubble burning in winter is the key contributor to the sharp decline in air quality in northern India. In order to curb the menace of stubble burning, India is currently testing a Swedish technology — Torrefaction, that can convert rice stubble into bio-coal.
The Government of India, in association with Bioendev, (Swedish company) has funded a pilot project to set up a pilot plant at the National Agri-Food Biotechnology Institute in Mohali, Punjab to evaluate the feasibility of the technology.
What is Torrefaction Technology?
Torrefaction is a thermochemical pretreatment process at 200–300 °C in an environment with low oxygen, which transforms biomass into a relatively superior handling, milling, co-firing and clean renewable energy into solid biofuel (coal-like pellets).
Torrefaction technology enables processing various kinds of biomasses:
Woody biomass
Forrest residuals
Saw mill residuals (e.g. saw, dust, chips, bark)
Straw, grass
Parameters
The different parameters that influence the torrefaction process are (a) reaction temperature, (b) heating rate, (c) absence of oxygen, (d) residence time, (e) ambient pressure, (d) flexible feedstock, (e) feedstock moisture, and (f) feedstock particle size.
Process
Torrefaction carries devolatilisation, depolymerization and carbonization of lignocellulose components in order to generate bio-coal.
During this process, 70% of the mass is retained as a solid product, and retains 90 % of the initial energy content.

End Products of Torrefaction
Three different products are produced:
Brown to black uniform solid biomass, which is used for bioenergy applications
Condensable volatile organic compounds comprising water, acetic acid, aldehydes, alcohols, and ketones
Non-condensable gases like carbon dioxide, carbon monoxide and small amounts of methane.
Bio-Coal
Bio-Coal (briquette) is made from agricultural, wooden and forestry wastes by high compression process without adding any chemical, glue or binder.
It is thus 'binder-less' technology product resulting in 100% natural eco-friendly, pollution-free solid fuel. Biomass briquettes are a renewable source of energy and avoid adding fossil carbon to the atmosphere.
A popular biomass briquette takes a waste produce such as sawdust, groundnut shells, cotton stalk, castor seed shells etc. compresses it and then extrudes it to make a reconstituted log that can replace firewood and coal.
Advantages
Economic
Torrefied biomass is believed to be a superior solid fuel for combustion, especially when co-fired with coal due to its higher energy density and coal-like handling proper-ties. Typically during torrefaction, 70% of the mass is retained as a solid product, containing 90% of the initial energy content.
Torrefaction releases combustible gases that can be used to generate the required heat, making the process self-powering.
It addresses some of the difficulties which have hindered the large-scale utilisation of biomass feedstock, namely: low energy density and high water content.
Torrefied product is stable, brittle, easier to grind than the parent biomass material and less liable to biological degradation in storage.
These can be transported economically due to their high energy density. Compaction through pelletizing is suitable forlong hauls via open rail car and ocean vessel, reducing the transportation cost.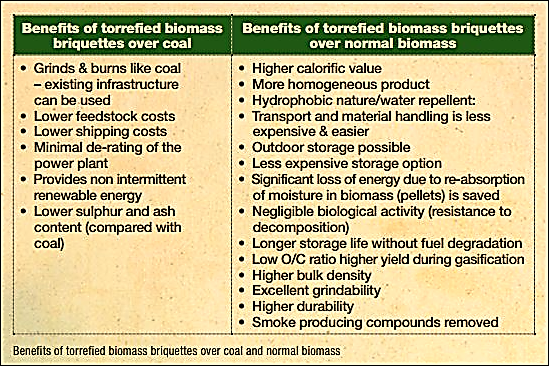 Environment
The main advantage of the torrefaction process is that obtained (in the form of pellets torrefied product on the main thermo technical characteristics is similar to coal, and can be used to coal replacement in different energy units. According to the content of harmful components and, above all, sulfur and heavy metals, from the total ash content and etc., torrefied product is preferable than modern energy coal.
Therefore, it provides an opportunity to replace a significant portion of the coal by torrefied product, thereby reducing the total ecological impact on the environment.
Way Forward
The potential of biomass as a replacement to fossil fuels leads to a number of issues, such as the increase in their price and environmental consequences due to their excessive harvesting and plantation, which leads to deforestation and a consequent decrease in biodiversity.
Widespread consumption of biomass could affect various ecosystems by creating negative impacts on the quality of water and soil and affecting food chains.
However, the torrefaction of biomass has proved to be an ideal process for improving the biomass characteristics as this energy source has proved to be a good alternative to theuse of fossil fuels.