---
Pradhan Mantri Matru Vandana Yojana
---
Recently, concerns have been raised over the Pradhan Mantri Matru Vandana Yojana (PMMVY) for its exclusionary nature. The scheme suffers from critical drawbacks in both design and implementation.
Underlying Issues with PMMVY
Lengthy Documentation
The lengthy documentation work includes filling up six documents totaling 32 pages - an application form to be filled for each of the three installments, an application for linking the Aadhaar card with bank account, another one for linking the Aadhaar card with post office account and a feedback form.
This tedious process led to exclusion of single women and young brides out of its purview.
Further, the documentation work is likely to result in many women living on the margins, such as sex workers, women in custody, migrant and those living in post-conflict situations unable to claim benefits even though they are most in need of monetary compensation.
First Child Criteria
The gaping loophole in the eligibility criteria is that benefits are only provided for the birth of the first child.
In a country with a Total Fertility Rate (TFR) of 2.33, the policy of restricting the scheme to just the first child is impractical to say the least and exclusionary when seen in totality.
Moreover, it makes no attempt to accommodate miscarriage or infant mortality. If an eight-month pregnant woman, who has already accessed the scheme, loses her child, she is not eligible for the second or third instalment for her next pregnancy.
Issues with Single Women
Registration for the scheme requires the beneficiary to provide her husband's Aadhaar details along with her own, affecting single women which include unwed mothers, deserted wives and widows.
Newly Wed Women
A newly wed woman expecting a child generally resides in her maternal home but to avail the benefits of PMMVY, she needs to provide proof of address of her marital home, whichagain proves a major challenge for her.
Younger Brides
The scheme require that the applicant has to be at least 19 years old also leaves out younger brides, who hesitate in getting their marriages registered as the legal age of marriage is 18 years.
30-35% first-time mothers are under the age of 18 years.
Corruption Issues
The scheme is infested with corruption issues, limiting its scope of proper implementation. The applicant women have to pay a hefty bribe during the application process at every level, which goes up to Rs. 500, with each of the three forms.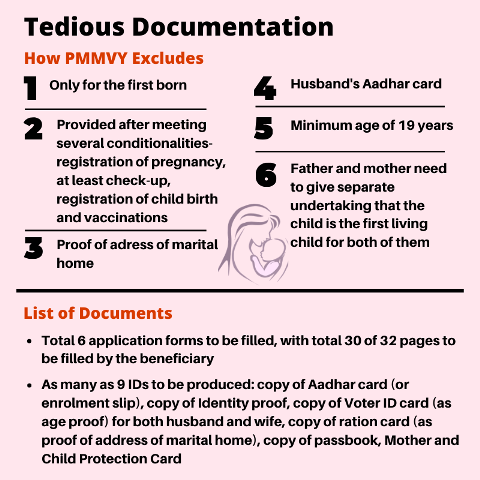 Pradhan Mantri Matru Vandana Yojana (PMMVY)
Launched in 2016, PMMVY is a maternity benefit program, which replaced the Indira Gandhi Matritva Sahyog Yojana (IGMSY).
It is a direct benefit transfer (DBT) scheme under which a cash incentive of Rs. 5000 would be provided directly in the account of Pregnant Women Lactating Mothers (PW&LM) for firstliving child of the family subject to their fulfilling specific conditions.
The eligible beneficiaries also receive cash incentive under Janani Suraksha Yojana (JSY). Thus, on an average, a woman gets Rs. 6,000.
Objective
Promoting appropriate practice, care and institutional service utilization during pregnancy, delivery and lactation.
Encouraging the women to follow (optimal) nutrition and feeding practices, including early and Exclusive breastfeeding for the first six months.
Providing cash incentives for improved health and nutrition to pregnant and lactating mother.
Target Beneficiaries
All Pregnant Women and Lactating Mothers, excluding PW&LM who are in regular employment with the Central Government or the State Governments or PSUs or those who are in receipt of similar benefits under any law for the time being in force.
All eligible Pregnant Women and Lactating Mothers who have their pregnancy on or after 01.01.2017 for first child in family.
The date and stage of pregnancy for a beneficiary would be counted with respect to her LMP date as mentioned in the MCP card.
Implementation
PMMVY is implemented using the platform of Anganwadi Services scheme of Umbrella Integrated Child Development Services (ICDS) under Ministry of Women and Child Development.
It is closely monitored by the central and state governments through PMMVY-CAS, a web based software application.
Inclusive Measures
Firstly, activists and grassroot workers involved must make a formal representation to the government, highlighting their concerns in order to make the scheme both inclusive and supportive.
Secondly, the government needs to review the scheme in order to make it universal by removing restrictions on the number of children as well as including all women, whether they are in the formal or informal sector, engaged in paid or unpaid wor
Thirdly, the sum promised should also be at least on par with minimum wages for women in self-employment, unpaid work, or working for less than minimum wages.
States Maternity Scheme
Two states- Tamil Nadu and Odisha, have not implemented the centrally sponsored scheme and has launched their own maternity schemes.
Dr. Muthulakshmi Reddy Maternity Benefit Scheme- Tamil Nadu
The scheme was launched in 1987, which aims to provide optimal nutrition for pregnant and lactating women and compensates the wage loss during pregnancy.
The first-of-its-kind scheme in the country initially provided an amount of Rs 300 to every woman below the poverty line to help cover the expenses incurred during childbirth.
As of now, the government has enhanced the financial support, providing a sum of Rs.14,000 in cash and a nutritional kit worth Rs 4,000 for the first two pregnancies.
Mamta Scheme- Odisha
It was launched by the state government in September, 2011 with an aim to reduce maternal and infant mortality by improving the health and nutrition of pregnant and lactating women.
Under this, a sum of Rs. 5,000 is being provided for the first two pregnancies of all women.
For vulnerable groups, like tribals, the money is given for even the third birth.