---
Coronavirus Declared Public Health Emergency Of International Concern
---
Recently, an outbreak of the Wuhan coronavirus in China has caused global concern.
With the rise in new coronavirus cases outside China, the World Health Organization (WHO) on 30th January, 2020, decided to declare the novel coronavirus outbreak, a public health emergency of international concern (PHEIC).
What is Coronavirus?
Coronaviruses are a large family of viruses that typically attack the respiratory system. The name comes from the Latin word corona, meaning crown, because of the spiky fringe that encircles these viruses.
2019 Novel Coronavirus (2019-nCoV)
The 2019 Novel Coronavirus, or 2019-nCoV, is a new respiratory virus first identified in Wuhan, Hubei Province, China, belongs to the coronavirus family, which includes SARS (severe acute respiratory syndrome) and MERS (Middle East respiratory syndrome).
Origin of nCov
Several people in Wuhan, the capital and largest city in Hubei province, report symptoms caused by a virus that is later tied to the Huanan Seafood Market, which sells primarily fish and shellfish, but also wild game like beavers, porcupines and snakes.
Since the outbreak was detected about a month ago, scientists have been able to piece together considerable amount of information about the origin, transmission and lethality of the 2019-nCoV, but several questions are still being investigated.
Types
Coronaviruses belong to the family Coronaviridae, and there are seven types that can infect humans.
Common Human Coronaviruses
The following four types are often referred to as community-acquired coronaviruses because they are common and infect people all over the world-
229E (alpha coronavirus)
NL63 (alpha coronavirus)
OC43 (beta coronavirus)
HKU1 (beta coronavirus)
Other Human Coronaviruses
The other three coronaviruses are more worrisome because they have been linked to severe complications, like pneumonia and death. These are-
MERS-CoV (the beta coronavirus that causes Middle East Respiratory Syndrome, or MERS)
SARS-CoV (the beta coronavirus that causes severe acute respiratory syndrome, or SARS)
2019 Novel Coronavirus (2019-nCoV)
Severe Acute Respiratory Syndrome (SARS)
SARS is a viral respiratory illness caused by a coronavirus called SARS-associated coronavirus (SARS-CoV).
It first appeared in China in November 2002 and was identified in February 2003.
Middle East Respiratory Syndrome (MERS)
MERS is viral respiratory illness that is new to humans. It was first reported in Saudi Arabia in 2012 and has since spread to several other countries, including the United States.
Most people infected with MERS-CoV developed severe respiratory illness, including fever, cough, and shortness of breath.
Mode of Transmission
Usually Coronaviruses are zoonotic, meaning they are transmitted between animals and human beings possibly through the food chain. This happened during the 2003 outbreak of SARS (Severe Acute Respiratory Syndrome), which too was caused by a coronavirus and originating in China.
Human-to-human transmission has been confirmed in case of 2019-nCoV.
But a new study, published in The New England Journal of Medicine on 30th January, 2020, has documented the first case in which the virus was transmitted from one person to the other, even before the symptoms had become evident in the first person. Such transmissions are called
Symptoms
Like other coronaviruses, 2019-nCoV manifests itself initially in the form of mild fever and cough, and affects mainly the respiratory system in human beings.
The most common symptoms were fever, cough, muscle pain, and fatigue; less common were headache, diarrhea, and coughing up mucus or blood.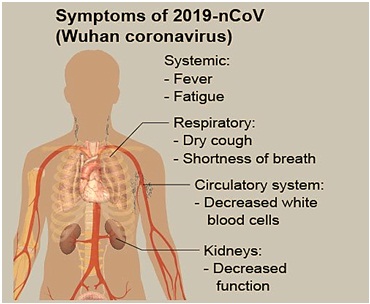 Treatment
To date, there is no specific medicine recommended to prevent or treat the new coronavirus (2019-nCoV).
Impact on Global Economy
The World Health Organization's declaring the novel coronavirus PHEIC could stoke investor's fears about the disease and the economic risks it poses, mainly impacting travel, entertainment, hospitality sectors across the globe.
It is affecting China's economy, the world's second-largest, with a growing number of countries advising their citizens to avoid all non-essential travel to the country.
The economic impact is likely to be magnified by the on-going US-China trade frictions. Trade between the US and China has already been disrupted by trade wars and imposition on tariffs on US and Chinese exports. Although tensions have been eased by a signing of the phase-one trade deal, the underlying dispute has had an important impact in disrupting supply chains and underlying exports.
The main short-term impacts will be weaker global equities and a decline in oil prices.
However, declaring an emergency means the WHO sees the disease as a serious global threat and will ramp up international resources to develop treatments and a vaccine for nCoV as soon as possible.
Public Health Emergency of International Concern(PHEIC)
The WHO declares a Public Health Emergency of International Concern when there is an extraordinary event which is determined to constitute a public health risk to other states through the international spread of disease.
Objective
The declaration aims to prevent or reduce the cross-border spread of disease while averting needless obstruction of trade and travel.
It also aims to accelerate the development of vaccines and treatments, while stopping the spread of rumours and misinformation.
Measures under Declaration
Under the designation, the WHO is able to review public health measures carried out by countries to ensure they meet proper health standards.
WHO issues temporary recommendations. These recommendations are not enforceable, but there is pressure on countries to follow them, as member states are bound by the WHO's 2005 International Health Regulations.
The designation pushes nations to coordinate funding, personnel and other resources, and helps countries persuade residents to follow health recommendations.
Previous Declared Global Public Health Emergencies
Swine flu, 2009 - The H1N1 virus spread across the world in 2009, with death toll estimates ranging from 123,000 to 575,400.
Polio, 2014 - Although closer than ever to eradication in 2012, polio numbers rose in 2013.
Zika, 2016 - The WHO declared Zika a public health emergency in 2016 after the disease spread rapidly through the Americas.
Ebola, 2014 and 2019 - The first emergency over the virus lasted from August 2014 to March 2016 as almost 30,000 people were infected and more than 11,000 died in West Africa. A second emergency was declared last year as an outbreak spread in DR Congo.
Significance
A PHEIC is meant to mobilize international response to an outbreak.
It gives the WHO capabilities to hasten the response of governments and organisations globally that are rushing to contain an outbreak.
It also tells the world that the outbreak is a serious health emergency.