---
Covid-19 Travel Bubble
---
Recently, the Baltic countries of Estonia, Latvia and Lithuania have opened their borders to one another, creating a coronavirus "travel bubble".
This is the first "travel bubble" in Europe since nations began shutting their borders earlier this year in response to the coronavirus outbreak.
In the Estonia-Latvia-Lithuania travel bubble, residents would be able to travel freely by rail, air, and sea without quarantine measures.
The three European Union (EU) states, who have launched this measure, have so far remained comparatively unscathed by the virus, recording less than 150 combined Covid-19 deaths as of May 17, 2020.
Need
The Baltic economies are expected to shrink by 8 percent this year.
Travel Bubble
Creating a travel bubble involves reconnecting countries or states that have shown a good level of success in containing the novel coronavirus pandemic domestically.
Such a bubble would allow the members of the group to rekindle trade ties with each other, and kick start sectors such as travel and tourism.
According to a report, potential travel bubbles among better-performing countries around the world would account for around 35 percent of the global GDP.
Such arrangements are especially being favoured by smaller countries, which are likely to benefit after being able to trade again with larger partners.
Mandate for Travel Bubble
Those wanting to enter this corridor from countries outside would first have to go into isolation for 14 days.
To be able to freely travel in the zone, one should not have travelled outside the three countries in the past 14 days, should not be infected with coronavirus, and should not have come in contact with anyone who has been coronavirus infected.
Other Countries to Start Travel Bubble
Australia and New Zealand reached an agreement to form a travel bubble between the two countries once it becomes safe to operate flights between them.
Both have had success in suppressing the pandemic domestically. Once it opens, the trans-Tasman zone will allow travel without a quarantine period.
China and South Korea, who have also enjoyed success in containing the outbreak, have launched a fast track channel for business travellers.
In the US, travel bubbles are being suggested to group states who are faring well against the pandemic, but constitutional challenges are also being cited as a possible roadblock for such plans.
Associated Challenge
The biggest challenge to re-opening international travel right now is the lack of consensus on the kind of protections needed to limit the risk of spreading Covid-19.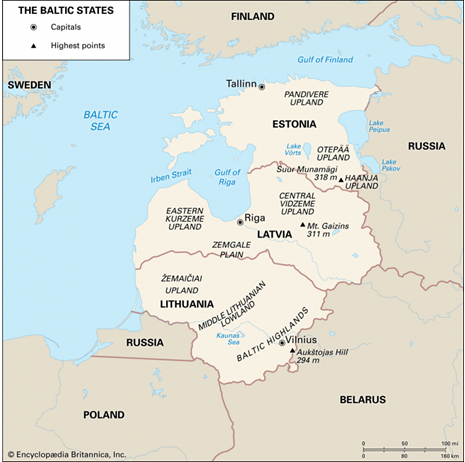 Significance
With the pandemic throwing both international and domestic trade and travel out of gear since earlier this year, such 'travel bubbles' are now being recommended to keep at least parts of the global economy afloat.
Travel bubble may prove useful as a model for other nations where tourism represents a large portion of GDP, and for airline and tour operators around the world that have seen their businesses collapse.
Baltic States
The Baltic States, also known as the Baltic countries, Baltic republics, Baltic nations, or simply the Baltics, is a geopolitical term, typically used to group the three sovereign states in Northern Europe on the eastern coast of the Baltic Sea: Estonia, Latvia, and Lithuania.
The Baltic States are bounded on the west and north by the Baltic Sea, which gives the region its name, on the east by Russia, on the southeast by Belarus and on the southwest by Poland and an exclave of Russia.
The three countries do not form an official union, but engage in intergovernmental and parliamentary cooperation.
The most important areas of cooperation between the three countries are foreign and security policy, defence, energy, and transportation.
All three countries are members of NATO, the eurozone, and the OECD, and are members of the European Union.
In 2020 and 2021, Estonia is also a non-permanent member of the United Nations Security Council.
All three are classified as high-income economies by the World Bank and maintain a very high Human Development Index.
All three countries are members of the New Hanseatic League, a group of Northern European countries in the EU formed to advocate a common fiscal position.