G7 Agreement on Digital Trade and Data
---
G7 Agreement on Digital Trade and Data
---
On 22nd October 2021, at a London meet of Trade Ministers from the Group of Seven (G7) nations (United States, Japan, Germany, Britain, France, Italy and Canada), they came to an agreement on principles to govern cross-border data use and digital trade.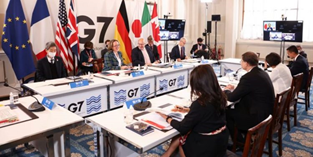 (Image Source: see.news)

Highlights
The deal sets out a middle ground between highly regulated data protection regimes used in European countries and the more open approach of the United States.
The agreement opposes digital protectionism and authoritarianism. Businesses should not be required or coerced to transfer technology or provide access to source code or encryption keys as a condition of market access. At the same time, governments must retain sufficient flexibility to pursue legitimate regulatory goals, including health and safety.
The principles covered open digital markets; cross border data flows; safeguards for workers, consumers, and businesses; digital trading systems; and fair and inclusive global governance.
A Concern for India
At the Meet, G7 Trade Ministers raised concern about situations where data localisation requirements are being used for protectionist and discriminatory purposes, as well as to undermine open societies and democratic values, including freedom of expression.
This assumes significance as India has been contemplating measures for data localisation - i.e. restricting the flow of data related to Indian users across the borders by storing and processing it within the country.