---
SC Freezes Sedition Law
---
On 11th May 2022, the Supreme Court of India freezed a colonial era sedition law until its re-examination.
The Supreme said, "We hope and expect that the State and Central Governments will restrain from registering any FIR, continuing any investigation or taking any coercive measures by invoking Section 124A of IPC while the aforesaid provision of law is under consideration."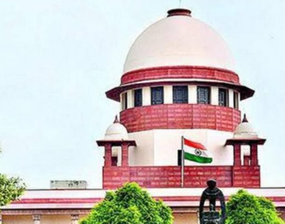 For those who are in Jails under this Provision
The Court ordered that: "All pending trials, appeals, and proceedings with respect to the charge framed under Section 124A of IPC be kept in abeyance."
In other words proceedings should be halted while this order is in effect. For people who've been slapped with multiple charges, cases under other heads can proceed only if the rights of the individual will not be affected.
The court said: "Adjudication with respect to other Sections, if any, could proceed if the Courts are of the opinion that no prejudice would be caused to the accused."
Two Intriguing Questions before the Court
The court is seized of two considerations, the security of the State and the civil liberties of citizens. There is a need to balance both considerations, which is a difficult exercise.
What is Sedition Law?
Drafted by British historian-politician Thomas Babington Macaulay in 1837, sedition was defined as an act by 'whoever, by words, either spoken or written, or by signs, or by visible representation, or otherwise, brings or attempts to bring into hatred or contempt, or excites or attempts to excite disaffection towards the Government established by law in India'.
Penal Provisions
As per Section 124A, sedition is a non-bailable offence, punishable with imprisonment from three years up to life, along with a fine.
The person charged under this law is also barred from a government job and their passport is seized by the government.
Why it should be re-visited?
Archaic: The Sedition charge, which was included in Section 124 A of the Indian Penal Code in 1870, was imposed by the British Colonial government to primarily suppress the writings and speeches of prominent Indian freedom fighters. At present it should be looked into keeping in present day context.
Low Conviction Rate: As per the 2020 National Crime Records Bureau (NCRB) report, in 2018, 70 sedition cases were filed; however, not a single person was convicted. Similarly, in 2019, 93 cases were filed, while only two were convicted. Similarly in 2020, 73 cases were filed and no one was convicted of sedition.
Creators have also changed this Rule: The sedition charge was abolished by the United Kingdom in 2010.