Kanheri Caves: Only Centre with Continuous Progression of Buddhist Faith and Architecture

---
Kanheri Caves: Only Centre with Continuous Progression of Buddhist Faith and Architecture
---
On the occasion of Buddha Purnima (16 May 2022), Union Minister of Tourism & Culture inaugurated various amenities at ancient Kanheri Caves.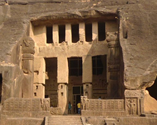 About Kanheri Caves
The Kanheri caves comprise of more than 110 different rock-cut monolithic excavations and one of the largest single excavations in the country.
These excavations were primarily undertaken during the Hinayana phase of Buddhism but also have several examples of the Mahayana stylistic architecture as well as few printings of the Vajrayana order.
Evidence from Inscription: The name Kanheri is derived from 'Kanhagiri' in Prakrit and occurs in the Nasik inscription of the Satavahana ruler Vasisthiputra Pulumavi.
Travellers' Account: Kanheri was mentioned in the travelogues of foreign travellers. The earliest reference of Kanheri is ascribed to Fa-Hein who visited India during 399-411 CE and later by several other travellers.
Importance: Its importance is heightened by the fact that it is the only centre where a continuous progression of Buddhist faith and architecture is observed as an unbroken legacy right from 2nd century CE (cave no. 2 stupa) to 9th century CE are observed here.
Patronage: Kanheri flourished under the patronage of Satavahana, Traikutakas, Vakatakas and Silaharas and through donations made by the wealthy merchants of the region.