Tran Quoc Pagoda: A cultural connect between India and Vietnam
---
Tran Quoc Pagoda: A cultural connect between India and Vietnam
---
India's Defence Minister recently visited Tran Quoc Pagoda, a revered Buddhist temple in Hanoi city of Vietnam.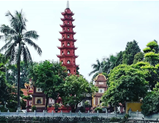 This pagoda is an example of age-old civilisational and people-to-people linkages between the two countries.
On the grounds of Tran Quoc is a Bodhi tree taken as cutting of the original tree in Bodh Gaya, India under which the Buddha sat and achieved enlightenment. The gift was made in 1959, marking the visit of the Indian president Rajendra Prasad.
In the Trấn Quốc pagoda they also worship female Buddhas, known as the "Mothers". Their shrines are in the front of the courtyard. The green Mother has domain over the mountains and forests. The white Mother has domain over the water. And lastly the red Mother has domain over the sky. These are some of the oldest gods or goddesses that have been worshiped in Vietnam and were in Vietnam before the Buddha.