Current News International Reports,Survey And Index
UNICEF Child Alert - Severe Wasting: An overlooked Child Survival Emergency
---
Recently, UNICEF published a Child Alert report, Severe wasting: An overlooked child survival emergency, which shows that in the light of rising levels of severe wasting (Wasting is low weight for a child's height) in children and rising costs for life-saving treatment, global financing to save the lives of children suffering from wasting is also under threat.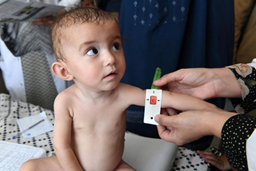 According to the Report, India has 5,772,472 children below five years affected by severe wasting — the most in the world.
Highlights of the Report
Threat
Globally, 1 in 5 deaths among children under the age of 5 is attributed to severe wasting – also known as severe acute malnutrition – making it one of the top threats to child survival, robbing the lives of more than 1 million children each year.
Remedy in Danger
Ready-to-Use Therapeutic Food (RUTF) can save children with severe wasting. The total cost to treat a child with RUTF is about US$100.
UNICEF indicates that the average price of life-saving RUTF is projected to increase by up to 16 per cent over the next six months, which may reduce access to RUTF and put more children's lives at risk.
Food, fuel, and fertilizer shortages, combined with inflationary pressures, are causing prices to soar. And even RUTF therapy isn't immune due to ongoing Russia-Ukraine conflict.
Immediate Need
More immediate and flexible funding is essential to ensure a continuous pipeline of RUTF supplies to save children's lives.
RUTF
RUTF is the gold standard for effectively treating severely wasted children in complex emergency settings.
RUTF is a past made using peanuts, sugar, oil, and milk powder, packaged in individual sachets. It is given to the infant or child directly from the sachet.
It can be consumed without adding water, eliminating the risk of contamination. Its long shelf life allows severely wasted children who do not have additional complications such as measles or malaria, to be treated at home instead of a lengthy and potentially unaffordable hospitalization.
Mid-Upper Arm Circumference (MUAC) Tape: An Early Detection Tool
The MUAC tape, a color-coded measuring band, has made it possible for community health and nutrition workers, and increasingly for mothers and caregivers, to quickly detect malnutrition simply by measuring a child's mid-upper arm. If the tape measure falls in the red zone, the child is severely wasted and requires immediate treatment. Yellow indicates moderate wasting.
Status of Severe Wasting in India
The fifth round of the National Family Health Survey was released by the Ministry of Health and Family Welfare on November 24, 2021.
The data shows an increase in severe wasting in children under five—from 7.5% in 2015-'16, when the previous round of the survey was conducted, to 7.7% in 2019-'21.
Wasting, or low weight compared to height, could be caused by prolonged weight loss and poor nutrition.
Stunting, or children being shorter than normal for their age, improved slightly—from 38.4% in the previous survey to 35.5% now.
News Crux Obituary
Anjalai Ponnusamy Ammal
---
Anjalai was a Malaysian national and a veteran of Indian National Army (INA) - an armed force formed by Indian freedom fighters and Imperial Japan on 1 September 1942 in Southeast Asia during World War II.

Anjalai had joined the Rani of Jhansi Regiment, the women's unit of the INA, during the second World War and fought for India's freedom from the British.
News Crux Science & Technology
Asia's Largest Liquid-Mirror Telescope
---
India has set up a liquid-mirror telescope, the country's first and the largest in Asia.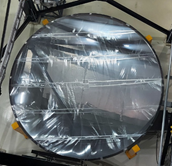 It is located at an altitude of 2,450 metres at the Devasthal Observatory campus of Aryabhatta Research Institute of Observational Sciences (ARIES), an autonomous institute under the Department of Science and Technology (DST), Government of India in Nainital district, Uttarakhand.
It is built by astronomers from India, Belgium and Canada.
The Indian Liquid Mirror Telescope (ILMT) will help to keep a watch on the skies for transient objects like debris and asteroids falling from space.
The instrument employs a 4-meter-diameter rotating mirror made up of a thin film of liquid mercury to collect and focus light.
News Crux Obituary
"Saint of the Santoor" Pandit Bhajan Sopori Passed Away
---
Legendary Santoor maestro and Padma Shree awardee Pandit Bhajan Sopori passed away on 2nd June 2022.

Born as Pandit Bhajan Lal in 1948 in Srinagar, Sopori went on to master the Santoor - a classical Indian musical instrument.
Regarded as the cultural bridge of Jammu & Kashmir with the rest of the country, Pandit Bhajan Sopori is hailed as the "Saint of the Santoor" and the "King of Strings".
Sopori was awarded the Sangeet Natak Akademi Award in 1992 and the Padma Shri in 2004.
He was awarded the Jammu and Kashmir State lifetime achievement award on 67th Indian Republic Day 2016.
He was also conferred National Kalidas Samman 2020 by the Government of Madhya Pradesh for his enormous contribution to Hindustani classical music (Santoor).
---