Current News International
Referendum On Independence In New Caledonia
---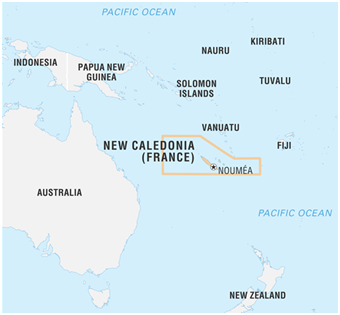 The French South Pacific territory of New Caledonia voted on 4th October in a referendum on independence.
The referendum is part of a carefully negotiated de-colonisation plan agreed in 1998, known as the Noumea Accord, designed to put an end to a deadly conflict between the mostly pro-independence indigenous Kanak population, and the descendants of European settlers known as "Caldoches".
It was the second time the tropical archipelago went to the polls to decide on its fate in two years, after a first referendum in 2018 resulted in the maintenance of the status quo with 56.7 per cent of the vote.
If independence is rejected, there is the option of another referendum by 2022 so long as the poll is requested by at least a third of the local legislature.
New Caledonia, situated between Australia and Fiji and sometimes called "The Pebble".It has been French since 1853.
If New Caledonia votes for independence, France would, after a transition period, hand over control.
The last former colonies to be given independence by France were Djibouti in 1977 and Vanuatu in 1980.
Current News National
Four Indian Women Win WWSF Prize
---
Subhadra Khaperde, Shabnam Shah, SaraswatiUike (Madhya Pradesh) and Nirmala Kujur (Chhattisgarh) are among the ten women leaders from across the globe who have been selected for the Women's World Summit Foundation (WWSF) Prize for Women's Creativity in Rural Life.
The WWSF's Prize for Women's Creativity in Rural Life (created in 1994 at the Beijing 4th World Conference on Women), annually awards creative and courageous rural women leaders and groups that help to advance and improve the quality of life in rural communities.
The WWSF is a Geneva-based non-profit organisation.
---