News Crux Miscellaneous
'Hyderabad Declaration' on Human Trafficking
---
Recently, an Inter-State Declaration of Intent to collaborate in the fight against human trafficking was signed by six States — Telangana, Andhra Pradesh, Karnataka, Kerala, Odisha and Tamil Nadu.
The two-day Southern Regional Consultation to Combat Human Trafficking was hosted by the Telangana Government in collaboration with the nonprofits Prajwala and Shakti Vahini.
The first of its kind agreement emphasises on cooperative efforts in intelligence gathering and sharing, witness and legal protection, and rehabilitation and care for survivors.
News Crux Appointment & Resignation
Lt. General M. Subramanian becomes new Force Commander of UNMISS
---
Lieutenant General Mohan Subramanian of the Indian Army has been appointed by UN Secretary-General Antonio Guterres as his new Force Commander of the United Nations Mission in South Sudan (UNMISS).

Lt. Gen. Subramanian succeeds Lt. Gen. Shailesh Tinaikar, also from the Indian Army.
News Crux Miscellaneous
Canada: First Country to ratify Protocol for Finland, Sweden to join NATO
---
Canada became the first country to formally ratify Finland and Sweden's accession to NATO in an accelerated process completed shortly after member nations signed off on the nuclear-armed alliance's expansion.

The accession protocol needs to be ratified by the parliaments of all 30 North Atlantic Treaty Organization members before Finland and Sweden can be protected by the NATO defense clause - that an attack on one member is an attack against all.
Current News National Study/Survey/Report/Index
First State Ranking Index for Implementation of the NFSA, 2013
---
On 5th July 2022, the Union Ministry of Consumer Affairs, Food and Public Distribution released the first State Ranking Index for implementation of the National Food Security Act, 2013.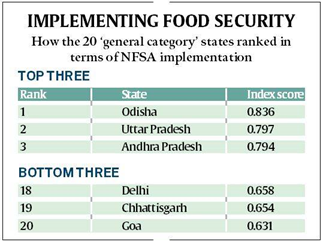 (Image Source: Indian Express)
Rankings
Big States and UTs: Among the 20 big states and Union Territories (UTs), Odisha topped the list while Goa came last.
Smaller States and UTs: Tripura ranked first and Ladakh came last among the 14 smaller states and UTs.
Special Category States: Among the special category states (the northeastern, Himalayan, and the Island states), Tripura, Himachal Pradesh and Sikkim obtained the top positions.
The states and UTs were ranked based on three parameters for the year 2022:
Coverage: The first measures "coverage of NFSA, rightful targeting, and implementation of all provisions under NFSA"
Delivery Platform: The second "analyzes the delivery platform while considering the allocation of foodgrains, their movement, and last-mile delivery to Fair Price Shops (FPS)".
Nutrition Initiatives: The third "focuses on nutrition initiatives of the department".
Overall, Odisha, Uttar Pradesh and Andhra Pradesh scored the highest and secured the top three positions in the Index. The states performed very well on all the parameters and indicators governing the implementation of NFSA through TPDS (targeted public distribution system).
Central Issue Prices (CIPs)
The NFSA provides a legal right to persons belonging to "eligible households" to receive foodgrains at subsidised price – rice at Rs 3/kg, wheat at Rs 2/kg and coarse grain at Re 1/kg — under the TPDS. These are called central issue prices (CIPs).
Current News Science & Technology New Technology
​TiHAN Testbed for Autonomous Navigation
---
The TiHAN Testbed for Autonomous Navigation was recently inaugurated at IIT Hyderabad.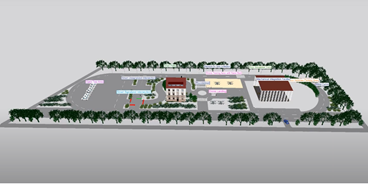 (Image Source: tihan.iith.ac.in)
It is a unique, first of its kind, futuristic "autonomous navigation" facility to develop unmanned ground and aerial vehicles.
The initiative is funded by the Union Ministry of Science & Technology.
Vision behind TiHAN
The vision of TiHAN-IITH is to become a global player for next generation smart mobility technologies.
Need
In India, there is presently no such testbed facility for assessing autonomous vehicle performance.
Also, there are limited testbeds or proving grounds exist worldwide to investigate the operation of unmanned and connected vehicles in a controlled environment by simulating various scenarios that may occur in real-life traffic operations, ranging from frequently occurring to extreme cases.
About TiHAN
The "Technology Innovation Hub on Autonomous Navigation" is a multidisciplinary initiative, which will make India a global player in the futuristic and next generation "Smart Mobility" technology".
TiHAN at IIT Hyderabad campus has test tracks, emulation of real-world scenarios, state of the art simulation technologies, road infrastructure, drone runways and landing area, mechanical integration facility, centralized control room/ground control station, smart poles, etc.
Benefit
The TiHAN-IITH testbed on Autonomous Navigations (Aerial & Terrestrial) will allow us testing the next generation autonomous navigation technologies accurately and allow faster technology development and global market penetration.
TiHAN Testbed will provide a unique platform for high quality research between academia, industry and R&D labs both at the national and international level, thus making India a global leader in autonomous navigation technologies.
---