News Crux Ecology & Environment
Denmark To Create World's First Energy Island
---
Denmark has approved a plan to build the world's first energy island in the North Sea that will produce and store enough green energy to cover the electricity needs of 3 million European households.
The artificial island, which in its initial phase will be the size of 18 football fields, will be linked to hundreds of offshore wind turbines and will supply both power to households and green hydrogen for use in shipping, aviation, industry and heavy transport.
The move came as the European Union unveiled plans to transform its electricity system to rely mostly on renewable energy within a decade and increase its offshore wind energy capacity 25-fold by 2050.
The energy island is an important part of Denmark's legally binding target to cut greenhouse gas emissions by 70% by 2030 from 1990 levels, one of the world's most ambitious.
Denmark also has plans for an energy island in the Baltic Sea. The state will hold a controlling stake in both islands.
News Crux Ecology & Environment
India's First Thunderstorm Research Testbed
---
The India Meteorological Department (IMD) is all set to establish the country's first thunderstorm research testbed at IMD's observation centre in Balasore, Odisha.
Expected to be fully operational in next five years, the facility will aim to reduce fatalities and loss of property due to lightning strikes in Odisha and the eastern states. Between 2011 and February 2020, about 3,218 people lost their lives in the State in lightning strikes.
DRDO Chandipur, ISRO Balasore and Bhubaneswar met office will jointly implement the project. The IMD, Ministry of Earth Sciences, Indian Space Research Organisation (ISRO) and Defence Research and Development Organisation (DRDO) are jointly working on the project.
The research unit will be equipped with augmented observational systems like radar, wind profiler, microwave radiometer and automatic weather stations to study Nor'wester thunderstorms in Odisha, West Bengal, Jharkhand and Bihar.
Advanced observational systems will also be installed in north Odisha, West Bengal and Jharkhand.
Top academic institutes like IIT Bhubaneswar, IIT Kharagpur, Fakir Mohan University, NIT Rourkela, Maharaja Sriram Chandra Bhanja Deo University at Baripada, University of Calcutta and Birla Institute of Technology, Ranchi will be involved to conduct research on the data which will be shared to them by the testbed.
News Crux Ecology & Environment
India's First Geothermal Power Project
---
India's first ever geothermal power project, known as 'Geothermal Field Development Project' is planned to be commissioned by the end of 2022.
A tripartite MoU was signed between ONGC Energy, LAHDC, Leh and the Power Department of UT Ladakh.
It will be established at Puga village of eastern Ladakh which has been identified as the hotspot of geothermal energy in the country by the scientists.
In the first phase of the pilot project, one megawatt (MW) power generation capacity will be generated.
In the first phase, the pilot project implemented by the ONGC-OEC will explore within the depth of 500 metres and it is planned to supply 24 hours free power to 10 neighbouring villages which are not connected with the northern grid for power supply.
The second Phase is proposed for deeper and lateral exploration of geothermal reservoirs by drilling optimal number of wells and setting up of a higher capacity demo plant in Ladakh.
About Geothermal Energy
Geothermal energy is the heat that comes from the sub-surface of the earth. It is contained in the rocks and fluids beneath the earth's crust and can be found as far down to the earth's hot molten rock, magma.
To produce power from geothermal energy, wells are dug a mile deep into underground reservoirs to access the steam and hot water there, which can then be used to drive turbines connected to electricity generators. There are three types of geothermal power plants; dry steam, flash and binary.
Dry steam is the oldest form of geothermal technology and takes steam out of the ground and uses it to directly drive a turbine. Flash plants use high-pressure hot water into cool, low-pressure water whilst binary plants pass hot water through a secondary liquid with a lower boiling point, which turns to vapour to drive the turbine.
News Crux Defence
India-US Joint Military Exercise 'Yudh Abhyas 20'
---
The India-US joint military exercise "Yudh Abhyas 20" commenced in Mahajan Field Firing Range of Bikaner district in Rajasthan.
This is the 16th edition of annual bilateral joint exercise of both the armies. It will continue till the 21st of this month.
The previous version of the joint exercise was held at Seattle in the United States.
News Crux Defence
HAL To Develop CATS Warrior
---
The Hindustan Aeronautics Limited (HAL) is developing a futuristic high altitude pseudo satellite - CATS Warrior - with a start-up company, a first of its kind in the world.
The technology is named Combined Air Teaming System (CATS).
The satellite will be solar energised and become a big asset flying unmanned around 70,000 ft for 2-3 months and taking information.
It will have a manned aircraft (will be known as mother ship), operating from far away, and four autonomous unmanned aerial vehicles known as CATS Warrior.
In this project where the manned aircraft will operate within the boundary and the unmanned aircraft will enter the enemy zone and can carry out strikes deep inside the enemy territory.
It will be able to stealthily enter 700 kilometres inside enemy territory.
Capable of autonomous functions, these unmanned aerial vehicles will also have all the manoeuvring capabilities.
It can straightway hit the target at a distance of 700 kilometres or can go to 350 kilometres and come back. It can carry ammunition, missiles if needed.
सामयिक खबरें सार-संक्षेप पुरस्कार/सम्मान
वीरता पुरस्कार
---
राष्ट्रपति ने 72वें गणतंत्र दिवस समारोह के अवसर पर सशस्त्र बलों के कर्मियों और अन्य के लिए 455 वीरता पुरस्कारों और अन्य रक्षा अलंकरणों का अनुमोदन किया है।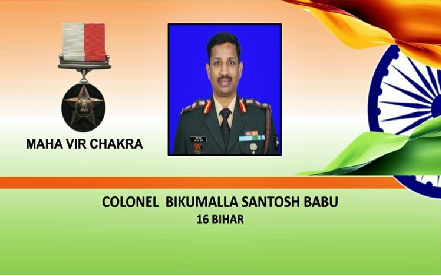 16 बिहार रेजिमेंट के कमांडिंग ऑफिसर कर्नल बी संतोष बाबू को मरणोपरांत महावीर चक्र से सम्मानित किया जाएगा, जिन्होंने पिछले वर्ष गलवान घाटी में संघर्ष के दौरान अपनी शहादत दी थी।
चौथी बटालियन पैराशूट रेजिमेंट के सूबेदार संजीव कुमार, केन्द्रीय रिजर्व पुलिस बल-सीआरपीएफ के इंस्पेक्टर पिंटू कुमार सिंह, सीआरपीएफ के हेड कांस्टेबल श्याम नारायण सिंह यादव और सीआरपीएफ कांस्टेबल विनोद कुमार को मरणोपरांत कीर्ति चक्र से सम्मानित किया जाएगा। सीआरपीएफ के डिप्टी कमांडेंट राहुल माथुर को कीर्ति चक्र प्रदान किया जाएगा।
ये वीरता पुरस्कार वर्ष में दो बार घोषित किए जाते हैं – गणतंत्र दिवस के अवसर पर और फिर स्वतंत्रता दिवस के अवसर पर। इन पुरस्कारों का वरीयता क्रम परमवीर चक्र, अशोक चक्र, महावीर चक्र, कीर्ति चक्र, वीर चक्र और शौर्य चक्र है।
---