News Crux Obituary
Archaeologist Enamul Haque Passed Away
---
Eminent archaeologist, historian and former Director-General of the Bangladesh National Museum Dr. Enamul Haque has passed away.

Dr Haque is credited with finding and protecting several invaluable sculptures from various archaeological sites in Bangladesh.
During his illustrious career, he was awarded the Ekushey Padak in 2016 and the highest civilian award of Bangladesh Swadhinta Padak in 2020.
The Govt. of India conferred him with Padma Shri for the year 2020 for his work on Bengal's Iconography and terracotta art.
News Crux Obituary
Social Worker Avdhash Kaushal Passed Away
---
Noted social worker and Padma Shri awardee Avdhash Kaushal has passed away.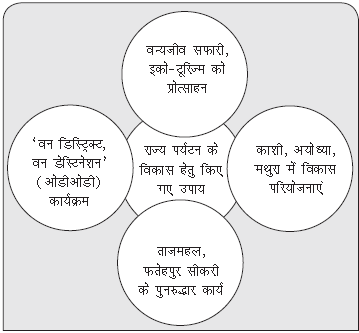 Kaushal headed the non-governmental organisation (NGO), Rural Litigation and Entitlement Kendra (RLEK) for development work amongst tribal hill communities in the areas of Jaunsar-Bawar, a tribal belt of Dehradun district.
RLEK over the years worked for the cause of the underprivileged and marginalised communities and fought against the systemic inequalities and injustices with the main thrust being empowerment and emancipation of bonded labourers with a special focus on women.
It took many initiatives ranging from protecting the fragile eco-system of Doon valley, abolition of bonded labour system in Jaunsar-Bawar area of Dehradun and securing the rights (right to education, right to vote and livelihood rights) of marginalised communities. Kaushal fought for the rights of Van Gujjars.
The main milestone of RLEK was the limestone quarries case fought by it in the 1980s, in which the Supreme Court ordered the closing of the 101 mines in the Doon Valley.
Avdhash Kaushal was also nominated as a member of the International Committee to probe into war crimes and disappearances in Sri Lanka.
Current News Science & Technology Health & Disease
India's First qHPV Vaccine against Cervical Cancer
---
The Drugs Controller General of India (DCGI) has granted market authorisation to Serum Institute of India (SII) to manufacture indigenously-developed India's first Quadrivalent Human Papillomavirus vaccine (qHPV) against cervical cancer.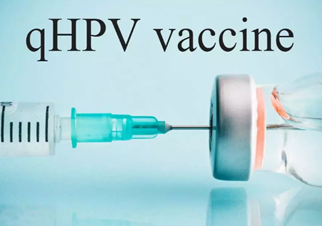 Cervical cancer is the second most frequent cancer among women between 15 and 44 years of age with a high death ratio in India.
The government advisory panel NTAGI had recently also approved the qHPV after reviewing the clinical trial data of the vaccine.
The qHPV vaccine CERVAVAC has demonstrated robust antibody response that is nearly 1,000 times higher than the baseline against all targeted HPV types and in all dose and age groups.
About Cervical Cancer
Cervical cancer is a type of cancer that takes place in cervix — the lower part of the uterus that connects to the vagina.
It's not exactly known what causes cervical cancer, but human papillomavirus (HPV) definitely plays a role.
Most cervical cancer cases are caused by the sexually transmitted HPV.
There are about 100 different strains of HPV. Only certain types cause cervical cancer. The two types that most commonly cause cancer are HPV-16 and HPV-18."
This means that being infected with HPV does not necessarily mean you have cervical cancer.
Importance of qHPV
Every year, 122,844 women are diagnosed with cervical cancer and 67,477 die from the disease.
Presently our country is fully dependent on foreign manufacturers for the HPV vaccine.
With the introduction of qHPV vaccine CERVAVAC, several lives could be saved with low cost treatment.
PIB News National
Paper Import Monitoring System (PIMS)
---
The Directorate General of Foreign Trade (DGFT) has introduced Paper Import Monitoring System (PIMS) by amending the import policy of major paper products from 'Free' to 'Free subject to compulsory registration under PIMS'.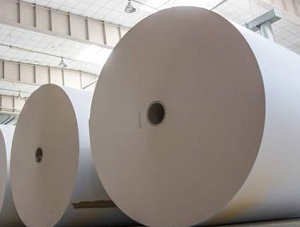 PIMS shall come into effect from 1st October, 2022. However, the online facility of registration will be available from 15th July 2022.
Applicable Products: The PIMS shall be applicable on import by a Domestic Territory Area unit on a wide range of paper products covering 201 tariff lines, such as newsprint, handmade paper, coated paper, uncoated paper, Litho and offset paper, tissue paper, toilet paper, cartons, labels, etc.
Exclusion: Paper products like currency paper, bank bond and Cheque paper, security printing paper, etc. have been excluded from mandatory registration.
Finer Points of PIMS
As per PIMS, an importer will be required to obtain an automatic registration number through online system by paying a registration fee of Rs. 500/- only, not earlier than 75th day and not later than 5th day before the expected date of arrival of import consignment.
The automatic registration Number shall remain valid for a period of 75 days and multiple consignments Bill of Entry (BoEs) shall be allowed in same registration number within the validity period of registration, for the permitted quantity.
Further, registration under PIMS shall also be required at the point of import by a Unit in Special Economic Zone/Free Trading Warehousing Zone or at the time of import by an Export Oriented Unit of the items covered under PIMS.
However, registration under PIMS shall not be required by the Domestic Territory Area (DTA) Unit at the time of Customs Clearance from the SEZ/FTWZ/EOU to DTA if no processing has taken place of the item of paper that has already been registered under PIMS at the time of entry into a SEZ/FTWZ/EOU.
However, if processing has taken place in the SEZ/FTWZ/EOU with change in HS Code at 8-Digit level, then the importer in DTA will require to register under PIMS, if the processed item falls under any of the 201 tariff lines covered under PIMS.
Why PIMS?
Based on the demand of domestic paper industry, the introduction of PIMS is intended to:

curb imports under "Others" category Tariff Lines,
dumping of paper products in the domestic market by way of under-invoicing,
entry of prohibited goods by mis-declaration, and
re-routing goods through other countries in lieu of trade agreements.

This may also promote 'Make in India' and 'Atmanirbhar' initiative under this category.
Current News International Reports,Survey And Index
Global Gender Gap Report 2022
---
The Global Gender Gap Report 2022 was recently released by the World Economic Forum.
It compares countries' gender gaps across four dimensions:
Pillar 1 Economic Participation and Opportunity
Pillar 2 Educational Attainment
Pillar 3 Health and Survival
Pillar 4 Political Empowerment
Key Findings
Global Results and Time to Parity
In 2022, the global gender gap has been closed by 68.1%.
At the current rate of progress, it will take 132 years to reach full parity.
This represents a slight four-year improvement compared to the 2021 estimate (136 years to parity).
Across the 146 countries covered by the 2022 index, the Health and Survival gender gap has closed by 95.8%, Educational Attainment by 94.4%, Economic Participation and Opportunity by 60.3% and Political Empowerment by 22%.
Most Gender-Equal Country: Iceland has retained its position as the world's most gender-equal country, among 146 nations on the index. Finland, Norway, New Zealand and Sweden are followed by Iceland in the top five countries on the list respectively.
Worst-Performing Country: Afghanistan is the worst-performing country in the report (146th).
At current pace, when are regions likely to close the gap?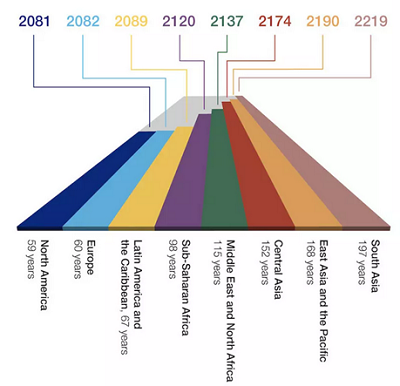 Time–Frame for Closing the Gender Gap over Four Pillars
Based on the evolution of the global average scores for each sub-index over the past 16 editions for the constant sample of 102 countries, at the current rates of progress, it will take
155 years to close the Political Empowerment gender gap
151 years for the Economic Participation and Opportunity gender gap,
22 years for the Educational Attainment gender gap.
The time to close the Health and Survival gender gap remains undefined as its progress to parity has stalled.
India-specific Findings
India has been ranked 135 out of 146 countries in the World Economic Forum's Gender Gap Report 2022.
The country has scored 0.629, on a scale of 0 to 1, which is its seventh-highest score in the last 16 years.
India registers the most significant and positive change to its performance on Economic Participation and Opportunity.
However, the country has the lowest ranking on the Health and Survival sub-index and has registered a declining score in Political Empowerment.
India's Performance on Four Pillars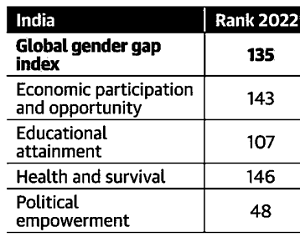 India's Ranking with Neighbours
India also ranks poorly among its neighbours and is behind Bangladesh (71), Nepal (96), Sri Lanka (110), Maldives (117) and Bhutan (126).
Only Iran (143), Pakistan (145) and Afghanistan (146) perform worse than India in South Asia.
---