News Crux Awards In News
Sakharov Prize 2021
---
Alexei Navalny, currently imprisoned in Russia has been awarded Sakharov Prize 2021 by the European Union.
The EU's award to a member of the Russian opposition movement comes after Russian journalist Dmitry Muratov won the Nobel Peace Prize, a recognition that some of the jailed dissident's supporters described as "undeserving". Muratov himself said he would have given the prestigious honour to Navalny.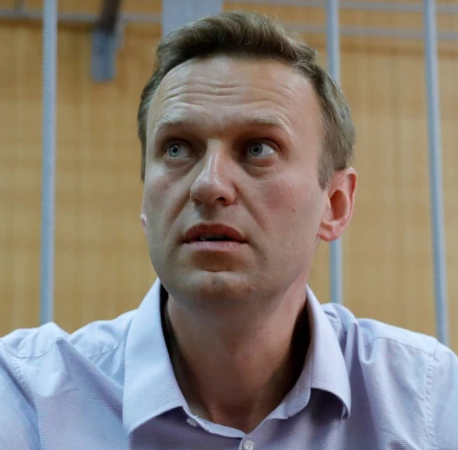 About Navalny
Alexei Anatolievich Navalny is a Russian opposition leader, lawyer, and anti-corruption activist. He came to international prominence by organizing anti-government demonstrations and running for office to advocate reforms against corruption in Russia, and against President Vladimir Putin and his government.
In August 2020, the activist was poisoned with a Novichok nerve agent and was hospitalised in serious condition, with many of his supporters fearing for his life. Navalny was evacuated to a hospital in Berlin and eventually survived. He later accused the Kremlin of being behind the chemical attack.
Other Prominent Nominations
Along with Navalny, the most prominent nominations for this year's award were Afghan women, whose plight has taken centre stage after the Taliban takeover, and Jeanine Áñez, a Bolivian politician who became interim president in 2019 after alleged electoral fraud by Evo Morales. Áñez was later arrested for allegedly plotting coup d'état against Morales.
About the Prize
The prize is the European Union's highest tribute to human rights defenders.
The Sakharov Prize was set up in 1988 to honour individuals and organisations defending human rights and fundamental freedoms.
The annual award is named in honour of Soviet physicist and political dissident Andrei Sakharov, an advocate of civil liberties in the former Soviet Union.
The first recipients were Nelson Mandela and Anatoli Marchenko.
संक्षिप्त खबरें सार-संक्षेप चर्चित दिवस
अंतरराष्ट्रीय ग्रामीण महिला दिवस (15 अक्टूबर)
---
2021 का विषय: 'रुरल वुमेन कल्टीवेटिंग गुड फूड फॉर ऑल' (Rural Women Cultivating Good Food for All)
महत्वपूर्ण तथ्य: कृषि और ग्रामीण विकास को बढ़ाने, खाद्य सुरक्षा में सुधार और ग्रामीण गरीबी उन्मूलन में स्थानीय महिलाओं सहित ग्रामीण महिलाओं की महत्वपूर्ण भूमिका और योगदान को मान्यता देने के लिए संयुक्त राष्ट्र महासभा द्वारा 2007 में इस दिवस की स्थापना की गई थी। पहली बार यह दिवस 15 अक्टूबर, 2008 को मनाया गया था।
विकासशील देशों में कृषि श्रम शक्ति में महिलाओं की औसतन 40 प्रतिशत से अधिक की हिस्सेदारी है।
---