Current News International
UNSC Adopts Resolution 2615 on Afghanistan Aid
---
On 22nd December, 2021, the United Nations Security Council (UNSC) unanimously adopte resolution 2615 (2021) permitting a carveout in sanctions against the Taliban to facilitate the delivery of humanitarian aid to Afghanistan.
Resolution 2615
The carveout covers urgently needed humanitarian assistance and other activities that support basic human needs in Afghanistan.
It includes activities related to shelter and settlement assistance, food security, education, livelihoods support, energy, water, sanitation, health including COVID-related assistance, nutrition, and hygiene, among others.
These activities aim primarily to benefit the poor or at-risk populations and relieve human suffering.
The resolution:

Mandates a review of the carveout every six months;
Strongly encourages providers of assistance to try and ensure that benefits do not accrue to entities designated on the 1988 Sanctions List;
Requests that an Emergency Relief Coordinator brief the UNSC every six months on the delivery of assistance and any obstacles to implementation; and
Calls on all parties to respect human rights and observe international humanitarian law.
India's Stance
Noting that the humanitarian situation in Afghanistan was dire, India said that humanitarian assistance should be based on the principles of neutrality, impartiality and independence.
India reiterated that disbursement of aid should be non-discriminatory and accessible to all irrespective of ethnicity, religion or political belief. The assistance should reach the most vulnerable first, including women, children and minorities.
India said it was willing to work with other stakeholders to quickly deliver assistance to the Afghan people.
Current News National
Pralay Successfully Flight-tested
---
On 22nd December, 2021, Defence Research and Development Organisation (DRDO) successfully conducted maiden flight test of indigenously developed surface-to-surface missile 'Pralay' from Dr A P J Abdul Kalam Island off the coast of Odisha.
Pralay
The Missile is powered with solid propellant rocket motor and many new technologies.
It has a range of 150-500 kilometre and can be launched from a mobile launcher.
The missile guidance system includes state-of-the-art navigation system and integrated avionics.
Significance
The mission met all its objectives. The new missile followed the desired quasi ballistic trajectory and reached the designated target with high degree accuracy, validating the control, guidance and mission algorithms.
Induction of this weapon system will give the necessary impetus to the Armed Forces.
Current News National Polity & Governance
Good Governance Week
---
The central government is celebrating Good Governance week from December 20 to December 26, 2021.
Every year 25th December is celebrated as 'Good Governance Day' to mark the birth anniversary of former Prime Minister Atal Bihari Vajpayee.
Objective
To translate the vision of the Prime Minister for Next Generation Administrative Reforms during the Amrit Kaal period across all Districts and Tehsils of India.
Theme
Key Points
It is being organized by the Department of Administrative Reforms and Public Grievances (DARPG) in collaboration with Ministry of External Affairs, Department of Promotion of Industry and Internal Trade, Department of Personnel & Training, Department of Pensions and Pensioners' Welfare and Ministry of Panchayati Raj and Rural Development is celebrating Good as part of Azadi Ka Amrit Mahotsav celebration.
A Nation-wide campaign for Redressal of Public Grievances and Improving Service Delivery will be held in all Districts, States, and Union Territories of India.
Over 700 Districts Collectors will be participating in "Prashasan Gaon Ki Aur" and during the weeklong event will visit Tehsil/Panchayat Samiti Headquarters to provide timely grievance redressal and improve service delivery.
Impact
The "Prashasan Gaon Ki Aur" campaign during the Good Governance Week will create a National Movement for good governance and inspire future generations.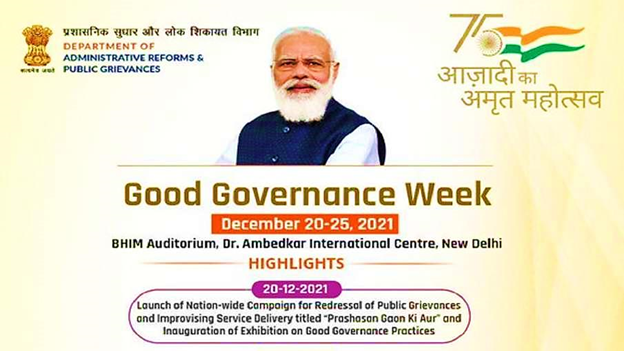 What is Good Governance?
Good Governance is an approach to government that is committed to creating a system founded in justice and peace that protects individual's human rights and civil liberties.
It can be used in several contexts such as corporate governance, international governance, national governance and local governance.
8 Major Characteristics of Good Governance
Participation

Rule of Law
Transparency
Responsiveness
Consensus Oriented
Equity and Inclusiveness
Effectiveness and Efficiency
Accountability
Benefits
Good Governance promotes the rule of law.
It ensures that political, social, and economic priorities are based on broad consensus in society and that the voices of the poorest and the most vulnerable are heard in decision making over the allocation of development resources.
---