Current News National Study/Survey/Report/Index
SDG Urban Index and Dashboard 2021–22
---
On 23 November 2021, NITI Aayog released the inaugural SDG Urban Index and Dashboard 2021–22.
It is another step of NITI Aayog towards localizing the Sustainable Development Goals (SDGs) and instituting robust SDG progress monitoring systems at the national, State/UT, and local levels.
The index and dashboard are a result of the NITI Aayog-GIZ and BMZ collaboration focused on driving SDG localization in our cities, under the umbrella of Indo-German Development Cooperation.
Total 56 urban areas were considered for computation where Shimla topped the Index followed by Coimbatore and Chandigarh.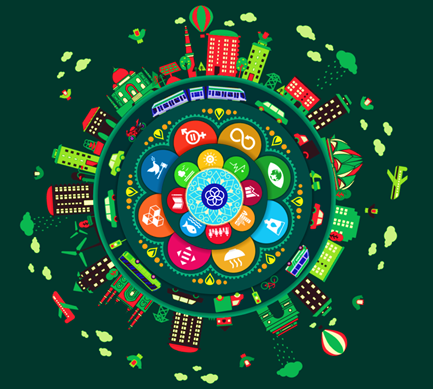 Why this Index?
To achieve 2030 Agenda
With one-third of the journey towards achieving the 2030 Agenda behind us, measuring progress on the SDG in urban areas is critical.
NITI Aayog seeks to empower local administrations to adopt a measurement-based approach to decision making.
Only if the SDG agenda is adopted by the last mile stakeholders can we hope to achieve the global 2030 Agenda.
The SDG Urban Index is one more step towards localising the SDGs further.
Benefits
The index and dashboard will further strengthen SDG localization and institute robust SDG monitoring at the city level.
It highlights the strengths and gaps of ULB-level data, monitoring, and reporting systems.
Tools such as this index and dashboard will contribute to the creation of an ecosystem in which all stakeholders will be equipped to adopt and implement data-driven decision making.
This transformative change is quite essential, given the increasing prominence of our cities and urban areas in charting the future of development in India.
Methodology
The statistical methodology for the SDG Urban Index is drawn from the globally accepted methodology developed by the Sustainable Development Solutions Network (SDSN).
Indicators
A comprehensive list of 77 indicators, covering 46 global SDG targets across 15 SDGs, are used in the index.
Exclusion
SDG 14 (life below water) has not been included as it is relevant for only coastal areas, which are only a few of the selected cities.
SDG 15: Progress under SDG 15 (life on land) has been measured using two indicators they have not been used in estimating the scores, owing to lack of adequate coverage.
SDG 17 (partnerships for the goals) has been excluded as the progress of its targets are monitored at the national level.
Ranking Scale & Classification of Urban Areas
The SDG Urban Index and Dashboard ranks 56 urban areas on 77 SDG indicators across 46 targets of the SDG framework.
For each SDG, the urban areas are ranked on a scale of 0-100.
A score of 100 implies that the urban area has achieved the targets set for 2030
A score of 0 implies that it is the farthest from achieving the targets among the selected urban areas.
Overall or composite urban area scores are then generated from the Goal-wise scores to measure aggregate performance of the urban area.
Urban areas have been classified as below based on their composite score:
Aspirant: 0–49
Performer: 50–64
Front-Runner: 65–99
Achiever: 100
Score-wise Top & Bottom 10 Urban Areas
Top 10 Urban Areas

Urban Area
State/UT
Composite Score
Shimla
Himachal Pradesh
75.50
Coimbatore
Tamil Nadu
73.29
Chandigarh
Chandigarh
72.36
Thiruvananthapuram
Kerala
72.36
Kochi
Kerala
72.29
Panaji
Goa
71.86
Pune
Maharashtra
71.21
Tiruchirapalli
Tamil Nadu
70.00
Ahmedabad
Gujarat
69.79
Nagpur
Maharashtra
69.79
Bottom 10 Urban Areas
Urban Area
State/UT
Composite Score
Faridabad
Haryana

58.57

Kolkata
West Bengal
58.5
Agra
Uttar Pradesh
58.21

Kohima

Nagaland
58.07
Jodhpur
Rajasthan
58
Patna
Bihar
57.29
Guwahati
Assam
55.79
Itanagar
Arunachal Pradesh
55.29
Meerut
Uttar Pradesh
54.64
Dhanbad
Jharkhand
52.43
Some Major Goal-wise Findings
Sex Ratio at Birth: 19 out of 56 Urban Areas have a sex ratio at birth greater than or equal to 950.
Institutional Delivery: At least 9 in 10 births are institutional for 37 out of 56 urban areas.
Accidental Deaths: 0.26 accidental deaths per 1,00,000 population have occurred due to forces of nature across 44 urban areas in 2019. India value is 0.61 per 1,00,000 population.
Skill Development Centres: 83.92% of 56 Urban Areas have incubation/skill development centres.
Skill Training: 13 out of 54 Urban Areas have greater than 50% trainees placed out of total number of people provided skill training.
Per Capita Hazardous Waste Generation: 20 Kg per capita hazardous waste is generated on an average across 50 urban areas. India value is 8 Kg per capita per year.
Crime against Senior Citizen: The average rate of crime against senior citizen is 38.2 per 1,00,000 population across 54 urban areas. India value is 26.7 per 1,00,000 population.
Crime against SCs: Average rate of crime against SCs per 1,00,000 population is 25.69 across 54 urban areas. India value is 22.8 per 1,00,000 population.
Municipal Solid Waste: 21 out of 56 Urban Areas treat 100% of their generted Municipal solid waste.
Pupil-Teacher Ratio: 96.4% of 56 Urban Areas have a pupil-teacher ratio at the secondary level of less than 30.
Clean Cooking Fuel: At least 9 in 10 are using clean cooking fuel in 31 out of 56 Urban Areas.
Coverage of Health Insurance: 16% of 56 Urban areas have more than 50% households with at least 1 usual member covered by health Insurance/scheme.
Prevalence of Anaemia: 55 out of 56 urban areas have greater than 25% anaemia prevalence among women aged 15-49 years.
Sanitation: At least 9 in 10 households have access to improved sanitation facilities in 35 out of 56 urban areas.
Goal-wise Top Performing Urban Areas
| | | |
| --- | --- | --- |
| SDG | Goal | Top Performer |
| 1 | No Poverty | Coimbatore |
| 2 | Zero Hunger | Kochi |
| 3 | Good Health and Well-being | Shimla |
| 4 | Quality Education | Tiruvanantapuram |
| 5 | Gender Equality | Kochi |
| 6 | Clean Water and Sanitation | Bhopal |
| 7 | Affordable and Clean Energy | Shimla |
| 8 | Decent Work and Economic Growth | Bengaluru |
| 9 | Industry, Innovation and Infrastructure | Surat |
| 10 | Reduced Inequality | Amritsar |
| 11 | Sustainable Cities and Communities | Nashik |
| 12 | Sustainable Consumption & Production | Agra, Ahmedabad, Bengaluru, Faridabad, Ghaziabad, Guwahati, Gwalior, Kanpur, Patna, Prayagraj,Rajkot, Shimla, Varanasi |
| 13 | Climate Action | Aizawl, Kochi Shillong, Shimla, Tiruvanantapuram |
| 16 | Peace, Justice and Strong Institutions | Panaji |
---