Current News National Plan/Policy
NITI Aayog's Vernacular Innovation Program
---
Recently, Atal Innovation Mission (AIM), NITI Aayog, launched the Vernacular Innovation Program (VIP) to enable innovators and entrepreneurs to have access to the innovation ecosystem in 22 scheduled languages.
About The Program
The Vernacular Innovation Program is an initiative to lower the language barrier in the field of innovation and entrepreneurship and will systematically decouple creative expressions and languages of transaction.
To build the necessary capacity for the program, AIM has identified and will be training a Vernacular Task Force (VTF) in each of the 22 scheduled languages.
Each task force comprises vernacular language teachers, subject experts, technical writers, and the leadership of regional Atal Incubation Centers (AICs).
Significance
VIP will be a stepping stone in the journey of the Indian innovation and entrepreneurship ecosystem which will cement the cognitive and design thinking attitude in young and aspiring minds.
The program will assist India in building a strong local network of design experts and innovation practitioners.
It will help in overcoming the barriers of language and empower innovators in the farthest areas of the country.
It will provide equal opportunities to vernacular innovators who represent the staggering 90% of Indian population.
Current News National Defence
DRDO Successfully Test-fires Abhyas
---
On 23rd December, 2021, Defence Research and Development Organisation (DRDO) successfully conducted the flight test of indigenously developed High-speed Expendable Aerial Target (HEAT) Abhyas.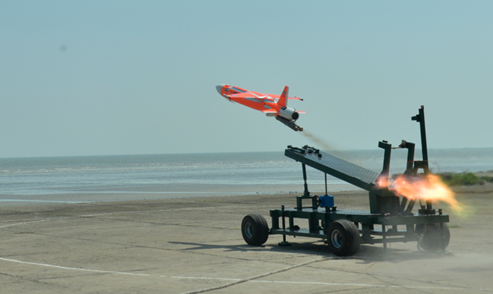 Abhyas
It was launched from Integrated Test Range (ITR), Chandipur, off the coast of Odisha.
Bengaluru based DRDO laboratory Aeronautical Development Establishment (ADE) along with other DRDO laboratories has developed this indigenous unmanned aerial target system to meet the requirement of aerial targets of Indian Armed Forces.
During the launch, two boosters provided initial acceleration and a small turbo jet engine sustained high subsonic speed with long endurance.
The indigenous data link designed by Bengaluru based industry partner has been successfully flown and tested during the flight.
The aircraft is controlled from a ground based controller and indigenously developed MEMS-based (micro-electromechanical system) Inertial Navigation System along with the Flight Control Computer which helps it to follow the pre-designated path in a fully autonomous mode.
During the flight trial, high subsonic speed trajectory at a very low altitude with high endurance was demonstrated.
The performance of the system during the entire flight duration has been confirmed from the data captured by various range instruments deployed.
News Crux Miscellaneous
Chillai Kalan
---
It is a Persian word meaning Major Cold and it is the local name given to the 40 day period of harsh winter in Kashmir (starting from 21st December to 29th January every year).
Chillai Kalan is followed by a 20-day long Chillai-Khurd (small cold) that occurs between 31st January and 19th February and a 10-day long Chillai-Bachha (baby cold) which is from 20th February to 2nd March.
During Chillai-Kalan, the weather in Kashmir valley continues to remain dry and cold with minimum temperatures hovering below the freezing point. The chances of snowfall are most frequent during this period.
---