Current News National Indian Art, Culture & Heritage
'Gulabi Meenakari of Benaras' and India's Soft Diplomacy
---
During his recent visit to the US, PM Narendra Modi gifted Kamala Harris (US Vice President) a copy of old notifications related to her grandfather, PV Gopalan, in a wooden handicraft frame (PV Gopalan was a respected government officer who served in various positions in India) and a gulabi meenakari chess set. Later, while meeting with other Quad leaders, he gifted Australian PM Scott Morrison a silver gulabi meenakari ship and a sandalwood Buddha statue to Japan's Prime Minister Yoshihide Suga. He also presented Joe Biden with documents that could help him if he had any relatives in India.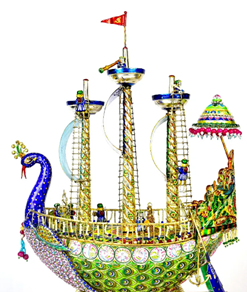 Silver Gulabi Meenakari Ship (Image Source: timesnownews.com)
Meenakari
Meenakari is an art of painting or embellishing various types of metals (gold, silver, faux, etc.) with vibrant colors in dramatic motifs of birds, flowers and leaves. There are various kinds of Meenakari work depending on whether the enamel is to appear opaque, transparent or translucent.
The process is often applied to kundan—articles of jewellery studded with gemstones set with a layer of gold foil between the stone and the mount on one side, while the reverse is lavishly enamelled using the meena technique.
Origin and History
Meenakari work originated in Persia, and was later introduced to India through the Mughal invaders. Raja Man Singh of Amber was instrumental in establishing skilled artisans who he brought from Lahore. Today Jaipur is the hub of Meenakari work.
Meenakari gold is primarily done in Jaipur, Benaras and Delhi. Silver enameling or Meenakari is majorly done in Udaipur, Bikaner and Nathdwara whereas glass enameling is done in Pratapgarh.
Gulabi (Pink) Meenakari of Benaras
Gulabi meenakari or pink enamelling of Banaras is a unique art form of the city.
It is characterized by pink strokes on white enamel.
Unlike the vibrant enamelling in red, green and blue of Jaipur and Delhi, where the white enamel is left stark, the Varanasi craftsmen delicately add pink to the predominant white enamel.
The motifs have been lotus blooms and buds.
Artisans make items like religious figures of gods and goddesses on silver and gold sheet, various types of traditional ornaments and decorative items, motifs, including flowers, birds and animals on gold and silver metal.
The colours used in the Banaras Gulabi Meenakari are predominately natural and leadless dyes.
Banaras stands next to Jaipur in the art of enamelling and the nature of Banaras pink is similar to Jaipur red.
Unlike the red enamel of Jaipur, which has still maintained the high quality and fine workmanship of the 19th century, the pink enamel of Banaras was short-lived. It ended here in the first quarter of 20th century. After a gap of about half a century, there has been a revival of pink enamelling in Benaras, chiefly as a trade to meet the demands of tourists and of women, who have taken to old jewellery more as a fashion than out of love for its charm and grace.
Banaras Gulabi Meenakari Craft got GI Tag in 2015 under Handicraft category.
News Crux Important Days/Weeks
25 September: Antyodaya Divas
---
Antyodaya Diwas is observed to mark the birth anniversary of Indian politician and thinker Pandit Deendayal Upadhyaya.
The day has been officially celebrated since 2015.
Antyodaya means "uplifting the poorest of the poor" or "rise of the last person".
---