Current News - International - International Treaties & Agreements
Recently, the United Arab Emirates (UAE) achieved a significant milestone by becoming the first Arab country to obtain observer status in the Asia/Pacific Group on Money Laundering (APG), a regional body akin to the Financial Action Task Force (FATF).
The key points are:

Venue of Conference: The APG is currently conducting its plenary session in Vancouver, Canada, where the UAE is actively participating as an observer.
UAE's Importance: Obtaining observer status is a testament to the UAE's dedication to international collaboration in combating money laundering and terrorist financing.
Anti-terrorism Commitment: The UAE delegation includes representatives from the UAE Financial Intelligence Unit (FIU) and other government officials, highlighting the country's commitment to actively engage in anti-money laundering and counter-terrorism financing efforts within the region.
On 5th July, 2023, during the summit of the Shanghai Cooperation Organization (SCO) held under India's presidency, Iran officially became a full member of the grouping.
The key points of the summit are:
Iran's Membership: The SCO has decided to induct Iran as its ninth member, expanding the organization's membership.
New Delhi Declaration: The summit resulted in the New Delhi Declaration, which proposed five joint statements on various issues such as the fight against terrorism, de-radicalization, sustainable lifestyle to tackle climate change, production of millets, and digital transformation.
India's Stance on BRI: India once again refused to endorse China's Belt and Road Initiative (BRI), which aims to connect China with Asia, Europe, and beyond through large infrastructure projects. India remains the only SCO member not supporting the project.
Lack of Consensus: India also stayed out of a joint statement on SCO Economic Development Strategy 2030, indicating a lack of consensus within the organization on this matter.
Cross-Border Terrorism: Indian Prime Minister emphasized that some countries use cross-border terrorism as an instrument of their policies. He urged the SCO to criticize such nations and stressed the need for consistent action against terrorism.
Pakistan's Role: India has been raising concerns about Pakistan's support for terrorist groups and their use as instruments of state policy. China's stance on blocking the listing of Pakistan-based terrorists at the UN Security Council (UNSC) has been a point of contention.
On 18th May 2023, India's National Disaster Management Authority (NDMA) and Japan International Cooperation Agency (JICA) jointly organized the Risk Reduction Hub Event at the United Nations headquarters during the High-level meeting of the midterm review of Sendai Framework for Disaster Risk Reduction (SFDRR) 2015-2030.
About the Event: This event was organized in collaboration with the United Nations Office for Disaster Risk Reduction (UNDRR), and India's Permanent Representative to the United Nations.
Aim: The aim of the event was to discuss 'The Roles of States for Promoting Investments in Disaster Risk Reduction towards Resilient and Sustainable Future'.
It also aimed to discuss the midterm review of Sendai Framework for Disaster Risk Reduction (SFDRR) 2015-2030.
States' Primary Role in Disaster Risk Reduction: States' primary role in disaster risk reduction was emphasized as a fundamental requirement for achieving the SDGs and minimizing damages and impacts of climate change.
It also emphasized the need for a balanced financial architecture to address all aspects of disaster risk reduction and strengthen early warning systems during emergencies.
Priorities Aligned with SFDRR: During India's Presidency of the G20, the Working Group on DRR proposed five priorities aligned with the Sendai Framework for Disaster Risk Reduction (SFDRR).
These priorities include expanding global coverage of early warning systems, making infrastructure systems resilient to disasters and climate change, establishing robust national financial frameworks, enhancing disaster response systems, and promoting ecosystem-based approaches.
The Sendai Framework for Disaster Risk Reduction 2015-2030 (Sendai Framework) was the first major agreement of the post-2015 development agenda and provides Member States with concrete actions to protect development gains from the risk of disasters.

On May 15, 2023, India and the European Free Trade Association (EFTA) made significant progress in their endeavor to establish a comprehensive Trade and Economic Partnership Agreement (TEPA).
TEPA: It refers to a free trade agreement between India and the EFTA bloc. Such agreements aim to reduce or eliminate customs duties on traded goods and facilitate trade in services and investments through eased regulations.
EFTA: It is an inter-governmental organization founded as an alternative for states not wishing to join the European Community. Its primary objective is to promote and intensify free trade among its member countries. Importantly, EFTA countries are not part of the European Union (EU).
Key Points of the Meeting
Importance of a Free Trade Agreement (FTA): India and the European Free Trade Association (EFTA) bloc, consisting of Iceland, Liechtenstein, Norway, and Switzerland, emphasized the potential benefits of an FTA.
Two-way Commerce: It would enhance two-way commerce, boost investment flows, generate job opportunities, and drive economic growth.
Potential Economic Benefits: A TEPA between EFTA and India is expected to bring significant economic advantages. These include the development of integrated and resilient supply chains, the creation of new business opportunities, increased trade and investment flows, job creation, and overall economic growth.
Modalities of a Comprehensive TEPA: Commerce and Industry Minister engaged in discussions with EFTA representatives in Brussels to deliberate on the modalities of a comprehensive Trade and Economic Partnership Agreement (TEPA).
Previous discussions held on April 26 paved the way for resuming negotiations for the agreement.
Intensified Efforts and Steady Pace: Both sides agreed to ramp up their efforts and continue discussions at a steady pace. Multiple meetings are planned in the coming months to achieve a common understanding on critical issues pertaining to the TEPA.
Principles of Trust and Respect: The statement highlighted the importance of building discussions on principles of trust and respect for each other's sensitivities. This approach aims to ensure a fair, equitable, and balanced agreement between India and EFTA.
Trade Data: Trade data presented indicates that India's exports to EFTA countries from April-February 2022-23 amounted to USD 1.67 billion, while imports reached USD 15 billion during the same period. The trade balance currently favors the EFTA group.
Strengthening Economic Ties: The discussions reflect the commitment of India and the EFTA states to strengthen their economic ties. The TEPA will lay the foundation for a comprehensive partnership, unlocking economic opportunities and contributing to the growth and prosperity of both regions.
On May 2-3, 2023, the Petersberg Dialogue on Climate Change took place in Berlin which was jointly hosted by Germany and the United Arab Emirates.
About the Dialogue
The Petersberg Dialogue on Climate Change is an annual high-level political meeting on climate change being organized by the German government since 2010.
Ministers from 40 countries attended the conference to discuss the way forward towards COP28.
Key Points
Potential Global Renewables Target: It was highlighted that in order to limit the global warming to 1.5°C, the world needs to make sharp cuts in their greenhouse gas emissions.
Acceleration Agenda: The Secretary General of the United Nations said that the Agenda calls for coal phase-out by 2030 in Organisation for Economic Co-operation and Development countries, and by 2040 in all others, as well as achieving Net Zero electricity generation and decarbonising major sectors. (Note: The OECD is an intergovernmental economic organization with 38 member countries, mostly high-income economies. Its headquarter is in Paris, France.)
On Track For $100 Billion Climate Finance: Developed countries are "on good track" to deliver the $100 billion per year they had promised to mobilise by 2020. However, delivering the $100 billion goal in 2023 might be too little too late.
Global Stocktake: 2023 is the year for the Global Stocktake, which is essentially a periodic review of global climate action which aims to assess whether current efforts will enable us to reach the objectives set out in the Paris Agreement.
UN Secretary-General's Call: United Nations Secretary-General emphasized the need for cleaning-up economies and breaking fossil fuel addiction and driving decarbonisation in every sector to achieve a 1.5-degree global warming pathway.
A day before the QUAD leaders' meeting in Tokyo on May 24th, 2022, India and 12 other countries joined the Indo-Pacific Economic Framework for Prosperity (IPEF) unveiled by US President Joe Biden.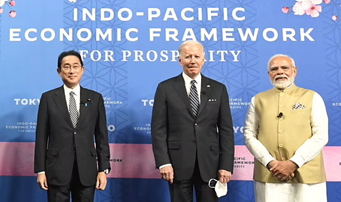 The framework envisions a free, open and secure Indo-Pacific Region.
The IPEF seeks to strengthen economic partnership among participating countries with the objective of enhancing sustainability, resilience, inclusiveness, economic growth, fairness and competitiveness in the Indo-Pacific region.
President Biden announced that a dozen Indo-Pacific countries that represent 40 percent of the global GDP will join the US in a sweeping economic initiative that has been designed to counter China's influence in the region.
The countries include all those falling in the Indo Pacific Region including Indonesia, Australia, Brunei, Malaysia, Thailand, Japan, Republic of Korea, New Zealand, the Philippines, Singapore and Vietnam.
Prime Minister Narendra Modi participated in the event and underlined that the foundation of resilient supply chains must be 3Ts - Trust, Transparency and Timeliness.
The 31st formal meeting of the heads of state and heads of government of the North Atlantic Treaty Organization (NATO) was held in Brussels, Belgium, on 14 June 2021.
Major outcomes of the 2021 Summit
1.NATO Countries' Communique on China and Russia
The NATO members issued a communiqué highlighting the "threat" presented by Russia and the "challenges" posed by China.
"Russia's aggressive actions constitute a threat to Euro-Atlantic security," the communiqué read.
On China, the statement said: "China's growing influence and international policies can present challenges that we need to address together as an Alliance". The statement added that the NATO members "will engage China with a view to defending the security interests of the Alliance."
2.Cyber Attacks and Space Attacks qualify for Collective Defense
NATO leaders have officially recognized attacks in outer space and cyberspace as qualifying for collective defense.
This change comes as alliance leaders grow increasingly concerned about China's and Russia's aggressive actions in space.
Previously, the collective defense clause has only applied to traditional military areas of land, sea, and air.
Outer space attacks primarily refer to interference with NATO country satellites that support military navigation, communication and missile launch detection.
About NATO
The North Atlantic Treaty Organization, also called the North Atlantic Alliance, is an intergovernmental military alliance between 30 European and North American countries having its headquarters at Brussels, Belgium.
The organization implements the North Atlantic Treaty that was signed on 4 April 1949.
A key provision of the treaty, the so-called Article 5, states that if one member of the alliance is attacked in Europe or North America, it is to be considered an attack on all members. That effectively put Western Europe under the "nuclear umbrella" of the US.
NATO has only once invoked Article 5, on September 12, 2001 following the 9/11 attacks on the World Trade Center in the US.
The current Secretary General of NATO is Jens Stoltenberg – former Prime Minister of Norway.
The most recent member states to be added to NATO are Montenegro on 5 June 2017 and North Macedonia on 27 March 2020.