Global Partnership On Artificial Intelligence
---
On 15th June, 2020, India joined the Global Partnership on Artificial Intelligence (GPAI), as one of the founding members to jointly work towards an ethical, human centric development and use of AI.
About Global Partnership on Artificial Intelligence
GPAI is the first worldwide initiative for better comprehension of the issues and potential around AI utilising the experience and diversity of participating countries.
It was first officially proposed by France and Canada at the Biarritz G7 Summit in August of 2019.
GPAI will look to close the gap between theory and practice on AI by leveraging cutting-edge research and applied action on AI-related objectives.
As a part of GPAI, participating nations will consider experimentation to create a controlled setting in which AI systems can be easily tested, and scaled-up, as needed.
The GPAI will comprise of four working groups each centred on responsible AI, the future of work, data governance, and commercialisation and innovation.
Other Members
This multi-stakeholder global coalition includes Australia, Canada, the European Union, France, Germany, Italy, Japan, Korea, Mexico, New Zealand, Singapore, Slovenia, the United Kingdom and the United States.
Role of OECD
Organization for Economic Cooperation and Development (OECD) will host Secretariat of the new Global Partnership on AI (GPAI) in Paris, along with two Centers of Expertise – one each in Montreal and Paris.
OECD will enable the GPAI to create a strong relationship between policy development and technical discussion on AI, by applying OECD's established expertise on AI policy as illustrated by its leadership on establishing the very first global standard for trustworthy AI – the OECD Principles on Artificial Intelligence.
Benefits for India
India is a founding member of GPAI and is expected to play a critical role in expanding the responsible utilisation of artificial intelligence for the world.
India has recently been very active in boosting National AI Strategy by putting in action committees and National AI Portal to bring the impact of the technology across various economic sectors like agriculture, healthcare, education, manufacturing, finance and telecommunication.
In the past, the Indian Government has come forward with an AI policy draft and stated its willingness to build an ecosystem in the nation that focuses on a fast shift from the research and development (R&D) phase to the deployment and operation phase for AI systems.
By working with other global nations, India will be a beneficiary of AI innovation and standardisation that are needed for this technology.
The initiative will help towards bridging the hiatus between theory and practice, and bolstering usage of AI in cutting-edge research for inclusive growth in the country.
11th BRICS Summit
---
The 11th BRICS Summit took place from 13th -14th November 2019 in Brasilia, Brazil, held under the theme - Economic Growth for an Innovative Future.
Brasilia Declaration was adopted by the BRICS member countries.
Major Highlights of Summit
The Summit focused on the following priorities:

Strengthening of the cooperation in Science, technology and innovation
Enhancement of the cooperation on digital economy
Invigoration of the cooperation on the fight against transnational crime, especially against organized crime, money laundry and drug traffic
Encouragement to the rapprochement between the New Development Bank (NDB) and the BRICS Business Council.

Need to Reform Multilateral Organisations: BRICS countries called for an urgent need to strengthen and reform the United Nations and other multilateral organisations, including the WTO and the IMF, to address the significant challenges being faced by the developing countries.
Obligation to Multilateralism: BRICS is committed to multilateralism, cooperation of sovereign states to maintain peace and security, advance sustainable development and ensure the promotion and protection of human rights and fundamental freedoms for all and build a brighter shared future for the international community.
Wider Role for Member Countries: Emphasizing on their commitment to shape a more fair, just, equitable and representative multipolar international order, the leaders underlined the imperative that international organisations be fully driven by member states and promote the interests of all.
Main Highlights of Brasilia Declaration
Global Trade Governance
The BRICS leaders reiterated their continuous support for the World Trade Organization (WTO).
It is critical that all WTO members avoid unilateral and protectionist measures, which run counter to the spirit and rules of the WTO.
Intra-BRICS Trade
The BRICS leaders acknowledged that trade expansion among BRICS members will further contribute to strengthening international trade flows.
It noted the progress achieved by the BRICS Customs Administrations regarding the draft BRICS Customs Mutual Administrative Assistance Agreement.
They also noted the importance of the implementation of the BRICS Authorized Economic Operator Program by the end of 2022.
In the development of trade relations, special attention has been accorded to the cooperation of the business communities of BRICS countries.
The Brasilia Declaration welcomes the holding of the BRICS Business Forum and the establishment of the BRICS Women Business Alliance.
Investment And Finance
The Declaration outlined the directions for the New Development Bank (NDB), the sole international organization established by the BRICS countries which will further contribute to the mobilization of resources for infrastructure and sustainable development projects in BRICS and otheremerging markets and dynamic economies (EMDEs).
To create a BRICS bond fundwhich involves the establishment of the BRICS Local Currency Bond Fund and continuous consideration of creating an alternative international payments system?
Regional Situations
To work together for peaceful settlement of disputes through political and diplomatic means, and recognize the role of the UN Security Council as bearing the primary responsibility for maintaining international peace and security
India's Proposals
India proposed the following actions during the 11th BRICS Summit-
Coalition for Disaster Resilient Infrastructure Initiative: India requested BRICS countries and NDB to join Coalition for Disaster Resilient Infrastructure initiative.
First Meeting of BRICS Water Ministers: Emphasizing the need of sustainable water management and sanitation, India proposed to hold the first meeting of BRICS Water Ministers in India.
Coalition in Health Field: Recalling about the recent Fit India Movement started in India, PM stressed to increase contacts and exchanges between the BRICS in the field of fitness and health.
Mutual Social Security Agreement: India suggested that the five countries together should also consider a Mutual Social Security Agreement, a move that would provide benefits of detachment, totalisation and portability to employees of the five nations.
BRICS
BRICS is an acronym for the grouping of the world's leading emerging economies, namely Brazil, Russia, India, China, and South Africa.
In 2001, the British Economist Jim O'Neill coined the term BRIC to describe the four emerging economies of Brazil, Russia, India and China.
The grouping was formalised during the first meeting of BRIC Foreign Ministers in New York in 2006.
In 2011, at the Sanya Summit, South Africa became part of the grouping, adding the "S" to the acronym, now BRICS.
The five BRICS countries are also members of G-20.
Significance
BRICS brings together five economies accounting for 42% of the world's population, 23% of the global GDP and an around 17% share of world trade.
Role of BRICS in the International Order
Important Global Pillar:
What makes BRICS important is the fact that with over 40 percent of the world's population in its fold, the combined output of these countries constitutes more than 20 percent of the world GDP. This means, the BRICS economies collectively have evolved into a strong economic force as reflected in the increasing share of BRICS in the world GDP, making it an important pillar of global order.
Financial Role:
What led to the relevance of BRICS in international order was the financial crisis of 2008, which raised skepticism and concerns over the dollar-dominated monetary system.The establishment of a New Development Bank is a part of general efforts on the part of the BRICS group to promote international development and reflects their understanding of where the priorities lie when it comes to promoting development.Such initiatives will open up to the developing world new resources, experiences, and an understanding of the priorities of emerging powers.
Role in International Peace and Security:
All BRICS countries are key UN members when it comes to maintaining international peace and security. Most of them make valuable contributions to UN peacekeeping operations by providing troops, training, or voting for supportive mandates. Besides peace operations, BRICS members consider the UN to be the most legitimate institution for adopting collective action for restoring and keeping peace such as preventive deployments and post-conflict peace-building.
In August, 2019, USA formally withdrew from Intermediate-Range Nuclear Forces (INF) which mandated the United States and the Soviet Union to eliminate and permanently forswear all of their nuclear and conventional ground-launched ballistic and cruise missiles.The decision has the potential to incite new armsrace. Here comes the relevance of BRICs, which can play a significant role in assuring world peace by playing an active role in dispute resolution, maintaining peace and stability.
Role in Poverty Reduction and Development:
Despite recession at the global level, BRICS countries accelerated economic growth, drove millions out of poverty and reducing international inequalities.The BRICS nations are leaders within their own regions and surrounded by a cluster of smaller neighbours. This also provides significant opportunities for the smaller neighbours to benefit from external growth and development.
Way Forward
Since its inception, BRICS has played a vital role both in practical as well as ideational terms in reforming the global financial system as well as in the norm setting processes with in world politics.
Looking ahead to the next decade, the BRICS countries, as an emerging international actor representing emerging and developing countries, will need to participate in global governance on the international stage with new cooperation structures and concepts.
BRICS is marching towards the next "golden decade," and science, technology and innovation are among the most important areas of cooperation. In order to achieve more success, it is necessary to take the following measures:
First of all, BRICS needs to identify the most important areas for cooperation. As science, technology and innovation cover many aspects related to the fourth industrial revolution as well as to a nation's economy, society and even military, it is better for BRICS to promote cooperation in the critical areas such as computer chips, fifth generation (5G) wireless technology and artificial intelligence (AI).
Secondly, in the process of cooperation, the principle of mutual consultation, contribution and shared benefits should be upheld. Only by adhering to this principle can BRICS nations make good use of their comparative advantages to keep up the momentum of cooperation and eliminate the barriers for technology transfers among themselves.
Thirdly, the financial issue needs to be dealt with in a proper way. R&D in the fields of science, technology and innovation is capital-intensive and requires significant funding. Therefore, the New Development Bank should set up an R&D fund to provide financial support for scientific and technological innovation cooperation among the BRICS countries.
Last but not least, BRICS should adopt an inclusive and open attitude towards other emerging economies. On the one hand, R&D is a trans-border activity; while on the other, many emerging economies outside of BRICS have progressed to a very high level in the fields of science, technology and innovation. So it is also essential for BRICS to start cooperating with non-BRICS countries.
Developing Country Status
---
Recently, South Korea decided not to seek special treatment reserved for developing countries by the World Trade Organization (WTO) in future negotiations given its enhanced global economic status.
South Korea, Asia's fourth-largest economy, has maintained its developing country status as a member of the WTO since the body's creation in 1995, mainly to guard its agriculture industry.
Background
In July, 2019, USA accused developing countries, particularly China and India, of unfairly benefitting from their "developing country" status under the World Trade Organization (WTO) regime which permits such countries special and differential treatment (or S&D in WTO parlance).
USA asked the WTO to define how it designates developing-country status, a move apparently aimed at singling out countries like which are getting lenient treatment under the global trade rules.
The US has proposed that the WTO strip countries of developing-country status if they meet the following criteria-

being members of the Group of 20 advanced economies
being members of the Organisation for Economic Cooperation and Development (OECD)
being high-income countries as classified by the World Bank
taking up at least 0.5 percent of total global trade.
Impact of South Korea's Decision
The decision is likely to put pressure on countries like China and India which are enjoying the WTO's developing country status, to reconsider and change their status in the WTO.
Definition of Developing Country
In the WTO, developing countries are entitled to "special and differential treatment" set out in 155 rules. It was introduced as a mechanism to offer some respite to poor countries while they try to adjust to a new global trade order marked by lower barriers to trade.
However, none of those rules define what a "developing country" is. Members announce for themselves whether they are "developed" or "developing" countries.
However, other members can challenge the decision of a member to make use of provisions available to developing countries.
As many as two-thirds of the 164 members of the WTO have classified themselves as developing countries.
The WTO deals with the special needs of developing countries in three ways:

The WTO agreements contain special provisions on developing countries. These provisions are referred to as "Special and Differential Treatment" (S&D) provisions.
The Committee on Trade and Development is the main body focusing on work in this area in the WTO, with some others dealing with specific topics such as trade and debt, and technology transfer
The WTO Secretariat provides technical assistance (mainly training of various kinds) for developing countries.
Special and Differential (S&D) Treatment Provisions
The WTO Agreements contain provisions which give developing countries special rights. These are called "special and differential treatment" provisions.
The Ministers at the 4th WTO Ministerial Conference (DOHA, 2001) mandated the Committee on Trade and Development to examine these special and differential treatment provisions.
The Bali Ministerial Conference in December 2013, established a mechanism to review and analyse the implementation of special and differential treatment provisions.
Aim
To facilitate compliance with WTO rules in view of the limited capacities of Least Developing Countries (LDCs)
To protect their policy space
To support in increasing their participation in international trade by addressing supply-side constraints and supporting trade-related elements of development strategies.
S&D Provisions
Longer time periods for implementing Agreements and commitments,
Measures to increase trading opportunities for developing countries,
Provisions requiring all WTO members to safeguard the trade interests of developing countries
Support to help developing countries build the capacity to carry out WTO work, handle disputes, and implement technical standards
Provisions related to least-developed country (LDC) Members.
Significance
Special and differential treatment allows developing countries longer time frames to implement commitments and greater flexibilities in adopting measures to improve their presence in global markets.
Advantages under Developing Status
Under the global trade rules, developing countries claim entitlement to longer timeframe for the imposition of safeguards, generous transition periods, softer tariff cuts, procedural advantages for WTO disputes and the ability to avail themselves of certain export subsidies. For ex. developing countries such as India and China can seek to delay the implementation of these WTO agreements owing to their disadvantaged economic status.
Developing countries are allowed to provide considerably larger input subsidies and minimum price support (they can offer product-specific farm subsidies up to 10% of the value of production, against 5% for developed countries, although the latter enjoy other flexibilities).
Further, these countries will continue to provide indirect export subsidies, covering internal transport and marketing, until 2023, five years after the deadline for elimination of all forms of export subsidies.
Developing countries can continue to impose tariffs and quotas on goods and services in order to limit imports and promote domestic producers who may otherwise be affected adversely by imports that are lower in price or better in quality. For ex., India subsidises agriculture heavily in the name of food security in order to protect its farmers.
Way Forward
While the developing country status was supposed to help poor countries ease gradually into a more globalised world economy, it has had other unintended effects.
Even many developed economies such as Singapore and Hong Kong which have per capita income levels higher than the U.S., have made use of the provision to classify themselves as growing economies.
When the wealthiest economies claim developing-country status, they harm not only other developed economies but also economies that truly require special and differential treatment. Such disregard for adherence to the WTO rules, including the likely disregard of any future rules, cannot continue to go unchecked.
The WTO is in desperate need of reform, without which the WTO will be unable to address the needs of workers and businesses or the challenges posed by the modern global economy.
UN Report Finds Saudi Crown Prince Linked To Khashoggi Killing
---
UN experts on 19 June, reported credible evidence to link Saudi Crown Prince Mohammed bin Salman (MBS) to the murder of journalist Jamal Khashoggi.
Relevance of the News: The news highlights criminal conspiracy by Saudi Arabia to suppress media activism pursued by Jamal Khashoggi.
Details of the Report:
The allegation regarding Prince Mohammed's possible direct role in Khashoggi's execution was detailed in a new report by the UN special rapporteur on extra-judicial, summary or arbitrary executions.
The special rapporteur asked UN Secretary General Antonio Guterres to initiate a formal international criminal investigation into the case and also called for initiating sanctions on Prince's foreign assets.
Although there is no evidence of who ordered the killing but persons directly implicated in the killing report to the MBS.
The report places responsibility of Khashoggi's murder on the state of Saudi Ariabia and asks for further investigation of high-level Saudi officials.
The report finds half-hearted attempts by the Saudi officials in investigation of the crime and cites evidence of forensic cleaning of the crime scene by Saudi officials which amounts to obstructing of justice by Saudi Arabia.
Murder of Jamal Khashoggi:
Khashoggi was a Washington Post journalist and was a critic of Prince Mohammed.
He was murdered at the Saudi consulate in Istanbul, Turkey on October 2, 2019 and his body has not been found yet.
Saudi Arabia has blamed rogue agents for the murder of Khashoggi and Saudi prosecutors have absolved the Crown Prince from any involvement.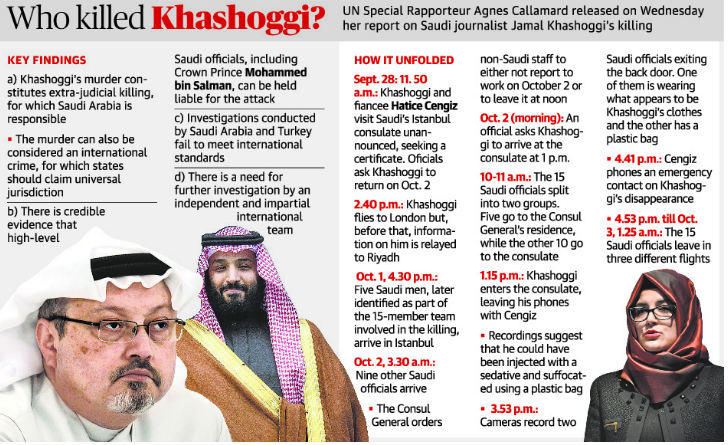 India Renounces Trade Protectionism At The SCO
---
Why is it in News?
The Prime Minister took part in the annual Shanghai Cooperation Organisation (SCO) Summit on 14th June, 2019, that was held at Bishkek, Kyrgyzstan.
Relevance of the News:
SCO is an important regional grouping for India's interests and PM's statement highlights India's expectations from SCO members and the group's functioning.
Minutes of the Meeting:
Prime Minister Narendra Modi undermined unilateralism and trade protectionism pursued by some countries and reflected by US-China trade rivalry and called for a rules-based, anti-discriminatory and all inclusive WTO-centred multilateral trading system.
SCO members agreed that global politics and economy remains turbulent and tense, and the process of economic globalisation is being hindered by the growing unilateral protectionist policies.
India expressed its commitment towards ensuring a favourable environment for the economic cooperation between the SCO member countries.
Shanghai Cooperation Organisation (SCO):
It is a permanent intergovernmental international organisation, created in 2002 in Shanghai. SCO was preceded by the Shanghai Five mechanism.
It has two permanent bodies:
SCO Secretariat based in Beijing.
Executive Committee of the Regional Anti-Terrorist Structure (RATS) based in Tashkent.
Membership: SCO comprises eight permanent member states, namely Kazakhstan, China, Kyrgyz Republic, Russia, Tajikistan, Uzbekistan and two countries India and Pakistan joined as permanent members in 2017.
Objectives of SCO:
Strengthen relations among member states.
Promote cooperation in political affairs, trade, scientific, cultural, energy, transportation, tourism spheres, and environmental protection.
Safeguard regional peace, security, and stability.
Create a democratic, equitable international political and economic order.
The United Nations Human Rights Council
---
Why is it in News?
Geneva based Human Rights Council's (HRC) Special Rapporteurs recently submitted a note to the government asking about steps taken on addressing the alleged human rights violations in Jammu and Kashmir which were highlighted by a June 2018 report of the UN Office of the High Commissioner of Human Rights (OHCHR).
The UN Report:
The UN report was released along with another report which was released by two NGOs on the alleged cases of torture which was endorsed by a former UN Special Rapporteur.
As per UN officials, India is in contravention of several conventions it has committed to, including a "Standing Invitation" signed in 2011 to all special rapporteurs to visit India and more than 20 such visit requests, including to Jammu and Kashmir, are pending at present.
India's Response:
India has rejected all the claims made by the UN OHCHR's report on the 'Situation of Human Rights in Kashmir' calling it biased. It is the first-ever such report on Jammu and Kashmir.
Indian Permanent Mission to the UN in Geneva replied to the OHCHR that India does not intend to engage further with these Special Rapporteurs on the issue whom it accused of individual prejudice.
Report by the NGOs:
Association of Parents of Disappeared Persons (APDP) and the J&K Coalition of Civil Society (JKCCS) released a report 'Torture: Indian State's Instrument of Control in J&K' which highlights the following:
Nearly 70% of torture victims in J&K were civilians (not militants) and 11% died during or as a result of torture.
The cases included incidents of electrocution, 'water-boarding' and sexual torture, which the government has repeatedly denied.
United Nations Organization
---
Why is it in News?
The Delhi High Court has directed that the United Nations Organization (UNO) is not a State under Article 12 of the Constitution of India and is not compliant to its jurisdiction under Article 226 of the Constitution.
Section 86 of Civil Procedure Code, 1908:
Under section 86 of the CrPC, 1908 a foreign State may be sued in any Court with the consent of the Central government.
A former UNO employee who was sentenced to 97 months imprisonment for misconduct maintains that the rightful process was not followed by the UNO in the trial and sought the permission of Ministry of External Affairs to initiate legal action against the UNO under section 86 of Civil Procedure Code, 1908.
However, the Ministry replied that the consent of the Government of India is not needed to open a legal suit against UNO as it is not a foreign state and is only an Internal Organization.
Immunity to UNO:
As per the Ministry, the UNO and its officials enjoy immunity under the United Nations (Privileges and Immunities) Act, 1947.
As per Section 2 of Article II of the Schedule of Act, 1947, UNO has immunity from every form of legal process except in any case where it has expressly waived its immunity.
The immunity granted is all comprehensive and applicability of any national law is subject to the waiver of the immunity by UNO.
In the present case the UNO has not waived its immunity and hence the national laws cannot be applied in this case.
Comprehensive Nuclear-Test-Ban Treaty (CTBT)
---
Why is it in News?
The executive secretary of the Comprehensive Test Ban Treaty Organization (CTBTO) has invited India to be an observer in the CTBT.
How could India benefit by being an Observer?
Being an observer, India could gain access to data from the International Monitoring System. This system can detect even small nuclear explosions using seismology, hydro-acoustics, infra-sound and radionuclide technology.
This quality of data would aid India in earthquake monitoring and other civil and scientific applications like gas exploration.
Pakistan too, is an observer at the CTBTO and being an observer does not change a country's status with respect to the CTBT.
India's View:
India has always considered the CTBT to be a flawed agreement. Ratification of CTBT by non-nuclear nations neither poses any threat to the nuclear nations nor does it lay any framework for nuclear disarmament.
CTBT can be credible if it lays down disarmament timeline which should be ratified by all parties. Currently, the US and China have only signed the agreement but not ratified it.
Comprehensive Test Ban Treaty (CTBT):
CTBT bans nuclear explosions worldwide or anywhere else- in the atmosphere, underwater and underground.
It makes it very tough for nations to develop nuclear bombs initially, or for nations that already have them, to make more powerful bombs. It also averts the huge destruction caused by radioactivity from nuclear explosions to humans, animals and plants.
It remains unenforced as 44 specific nuclear technology holder countries must sign and ratify before the CTBT can enter into force. Of these, eight are still missing: China, Egypt, India, Iran, Israel, North Korea, Pakistan and the USA. India, North Korea and Pakistan have yet to sign the CTBT.
Comprehensive Test Ban Treaty Organisation (CTBTO):
It is an organization based in Vienna which was founded in 1996. The CTBTO's main tasks are the promotion of the Treaty and the build-up of the verification regime so that it is operational when the Treaty enters into force.
CTBTO manages over 300 stations in 89 countries have been built to monitor for signs of nuclear explosions around the globe and round the clock.
The International Monitoring System (IMS) of CTBTO monitors the Earth's crust, atmosphere and the oceans to look for traces of radioactivity. It produces data that is useful in applications like disaster early warning, scientific research on the Earth's inner structures, climate change or meteors.
IMF Loan To Pakistan
---
Why is it in News?
Pakistan has reached an agreement with the IMF to receive $6 billion over the next three years to meet its foreign debt obligations.
The loan would act as the 13th bailout since the late 1980s from the IMF, which is going through a BOP crisis prompted by high fiscal and CAD and diminishing foreign exchange reserves.
Pakistan has agreed to some of the structural changes as part of the agreement as wanted by the IMF like lining up expenditure with resources, improving the functioning of loss-making state-owned enterprises, curtail the subsidies etc.
The structural reforms mandated by the package could result in increase in prices of goods and utilities like gas and electricity, more increase in fuel prices and further devaluation of rupee.
About Lending by the IMF:
IMF loans are meant to help member countries tackle balance of payments problems, stabilize their economies, and restore sustainable economic growth.
The IMF is not a development bank i.e. unlike the World Bank, it does not finance projects.
As a condition for lending, the IMF and the government agree on a program of policies targeted at accomplishing specific, quantified objectives in support of the overall objectives of the authorities' economic program. For example, the nation may obligate to fiscal or foreign exchange reserve targets.
In 1991, India was granted loan by IMF after it promised to launch several structural reforms in the coming years. The recent economic reforms of 1990s in India are said to have been introduced at the instance of the IMF-World Bank.
Source: TH
North Korea Missile Test
---
Why it is in the News?
North Korea fired two short-range missiles on 9th May less than a week after it test-fired multiple rockets and a missile.
The tests seem to be a protest by the North Korea for failing to reach an agreement during the Hanoi summit with the US on the sanctions imposed on North Korea by the US.
Background:
North Korean leader Kim Jong-un and US President Donald Trump met in Hanoi, Vietnam on 27 February 2019 for their second bilateral summit meeting. The first summit was held in June 2018 in Singapore.
In the second meeting, North Korea was hesitant towards complete denuclearization which it had promised in 2018 and the US insisted on complete denuclearization thus ending the meeting without any conclusive agreement.
North Korea expects the Trump administration to show more flexibility in talks or else it will go back on its promise to scrap its deadly nuclear arsenal and programme.
Meanwhile South Korea has expressed its willingness to hold a fourth meeting with North Korea to push for a truce between the two Koreas.
Source: TH
UNSC Resolution 1267
---
Why is it in News?
UN Security Council designated Jaish-e-Mohammad chief Masood Azhar as a Global Terrorist on 1st May 2019.
What is the UNSC 1267 Resolution?
United Nations Security Council Resolution 1267 was adopted unanimously on 15 October 1999 for overseeing the sanction measures against Taliban and Osama Bin Laden. Because of this fact UNSC Resolution 1267 is also called as Al Qaida and Taliban Sanctions Committee.
Due to the changing pattern of terrorism, the provisions of UNSC 1267 were further broadened and strengthened by other resolutions.
What happens if a Person is listed in UNSC 1267?
It leads to curtailment of their movement, freeze and seizure of its properties, arms embargo etc. UNSC 1267 empowers the government of that country (where he resides) to take all possible actions against him.
How is the Decision taken by UNSC?
The decision is taken by consensus i.e. all the 15 members have to be on the same page for declaring an organization or a person, at terrorist under UNSC 1267.
Why was Masood Azhar not declared a Global Terrorist until now?
India tried to convince the world to declare Masood Azhar as an International Terrorist post the Mumbai attack (2009), then post Pathankot attack (2016), post Uri attack (2017) and then post Pulwama attack (2019), but all these efforts went in vain as China used its 'Veto' in the UN Security Council.
How did China change its Stand now?
Undoubtedly this mellowing of stand by China can pave the path of friendship between India and China, some of the probable reasons for this change in behaviour are:
1. In Wuhan Summit, it was decided that India-China will not take any stand on any issues which can create trouble for either India or China, so this Wuhan Friendship was time and again reminded to the Chinese Government which led to softening of the stand.
2. India too has softened its stand vis-à-vis Belt and Road Initiative of China (BRI) which has gone well with the Chinese Government.
3. China was getting labeled by the World as a country which is acting as bulwark for terrorists which was not going well with the civil society of China and diplomatic officials. Therefore, China wanted to get rid of this label.
4. Pakistan too did not pressurize China more as it already is facing the heat from Financial Action Task Force (FATF) for being a country which provides shelter to terrorists (which may lead to its listing in Black List of FATF), also Pakistan felt that due to poor health and old age of Masood Azhar he is of very little use for Pakistan. This paved the path for listing Masood Azhar as a Global Terrorist.
Source: TH
Global Findex Database
---
Why is it in News?
According to the Global Findex Database 2017, there has been a significant progress in the last five years which implies a humble growth in the microfinance sector of the country.
The Global Findex database is the world's most comprehensive data set on how adults save, borrow, make payments, and manage risk.
This initiative was launched in 2011 by World Bank with the financial help provided by Bill & Melinda Gates Foundation.
The database gets published every three years.
Financial Action Task Force (FATF)
---
Why is it in news?
Condemning the Pulwama attack, FATF had issued a stern statement to Pakistan to comply with the action plan on terror financing or face severe actions.
What is FATF?
The Financial Action Task Force (FATF) is an intergovernmental organization founded in 1989 on the initiative of the G7 Countries to develop policies to combat money laundering.
In 2001, its mandate expanded to include terrorism financing, so it is also referred to as 'International Terror Financing Watchdog'. The FATF Secretariat is housed at the OECD headquarters in Paris.
Objective of FATF:
The objectives of the FATF are to set standards and promote effective implementation of legal, regulatory and operational measures for combating money laundering, terrorist financing and other related threats to the integrity of the international financial system.
Domain of FATF:
When FATF was mandated to look into the issues of money laundering only, it set 40 recommendations which countries needed to follow but when the terror financing was included in its domain it further added 9 more recommendations. In totality FATF works through 40+9 Recommendations.
In short it can be said that FATF is a 'policy-making body' which works to generate the necessary political will to bring about national legislative and regulatory reforms in these areas.
How does FATF work?
The decision making body is FATF Plenary which meets thrice a year.
FATF uses 'Peer Review (review by member countries)' technique to look into the lacunae which criminal exploits. At the end it gives the detailed analysis of each country's financial architecture.
What is the FATF Listing?
1. FATF Black List:
It includes those countries which are non-cooperative in the fight against terror financing and money laundering i.e. they are the part of that nexus.
Iran and North Korea are listed in the FATF Black list.
2. FATF Grey List:
It includes those countries which have acknowledged that their financial architecture has some lacunae and are working in collaboration with FATF to fix those loopholes.
Pakistan, Sri Lanka, Ethopia, Yemen, Syria are some of the countries listed under the Grey list.
What happens when Countries are listed in Grey List?
The listing means downgrading of the country by multilateral lenders like- IMF, World Bank, ADB, EU etc. This leads to poor investment and business flow to the country as investor fears the backlash.
Will Pakistan be affected by Grey Listing by FATF?
Pakistan at present has only $7 billion in its Forex reserve, so Grey Listing will lead to more stringent conditions by IMF in case of bailout. Therefore it will put strain on Pakistan.
Source: TH
UNSC Resolution 1267
---
Why is it in News?
After the Pulwama attacks in Kashmir, France also condemned the attack and decided to invoke UNSC 1267 Resolution against JeM Chief Masood Azhar.
What is the UNSC 1267 Resolution?
United Nations Security Council Resolution 1267 was adopted unanimously on 15 October 1999 for overseeing the sanction measures against Taliban and Osama bin Laden. Owing to this fact, UNSC Resolution 1267 is also called as Al-Qaida & Taliban Sanctions Committee.
Due to the changing pattern of terrorism, the provisions of UNSC 1267 were further broadened and strengthened by other resolutions.
What happens if a person is listed in UNSC 1267?
It leads to curtailment of their movement, freezing and seizure of their properties. UNSC 1267 empowers the government of that country (where they resides) to take all possible actions against them.
How is the decision taken by the UNSC?
Decision is taken by consensus i.e. all the 15 members have to be on same page for declaring an organisation or a person a terrorist under the UNSC 1267 Resolution.
Why Masood Azhar is not declared as a Terrorist under UNSC 1267?
Due to opposition by China, UNSC fails to declare Masood Azhar as an International Terrorist.
Source: TH
Most Favored Nation Status (MFN)
---
Why is it in News?
India had withdrawn the MFN status from Pakistan due to the Pulwama terrorist attack in February 2019.
Background of MFN:
If we look at the WTO broadly we will find that WTO has implemented three major agreements namely:
1. General Agreement on Tariff & Trade (GATT) - deals with merchandise trade
2. General Agreement on Trade & Services (GATS) - deals with Services
3. Trade-related Aspects of Intellectual Property Rights (TRIPS) - deals with issue of Intellectual Property Rights.
Under these three agreements of WTO, the common thread which is running is the concept of MFN.
What is the MFN Status?
Under rules of the World Trade Organisation (WTO), a member country is not allowed to discriminate between trade partners and if a special status is granted to one trade partner, the country is required to extend it to all members of the WTO. This concept of treating all member countries alike is referred to as Most Favored Nation Status.
Example to illustrate this:
Say India grants Tax Exemption to the imports coming from Bhutan, then as per the provisions of MFN, it shall extend the same tax exemption to all the members of WTO.
Since, the formation of WTO, India has given MFN status to all the member countries of WTO but India has not been accorded the MFN status from Pakistan.
Is there any Exception to MFN?
Yes, say India enters into a Free Trade Agreement (FTA) or Preferential Trade Agreement (PTA) with BRICS/ BIMSTEC, then the imports originating from the group of these countries will have certain tariff exemptions which will go against the rules of MFN (which asks that imports of all WTO members shall be treated alike), but such exemptions are allowed under the WTO Guidelines.
Which Article of GATT discusses the Provision of MFN?
Article 1 of GATT has the provisions related to MFN status.
Will Withdrawal of MFN Status hurt Pakistan?
Trade of India with Pakistan is meager ($2billion) hence; the withdrawal of MFN Status is more symbolic rather than having economic impact on Pakistan's economy. Other aspect of looking at the situation is that it will encourage illegal trade.
Source:
TH, IE, Livemint editorials
Most Favored Nation Status (MFN)
---
Why is it in News?
India has recently withdrawn MFN Status from Pakistan due to terrorist attack at Pulwama.
What is the MFN Status?
Under rules of the World Trade Organization (WTO), a member country is not allowed to discriminate between trade partners and if a special status is granted to one trade partner, the country is required to extend it to all members of the WTO. This concept of treating all member countries alike is referred to as Most Favored Nation Status.
Say India grants Tax Exemption to the imports coming from Bhutan, then as per provisions of the MFN in GATT, it shall extend the same Tax Exemptions to all the members of WTO. Since, the formation of WTO, India has given MFN Status to all the member countries of WTO but India has not been accorded MFN Status from Pakistan.
Will Withdrawal of MFN Status hurt Pakistan?
Trade of India with Pakistan is meager ($2billion); so withdrawl of MFN Status is more symbolic rather than having economic impact on Pakistan economy. Other aspect of looking at the situation is that it will encourage illegal trade.
---