Fourth Quad Ministerial Meeting
---
On 11th February, 2022, the fourth Quad Ministerial Meeting was held in Melbourne, Australia. India's Minister of External Affairs S. Jaishankar, US Secretary of State Antony Blinken, Australia's Minister for Foreign Affairs Marise Payne, and Foreign Minister of Japan Yoshimasa Hayashi participated in the meeting. A joint statement was released after the meeting.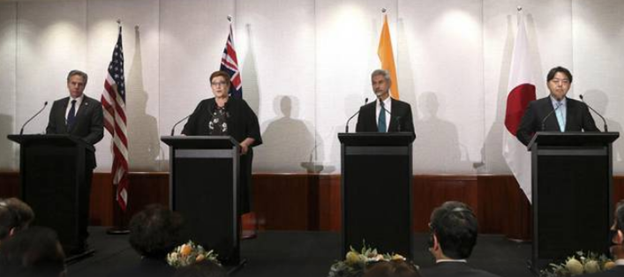 (Image Source: The Hindu)

Key Highlights
Climate Change: The members agreed to hold a special meet on climate change this year.
Maritime Security:The participants also decided to step up efforts to ensure maritime security in the region.
Terrorism: They called on all countries to ensure that territory under their control is not used to launch terror attacks and to expeditiously bring to justice the perpetrators of such attacks.
They reiterated their condemnation of terrorist attacks in India, including 26/11 Mumbai and Pathankot attacks
China's Actions: The statement also made a veiled reference to China's actions in the South and East China seas, reaffirming a commitment to a free and open Indo-Pacific, "in which states strive to protect the interests of their people, free from coercion."
Indo-Pacific: The grouping committed to stronger cooperation on Indo-Pacific initiatives.
Myanmar Issue: India said it is "troubled" by the situation in Myanmar post-coup, but its thinking is guided by concerns over cross border insurgencies, COVID infections, and concerns of a humanitarian situation that could arise from food shortages in Myanmar.
The US, on the other hand, pushed for countries to stop arms trade with the Myanmar military.
The joint statement called for a return to democracy in Myanmar, and also condemned North Korea's recent ballistic missile tests.
Russia-Ukraine Situation: Foreign Ministers of Australia, Japan and the US took a sharp line on the buildup of Russian troops along the border with Ukraine in recent weeks. The Russia-Ukraine situation did not find any mention in the joint statement though.
Vaccines Initiative: The joint statement issued included a renewed commitment to the "flagship" Quad Vaccine Initiative to deliver at least one billion vaccines produced in India by the end of 2022 to Indo-Pacific countries, and to a pledge to donate 1.3 billion vaccine doses globally.
Review of Cooperation: The joint statement also recorded progress on the other fields for cooperation identified during the Quad summit last year, including climate change, critical and emerging technologies, counter-terrorism, infrastructure, humanitarian-assistance and disaster-relief (HADR) and maritime domain awareness.
India joins G20 Troika
---
India has joined the G20 Troika, which consists of Indonesia, Italy, and India - the current, previous and incoming G20 Presidencies, respectively.

Italy hosted the G20 summit during October 30-31, 2021.
On 2nd December 2021, Indonesia assumed the G20 Presidency and will convene various G20 meetings throughout the year, culminating with the G20 Leaders' summit on 30-31 October 2022 under the overall theme of "Recover Together Recover Stronger".
India will assume the G20 Presidency on December 1, 2022 from Indonesia, and will convene the G20 Leaders' Summit for the first time in India in 2023.
About G20
The G20 or Group of Twenty is an intergovernmental forum comprising 19 countries and the European Union (EU).
It works to address major issues related to the global economy, such as international financial stability, climate change mitigation, and sustainable development.
The G20 is composed of most of the world's largest economies, including both industrialized and developing nations, and accounts for around 90% of gross world product (GWP), 75–80% of international trade, two-thirds of the global population, and roughly half the world's land area.
Joko Widodo, the president of Indonesia is the current chairman of G20.
G20 and India
As a founding member of the G20, India has used the platform to raise issues of vital importance and those that impact on the most vulnerable around the world.
As a Troika-member, India will work closely with Indonesia and Italy to ensure consistency and continuity of the G20's agenda.
China's New Land Border Protection Law
---
On 23 October 2021, China has passed a law to strengthen border protection.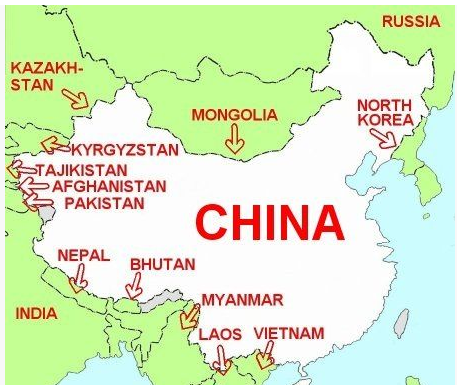 (Image Source: m.dailyhunt.in)

This is the first time that the People's Republic of China, founded 72 years ago, has a dedicated law specifying how it governs and guards its 22,000-km (14,000-mile) land border.
The Land Borders Law will come into effect on Jan. 1, 2022.
Reasons for the Move: Most Recent Concerns
Afghan Refugee Crisis: China has been closely watching neighbouring Afghanistan, where the Taliban returned to power in August, to guard against a possible inflow of refugees or Islamic extremists crossing over to link up with the Muslim Uyghurs in China's Xinjiang region.
Standoff with India: At its Himalayan frontier, Chinese soldiers have been in a standoff with Indian troops since April 2020. China has land border disputes with India and Bhutan.
Covid-19: China has also taken great pains to keep the COVID-19 virus outside of its borders, after illegal crossings from Myanmar and Vietnam contributed this year to a surge in cases in its southern provinces of Yunnan and Guangxi respectively.
Finer Points about the New Law
The country will "take effective measures to resolutely protect territorial sovereignty and land border security".
Chinese military and military police - the People's Liberation Army and the People's Armed Police Force - are responsible for guarding the border against any "invasion, encroachment, infiltration, provocation".
The new law says that China can close down its border if a war or other armed conflict nearby threatens border security. It also strengthens the Army's policy to work closely with civilians at border areas to form the first line of defence.
The law stipulates that China will take measures to "strengthen border defence, support economic and social development as well as opening-up in border areas, improve public services and infrastructure in such areas, encourage and support people's life and work there, and promote coordination between border defence and social, economic development in border areas".
'One-China' Policy: Reason for Border Dispute with almost all its Bordering Countries
The People's Republic of China has been historically involved in territorial disputes with many countries that share borders with it both historically and at present, this also often includes the entire South China Sea region and at times, international waters as well.
This is a direct result of the Xi Jinping government's stipulated 'One-China' policy, which aims to unify a large portion of Asia that at some point belonged to China in the last century.
18 countries that have faced China's aggressive expansionist policies since the last century:
| | | |
| --- | --- | --- |
| Bhutan | Bhutanese enclaves in Tibet, Kula Kangri, mountains in the west and the Haa district. Other smaller areas include Cherkip Gompa, Dho, Dungmar, Sanmar, Tarchen and more | 2008, 2016 |
| Brunei | Spratly Islands | 1986-present |
| Cambodia | Parts of the country on historical merit dating all the way back to 700 years | Qing Dynasty, Ming Dynasty, 13th century – 19th century |
| India | Aksai Chin, Arunachal Pradesh, Ladakh. Wars and stand-off have led to a permanent PLA presence in the region along the LAC | 1962, 1967, 2011, 2017, 2020 |
| Indonesia | Parts of South China Sea | Currently still disputed |
| Japan | Senkaku Islands, Ryukuku Islands, parts of Japan's territorial waters in South China Sea. Multiple disputes since the Qing dynasty periods | Clashes in 1884, 1895, 1972, 2011, 2013, 2015 |
| Laos | Claims originating from historical precedent, primarily annexed between 12th century to 17th century | Dormant dispute |
| Malaysia | Parts of South China Sea, particularly Spratly Islands and James Shoal reefs | 1971, 2009 and historical claims |
| Mongolia | China claims all of Mongolia on historical account, although for a major part of its history, it was Mongolian leaders starting from Genghis Khan who controlled China | Yuan, Qing, Ming dynasties. Still owns Inner Mongolia |
| Nepal | Claims Nepal belonged to Tibet, and Tibet China claims is an integral part of China too | 1788-1792 (Sino-Nepalese war) constant tug of war in Nepal's northern borders |
| North Korea | Mount Baekdu, Mount Jiandao and in the past has claimed all of North Korea as part of China on territorial grounds | Ryanggang province since formation (1954) |
| Philippines | Parts of South China Sea. The Philippines took the issue to the ICJ and won the case, China continues to ignore | 2016 |
| Russia | Vladivostok, Primorsky Krai; despite 4 different treaties and returning 100s islands and numerous rivers, China continues to claims more than 160,000kms in Russia's far-east | 1860, 1991, 1994 and 2004 |
| Singapore | Parts of South China Sea, contested and claimed by China, despite having no actual boundary with the tiny island nation in the Malaya region | 1999-present |
| South Korea | Parts of East China Sea, claims all of South Korea's lands and international waters on historical grounds | Ryanggang province since formation (1954) |
| Tajikistan | All of its territory based on historical precedent | Qing Dynasty, 1644-1912 |
| Taiwan | China claims all of Taiwan's lands as its own and does not take lightly to dissent in the region | Since 1949 |
| Vietnam | Paracel Islands, Macclesfield Bank and large parts of Chinese territories (historical precedent claim). Fresh conquests and construction of artificial islands in the South China Sea | 1364-1644 (constant dispute) 1990's 2011, 2013 |
Land Border of China
China shares its borders with 16 neighbors, 14 of which are sovereign states and two are special territories. The total length of its land borders is 13,743 miles.
China has Mongolia to its north, Russia to its northeast, Kazakhstan, Kyrgyzstan, Tajikistan and Afghanistan to its west, Pakistan, India, Nepal and Bhutan to its southwest, Myanmar, Laos and Vietnam to its south, North Korea to its northeast.
The two special territories it shares borders with are Hong Kong and Macau, both are Special Administrative Regions of China.
The length of border between China and its respective neighbours are
Mongolia: 2,877 miles
Russia: 2,597 miles
Kazakhstan: 1,097 miles
Kyrgyzstan: 660 miles
Tajikistan: 296 miles
Afghanistan: 56 miles
Pakistan: 272 miles
India: 1,652 miles
Nepal: 863 miles
Bhutan: 296 miles
Myanmar: 1,323 miles
Laos: 295 miles
Vietnam: 806 miles
North Korea: 840 miles
Special Territories
China – Hong Kong: 20 miles
China – Macau: 1.8 miles
India, Israel, US and UAE: A New 'Quad' in the Offing
---
After the Quadrilateral Security Dialogue (QSD, also known as the Quad or QUAD) - a strategic dialogue between the United States, India, Japan and Australia, a new 'Quad' is emerging.
Recently, External Affairs Minister S Jaishankar and his counterparts from Israel, the US and the UAE have agreed to establish a forum for economic cooperation at a virtual quadrilateral meeting (on 18 October 2021).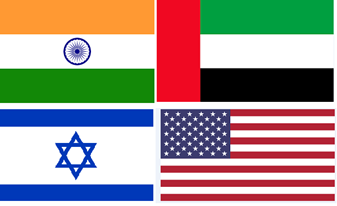 Aim of the Grouping
The aim of the grouping is to work towards joint infrastructure projects in the fields of transportation, technology, maritime security, and economics and trade.
Abraham Accords: The Door Opener
The meeting was built on the momentum created by the Abraham Accords of last year, which is expected to help in normalizing relations with the Arab states.
The meeting is a breakthrough towards consolidation of the security alignments in the region that began with the Abraham Accords that four Arab countries – UAE, Bahrain, Sudan and Morocco signed with Israel and normalised their relations with that country.
India & Abraham Accords Process
India has backed the Abraham Accords process.
According to the Ministry of External Affairs (MEA), these efforts are in line with India supporting peace and stability in West Asia, to which it describes as an 'Extended Neighbourhood'.
The recent visit of external Affairs Minister Dr S Jaishankar to Israel and the Abraham Accords notwithstanding, India's excellent bilateral relations with the countries in the region including sworn enemies Iran, Saudi Arabia and Israel have been a remarkable success story of India's foreign policy.
India cooperates with these countries in diverse fields including a robust strategic defence and security relationship with some of these.
India's West Asia Outreach
West Asia looms large on India's horizon though the focus over the last few years has been the east.
It is the source of 60% of India's oil and gas and the remittances from the large Indian Diaspora in the region is the largest contributor to India's healthy foreign exchange reserves.
So, it is therefore not only important for India to be engaged with this region but also to ensure that the regional stability and security is maintained.
Countries such as the UAE and Israel are oases of stability in a region that is a simmering cauldron of political volatility, internecine warfare and state supported insurgencies.
As far as Defence Cooperation with UAE is concerned, for the first time the Indian Army Chief had visited that country, maritime cooperation is one of the critical components of the relations.
Earlier this year three countries – UAE, India and Israel had concluded the first trilateral partnership. In this first trilateral partnership, for a project based in UAE, an Israeli company will produce a robotic solar cleaning technology in India.
60th Anniversary of Non-Aligned Movement
---
Recently, a two-day (11-12 October 2021) summit was organized at Belgrade, the capital of Serbia to observe the 60th anniversary of Non-Aligned Movement.
Azerbaijan's President Ilham Aliyev chaired the summit via a video link.
The last summit was held in the capital Baku in 2019, hosted by Azerbaijan, which was included in the Non-Aligned Movement in 2011 and is the current secretary-general.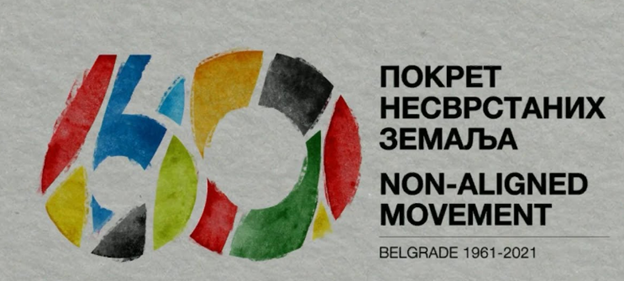 About NAM
The Non-Aligned Movement (NAM) is a forum of 120 developing world states that are not formally aligned with or against any major power bloc.
After the United Nations, it is the largest grouping of states worldwide.
The movement originated in the 1950s as an effort by some countries to avoid the polarized world of the Cold War between the pro-Soviet communist countries belonging to the Warsaw Pact, and the pro-American capitalist countries belonging to NATO.
Drawing on the principles agreed at the Bandung Conference in 1955, the Non-Aligned Movement was established in 1961 in Belgrade, Yugoslavia through an initiative of the Indian Prime Minister Jawaharlal Nehru, Yugoslav President Josip Broz Tito, Egyptian President Gamal Abdel Nasser, Ghanaian President Kwame Nkrumah and Indonesian President Sukarno.
Objective of the Organisation
The purpose of the organization was enumerated by Fidel Castro in his Havana Declaration of 1979 as to ensure "the national independence, sovereignty, territorial integrity and security of non-aligned countries" in their "struggle against imperialism, colonialism, neo-colonialism, racism, and all forms of foreign aggression, occupation, domination, interference or hegemony as well as against great power and bloc politics."
5th Joint Meeting Of The India-Japan Act East Forum
---
India and Japan held the fifth joint meeting of the India-Japan Act East Forum (AEF) on 28 January 2021 in New Delhi.
The AEF reviewed progress of ongoing projects in the North Eastern Region of India in various areas including connectivity, hydropower, sustainable development, harnessing of water resources, and skill development.
They discussed several new projects being undertaken under India-Japan bilateral cooperation and also exchanged views on cooperation in new areas such as healthcare, agro-industries and SMEs, bamboo value chain development, smart city, tourism and people-to-people exchanges.
About AEF
The AEF since its establishment in 2017 is streamlining India-Japan bilateral cooperation for the modernization of the North Eastern Region. AEF provides a platform for India-Japan collaboration in the North Eastern Region under India's "Act East Policy" and Japan's vision for a "Free and Open Indo-Pacific".
Recent Naval Exercises Of India
---
SITMEX-20
The 2nd edition of India, Singapore and Thailand Trilateral Maritime Exercise SITMEX-20, was held during 21 to 22 November 2020 in Andaman Sea.
The first edition of SITMEX, hosted by Indian Navy, was conducted off Port Blair in September 2019.
The SITMEX series of exercises are conducted to enhance mutual inter-operability and imbibing best practices between Indian Navy, Republic of Singapore Navy (RSN) and Royal Thai Navy (RTN).
The 2020 edition of the exercise was hosted by RSN.
SIMBEX-20


Indian Navy (IN) will host the 27th edition of India - Singapore Bilateral Maritime Exercise SIMBEX-20 from 23 to 25 November 2020 in Andaman Sea.
The SIMBEX series of exercises between Indian Navy and Republic of Singapore Navy (RSN), being conducted annually since 1994.
CORPAT-2020
The 30th edition of India-Thailand Coordinated Patrol (CORPAT) has been concluded in the Andaman Sea close to the Strait of Malacca.
India and Thailand have been carrying out CORPAT along their International Maritime Boundary Line twice a year since 2005.
India's other military exercises with Thailand are Exercise MAITREE (Army) and Exercise SIAM BHARAT (Air Force).
Malabar 2020
Exercise Malabar is a trilateral naval exercise involving the United States, Japan and India as permanent partners. Australia was a part of the Malabar Naval exercise 2020.
This is the first time that all four navies of the Quad were in a joint exercise in 13 years.
Originally begun in 1992 as a bilateral exercise between India and the United States, Japan became a permanent partner in 2015.
The 24th edition (2020) of Malabar exercise was conducted in two phases, Phase-I was from 3 to 6 November near the coast of Visakhapatnam in the Bay of Bengal and the Phase-II was from 17 to 20 November in the Arabian Sea.
Generalized System Of Preferences (GSP) Trade Privilege
---
India is likely to press Biden Administration for early restoration of the Generalized System of Preferences (GSP) trade privilege for India.
The privilege was withdrawn by outgoing President Donald Trump's administration in Washington DC in June, 2019.
Reason for Withdrawal
India has implemented a wide array of trade barriers that create serious negative effects on United States' commerce.Despite intensive engagement, India has failed to take the necessary steps to meet the GSP criterion.
The United States launched an eligibility review of India's compliance with the GSP market access criterion in April 2018.
India's termination from GSP follows its failure to provide the United States with assurances that it will provide equitable and reasonable access to its markets in numerous sectors.
Generalized System of Preferences (GSP)
GSP is a U.S. trade program designed to promote economic growth in the developing world by providing preferential duty-free entry of products from 129 designated beneficiary countries and territories.
GSP was instituted on January 1, 1976, by the Trade Act of 1974.
Under this, certain products can enter the United States duty-free if beneficiary developing countries meet the eligibility criteria established by its Congress.
GSP had expired on July 31, 2013, and was reauthorized on June 29, 2015 by the former President Obama.
Objective
To give development support to poor countries by promoting exports from them into the developed countries.
Criteria for GSP
The GSP criteria include, among others, respecting arbitral awards in favour of US citizens or corporations, combating child labour, respecting internationally recognised worker rights, providing adequate and effective intellectual property protection and providing the US with equitable and reasonable market access.
Countries can also be graduated from the GSP programme, depending on factors related to economic development.
Products Covered Under GSP
It includes agricultural products including animal husbandry, meat and fisheries and handicraft products. These products are generally the specialised products of the developing countries.
Difference between GSP and Trade Arrangement under WTO
Under the normal trade laws, the WTO members must give equal preferences to trade partners. There should not be any discrimination between countries.
This trade rule under the WTO is called the Most Favored Nation (MFN) clause. The MFN instructs non-discrimination that any favorable treatment to a particular country.
At the same time, the WTO allows members to give special and differential treatment to from developing countries (like zero tariff imports). This is an exemption for MFN. The MSP given by developed countries including the US is an exception to MFN.
Significance
GSP promotes sustainable development in beneficiary countries by helping these countries to increase and diversify their trade with the United States.
The GSP program provides additional benefits for products from least developed countries.
US Extends Ban On Employment-Based Visas
---
On 23rd June 2020, the US President signed an executive order extending the ban on immigrant and non-immigrant worker visas.
Popular work visas including the much-coveted H-1B and H-2B, and certain categories of H-4, J, and L visas shall also remain suspended until December 31, 202
Background
After Trump took over as President in January 2017, the US government had started moving towards a more conservative work visa regime, alleging that Indian and Chinese IT companies had been sending workers on very low costs, which hurt prospects of skilled workers in the US.
In November the same year, the US House Judiciary Committee had, in a bid to deter Indian and Chinese companies from misusing H-1B visas, voted to pass a legislation to increase the minimum annual salary of H-1B visa holders to $90,000 from $60,000.
Finally, in April 2020, Trump had signed an executive order which had banned the entry of foreign workers in the country for a period of 60 days.
Reason for Ban
The move was to protect domestic workers who had been impacted due to a contraction in the economy in the wake of the Covid-19 pandemic.
American workers have to compete against foreign nationals for jobs in every sector of economy against millions of foreigners who enter the US to perform temporary work.
Work Visas
In order to fill a vacuum of highly-skilled low-cost employees in IT and other related domains, the US administration issues a certain number of visas each year which allows companies from outside the US to send employees to work on client sites.
Of these work visas, the H-1B remains the most popular among Indian IT companies.
Visa Categories Affected
H-1B
Issued to work in a specialty occupation.
Requires a higher education degree of its equivalent.
Includes fashion models of distinguished merit and ability and government-to-government research and development, or co-production projects administered by the Department of Defence.
They are generally valid for up to six years
H-2B
These are for seasonal non-agricultural labor.
They are generally valid for up to three years and are popular in industries like food processing, hotel work, and landscaping.
H-4
H-4 visas are for the spouses and children of H-1B and H-2B holders.
The proclamation does not explicitly address them, but does restrict entry for "any alien accompanying or following to join" restricted categories.
They are valid for the duration of the H-1B visa.
J-1
J-1 visas are for cultural and educational exchange.
The order applies to J-1 holders "participating in an intern, trainee, teacher, camp counselor, au pair, or summer work travel program."
They are valid for up to seven years, depending on program type, and there is no annual cap.
J-2
These visas are for the spouses and dependents of J-1 holders.
It is valid for the duration of the J-1 visa.
L-1
L-1 visas are for high-level and specialized company employees.
They are generally valid for up to seven years and there is no annual cap.
L-2
L-2 visas are for the dependents of L-1 holders.
They are valid for the duration of the associated L-1 visa.
Impact
Since the ban is effective immediately, the processing of all new H-1B, H-2B, J, and L visa categories stand suspended.
This means those who do not have a valid non-immigrant visa as of June 23, 2020 and are outside of the US, will not be allowed to enter the country until December 31, 2020.
The order also replaced the current system of awarding H1B visas by lottery with a system that privileges applicants who are paid more than others.
Immigration experts view that proposed regulations could impose more stringent norms for such visa and green card categories — by way of higher wages or a restrictive definition of specialty occupation that determines H-1B eligibility.
Exceptions
Workers in essential services in the food sector have been given some reprieve, and their entry shall be decided by the consular officer of immigration services.
H-1B, H-2B, J and L visa holders, and their spouse or children already present in the US shall not be impacted by the new worker visa ban.
Expected Benefit for US
The White House expects that the visa ban will free up 525,000 jobs and as such, make a dent in the high unemployment rate caused by the coronavirus pandemic.
Impact on Indian IT Companies
Negative
The ban on the entry of non-immigrant workers with H1B visas is likely to have the biggest impact globally, and especially on Indian information technology (IT) companies and workers.
Indian IT companies are amongst the biggest beneficiaries of the US H-1B visa regime, and have since 1990s cornered a lion's share of the total number of visas issued each year.
This could result in a significant impact on margins and worker wages of Indian IT companies that have sent thousands of low-cost employees to work on client sites in the US.
Positive
The US government move is expected to benefit the Indian offshoring industry with US clients and technology companies seen moving more work within the country.
Analysts foresee a case for more offshoring of work in coming months, given the impact of the coronavirus pandemic, travel restrictions, and, now, suspension of H-1B visas.
Further, retaining the skilled workforce to work within the country will provide boost to become more self-reliant (under Atmanirbhar Bharat) , paving the path towards the 5 trillion dollar economy.
Criticism
Critics of the measure say the US administration is using the coronavirus pandemic to achieve its goals to lower immigration to the US.
Businesses who depend on foreign workers have long opposed curbs to legal immigration, while the US Chamber of Commerce, the nation's largest business association, said that the policy will stifle the economic recovery.
The American Immigration Lawyers Association (AILA) has voiced its strong disapproval of this ban. This Presidential Proclamation ignores this reality and will make emerging from this crisis more difficult and expensive. It will harm employers, families, universities, hospitals, communities, and delay America's economic recovery.
India Out Of US' Developing Nations List
---
On 10th February, 2020, the office of the United States Trade Representatives (USTR) updated its list of developing and least-developed countries, removing India from the list of countries that are designated as developing.
The USTR has also updated its list of countries that are least-developed under the US countervailing duty (CVD) laws.
Now, India, along with several other countries has been barred from getting special preferences under the US CVD law.
Other countries removed from the list includes: Albania, Argentina, Armenia, Brazil, Bulgaria, China, Colombia, Costa Rica, Georgia, Hong Kong (SAR of China), Indonesia, Kazakhstan, the Kyrgyz Republic, Malaysia, Moldova, Montenegro, North Macedonia, Romania, Singapore, South Africa, South Korea, Thailand, Ukraine, and Vietnam.
Background
In the Uruguay Round Agreements Act (URAA-1994), the US had amended the CVD law in order to confirm US obligations under the World Trade Organisation (WTO) Agreement on Subsidies and Countervailing Measures (SCM).
Under this SCM agreement, countries that had not yet reached the status of a developed country were entitled to special treatment for purposes of countervailing measures.
To harmonise the U.S. law with the WTO's SCM Agreement, the USTR had, in 1998, come up with lists of countries classified as per their level of development. The list designated Subsidy Agreement countries eligible for special de minimis countervailable subsidy and negligible import volume standards under the CVD law.
USTR is also required to publish this list of designations and update it if necessary in the Federal Register.
Criteria for de minimis
The USTR used the following criteria to determine whether a country was eligible for the 2% de minimis standard:
Per capita Gross National Income(GNI)
Share of world trade
Other factors such as Organisation for Economic Co-operation and Development (OECD) membership or application for membership, EU membership, and Group of Twenty (G20) membership.
According to the USTR, the criterion of eligible countries has now turned obsolete.
The US had in January, 2019, proposed withdrawal of special rights and exemptions for emerging economies such as India and China, which are members of the Organisation for Economic Cooperation and Development (OECD), G20, classified as "high income" by the World Bank or account for more than 0.5% of global merchandise trade.
Further, for the purposes of the de minimis threshold, there will be no distinction between developing and least-developed countries, since both such countries will be subject to the same threshold.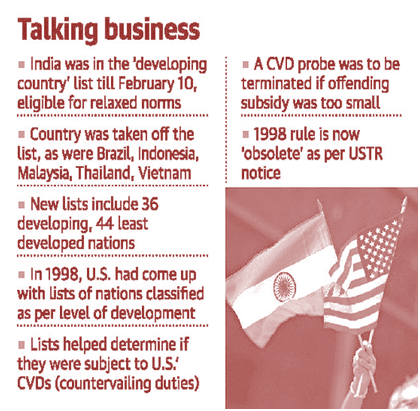 Source: The Hindu
Reasons for India's Removal
Being a G-20 Member
The US removed India from the list on account of it being a member G-20, an international forum primarily consisting of developed nations.
Accordingly, India will be now considered as a developed country, even if its per capita GNI is below $12,375 or Rs 8.82 lakh.
Increased Global Trade Share
It is to be noted that the USTR office suspended India's GSP benefits in June 2019.
GSP is given to countries with lower than 0.5 % share (as per US government estimates) in global trade.
But, India's share in global exports was 1.67% while in global imports, it was 2.57%, making India ineligible for special preference.
Impact on India
End of GSP Benefits
Under the GSP, Indian exporters could export their products to the US tariff-free. However, with the change of rules, Indian exporters will no longer get this benefit.
India Open to Investigation
The CVD laws also allow the US to hold an investigation into the trade policies of other countries to determine whether they are harming the US trade. With India no longer in the list of beneficiaries, the US can now hold an investigation.
If the investigation finds that India's policies allow exporters to sell their products in the US at a lower rate and consequently harm the domestic traders there, the US can impose CV duty, to make the Indian goods more expensive in the US markets.
Increase in Competition and Decrease Market Share
The move would have negative impact on Indian export as it will lead to increasing competition from low-cost rivals, and that surrendering GSP claims would mean handing away market share, impacting Indian market.
Countervailing Duties (CVD)
Duties that are imposed in order to counter the negative impact of import subsidies to protect domestic producers are called countervailing duties.
The objective of CVD is to nullify or eliminate the price advantage (low price) enjoyed by an imported product when it is given subsidies or exempted from domestic taxes in the country where they are manufactured.
These duties can be imposed under the specifications given by the WTO (World Trade Organization) after the investigation finds that exporters are engaged in dumping. These are also known as anti-dumping duties.
Hong Kong Protesters March Again
---
On 6th July 2019, protesters in Hong Kong continued their march and advocacy against the controversial Extradition Bill.
Relevance of the News: It highlights the efforts of China to capture the autonomy of Hong Kong and the resulting disturbance in the autonomous state.
Details of the News:
Lakhs of anti-government protesters gathered outside a train station in the area of Tsim Sha Tsui linking the area to the Chinese mainland. The terminus is controversial because Chinese law operates in the parts of the station dealing with immigration and customs, as well as the platforms, even though it is far from the border.
The rally was the first major large-scale protest since last week's unprecedented storming of parliament by young and masked protesters.
Around 230,000 people made their way through streets in the harbour-front district of Tsim Sha Tsui, an area popular with Chinese tourists.
Background of the Crisis:
The Hong Kong government's pro-Chinese administrator recently introduced a Bill which allowed the Hong Kong government to extradite alleged criminals to mainland China for trial.
This Bill was rejected and protested by the people of Hong Kong who allege that through this legislation the Chinese government would stifle opposition voices in Hong Kong.
Although the Bill has been taken down as a result of protests but the protest has now evolved into a wider movement calling for democratic reforms and a halt to sliding freedoms in the semi-autonomous city.
Protesters are demanding the postponed extradition bill be scrapped entirely, an independent inquiry into police use of tear gas and rubber bullets, amnesty for those arrested, and for the city's unelected administrator Carrie Lam to step down.
India Gets NATO-ally Like Status By US Senate
---
The U.S. Senate in the last week of June 2019 has passed a legislative provision that brings India at par with America's NATO allies.
Relevance of the News: The news highlights growing India-US relations and the trust enjoyed by both countries for each other.
US National Defense Authorisation Act, or NDAA:
The law brings India at par with America's NATO allies and countries such as Israel and South Korea for increasing defence cooperation.
The law provides for increased U.S.-India defence cooperation in the Indian Ocean and Persian Gulf in the areas of humanitarian assistance, counter-terrorism, counter-piracy and maritime security.
The Bill has been passed by the US Senate and would be signed into law after both the chambers of the U.S. Congress — the House of Representatives and the Senate — pass it.
Directions of the Senate to Trump Administration:
The Senate directed the Trump administration to scout more steps to implement the 'major defence partner' designation.
It asked the administration to "facilitate interoperability, information sharing, and appropriate technology transfers" and to undertake "strategic initiatives to help develop the defence capabilities of India."
It urged for "increasing the frequency and scope of exchanges" between senior civilian officials and military officers to boost defence partnership.
The Senate called for enhancement of the quadrilateral dialogue among the US, India, Japan and Australia.
India Enjoys GSP Benefits From Other Countries
---
Even after US withdrawal of Generalised System of Preferences (GSP) benefits to India, the country continues to enjoy GSP benefits from other countries.
Relevance of the News: The news explains India's trade dealings with other countries under preferential trade conditions or programmes like the GSP.
GSP Benefits:
As per WTO, India is a beneficiary of GSP provided by Armenia, Australia, European Union, Japan, Kazakhstan, New Zealand, Norway, Russian Federation, Switzerland and Turkey.
Indian exports to these countries were nearly five times the total exports to the US in 2018.
Although US has withdrawn benefits given to India the exports from India to other countries continues to grow under GSP.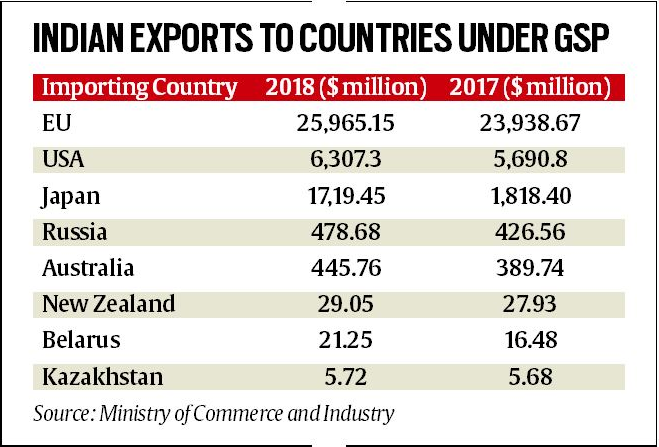 Effect of US GSP Withdrawal:
The US has terminated its preferential tariffs being granted to India under the Generalized System of Preferences (GSP) Scheme from 5th June 2019 following which India has placed duties on 28 products.
Exports under US GSP accounted for over 11 per cent of India's total goods exports to the US last year.
The withdrawal could affect India's competitiveness in exports of 1,900 products, including organic chemical raw materials, iron, steel, furniture, aluminium and electrical machinery, as duties will now be levied on these items.
However, India has downplayed the effect of US GSP benefit withdrawal saying that the effect would be insignificant owing to limited benefits it offered.
Iran Shoots Down US Spy Drone
---
Iran on 20th June 2019, shot down a U.S. spy drone near the strategic Strait of Hormuz.
Relevance of the news: The event marks the high watermark in US-Iran stand-off after US imposed sanctions on Iran.
The Turn of Events:
Iran's Islamic Revolutionary Guard Corps said that it had brought down a US surveillance drone after it entered its country's airspace and warned of the consequences of such "illegal and provocative" measures.
The US says the drone was flying in international airspace over the Strait of Hormuz and feels that Iran has made a very big mistake by taking down the drone.
The move is likely to increase friction between Washington and Tehran. Trump announced on 17th June that he would send 1,000 more troops to the Middle East in the wake of Iran crisis.
The drone attack came at a time when Iran was already accused by US of having carried out explosions on two oil tankers in the Hormuz area recently.
Iran denies having been behind the attacks but it has frequently threatened in the past to block the sea lanes passing through the Hormuz.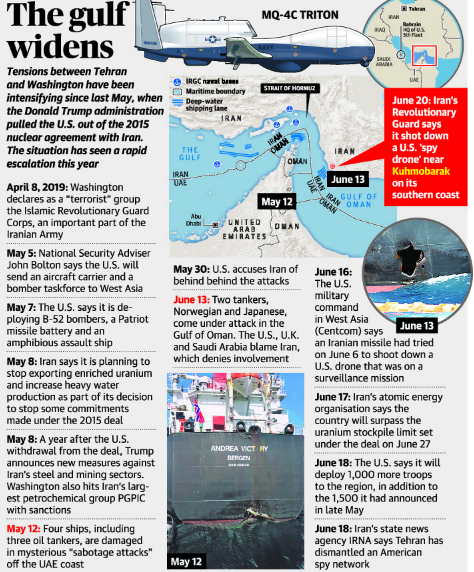 India's Retaliatory Tariffs On US
---
Why is it in News?
The Commerce Ministry revealed on 14th June, that India has decided to slap retaliatory tariffs on 29 goods imported from the U.S. from June 16 onwards.
Background of the Issue: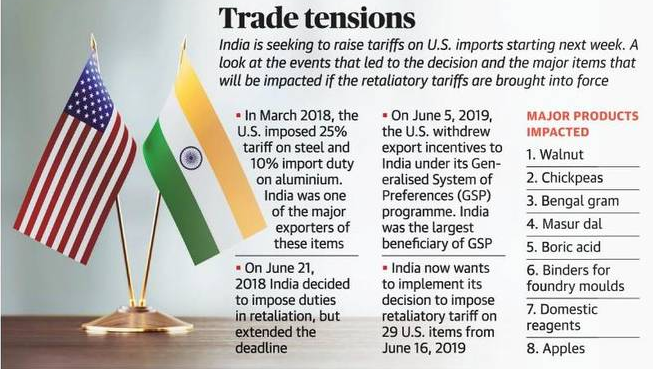 Following US' actions to impose duty on export of steel and aluminium products India decided to impose retaliatory tariffs in June 2018. However, the proposal was delayed every time the deadline approached and India had been repeatedly asking for exemption from these higher tariffs through negotiations, but to no avail.
Also recently US withdrew the Generalised System of Preferences (GSP) benefits provided to India following which India has now decided to impose retaliatory tariffs on US products.
The proposed tariffs will place a burden of $220-290 million on the U.S., which is about the same amount imposed by Washington on India in 2018.
The imposition of increased import tariffs on US agricultural commodities will help domestic farmers.
Generalised System of Preferenes (GSP):
GSP provide opportunities for many of the world's poorest countries to use trade to grow their economies and climb out of poverty.
GSP is the largest and oldest U.S. trade preference program established by the Trade Act of 1974.
GSP promotes economic development by eliminating duties on thousands of products when imported from one of 120 designated beneficiary countries and territories.
India has been the largest beneficiary of the GSP program but it has been removed from this program since June 2019.
Iran Accelerates Uranium Enrichment
---
Why is it in News?
International Atomic Energy Agency (IAEA) has reported that Iran was now producing more enriched uranium than before, but it was not clear when it might reach stockpile limits set in the Joint Comprehensive Plan of Action (JCPOA).
IAEA is the UN agency which is responsible for monitoring Iran's compliance with the JCPOA nuclear deal signed between Iran, US and European countries like Russia, Germany, France and UK in 2015.
Relevance of the News: Iran's nuclear escalation can increase the volatility in US-Iran standoff which is already at its high watermark.
US-Iran standoff:
Recent weeks have seen U.S.-Iranian confrontation sharply increase. Last year the US abandoned the JCPOA agreement signed between Iran and world powers to curb Tehran's nuclear programme in exchange for the lifting of international financial sanctions.
US wants to revise the nuclear deal, JCPOA, in order to make provisions stricter for Iran and to include more issues in the agreement like curbing Iran's alleged role in wars in the region.
US tightened its Iran sanctions from the start of May 2019, and ordered all countries and companies to halt all imports of Iranian oil or face seclusion from the global financial system.
It has also begun discussing military confrontation, dispatching extra troops to the region to counter alleged Iranian threats.
Iran has responded with a threat to increase its enrichment of uranium. Iran has asked Europeans, who still support the nuclear deal, to save the deal by finding ways to ensure Iran continues to receive the economic benefits it was promised in the JCPOA.
Iran has demanded more cooperation and efforts by the European countries to shield it from US economic sanctions.
France, Britain and Germany have set up a special-purpose vehicle called Instex, designed to allow payments to Iran that would legally bypass sanctions. It has yet to be launched.
US – Iran Relations
---
Relevance of the News: The news highlights the growing instability and hostility between US and Iran and the possibility of an armed conflict between the two.
Why is it in News?
The US on 15th May instructed all non-emergency staff to pull out of its embassy in Baghdad, Iraq and consulate in Arbil as tensions between the US and Iran is rising. Arbil is the Iraqi Kurdish regional capital, in northern Iraq.
The US advisory announced the partial embassy closures and warned of possible attacks by the numerous terrorist and insurgent groups active in Iraq which could threaten US citizens and Western companies in Iraq.
Iran has a strong influence in Iraq, especially in the country's Shiite-majority south.
Meanwhile US has warned that it would respond with "unrelenting force" to any attack by Iran, including by its regional allies.
US had announced that it would be sending several massive, nuclear-capable B-52 bombers to the region.
On 12th May mysterious attacks by unknown assailants against four ships in the region, including two from Saudi Arabia, have already increased tensions in the region.
However, this week both US and Iran have ruled out any possible military conflict between the two.
Issuance Of Green Cards In US
---
Relevance of the News:
It is a significant development which may affect Indians working in the US.
Why is it in News?
The US President announced on 16th May changes to the way green cards are allocated and introduced a new points-based (merit-based) system of allocation of cards.
What will Change?
Points will be awarded to applicants basis their education, work experience, age (more points for younger workers), English language ability etc. New immigrants will have to show that they can support themselves financially and will also need to pass a civics exam.
Currently about 12% of those receiving green cards entered the U.S. based on skill-based visas (such as the H1B), while some 66% are family-based green cards. This will dramatically decrease the number of family-based green cards and would grow skills-based green cards to 57%.
The new plan would boost border security and tighten asylum procedures.
The overall number of green cards, just over 1.1 million in 2017, will remain the same under the new scheme.
Impact on India:
The proposals, if they eventually turn into law, could have a significant impact on Indians.
A large majority (over 70%) of H1B visas, for skilled workers, went to Indians in fiscal year 2018. Many of these are eventually converted to green cards.
Once the system kicks in many U.S. citizens and permanent residents including those Indians who first arrived as H-1B workers would no longer be able live in America with their parents and children.
Iran Crude Imports To India
---
Why is it in News?
Indian External Affairs Minister has conveyed to Iran's visiting Foreign Minister that India will take a call on purchase of Iranian energy keeping in mind the commercial considerations, energy security and economic interests.
What led to this?
The discussions come in the backdrop of escalating tensions in the Gulf after the U.S. waivers to India for supply of Iranian energy ended on May 2.
After the imposition of sanctions Iran has declared that it would no longer be bound by the 2015 nuclear deal.
Relevance of the News:
Iran is an important oil source for India and US sanctions have hit both the countries interests.
India's Position amid Sanctions:
India expects all parties to the agreement to continue to fulfill their commitments and all parties should engage constructively and resolve all issues peacefully and through dialogue
Retaliatory Sanctions On USA
---
Why is it in News?
China announced on 14th May that it would increase tariffs on $60 billion worth of U.S. goods from June 1, in response to the recent round of U.S. tariff hikes and its plans to target nearly all Chinese imports.
A total of 5,140 U.S. products will be subject to additional tariffs of 5%, 10%, 20% and 25% starting June 1.
US believes that China has taken advantage of the US economy for years, mainly by stealing intellectual property and taking over millions of American jobs therefore the tariffs would compel China to curb its unfair trade practices.
Relevance of the News:
Slapping of sanctions by US and China upon each other can bring instability in the global economy trade thereby affecting India's economic interests.
Failed Trade Talks:
On 10th May, the latest round of US-China trade negotiations concluded without a deal and on the same day the US increased tariffs on $200 billion worth of Chinese goods.
The US had also ordered the initiation of the imposition of new duties on Chinese goods worth $300 billion.
Previous Sanctions:
Earlier in September 2018 also the US and China imposed sanctions on each other. The U.S. imposed 10% tariffs on $200 billion of Chinese imports in September and China responded by placing tariffs of 5 to 10% on over 5000 US categories.
Starting March 2018, both USA and China had imposed tariffs on each other's goods worth billions of dollars. However, in December 2018 during the G20 summit in Argentina both the leaders agreed to halt the escalation of tariffs but the tariff war started again in May 2019 following the failure of talks.
Sabotage Attacks On Saudi Arabia's Oil Tankers
---
Why is it in News?
Saudi Arabia's two oil tankers were sabotaged off the coast of the United Arab Emirates on 13th May in attacks that caused "significant damage" to the vessels, one of them as it was en route to pick up Saudi oil to be transported to the US.
More on the Incident:
It has not been ascertained who might have been responsible for the incident. However, US had already warned ships that "Iran or its proxies" could be targeting maritime traffic in the region.
America is deploying an aircraft carrier and B-52 bombers to the Persian Gulf to counter alleged threats from Tehran.
Tensions have risen in the year since the US withdrew from the 2015 nuclear deal between Iran and world powers, restoring American sanctions that have pushed Iran's economy into crisis.
Relevance of the News:
The news highlights growing conflict and instability in the Middle-east which can cause damage to global security.
Iran's Response:
Iran's Foreign Ministry called for further clarification about what exactly happened with the Saudi tankers.
Iran also warned against any "conspiracy orchestrated by ill-wishers" and "adventurism by foreigners" to undermine the maritime region's stability and security.
---