First-ever Security, Defence Dialogue between India-EU
---
India held the first-ever Security and Defence Consultations with European Union on 10th June 2022 at Brussels, capital city of Belgium.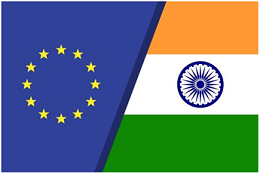 The two sides reviewed the entire gamut of their defence relations and evolving security situation in Europe, India's neighbourhood and the Indo-Pacific.
The two sides also discussed various means of increasing India-EU cooperation on maritime security, implementation of the European code of conduct on arms export to India's neighborhood, cooperation in co-development and co-production of defence equipment, including India's participation in Permanent Structured Cooperation (PESCO) in the area of security and defence policy.
Both sides agreed to increase India-EU defence and security cooperation as an important pillar of the bilateral strategic relations.
The next consultations will be held in Delhi at a mutually agreed convenient time.
India-EU: Recent Initiatives
Maritime Security Dialogue
The two sides have a number of positive developments in the area of security and defence cooperation in recent years, including the establishment of a regular maritime security dialogue, which met for the second time in February 2022.
Defence Exercise
The first-ever joint naval exercise between India and the EU was held during 18-19 June 2021 in the Gulf of Aden.
India-EU FTA
India and the EU are set to formally restart negotiations for a free trade agreement (FTA) soon.
India-EU FTA negotiations had been on the back burner after they were started in May 2013. However, an anti-China sentiment and the need for de-risking the supply chain amid geopolitical uncertainties have reignited several stalled trade talks this year.
Commerce and industry minister Piyush Goyal had said that India will conclude a FTA with the 27-nation group by next year.
Permanent Structured Cooperation (PESCO)
The Permanent Structured Cooperation (PESCO) is the part of the European Union's (EU) security and defence policy (CSDP) in which 25 of the 27 national armed forces pursue structural integration.
Based on Article 42.6 and Protocol 10 of the Treaty on European Union, introduced by the Treaty of Lisbon in 2009, PESCO was first initiated in 2017.
PESCO is similar to enhanced co-operation in other policy areas, in the sense that integration does not require that all EU member states participate.
India-Vietnam MoU on Logistics Support
---
During the recent visit of Indian Defence Minister to Vietnam, the two countries signed the 'Joint Vision Statement on India-Vietnam Defence Partnership towards 2030', which will significantly enhance the scope and scale of existing defence cooperation.
Also, a Memorandum of Understanding on Mutual Logistics Support was also inked.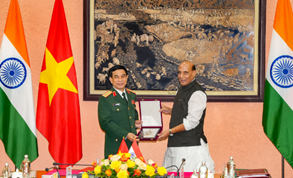 Significance
The Memorandum of Understanding (MoU) on mutual logistics support is the first such major agreement that Vietnam has signed with any country.
This is significant as it allows Indian warships and military planes to re-fuel and seek supplies at the Vietnamese bases.
Vietnam is one of the six countries locked in a dispute with China over territorial demarcation of the South China Sea.
With this agreement, India could get closure access to Chinese events in that area.
Other Developments
India and Vietnam agreed for early finalisation of $500 million defence line of credit extended to Vietnam.
India announced gifting of two simulators and monetary grant towards setting up of language and IT Lab at Air Force Officers Training School for capacity building of Vietnamese armed forces.
What are Logistic Agreements?
Logistics agreements are administrative arrangements facilitating access to military facilities for exchange of fuel and provisions on mutual agreement simplifying logistical support and increasing operational turnaround of the military when operating away from India.
India-Australia Economic Cooperation and Trade Agreement
---
On 2nd April, 2022, India and Australia signed the India-Australia Economic Cooperation and Trade Agreement (ECTA). The negotiations for India-Australia ECTA were formally re-launched on 30 September 2021 and concluded on a fast-track basis by the end of March 2022.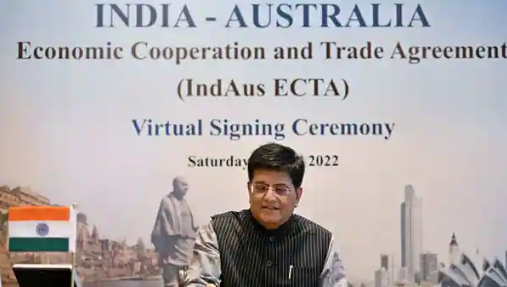 (Image Source: Livemint)

India-Australia ECTA: Salient Features
Areas of Cooperation
The Agreement encompasses cooperation across the entire gamut of bilateral economic and commercial relations between the two friendly countries, and covers areas like Trade in Goods, Rules of Origin, Trade in Services, Technical Barriers to Trade (TBT), Sanitary and Phytosanitary (SPS) measures, Dispute Settlement, Movement of Natural Persons,s Telecom, Customs Procedures, Pharmaceutical Products, etc.
Eight subject specific side letters covering various aspects of bilateral economic cooperation were also concluded as part of the Agreement.
Benefits
Boost to Bilateral Trade: The India-Australia ECTA will further cement the already deep, close and strategic relations between the two countries and will significantly enhance bilateral trade in goods and services, create new employment opportunities, raise living standards, and improve the general welfare of the peoples of the two countries.
The ECTA is expected to increase trade between the two sides to $45-50 billion over five years, from the current estimate of $27 billion, and create over 10 lakh additional job opportunities.
Institutional Mechanism: ECTA provides for an institutional mechanism to encourage and improve trade between the two countries.
Preferential Market Access: The ECTA between India and Australia covers almost all the tariff lines dealt in by India and Australia respectively.
India will benefit from preferential market access provided by Australia on 100% of its tariff lines. This includes all the labour-intensive sectors of export interest to India such as gems and jewellery, textiles, leather, footwear, furniture, food, and agricultural products, engineering products, medical devices, and automobiles.
On the other hand, India will be offering preferential access to Australia on over 70% of its tariff lines, including lines of export interest to Australia which are primarily raw materials and intermediaries such as coal, mineral ores and wines, etc.
Trade in Services: As regards trade in services, Australia has offered wide ranging commitments in around 135 sub sectors and Most Favoured Nation (MFN) in 120 sub sectors which cover key areas of India's interest like IT, ITES, Business services, Health, Education, and Audio visual.
On the other hand, India has offered market access to Australia in around 103 sub-sectors and Most Favoured Nation in 31 sub-sectors from the 11 broad service sectors such as 'business services', 'communication services', 'construction and related engineering services', and so on.
Annex on Pharmaceutical Products: Both sides have also agreed to a separate Annex on Pharmaceutical products under this agreement, which will enable fast track approval for patented, generic and biosimilar medicines.
India-Australia Bilateral Trade
India-Australia bilateral trade for both merchandise and services is valued at US$ 27.5 billion in 2021. India's merchandise exports to Australia grew 135% between 2019 and 2021.
India's exports consist primarily of a broad-based basket largely of finished products and were US$ 6.9 billion in 2021.
India's merchandise imports from Australia were US$ 15.1 billion in 2021, consisting largely of raw materials, minerals and intermediate goods.
Australia is the 17th largest trading partner of India and India is Australia's 9th largest trading partner.
Significance of India-Australia Bilateral Economic and Trade Relations
India and Australia have been each other's important trading partners. These excellent bilateral economic and commercial relations have continued to enhance and deepen over time.
Growing India-Australia economic and commercial relations contribute to the stability and strength of a rapidly diversifying and deepening bilateral relationship between the two countries.
Conclusion
The India-Australia Comprehensive Strategic Partnership initiated during the India-Australia Leaders' Virtual Summit held on 04 June 2020 is the cornerstone of our multi-faceted bilateral relations.
India and Australia are partners in the trilateral Supply Chain Resilience Initiative (SCRI) arrangement along with Japan which seeks to enhance the resilience of supply chains in the Indo-Pacific Region.
India and Australia are also members of the recently formed Quad, also comprising US, and Japan, to further enhance cooperation and develop partnership across several issues of common concerns.
Both countries enjoy a special partnership characterized by shared values of pluralistic, parliamentary democracies, Commonwealth traditions, expanding economic engagement, long standing people-to-people ties and increasing high level interaction.
5th India-Canada Ministerial Dialogue on Trade & Investment
---
On 11th March, 2022, India and Canada held the fifth Ministerial Dialogue on Trade & Investment (MDTI) in New Delhi.
The robust trade and economic relationship between India and Canada was highlighted and both countries resolved to further strengthen the bilateral ties and economic partnership.
A Joint Statement was issued at conclusion of the dialogue.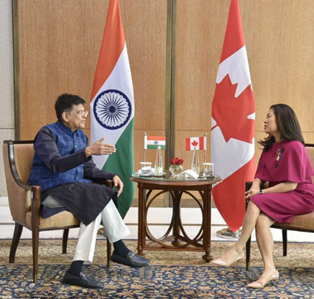 Key Highlights
Recovery of Bilateral Trade: Both sides expressed satisfaction over the strong recovery of bilateral trade in 2021 after the economic contraction as a result of the COVID-19 pandemic, with bilateral trade in goods reaching US$ 6.29 billion registering a growth rate of 12% as compared to the previous year.
Services Sector: India and Canada emphasized the contribution of the services sector in furthering the bilateral relationship and noted the significant potential for increasing bilateral services trade.
Two-Way Foreign Direct Investment: Both sides also appreciated the impressive growth of two-way foreign direct investment and its contribution to deepening economic and trade ties, welcoming various reforms and initiatives taken by both countries to improve the business ecosystem and make it investor-friendly.
Role of MDTI: The significance of the Ministerial Dialogue on Trade & Investment (MDTI) as an institutional mechanism for forging robust bilateral trade and investment ties and enhancing economic cooperation between both countries was highlighted.
Comprehensive Economic Partnership Agreement (CEPA) Negotiations: Recognising the need for a comprehensive trade agreement between the two countries that would help in bolstering trade, investment and further strengthen the bilateral relationship, India and Canada agreed to formally re-launch the India-Canada Comprehensive Economic Partnership Agreement (CEPA) negotiations.
Early Progress Trade Agreement (EPTA): Both sides agreed to consider an interim agreement or Early Progress Trade Agreement (EPTA) that could be concluded early as a transitional step towards the CEPA. Both countries agreed that an EPTA would be consistent with Article XXIV of the General Agreement on Tariffs and Trade and shall include high level commitments in goods, services, rules of origin, sanitary and phytosanitary measures, technical barriers to trade, and dispute settlement, and may also cover any other areas mutually agreed upon.
Bilateral Trade Issues: Both sides agreed to undertake intensified work with respect to the recognition of Canada's systems approach to pest risk management in pulses and market access for Indian agriculture goods such as sweet corn, baby corn and banana, etc.
Canada welcomed India's consideration to allow the import of pulses without penalty in case of fumigation on arrival by Methyl Bromide (MBr) until finalization of a systems approach for Canadian pulses.
Canada also agreed to examine expeditiously the request for Conformity Verification Body (CVB) status to APEDA (Agricultural and Processed Food Products Export Development Authority) for facilitating Indian organic export products.
India also noted its interest in recognition of traditional medicine including Ayurveda and other AYUSH systems.
Canada noted its interest in market access for cherries and lumber.
Cooperation Areas: They reaffirmed their commitment to strengthen trade and commercial ties through enhanced partnerships and cooperation in identified areas such as agro-products, chemicals, footwear, textiles, automobiles, energy, electronics, minerals and metals, urban development, information technology and tourism.
They emphasised enhancing cooperation in sectors such as critical and rare earth minerals for mutual benefit and welcomed the export in potash from Canada to India and collaboration within the sector, demonstrating Canada as a strategic and reliable partner.
Complementarities: Both countries highlighted their existing trade complementarities and recognised the need to expand bilateral trade through unlocking the potential across priority and emerging sectors both in goods and services.
Global Supply Chains: Both countries acknowledged growing concerns about challenges to global supply chains, including disruptions linked to the COVID-19 pandemic, and discussed the continued importance of working together to promote the international rules-based order and supply chain resilience in critical sectors.
Public Health Sector: Both sides discussed the potential for strengthening the cooperation in public health sector given that India is a reliable partner for Canada in supplying quality and affordable pharmaceutical products, particularly generic medicines.
Tourism: Both countries recognised the potential for expanding cooperation between India and Canada in tourism, including sharing information and best practices on tourism (e.g. exchange programs), destination management, and interaction between tour operators and travel agents.
Urban Development and Infrastructure: Both sides also expressed interest in cooperation in urban development and infrastructure including smart cities and physical infrastructure, especially water supply, sewerage, power and roads; skill development, transfer of technology and R&D in the construction sector.
Conclusion
Reaffirming their commitment to the rules-based, transparent, non-discriminatory, open, and inclusive multilateral trading system embodied by the World Trade Organization, India and Canada agreed to work together to further strengthen it.
First India-Central Asia Summit
---
Prime Minister Shri Narendra Modi hosted the first India-Central Asia Summit in virtual format on 27 January 2022, which was attended by Presidents of the Republic of Kazakhstan, Kyrgyz Republic, Republic of Tajikistan, Turkmenistan and Republic of Uzbekistan.

This first India-Central Asia coincided with the 30th anniversary of establishment of diplomatic relations between India and Central Asian countries.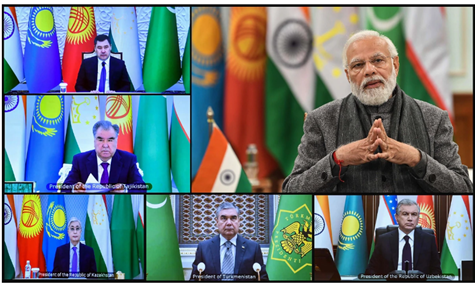 (Image Source: India Today)
Highlights
The Leaders agreed to institutionalize the Summit mechanism by deciding to hold it every 2 years.
They agreed on regular meetings of Foreign Ministers, Trade Ministers, Culture Ministers and Secretaries of the Security Council to prepare the groundwork for the Summit meetings.
An India-Central Asia Secretariat in New Delhi would be set up to support the new mechanism.
The Leaders discussed far-reaching proposals to further cooperation in areas of trade and connectivity, development cooperation, defence and security and, in particular, on cultural and people to people contacts. These included:

A Round-Table on Energy and Connectivity;
Joint Working Groups at senior official level on Afghanistan and use of Chabahar Port;
Showcasing of Buddhist exhibitions in Central Asian countries ;
Commissioning of an India-Central Asia dictionary of common words,
Joint counter-terrorism exercises,
Visit of 100 member youth delegation annually from Central Asian countries to India; and
Special courses for Central Asian diplomats.

Prime Minister Modi also discussed the evolving situation in Afghanistan with the Central Asian leaders. The leaders reiterated their strong support for a peaceful, secure and stable Afghanistan with a truly representative and inclusive government. Prime Minister conveyed India's continued commitment to provide humanitarian assistance to the Afghan people.
A comprehensive Joint Declaration was adopted by the leaders that enumerates their common vision for an enduring and comprehensive India-Central Asia partnership.
India-Sri Lanka: 5th Joint Committee on S&T Cooperation
---
At the India-Sri Lanka 5th Joint Committee on S&T Cooperation held on January 20, 2022, India and Sri Lanka extended the existing cooperation in science and technology.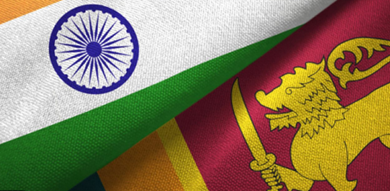 Key Highlights
Both countries mutually agreed to extend the Programme of Cooperation (POC) for another 3 years and identified new areas such as waste-water technologies, industry and biotech, sustainable agriculture, aerospace engineering, robotics, big data analytics, and artificial intelligence to be included in the POC.
The delegates reviewed the ongoing collaborative activities in the 9 areas spanning food technology; plant base medicines; meteorology; space research & applications, robotics & automation; industrial electronics, renewable energy; waste management; information and communication technology and discussed about the future activities.
The Indian side presented the overall STI Policy and priority areas by showcasing the core mandates of DST, multi-stakeholder base of DST, India's recent progress in S&T, as well as focus on securing India's future in technology through missions like NM-ICPS, NM-QTA, Methanol mission, new initiatives like VAJRA, TARE, Vigyan Jyoti, Accelerate Vigyan.
The Sri-Lankan side also highlighted the scope and status of S&T in their country and its application in various areas of national importance.
Organizations like National Science Foundation, Sri Lanka, Council of Scientific and Industrial Research, India and Industrial Technology Institute, Sri Lanka detailed on activities performed by the respective Scientific Agencies and areas of potential collaboration between both the countries.
Significance
This platform will provide an opportunity for discussing various other facets which are possible for collaboration in the domain of S&T.
India offers fellowships like India S&T fellowship, e-ITEC and both the countries can work through a number of multilateral platforms like BIMSTEC, which they are part of.
As part of India's "Neighborhood First" policy which guides the country's cooperation with Sri Lanka, this meeting would help build on existing collaborative work and help these reach greater heights.
S&T is a key enabler of socio-economic and sustainable development. The tools in science will enable the world in achieving the 2030 agenda of sustainable development.
India-China: Bilateral Trade Crosses 125 billion USD in 2021
---
In 2021, the bilateral trade between India and China stood at 125.66 billion USD, up 43.3% from 2020.
China's exports to India were 97.52 billion USD while China's imports from India were 28.14 billion USD in 2021.
India was China's 15th largest trade partner in 2021.

Exports: India's biggest exports to China were iron ore, cotton and other raw material-based commodities.
Imports: India's imports from China included electrical and mechanical machinery, active pharmaceutical ingredients (APIs), auto components and medical supplies.
Trade Deficit: Trade deficit between the two countries remained in favour of China – at $69 billion.
Reasons behind Widening of Trade Deficit
The widening of India's trade deficit with China can be attributed to two factors:
Narrow basket of commodities, mostly primary, for export to China; and
Lack of market access for most of India's agricultural products and the sectors where India is competitive such as pharmaceuticals and IT.
Third Meeting of India-Central Asia Dialogue
---
The 3rd meeting of the India-Central Asia Dialogue was held in New Delhi on 19th December 2021 under the chairmanship of the External Affairs Minister of India.
Ministers of Foreign Affairs of the Republic of Kazakhstan, Kyrgyz Republic, Republic of Tajikistan, Turkmenistan and Republic of Uzbekistan took part in the meeting.
Major Highlights
Peace and Trust Policy
The Ministers importance of the outcome of the International Conference "Peace and Trust Policy - Basis of International Security, Stability and Development", held on December 11, 2021 in Ashgabat.
The initiative of the President of Turkmenistan "Dialogue - guarantee of peace" and other proposals expressed during this Forum are needed to be practically implemented within the framework of international organizations.
International North-South Transport Corridor (INSTC)
Emphasised on optimum usage of the International North-South Transport Corridor (INSTC) as well as Ashgabat Agreement on International Transport and Transit Corridor to enhance connectivity between India and the Central Asian countries.
Chabahar Port
Stressed on to include Chabahar Port within the framework of INSTC and strengthening of regional connectivity in Central and South Asia.
Afghanistan
Discussed the current situation in Afghanistan and its impact on the region, following the Taliban's occupancy.
The Ministers reiterated strong support for a peaceful, secure and stable Afghanistan while emphasizing the respect for sovereignty, unity and territorial integrity and non-interference in its internal affairs.
International Solar Alliance (ISA)
India highlighted the role of "International Solar Alliance (ISA)" initiative in collective, rapid and massive deployment of solar energy for effective implementation of the Paris Agreement.
India also underlined the role of "Coalition for Disaster Resilient Infrastructure (CDRI)" in promoting disaster resilient infrastructure for reducing economic losses and improving the well-being of communities in the face of calamities.
India looked forward to Central Asian countries joining the ISA and CDRI.
Terrorism
Condemned terrorism in all its forms and manifestations.
Called for early adoption of the UN Comprehensive Convention on International Terrorism.
Permanent Membership of India at UNSC
Central Asian countries reiterated support of their countries for permanent membership of India in an expanded and reformed UN Security Council.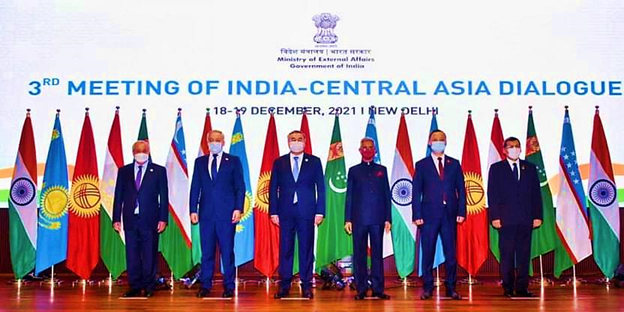 Significance
The holding of annual meetings of the India-Central Asia Dialogue is symbolic of the interest on the part of all member countries for greater engagement between them in a spirit of friendship, trust and mutual understanding.
India-Oman sign MoU on White Shipping Information Exchange
---
On 27th September 2021, Admiral Saif bin Nasser bin Mohsen Al-Rahbi, Commander of Royal Navy of Oman (CRNO) and Admiral Karambir Singh, Chief of the Naval Staff (CNS), Indian Navy signed an MoU for exchange of White Shipping Information.
The MoU was signed at Maritime Security Center (MSC), Muscat during the ongoing visit of the CNS to Oman.
The signing of the MoU between Royal Navy of Oman and Indian Navy would facilitate information exchange on merchant shipping traffic, through IFC-IOR, India and MSC, Oman and contribute to enhanced maritime safety and security in the region.
About White Shipping Agreement
White Shipping Agreement is a technical term related to the exchange agreement between the navies of countries on the commercial ships on each other's oceanic territories.
The White Shipping Information refers to the exchange of prior information on the movement and identity of commercial non-military merchant vessels.
Under this, Ships are classified into white (commercial ships), grey (military vessels), and black (illegal vessels).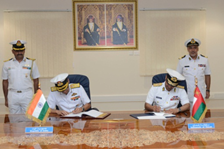 18th Conference Of Parties Of CITES
---
The 18th Conference of the Parties (CoP18) of Convention on International Trade in Endangered Species of Wild Fauna and Flora (CITES) was held between 17-28 August in Geneva, Switzerland.
Originally, it was planned to be held in Colombo, Sri Lanka, in May, 2019.But due to the unfortunate terrorist attacks that occurred in Colombo on 21 April 2019, it was cancelled and rescheduled to occur in Switzerland.
CoP 19 will be held in Costa Rica in 2022.
Key Decisions regarding Indian Wildlife
Smooth-coated Otter (Lutrogale perspicillata)
It was moved from CITES Appendix II to CITES Appendix I. Now it enjoys the highest degree of protection as there will be a complete international ban enforced on their trade.
This species is found in Java, Sumatra and Borneo, northward to south-western China, east through Nepal and Bhutan and India to Pakistan, excluding the Indus Valley.
IUCN Red List Status: Vulnerable
Threats: Poaching, habitat loss, pet trade, pollution,deliberate trapping for fur in India, Nepal and Bangladesh mainly for export to China.
Ecological Role: It plays a vital role in balancing the freshwater ecosystems as a top carnivorous and therefore significantly influences the overall spatio–temporal dynamics of the Eco region.
Indian Star Tortoise (Geochelone elegans)
Indian star tortoise was also moved to CITES Appendix I. Now it prohibits international trade of these species except when the purpose of the import is for scientific research.
They are found in three geographic areas: northwestern India (Gujarat, Rajasthan) and adjoining southeastern Pakistan; eastern and southern areas from Tamil Nadu, Andhra Pradesh and eastern Karnataka to Odisha and throughout Sri Lanka.
IUCN Red List Status: Vulnerable
Threats: Habitat loss, illegal collection for utilization by local people for pet and collection for the international wildlife trade mainly to Malaysia, Singapore and Thailand, as well as other countries in Southeast and East Asia.
Ecological Role: Being herbivores, Indian star tortoises may act as dispersal agents for various plants via consumption of seeds and fruit and other kind of vegetation.
Tokay Gecko (Gekko gecko)
It is included in CITES Appendix II.
They are found in northeast India, Bhutan, Nepal, and Bangladesh, throughout Southeast Asia, including the Philippines and Indonesia, and to western New Guinea in Melanesia.
IUCN Red List: Least Concern
Threats: High demand for use in traditional medicines mainly in China and Vietnam and other South East Asian countries.
Ecological Role: Tokay Geckoes help in pest control as they usually feed on grasshoppers, mice, locusts which are considered major threats to standing crops.
Other Animals which got Special Attention
Sharks: 18 species of sharks threatened by the scale of international trade in their fins and meat, were included in Appendix II of the Convention.
African Elephants: Parties vote to restrict trade from Zimbabwe and Botswana.
Giraffes: It accorded protection from trade for the first time and has been placed in Appendix II of CITES. Now it prohibits its uncontrolled trade.
Convention on International Trade in Endangered Species of Wild Fauna and Flora(CITES)
With 183 Parties, CITES remains one of the world's most powerful tools for wildlife conservation through the regulation of trade.It is also known as Washington Convention.
It was signed in Washington D.C. on 3 March 1973 and entered into force on 1 July 1975.
Its aim is to ensure that international trade in specimens of wild animals and plants does not threaten their survival.
CITES Appendix
CITES works by subjecting international trade in specimens of selected species to certain controls. All import, export, re-export and introduction from the sea of species covered by the Convention has to be authorized through a licensing system
The species covered by CITES are listed in three Appendices, according to the degree of protection they need.
Appendix I: It includes species threatened with extinction. Trade in specimens of these species is permitted only in exceptional circumstances.
Appendix II: It includes species not necessarily threatened with extinction, but in which trade must be controlled in order to avoid utilization incompatible with their survival.
Appendix III: It contains species that are protected in at least one country, which has asked other, CITES Parties for assistance in controlling the trade. Changes to Appendix III follow a distinct procedure from changes to Appendices I and II, as each Party's is entitled to make unilateral amendments to it.
Significance
Many wildlife species in trade are not endangered, but the existence of an agreement to ensure the sustainability of the trade is important in order to safeguard these resources for the future.
Because the trade in wild animals and plants crosses borders between countries, the effort to regulate it requires international cooperation to safeguard certain species from over-exploitation. CITES was conceived in the spirit of such cooperation. Today, it accords varying degrees of protection to more than 35,000 species of animals and plants, whether they are traded as live specimens, fur coats or dried herbs.
India Supports Israel At The UN Vote
---
Why is it in News?
India was congratulated by Israel's PM on 13 June after India voted on 11 June in favour of a decision introduced by Israel that objected to granting consultative status to a Palestinian group at the UN's Economic and Social Council (ECOSOC)
Relevance of the News: The news highlights a significant shift in India approach towards Israel-Palestine conflict.
About the UN Vote:
India voted in favour of Israel in the ECOSOC to deny the Palestinian non-governmental organisation 'Shahed' the observer status, after Israel said that the organisation did not disclose its ties with Hamas.
During the voting at the ECOSOC, the US, France, Germany, India, Japan, the UK, South Korea and Canada polled in Israel's favor whereas China, Russia, Saudi Arabia, Pakistan and others voted against it.
The proposal made by the Palestinian NGO 'Shahed' to obtain observer status was rejected by a 28-14 vote.
According to Israel, the organization 'Shahed' has links with Hizbullah and Palestinian Islamic Jihad and Hamas that are considered as terrorist organizations by many countries.

Change in India's Approach:
India's position on Middle East Peace Process has been clear. India supports a negotiated settlement resulting in a sovereign, independent, viable and united State of Palestine, with East Jerusalem as its capital, living within secure and recognised borders, side by side at peace with Israel as endorsed in the Quartet Roadmap and relevant UNSC Resolutions.
India has also always played a proactive role in garnering support for the Palestinian cause in multilateral fora.
However, in 2015 India abstained during a voting at the UNHRC on a resolution related to violence in Gaza caused by Israel which was seen as a "significant move" and a pro-Israel tilt India's behavior attributed to growing India-Israel ties.
India's vote on 11 June is important because this is the first time that India has actively voted on a resolution at the UN that is being perceived as pro-Israel.
UN Economic and Social Council (ECOSOC):
ECOSOC is one of the six main organs of the UN established by the UN Charter in 1946.
It is the principal body for coordination, policy review, policy dialogue and recommendations on economic, social and environmental issues, as well as for implementation of the internationally agreed development goals.
ECOSOC engages a wide variety of stakeholders viz. policymakers, parliamentarians, academics, foundations, business sector representatives and registered NGOs in a productive dialogue on sustainable development through a programmatic cycle of meetings.
The work of the Council is guided by an issue-based approach, and there is an annual theme that accompanies each programmatic cycle.
The Council consists of 54 Members States, which are elected yearly by the General Assembly for overlapping three-year terms.
India Recognizes Pakistan's Efforts To Curb India Specific Terror Groups
---
Why is it in News?
As per official sources, New Delhi would soon recognize and accept the efforts taken by Pakistan to curb terror groups on its soil.
Relevance of the News: It is a significant confidence building measure between both the countries and their bilateral relations.
Actions taken by Pakistan:
Last year in 2018, Pakistan was put on the "grey list" by the Financial Action Task Force (FATF).
Since then Pakistani authorities had seized 771 seminaries — educational institutions run by the Lashkar-e-Taiba and its fronts, Jamaat-ud Dawa and Falah-i-Insaniyat, and the Jaish-e-Mohammad.
It is for the first time since early 1990s that Pakistan has begun to take action against India-focussed terror groups and freeze their assets in Pakistan and PoK.
The Asia Pacific Group of the FATF held a meeting in May 2019, and Pakistan was found to have taken inadequate action in 18 of 27 areas.
Echidna
---
Why is it in News?
Scientists at CSIR-CCMB have isolated protein from Echidna that can serve as an alternative to antibiotics used in livestock.
About Echidnas:
Echidnas are mammals and are also called spiny anteaters.
Echidnas are one of the world's oldest surviving mammals.
They are egg-laying mammals and are covered with coarse hairs and spines.
It is listed as 'Least Concern' in the IUCN Red List.
Echidnas are found only in Australia and Papua Guinea.
Habitat of Echidna:
They are found in woodlands, shrubs, debris, canopy of forests etc. as these mammals cannot tolerate high temperature.
Komodo Dragon
---
Why is it in News?
Indonesia has decided to shut down the Islands which is inhabited by Komodo Dragons in order to fix the problems created by mass tourism and smuggling.
About Komodo Dragons:
The Komodo dragon is the largest living lizard in the world. These wild dragons typically weigh about 70 kilograms, but some of them can weigh up to 166 kilograms too.
Komodo dragons have venom glands that are loaded with toxins.
Komodo dragons are limited to a few Indonesian islands of the Lesser Sunda group, including Rintja, Padar and Flores.
Their IUCN status is 'Vulnerable'.
Source: TH, National Geographic
3D Printed Artificial Reef
---
Why is it in News?
Scientists are studying the pros and cons of the world's largest 3D Printed Artificial Reef in Maldives.
About the Initiative:
The 3D printed reef in Maldives was developed using the computer modeling which resembled the reef structure typically found in Maldives.
The reef structure was made up of ceramic which has properties similar to Calcium Carbonate (Caco3) of which natural reefs are made up of.
Live corals were then planted on these reefs and with passage of time, corals will colonize the structure.
The main objective is to create a coral ecosystem artificially.
Related Terminology:
Artificial Reef:
It is a man made structure that resembles the natural coral reef ecosystem with an ambition to protect and preserve the corals.
The most common material used for the purpose is shipwrecks, lighthouse, and bridges etc. which are submerged in the water body; in conducive conditions and with passage of time it gets colonized by the corals.
Does India have an Artificial Reef Ecosystem?
Yes. In 2017, the Tamil Nadu Government in collaboration with IIT Madras initiated the Artificial Reef Installment Programme to save its sinking island (Vaan Island) in the Gulf of Mannar.
How will Artificial Reefs restore the Sinking Vaan Island?
Vaan Island was getting eroded by the ocean currents, waves etc. so the installment of corals, seagrass will hinder the flow of waves and ocean currents in turn will have positive impact on the restoration process.
Coral Reefs:
Corals are the living polyps that are in symbiotic relationship with the 'Zooxanthella'. Zooxanthella is an algae that provides the food to the polyps through photosynthesis and in turn the polyps provide them the place to stay i.e. reefs.
Corals are a bit like trees in a forest – they create most of the complex structure that provides a habitat for a diverse range of species.
Coral reefs only occupy 0.1% of the area of the ocean but they support 25% of all marine species on the planet, hence are referred to as the 'Tropical Rain Forest of Ocean.'
What Do Coral Reefs Need to Survive?
Coral reefs are very sensitive to conditions like temperature, salinity, sunlight etc. They need a temperature of 20-21 degree, salinity of 27-40 ppm (parts per million) and depth of 60-70 meters of water to survive.
Coral needs the shallow continental shelf as they need sunlight for the photosynthesis.
What is 3D Printing?
It is an additive process where in the object is created layer by layer. Each of these layer can be seen as thinly sliced horizontal cross section of the final object.
Source:
TH, Down to Earth
Pangolin
---
Why is it in News?
The third Saturday of February (16th February this year) is celebrated as the World Pangolin Day.
About Pangolin:
Out of the 8 extant species of Pangolin (4 African, 4 Asian), the Indian Pangolin and Chinese Pangolin occur in India. The pangolins are shy nocturnal mammals that rely on termites and ants for their food. It is the only mammal that is fully covered in scales. They curl themselves into a complete ball when threatened.
Indian Pangolin is listed as 'Endangered' as per IUCN and is listed under the Appendix II of CITES. Appendix II includes species not necessarily threatened with extinction, but in which trade must be controlled in order to avoid utilization incompatible with their survival.
Threats to Pangolin:
Pangolins are most trafficked mammal on the Earth. They are in great demand due to the medicinal value of their scales and due to its meat delicacies.
Another threat to Pangolin is due to their habitat loss.
Source:
TH
New Delhi Metallo Lactamase Gene- NDM-1 Gene
---
Why is it in News?
NDM1 Gene has recently been detected in the Arctic region.
What is Antimicrobial Resistance?
Antibiotics are generally produced from soil microorganism and they kill the bacteria by targeting the specific cells of the bacteria. At the same time Antimicrobial resistance is a natural phenomenon where bacteria mutates and cells which were earlier targeted by Antibiotics gets modified. Microorganisms that become resistant to two or more drugs are referred to as 'Superbugs'.
What is NDM1 Gene?
NDM1 was first identified in 2008 in a Klebsiella Pneumoniae Bacteria. Bacteria having NDM1 Genes are usually resistant to most of the Antibiotic drugs. In this way, it can lead to a range of conditions, such as a urinary tract, bloodstream, or wound infections and pneumonia.
Presence Of Mountain In Earth's Mantle
---
Why is it in News?
Scientists have recently discovered that there exists a mountain inside the Earth's mantle. This discovery has the potential to change our understanding of how the planets were formed.
Recent findings as per Journal 'Science':
Our understanding of the Earth's structure is that, it is broadly divided into crust, mantle and core; but in recent study of the Earthquake in Bolivia, scientists have established that there exists a mountain and a mountain like topography on a layer located 660 km straight down which separates the upper and lower mantle. Lacking a formal name for this layer scientists simply call this as "660 Km Boundary".
---