Global Estimates of Modern Slavery
---
The latest Global Estimates of Modern Slavery was published by the International Labour Organization (ILO), International Organization for Migration (IOM) and international human rights group Walk Free.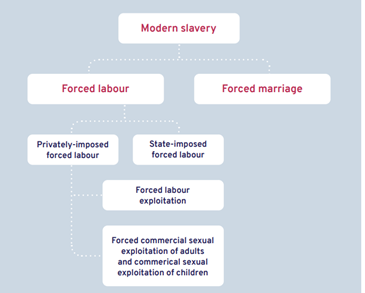 Major Findings
In 2021, some 50 million people were living in modern slavery: 28 million in forced labour and 22 million in forced marriages.
Compared to 2016 global estimates, 10 million more people were in modern slavery in 2021, with women and children disproportionately vulnerable.
Modern slavery occurs in almost every country in the world, and cuts across ethnic, cultural and religious lines.
More than half of all forced labour and a quarter of all forced marriages can be found in upper-middle income or high-income countries.
Eighty-six per cent of forced labour cases are found in the private sector, with forced commercial sexual exploitation representing 23 per cent – almost four out of five victims of whom are females.
State-imposed forced labour accounts for 14 per cent, of which nearly one in eight, or 3.3 million, are children.
More than half are in commercial sexual exploitation.
What is Modern Slavery?
It is a term used to describe situations of exploitative nature in which the person cannot refuse or leave due to threats, violence, deception, and abuse of power.
Modern slavery includes exploitative acts such as forced labour and debt bondage, forced marriage, and human trafficking.
Forms of Modern Slavery
Forced Marriage
In 2021, an estimated 22 million people were living in forced marriage, representing a 6.6 million increase over 2016 global estimates.
The true incidence of forced marriage, particularly involving children aged 16 and younger, is likely far greater than estimates capture since they are based on a narrow definition that excludes some child marriages. They are considered forced because a minor cannot legally consent to marry.
Forced marriages are highly context specific as they are linked to long-established patriarchal attitudes and practices.
The report shows that more than 85 per cent are driven by family pressure.
Based on regional population size, 65 per cent of forced marriages are found in Asia and the Pacific. Arab States have the highest prevalence, with 4.8 out of every 1,000 people in the region in a forced marriage.
Migrant Workers
Migrant workers are over three times more likely to be in forced labour than other adult workers.
While labour migration has a largely positive effect on individuals, households, communities and societies, irregular or poorly governed migration, or unfair and unethical recruitment practices render migrants particularly vulnerable.
What the Report Recommends for swiftly doing away with Modern Slavery?
Improving and enforcing laws and labour inspections; ending State-imposed forced labour; stronger measures to combat forced labour and trafficking; extending social protection, and strengthening legal protections, including raising the legal age of marriage to 18.
Addressing the increased risk of trafficking and forced labour for migrant workers, promoting fair and ethical recruitment, and greater support for women, girls and vulnerable individuals.
Reducing the vulnerability of migrants to forced labour and trafficking in persons depends first and foremost on national policy and legal frameworks that respect, protect, and fulfil the human rights and fundamental freedoms of all migrants – and potential migrants – at all stages of the migration process, regardless of their migration status.
All of society must work together to "reverse these shocking trends,' including through implementation of the Global Compact on Migration.
Global Compact on Migration
The Global Compact for Safe, Orderly and Regular Migration is the first intergovernmental agreement, prepared under the auspices of the United Nations, to cover all dimensions of international migration in a holistic and comprehensive manner.
It was adopted at an intergovernmental conference on migration in Marrakesh, Morocco on 10 December 2018.
The Global Compact is an important framework for improved migration governance that puts migrants and their human rights at the centre and that provides a significant opportunity to strengthen human rights protection for all migrants, regardless of status.
The Global Compact is grounded in international human rights law and reaffirms States' commitment to respecting, protecting, and fulfilling all human rights for all migrants. The Global Compact rests on the Universal Declaration of Human Rights and each of the nine core international human rights law instruments, and contains a Guiding Principle on human rights.
Law Related to Slavery in India
The Indian Slavery Act, 1843, also known as Act V of 1843 outlawed many economical transactions associated with slavery. The Act, banned slavery in India, made sale, and purchase of any person as a slave a punishable offence under the Indian Penal Code.
Article 23 of Indian Constitution also mandates Prohibition of Trafficking & Forced Labour. It says, "Traffic in human beings and begar and other similar forms of forced labour are prohibited and any contravention of this provision shall be an offence punishable in accordance with law."
Bonded labour is defined in the Bonded Labour System (Abolition) Act of 1976 as a system of forced or partly forced labour in which a debtor gets an advance of cash or kind in return for his labour or service to the creditor.
Constitutional & Legislative Provisions related to Trafficking in India
Trafficking in Human Beings or Persons is prohibited under the Constitution of India under Article 23 (1)
Immoral Traffic (Prevention) Act, 1956 (ITPA): It is the premier legislation for prevention of trafficking for commercial sexual exploitation.
Criminal Law (amendment) Act 2013: It has come into force wherein Section 370 of the Indian Penal Code has been substituted with Section 370 and 370A IPC which provide for comprehensive measures to counter the menace of human trafficking including trafficking of children for exploitation in any form including physical exploitation or any form of sexual exploitation, slavery, servitude, or the forced removal of organs.
Protection of Children from Sexual offences (POCSO) Act, 2012: It has come into effect from 14th November, 2012 is a special law to protect children from sexual abuse and exploitation. It provides precise definitions for different forms of sexual abuse, including penetrative and non-penetrative sexual assault, sexual harassment.
Other Acts/Provisions
Prohibition of Child Marriage Act, 2006
Bonded Labour System (Abolition) Act, 1976
Child Labour (Prohibition and Regulation) Act, 1986
Transplantation of Human Organs Act, 1994
Specific Sections in the IPC
Sections 372 and 373 deal with selling and buying of girls for the purpose of prostitution.
Legislation by State Govts.
State Governments have also enacted specific legislations to deal with the issue. (e.g. The Punjab Prevention of Human Smuggling Act, 2012)
Global Gender Gap Report 2022
---
The Global Gender Gap Report 2022 was recently released by the World Economic Forum.
It compares countries' gender gaps across four dimensions:
Pillar 1 Economic Participation and Opportunity
Pillar 2 Educational Attainment
Pillar 3 Health and Survival
Pillar 4 Political Empowerment
Key Findings
Global Results and Time to Parity
In 2022, the global gender gap has been closed by 68.1%.
At the current rate of progress, it will take 132 years to reach full parity.
This represents a slight four-year improvement compared to the 2021 estimate (136 years to parity).
Across the 146 countries covered by the 2022 index, the Health and Survival gender gap has closed by 95.8%, Educational Attainment by 94.4%, Economic Participation and Opportunity by 60.3% and Political Empowerment by 22%.
Most Gender-Equal Country: Iceland has retained its position as the world's most gender-equal country, among 146 nations on the index. Finland, Norway, New Zealand and Sweden are followed by Iceland in the top five countries on the list respectively.
Worst-Performing Country: Afghanistan is the worst-performing country in the report (146th).
At current pace, when are regions likely to close the gap?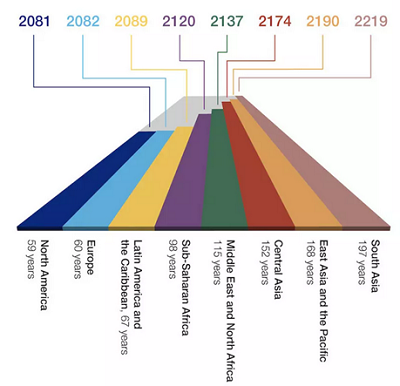 Time–Frame for Closing the Gender Gap over Four Pillars
Based on the evolution of the global average scores for each sub-index over the past 16 editions for the constant sample of 102 countries, at the current rates of progress, it will take
155 years to close the Political Empowerment gender gap
151 years for the Economic Participation and Opportunity gender gap,
22 years for the Educational Attainment gender gap.
The time to close the Health and Survival gender gap remains undefined as its progress to parity has stalled.
India-specific Findings
India has been ranked 135 out of 146 countries in the World Economic Forum's Gender Gap Report 2022.
The country has scored 0.629, on a scale of 0 to 1, which is its seventh-highest score in the last 16 years.
India registers the most significant and positive change to its performance on Economic Participation and Opportunity.
However, the country has the lowest ranking on the Health and Survival sub-index and has registered a declining score in Political Empowerment.
India's Performance on Four Pillars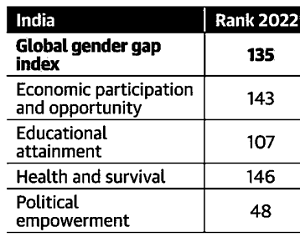 India's Ranking with Neighbours
India also ranks poorly among its neighbours and is behind Bangladesh (71), Nepal (96), Sri Lanka (110), Maldives (117) and Bhutan (126).
Only Iran (143), Pakistan (145) and Afghanistan (146) perform worse than India in South Asia.
UNICEF Child Alert - Severe Wasting: An overlooked Child Survival Emergency
---
Recently, UNICEF published a Child Alert report, Severe wasting: An overlooked child survival emergency, which shows that in the light of rising levels of severe wasting (Wasting is low weight for a child's height) in children and rising costs for life-saving treatment, global financing to save the lives of children suffering from wasting is also under threat.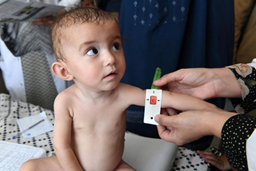 According to the Report, India has 5,772,472 children below five years affected by severe wasting — the most in the world.
Highlights of the Report
Threat
Globally, 1 in 5 deaths among children under the age of 5 is attributed to severe wasting – also known as severe acute malnutrition – making it one of the top threats to child survival, robbing the lives of more than 1 million children each year.
Remedy in Danger
Ready-to-Use Therapeutic Food (RUTF) can save children with severe wasting. The total cost to treat a child with RUTF is about US$100.
UNICEF indicates that the average price of life-saving RUTF is projected to increase by up to 16 per cent over the next six months, which may reduce access to RUTF and put more children's lives at risk.
Food, fuel, and fertilizer shortages, combined with inflationary pressures, are causing prices to soar. And even RUTF therapy isn't immune due to ongoing Russia-Ukraine conflict.
Immediate Need
More immediate and flexible funding is essential to ensure a continuous pipeline of RUTF supplies to save children's lives.
RUTF
RUTF is the gold standard for effectively treating severely wasted children in complex emergency settings.
RUTF is a past made using peanuts, sugar, oil, and milk powder, packaged in individual sachets. It is given to the infant or child directly from the sachet.
It can be consumed without adding water, eliminating the risk of contamination. Its long shelf life allows severely wasted children who do not have additional complications such as measles or malaria, to be treated at home instead of a lengthy and potentially unaffordable hospitalization.
Mid-Upper Arm Circumference (MUAC) Tape: An Early Detection Tool
The MUAC tape, a color-coded measuring band, has made it possible for community health and nutrition workers, and increasingly for mothers and caregivers, to quickly detect malnutrition simply by measuring a child's mid-upper arm. If the tape measure falls in the red zone, the child is severely wasted and requires immediate treatment. Yellow indicates moderate wasting.
Status of Severe Wasting in India
The fifth round of the National Family Health Survey was released by the Ministry of Health and Family Welfare on November 24, 2021.
The data shows an increase in severe wasting in children under five—from 7.5% in 2015-'16, when the previous round of the survey was conducted, to 7.7% in 2019-'21.
Wasting, or low weight compared to height, could be caused by prolonged weight loss and poor nutrition.
Stunting, or children being shorter than normal for their age, improved slightly—from 38.4% in the previous survey to 35.5% now.
World Happiness Report 2022
---
India and the Report
India may be one of the fastest growing economies of the world, but it is among the least happy countries according to the latest World Happiness Report 2022.
The World Happiness Report 2022 ranked India 136th out of 146 countries. In 2021, India was ranked 136th out of 149 countries.
Although India improved its position in the list compared to last year, it ranks lower than its neighbours such as China, Sri Lanka, Nepal and Pakistan.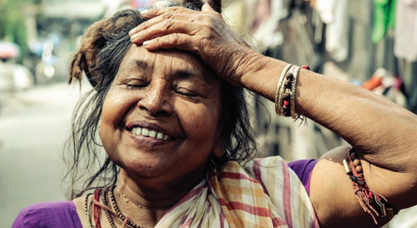 Happiest Country
Finland has been named the world's happiest country for a fifth year running, in an annual UN-sponsored index. The report ranked Denmark in the second place, with Switzerland, Iceland, and the Netherlands rounding up the top five happiest places in the world.
Saddest Country
Afghanistan was named the saddest country in the world for the second year in a row in the latest World Population Survey report on the world's happiest countries.
About the Report
The World Happiness Report is a publication of the Sustainable Development Solutions Network powered by the Gallup World Poll data.
The report, which is in its tenth year, uses global survey data to report on how people evaluate their own lives, besides economic and social parameters. The rankings are based on average data of a three-year period of 2019-2021.
Global Democracy Index 2021
---
Global Democracy Index 2021 was released by the Economic Intelligence Unit (EIU).
The annual survey, rates the state of democracy across 167 countries on the basis of five measures:
Electoral Process and Pluralism
Functioning of Government
Political Participation
Democratic Political Culture
Civil Liberties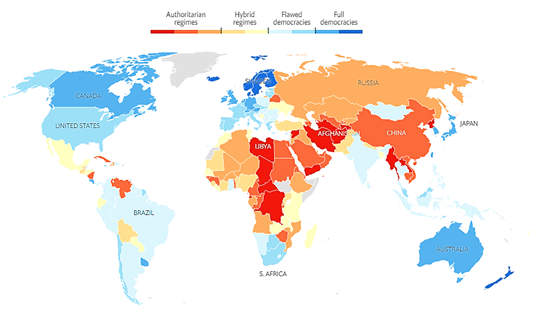 Major Findings
Global democracy continued its precipitous decline in 2021.
More than a third of the world's population lives under authoritarian rule while just 6.4% enjoy a full democracy.
The Index and India
India has ranked 46th position in the 2021 Democracy Index's global ranking. In 2020, India was ranked at 53rd position.
India has been categorized as a 'Flawed Democracy' out of the four categories by the EIU – Authoritarian Regimes/Hybrid Regimes/Flawed Democracies/ Full Democracies.
India has an overall score of 6.91. It has the lowest score of 5 on political culture and the highest score of 8.67 on electoral process and pluralism. It scores 6.18 on civil liberties, 7.22 on political participation, and 7.50 on functioning of government.
Countries at Top and Bottom in the Index
Topping the list were Norway (1), New Zealand (2) and Finland (3).
Afghanistan (167) and Myanmar (166) took the bottom two spots, just below North Korea (165).
Rank of Some Other Countries
USA- 26 (Flawed Democracy)
China- 148 (Authoritarian Regime)
Pakistan- 104 (Hybrid Regime)
Bangladesh-75 (Hybrid Regime)
World Economic Outlook
---
On 25th January 2022, International Monetary Fund (IMF) released its World Economic Outlook report.
It is a survey by the IMF staff usually published twice a year. It presents IMF staff economists' analyses of global economic developments during the near and medium term.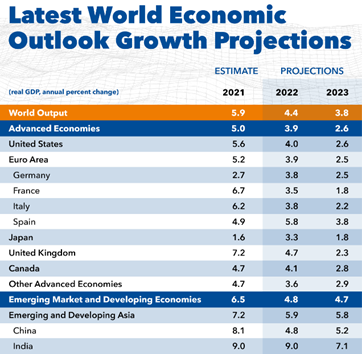 The Report on India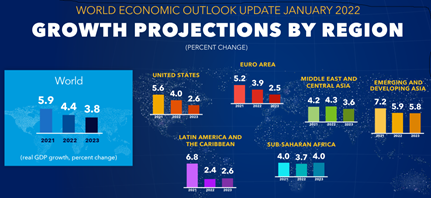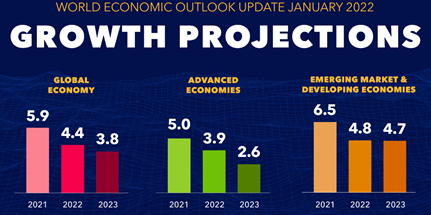 The International Monetary Fund (IMF) has cut India's economic growth forecast for the current fiscal 2021-22 (FY22) to 9 per cent on concerns over impact of new Covid variant , in its latest world economic outlook report. Earlier, in October 2021 this was estimated at 9.5%.
IMF has projected the growth forecast for India in 2022-23 (FY23) at 7.1%.
According to the IMF, India's prospects for 2023 are marked up on expected improvements to credit growth and, subsequently, investment and consumption, building on better-than-anticipated performance of the financial sector.
Govt. of India's Projections
According to the first advanced estimates of GDP released few weeks back, the government projected India's GDP to grow by 9.2 per cent for FY22.
Besides, the Reserve Bank of India (RBI) had projected 9.5 per cent GDP growth for the same period.
The Report on World/Major Economies
IMF has projected the global growth rate in 2022 to 4.4%, and in 2023 to 3.8%.
United States: The IMF slashed the growth forecast for the United States - world's largest economy - to 4 per cent in 2022 from the 5.2 per cent it predicted in October 2021 and for 2023 it is projected at 2.6%.
China: The Chinese economy is forecast to grow 4.8 per cent this year (2022) - down from 8.1 per cent last year (2021) and projected at 5.2% in 2023.
Inequality Kills
---
On 17th January, 2022, Oxfam International released the report titled- Inequality Kills: The unparalleled action needed to combat unprecedented inequality in the wake of COVID-19.
Major Highlights
Inequalities have been deepened in the midst of the pandemic, as a result of violent economic policies contributing to thousands of deaths a day.
The proportion of people with COVID-19 who die from the virus in developing countries is roughly double that in rich countries.
Women, ethnic minorities and developing countries have been the hardest hit by growing inequality during the COVID-19 pandemic.
For 99% of the global population, incomes have fallen and over 160 million more people have been forced into poverty.
Extreme inequality is a form of economic violence, where policies and political decisions that perpetuate the wealth and power of a privileged few result in direct harm to the vast majority of ordinary people across the world and the planet itself.
Despite the huge cost of fighting the pandemic, in the past two years rich country governments have failed to increase taxes on the wealth of the richest and continued to privatize public goods such as vaccine science. They have encouraged corporate monopolies to such a degree that in the pandemic period alone, the increase in market concentration threatens to be more in one year than in the past 15 years from 2000 to 2015.
Inequality goes to the heart of the climate crisis, as the richest 1 percent emit more than twice as much CO2 as the bottom 50 percent of the world.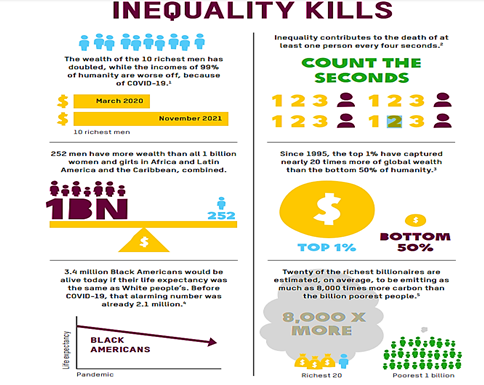 India Specific Findings
It reveals that when 84 percent of households in the country suffered a decline in their income in a year marked by tremendous loss of life and livelihoods, the number of Indian billionaires grew from 102 to 142.
More than 4.6 crore Indians meanwhile are estimated to have fallen into extreme poverty in 2020 (nearly half of the global new poor according to the United Nations.) The stark wealth inequality in India is a result of an economic system rigged in favour of the super-rich over the poor and marginalised.
Just a one percent wealth tax on 98 richest billionaire families in India can finance Ayushman Bharat, the national public health insurance fund of the Government of India for more than seven years.
Suggestion for the Governments to Reduce Inequality
Tax the new wealth made since the start of the pandemic through permanent wealth and capital taxes.
Invest the trillions that could be raised by these taxes in progressive spending on universal healthcare and social protection, climate change adaptation, and gender-based violence prevention and programming.
Tackle sexist and racist laws that discriminate against women and racialized people, and create new gender-equal laws to uproot violence and discrimination.
Define policies that will ensure women, racialized and other oppressed groups are represented in all decision-making spaces.
End laws that undermine the rights of workers to unionize and strike, and set up stronger legal standards to protect them.
Waive intellectual property rules over COVID-19 vaccine technologies to allow more countries to produce safe and effective vaccines to usher in the end of the pandemic.
Suggestions for India to Reduce Inequality
India needs to better track policy impact by improving mechanisms for its measurement.
It is time for India to reintroduce a wealth tax to generate much-needed resources to fund the recovery from the pandemic.
A temporary 1 percent surcharge on the richest 10 percent population could help raise an additional INR 8.7 lakh crore, which could be utilised to increase the education and health budget.
A secondary outcome should be an education system which addresses the needs of everyone, not just those privileged to attend elite private schools or have access to digital technology.
While the government is recognising gig economy workers, it also needs to focus on laying the legal groundwork of basic social sector protections for 93 percent of India's workforce.
It is time to reverse privatisation and commercialisation of public services, address jobless growth and bring back stronger social protection measures for India's informal sector workers.
Asia Power Index 2021
---
Recently, Sydney-based Lowy Institute released the Asia Power Index 2021. It is being published annually since 2018.
About the Index: The index measures resources and influence to rank the relative power of states in the Indo-Pacific.
It ranks 26 countries and territories.
Criteria: The index evaluates international power in Asia through 128 indicators across the following eight thematic measures:
Resources: Economic capability (17.5%), Military capability (17.5%), Resilience (10%), and Future resources (10%).
Influence: Economic relationships (15%), Defense networks (10%), Diplomatic influence (10%), and Cultural influence (10%).
Key Highlights
As per the index, the COVID-19 pandemic has driven down the power of Asian giants like China and India in the Indo-Pacific region and has weakened their capacity to shape the external environment.
The US managed to expand its power through better diplomacy and retained its position as the most influential nation in the region.
India is the fourth most powerful country in the region after the US, Japan and China.
India saw a loss of ranking in critical parameters like diplomatic influence and economic relationships in the last one year.
India also lagged in economic diplomacy, dropping one place and finishing eighth behind Thailand.
Japan and India - the two nations with the most potential to contribute to a regional multipolar order - lost more ground in 2021 than China.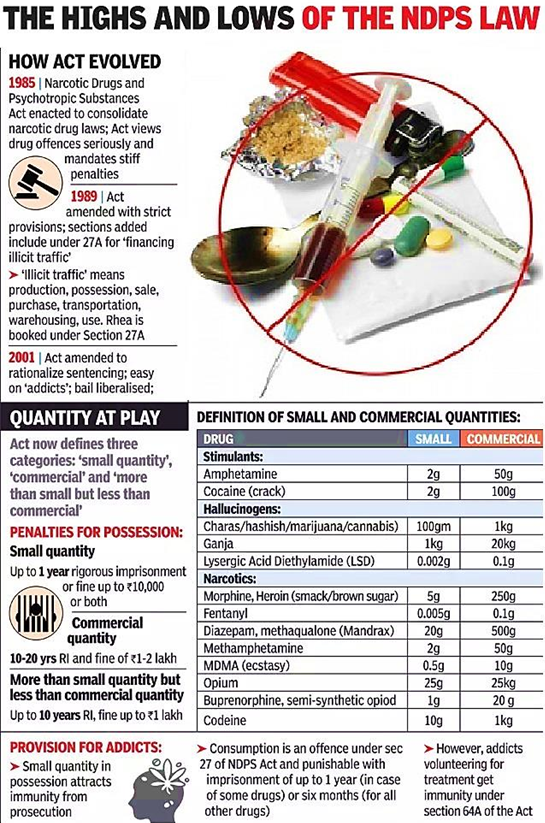 World Inequality Report 2022
---
"World Inequality Report 2022" was recently released by France-based World Inequality Lab.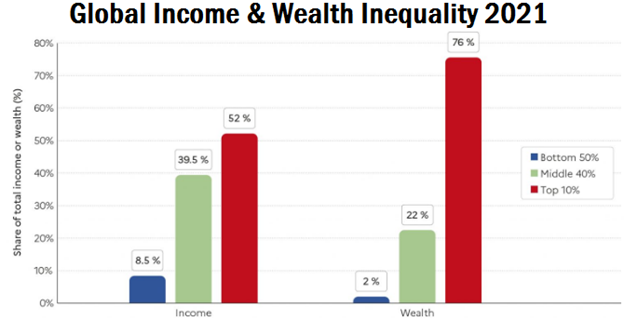 Key Findings (Global)
We are still there where we were at the 20th Century
Global inequalities today are as much as they were at the peak of Western imperialism in the early 20th century.
The share of income presently captured by the poorest half of the world's population is about half of what it was in 1820, before the great divergence between Western countries and their colonies.
Poorest Half owns 2% of Global Wealth
The poorest half of the global population "barely owns any wealth" possessing just 2 per cent of the total, whereas the richest 10 per cent of the global population own 76 per cent of all wealth, it states.
Most Unequal Region
The Middle East and North Africa (MENA) are the most unequal regions in the world.
Region with Lowest Inequality
Europe has the lowest inequality levels. In Europe, the top 10 per cent income share is around 36 per cent, whereas in MENA it is 58 per cent.
Whole of the Wealth is in Private Hands
There is a huge gap between the net wealth of governments and net wealth of the private sector.
In the last 40 years, countries have become significantly richer, but their governments have become significantly poorer.
The share of wealth held by public actors is close to zero or negative in rich countries, which means that the whole of the wealth is in private hands.
India-specific Findings
India stands out as a "poor and very unequal country with affluent elite".
Why India as a 'very unequal country'
The top 10 per cent holds 57 per cent of total national income.
The top 1 per cent holds 22 per cent of total national income.
The bottom 50 per cent share has gone down to 13 per cent of national income.
So, India stands out as a poor and very unequal country with affluent elite.
MPI & Poor in India
As per the recent Multi-dimensional Poverty Index (MPI) prepared by Niti Aayog, one in every four people in India was multidimensionally poor. Bihar has the highest proportion of people (51.91 per cent of the state's population) who are multidimensionally poor, followed by Jharkhand at 42.16 per cent and Uttar Pradesh at 37.79 per cent.
Gender Inequalities: The female labour income share is equal to 18% which is significantly lower than the average in Asia and this value is one of the lowest in the world.
What the Report Suggests
The report has suggested levying a modest progressive wealth tax on multimillionaires.
It says that given the large volume of wealth concentration, modest progressive taxes can generate significant revenues for governments that can be reinvested in education, health and the ecological transition.
Global Hunger Report 2021- A Flawed One: India
---
In the 2021 Global Hunger Index, India ranks 101st out of the 116 countries. Last year India was ranked at 94th.
With a score of 27.5, India has a level of hunger that is 'serious'.
The report was prepared jointly by Irish aid agency Concern Worldwide and German organisation Welt Hunger Hilfe.

Three Dimensions & Four Indicators of GHI
The Index tracks four indicators on three dimensions to measure progress toward Zero Hunger by 2030 at national, regional, and global levels.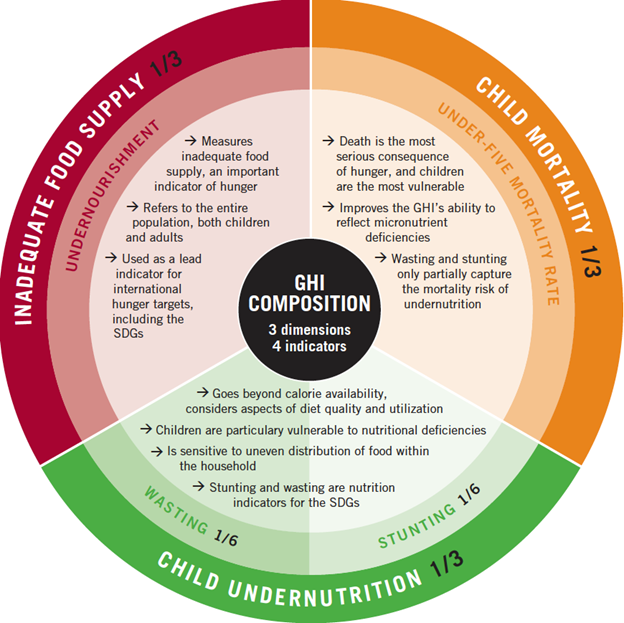 UNDERNOURISHMENT: the share of the population that is undernourished (that is, whose caloric intake is insufficient);
CHILD WASTING: the share of children under the age of five who are wasted (that is, who have low weight for their height, reflecting acute undernutrition);
CHILD STUNTING: the share of children under the age of five who are stunted (that is, who have low height for their age, reflecting chronic undernutrition); and
CHILD MORTALITY: the mortality rate of children under the age of five (in part, a reflection of the fatal mix of inadequate nutrition and unhealthy environments).
Based on the values of the four indicators the GHI determines hunger on a 100-point scale, where 0 is the best possible score (no hunger) and 100 is the worst.
Each country's GHI score is classified by severity, from low to extremely alarming.
Major Findings
Although GHI scores show that global hunger has been on the decline since 2000, progress is slowing. While the GHI score for the world fell 4.7 points, from 25.1 to 20.4, between 2006 and 2012, it has fallen just 2.5 points since 2012. After decades of decline, the global prevalence of undernourishment — one of the four indicators used to calculate GHI scores — is increasing. This shift may be a harbinger of reversals in other measures of hunger.
Somalia has the highest level of hunger according to the 2021 GHI ranking — its GHI score of 50.8 is considered extremely alarming.
It is preceded by five countries with levels of hunger that are alarming — Central African Republic, Chad, Democratic Republic of the Congo, Madagascar, and Yemen — and 31 countries that have serious levels of hunger.
India Specific Findings
As per this report, India's position on the first indicator, child mortality, has improved in 2021 compared with 2020. Position on two indicators, i.e., child wasting and child stunting, has remained unchanged in 2021 compared with 2020.
Only 15 Countries Fare Worse than India:These include Papua New Guinea (102), Afghanistan (103), Nigeria (103), Congo (105), Mozambique (106), Sierra Leone (106), Timor-Leste (108), Haiti (109), Liberia (110), Madagascar (111), Democratic Republic of Congo (112), Chad (113), Central African Republic (114), Yemen (115) and Somalia (116).
Behind Most of the Neighbouring Countries: Pakistan was placed at 92 rank, Nepal at 76 and Bangladesh also at 76.
India rejects GHI Findings
The Ministry of Women and Child Development termed the findings of the report "devoid of ground reality".
The factors that led to the criticism were
Unscientific Method: The methodology used by FAO is unscientific. They have based their assessment on the results of a 'four question' opinion poll, which was conducted telephonically by Gallup. The scientific measurement of undernourishment would require measurement of weight and Height.
Govt.'s Efforts not Considered: The report completely disregards Government's massive effort to ensure food security of the entire population during the covid period, verifiable data on which are available.
Questionable Questionnaire: The opinion poll does not have a single question on whether the respondent received any food support from the Government or other sources.
Representativeness in Question: The representativeness of even this opinion poll is doubtful for India and other countries. It is noted with surprise, from the FAO report 'The State of Food Security and Nutrition in the World 2021', that other four countries of this region – Afghanistan, Bangladesh, Nepal and Sri Lanka, have not been affected at all by Covid-19 pandemic induced loss of job/business and reduction in income levels, rather they have been able to improve their position on the indicator 'proportion of undernourished population'.
Global Innovation Index 2021
---
The 14th edition of Global Innovation Index was released on 20th September 2021.
The Index is released annually by the World Intellectual Property Organization (WIPO).
The Global Innovation Index 2021 captures the innovation ecosystem performance of 132 economies and tracks the most recent global innovation trends.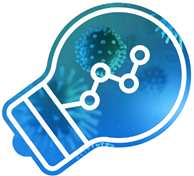 Source: World Intellectual Property Organisation
Overall Findings
The GII 2021 finds that the innovative sectors of the global economy have remained strong, despite severe disruptions.
The GII 2021 finds that governments and enterprises in many parts of the world have scaled up their investments in innovation during the COVID-19 pandemic. Meantime, scientific output, expenditures in research and development, intellectual property filings and venture capital deals continued to grow in 2020, building on strong peak pre-crisis performance.
Global Ranking
Switzerland topped the table, followed by Sweden, the US and the UK. Angola was at the bottom of the table.
Among Asian economies, South Korea jumped to the fifth position, up from 10 last year. China was in the 12th position.
India on the Index
India has climbed 2 spots and has been ranked 46th in the Global Innovation Index 2021.
India has been on a rising trajectory, over the past several years in the Global Innovation Index (GII), from a rank of 81 in 2015 to 46 in 2021.
In Central and Southern Asia, India leads in 46th position, followed by the Islamic Republic of Iran (60th) and Kazakhstan (79th)respectively
Reasons for India's Improvement in Ranking
The consistent improvement in the GII ranking is owing to the immense knowledge capital, the vibrant start-up ecosystem, and the work done by the public and the private research organizations.
The Scientific Departments like the Department of Atomic Energy; the Department of Science and Technology; the Department of Biotechnology and the Department of Space have played a pivotal role in enriching the National Innovation Ecosystem.
Note: This year, the NITI Aayog, in partnership with the CII and the World Intellectual Property Organisation (WIPO), is hosting, virtually, the India Launch of the GII and the Global Innovation Conclave during September 21-22, 2021.
Yield Curve
---
Why is it in News?
Yield curve in the US has inverted for the first time since mid 2007- a shift that has in past signaled recession.
What is the Yield Curve?
Yield curve is a plot between rate of interest earned on the bonds on Y axis and maturity period on the X axis.
Under normal circumstances there is proportional relationship between interest rate on bonds and its maturity period i.e. short term bonds have low interest rate while long term bonds have high interest rate
Breaking this Concept further:
Say at this instant health of the economy is sound, so the Government of the day will not pay high interest rate on the bonds which it issues for short term, but no one knows what will happen to the economy in long terms (say 50 years later), so it is generally seen that the interest rate is higher on long term bonds and lower on the short term bonds.
Graphical Representation of a Yield Curve:
Normal Yield CurveInverted Yield Curve

Under a normal yield curve, it is apparent that when the maturity period is less, interest rate is less. When the maturity period is long, the interest rate is more on the bond but it is reversed in the case of an inverted yield curve.
What happened in the US?
Government securities of US for 3 months maturity is paying the interest rate of 2.46%, while for 10years it is paying the interest rate of 2.44%, which is opposite to the normal trend (ideally it shall be more for long duration bonds).
Hence, it is evident that a yield curve is inverted in the case of US and inverted yield curve points to recession in the future.
Laffer Curve
---
This curve explains correlation between tax rate and tax revenues.
It states that if tax rates are very high, reducing them up to a point optimizes tax revenues as it will lead to lesser evasion and better compliance.
Some Deductions from Curve:
1. If we are to the right of T*, if tax rate decreases, tax revenue will increase.
2. If we are to the left of T*, if tax rate decreases, tax revenue will decrease.
---