Abidjan Declaration: Achieving Gender Equality for Successful Land Restoration
---
The 15th Conference of Parties (COP15) of the UN Convention to Combat Desertification (UNCCD), held in Abidjan, Cote d'Ivoire.
At this event, Abidjan Declaration on achieving Gender Equality for Successful Land Restoration was issued.
It recognized that securing women's access to land and control over land, and access to finance for land-based economic activities are central components of women's economic empowerment and women's rights, generating opportunities for economic prosperity and autonomy.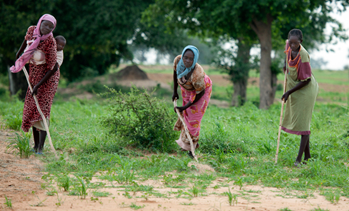 Finer Points of the Declaration
Identify and Eliminate all Forms of Discrimination: Promote all necessary measures to identify and eliminate all forms of discrimination against women in the context of fighting against desertification/land degradation, and drought (DLDD), in relation to land tenure security and access to, ownership of, and control over land and natural resources, and other forms of property and inheritance, with particular attention on the rights of older women, widows, women with disabilities and young women.
Ensuring Participation: Foster measures to ensure the full, equal, meaningful and effective participation of women at all levels in land and natural resource governance at the regional, national and landscape levels through the inclusive national-level coordination and promotion of women's leadership in planning and implementation activities.
Strengthen Legal Framework: Enforce legal frameworks for women's access to land and control over land, including common lands, and equal land rights both under customary and statutory law, and continue efforts on advocacy for women's land rights.
Give Women Access to Technology, Services, and Resources: Facilitate access to technology, services, and resources for women and groups in vulnerable situations for their effective participation in land restoration efforts, including through gender-transformative land use planning and management that addresses the root causes of gender inequality.
Work on Evidence-based Interventions: Actively work to close the gender gap to move towards evidence-based interventions and responses, collecting, analyzing and disseminating data disaggregated by sex, age, disability, race/ethnicity, class, livelihood source and migrant status and other relevant factors to support the design, implementation, monitoring and evaluation of land-related interventions and policies.
Lift Barriers of Funding: Appeal to development agencies, multilateral development banks, national banks and other financial institutions and mechanisms to lift structural barriers and increase funding that specifically target women's rights organizations and movements, women entrepreneurs, women cooperatives and enterprises led by women and indigenous groups, and civil society organizations that design and implement programmes contributing to DLDD initiatives.
Consider Inclusion of Gender Equality Criteria: Commit to working towards the inclusion of gender equality criteria in the development – and granting – of finance for sustainable land management, land restoration and drought preparedness and resilience at the regional, national, subnational and local levels.
Policy Measure: Call upon the COP of the UNCCD to incorporate these commitments into their deliberations around the gendered aspects of DLDD, and into their policy decisions accordingly.
India Votes against UN Resolution on Climate Change
---
Recently, India voted against a draft resolution at the United Nations Security Council (UNSC) linking climate to security. The resolution was sponsored by Ireland and Nigeria.
Key Highlights
Niger (the UNSC presidency for December) organised a debate on 9th December, 2021, titled 'Maintenance of international peace and security: security in the context of terrorism and climate change.'
One of the aims of the debate was to examine how terrorism and security risks could be linked to climate change.
The draft resolution sought to enable the United Nations Security Council to take up routine discussions on climate change from the perspective of its impact on peace and conflicts worldwide.
While China abstained, India and Russia were the only countries that opposed the draft resolution.
Currently, the UN Framework Convention on Climate Change (UNFCCC) discusses all matters on climate change.
India opined that it was an attempt to shift climate talks from the UNFCCC to the Security Council and a step backward for collective action on the issue. This will give a few states the free hand to decide an all climate related issues.
It was emphasised that the draft resolution would undermine progress made at Glasgow, where the latest round of talks under the UNFCCC, the 26th Conference of the Parties (COP26), concluded in November.
Reducing Food Loss And Waste
---
On 3rd September, 2019, the World Resources Institute (WRI) with the support of the Rockefeller Foundation published a report - Reducing Food Loss and Waste: Setting a Global Action Agenda, highlighting the current scenario of food loss and waste across the globe.
Major Highlights of the Report
One-third of all food produced across the globe goes uneaten.
One in every nine person in the world is undernourished.
50% of world's population now lives in a country that has set an explicit, public target aligned with SDG 12.3
The wastage of food also accounts for eight percent of global greenhouse gas emissions. These gases cause the greenhouse effect which is when radiation from the earth's atmosphere warms the planet's surface. The emission of greenhouse gases (GHGs) has been identified as a major cause of climate change.
It put forward a Global Action Agenda that calls on governments, companies, farmers and consumers to collectively overcome "the world's food loss and waste problem.
Most of the food loss happens "near the farm" predominantly in lower-income countries and most of the food waste happens "near the plate" predominantly in higher-income countries.
Difference between Food Loss and Food Waste
Food loss typically occurs at the production, storage, processing and distribution stages of the food value chain, and is the unintended result of agricultural processes or technical limitations in storage, infrastructure, packaging, and/or marketing.
Food waste refers to food that is of good quality and fit for human consumption but that does not get consumed because it is discarded—either before or after it spoils. It typically occurs at the retail and consumption stages in the food value chain and is the result of negligence or a conscious decision to throw food away.
Causes of Food Loss and Waste
Poor infrastructure
Inadequate equipment
Suboptimal packaging
Inadequate food management practices, skills or knowledge
Inflexible procurement practices
Poor Demand and Supply forecasting and planning
Marketing Strategies
Lack of Awareness
Climate
Poor Policies and Regulations
Impact
Economy: Nearly one-third of the food that is produced each year goes uneaten, costing the global economy over $940 billion.
Environment: The uneaten food is responsible for emitting about 8 percent of planet-warming greenhouse gases into the atmosphere.
Food Security: More than 1 billion metric tons of food per year is never consumed in a world where one in nine people are still undernourished.
Water Resources: Food loss and waste are associated with approximately 173 billion cubic meters of water consumption per year, which represents 24 percent of all water used for agriculture.
Measures to Reduce Food Loss and Waste
The report identifies three measures that can be considered for reducing loss and waste-
Target-Measure-Act: Set food loss and waste reduction targets, measure to identify hotspots of food loss and waste and to monitor progress over time, and take action on the hotspots.
To-do List:Pursue a short to-do list, identify per player in the food supply chain as "no regret" first steps toward taking action.
10 Scaling Interventions:Collaborate in 10 areas to ramp up deployment of Target-Measure-At and to do list.
10 Scaling Interventions
Develop national strategies for reducing food loss and waste.
Create national public-private partnerships.
Launch a "10x20x30" supply chain initiative, where at least 10 corporate "power players" commit to Target-Measure-Act and then engage their own 20 largest suppliers to do the same and achieve a 50 percent reduction in food loss and waste by 2030.
Invigorate efforts to strengthen value chains and reduce smallholder losses.
Launch a "decade of storage solutions."
Shift consumer social norms.
Go after greenhouse gas emissions reductions.
Scale up financing.
Overcome the data deficit.
Advance the research agenda.
Possible Approaches for Reducing Food Loss and Waste
| | | | | |
| --- | --- | --- | --- | --- |
| Production | Handling and Storage | Processing and Packaging | Distribution and Marketing | Consumption |
| Facilitate donation of unmarketable crops | Improve access to low-cost handling and storage technologies(e.g. evaporative coolers,storage bags, metal silos, crates) | Re-engineer manufacturing processes | Facilitate increased donation of unsold goods | Facilitate increased donation of unsold goods from restaurants and caterers |
| Improve availability of agricultural extension services | Improve ethylene and microbial management of food in storage | Improve supply chain management | Change food date labeling practices | Conduct consumer Education campaigns |
| Improve market access | Introduce low-carbon refrigeration | Improve packaging to keep food fresher for longer | Change in-store promotions | Reduce portion sizes |
| Improve harvesting techniques | Improve infrastructure (e.g., roads) | | Provide guidance on food storage and preparation to consumers Improve inventory systems | Ensure homeeconomics taught in schools, colleges and communities |
Benefits of Reducing Food loss and Waste
Availability of More Food:It would close the gap between food needed in 2050 and food available in 2010 by more than 20 percent.
Availability of More Land: It would avoid the need to convert an area the size of Argentina into agricultural land.
Huge Economy Saving:Not only has it been proven that national and city governments can save money through reducing food loss and waste, but also yield positive returns on investments in food loss and waste reduction efforts.
Less Pollution: It will further help lowering greenhouse gas emissions by 1.5 gigatons of carbon dioxide equivalent per year by 2050, an amount more than the current energy- and industry related emissions of Japan
More Jobs: It could play a modest role in job creation across the supply chain, ranging from smallholder processing facilities close to the farm to technology start-up companies that help redistribute food that would otherwise be wasted.
Boost to SDGs:In terms of the Sustainable Development Goals( SDGs), reducing food loss and waste can help meet various globally agreed aspirations, including SDG 1 (no poverty), SDG 2 (zero hunger), SDG 12 (sustainable consumption and production), and SDG 13 (climate action).
Way Forward
Reducing food loss and waste can help meet the UN Sustainable Development Goals (SDGs) by 2030, contribute to the Paris Agreement on climate change, and sustainably feed the planet by 2050.
It requires action by a wide range of actors―households, companies, farmers, policymakers, and more. It also requires changes in technology, practices, behavior, and policy. It is evident that no single individual or group can sufficiently tackle this problem alone; collaboration is needed. Improved strategies for tackling consumption waste will need to be a priority forresearch and innovation for the global community dedicated to reducing food loss and waste.
Further, tackling the issue of food loss and waste can generate a "triple win." Reductions can save money for farmers, companies, and households. Wasting less food means we can feed more people. And reductions can alleviate pressure on climate, as well as on water and land.
---