'Serial Interval'in Managing COVID-19
---
According to a recent research paper published in the journal Science - China, which has now gone over a month without any locally transmitted Covid-19 cases, was able to contain Covid-19 due to its ability to manage the 'serial interval'.
About 'Serial Interval'
The serial interval is the duration between symptom onset of a primary case and symptom onset of secondary cases (contacts) generated by the primary case.
In simple terms, the serial interval is the gap between the onset of Covid-19 symptoms in Person A and Person B, who is infected by Person A.
Serial intervals can vary widely, especially for some lifelong diseases (HIV infection, Chickenpox, Herpes).
The serial interval for SARS was 7 days.
For COVID-19, a review of the published literature shows serial interval estimates to be 4-8 days
History
The term was first used by British physician William Pickles, who had initially referred to it as transmission interval with reference to a hepatitis epidemic in the United Kingdom during 1942-45.
Later, another British physician RE Hope Simpson used the term serial interval, defining it as the interval between successive illness onsets.
Factors on which Serial Interval Depends
The serial interval depends on other epidemiological parameters such as the incubation period, which is the time between a person's exposure to the virus and symptom onset, and the reproduction rate or R naught, the number of people who will be infected by one infected person.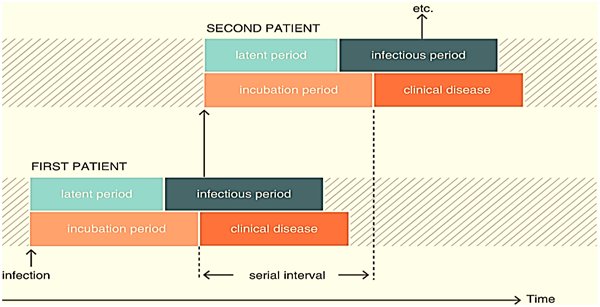 Source: Springer link
Significance
The serial interval helps to gauge the effectiveness of infection control interventions besides indicating rising population immunity and forecast future incidence.
Thus, the more quickly persons who contracted Covid-19 are identified and isolated, the shorter the serial interval becomes and cuts down opportunities for transmission of the virus.
To manage serial interval, a robust system of contact tracing, quarantine, and isolation protocols should be in place.
Examples
China
The serial interval in Wuhan came down from 7.8 days to 2.6 days between early January and early February.
Quarantining contacts within 1 day from symptom onset helped reduce Covid-19 transmission by 60 per cent.
South Korea
The serial interval in South Korea was estimated to be 3.63 days.
This was made possible due to aggressive contact tracing, quarantine, and isolation, thereby ensuring that infected patients, because they were isolated, could not infect any more people later in the infection cycle.
Other interventions such as suspension of intra- and intercity travel, and different forms of social distancing widely implemented in different Chinese cities kept the serial interval low.
Saliva Test For Covid-19
---
On 15th August, 2020, the US Food and Drug Administration (FDA) approved a new method of testing for Covid-19 — processing saliva samples — and termed it "ground-breaking".
Israel's Center for Geographic Medicine and Tropical Diseases, too, has developed a saliva test that it claims will detect the novel coronavirus "in less than a second". That test, however, is still in the process of getting regulatory approval.
Background
The first was on May 8, 2020 — emergency-use authorisation to Rutgers Clinical Genomics Laboratory's molecular test, commercially manufactured by Spectrum Solution. This was after results showed the device could be used for collection, transportation, and storage, following home collection of saliva.
What is a saliva test for Covid-19?
Broadly, there are two types of tests for Covid-19.
One type, which detects the virus itself, includes the RT-PCR test and the antigen test.
The second is the serological test, which looks for antibodies developed by the body against the virus. This determines if a person has been exposed to the infection, and is used for surveillance of infection in a community.
In the first category of tests, nose and throat swabs are used as the sampling technique. After the swab is removed, the sample is placed in a viral transport media and is preserved for analysis.
Researchers have developed the saliva test as a low-cost alternative; the suspected patient has only to spit into a sterile tube and the sample is then sent it to the laboratory.
What are the advantages of a saliva test?
Cost Effective: Saliva does not require a certified swab and collection receptacle and does not necessarily have to be obtained by a skilled healthcare provider, both of which increase diagnostic-associated costs. Therefore, cost is the biggest advantage.
Accuracy: A saliva test is reported to be prone to less error than has been reported in nasal swab collection, which sometimes give false negatives.
Safer for Health workers: The test is less invasive than a procedure that goes to the back of the nose to collect the swab. It is also safer for healthcare workers who collect the swab. Inserting the swab into the back of the nose often results in sneezing and coughing.
Not Travelling: It is a convenient option that does not require travelling to a hospital or lab.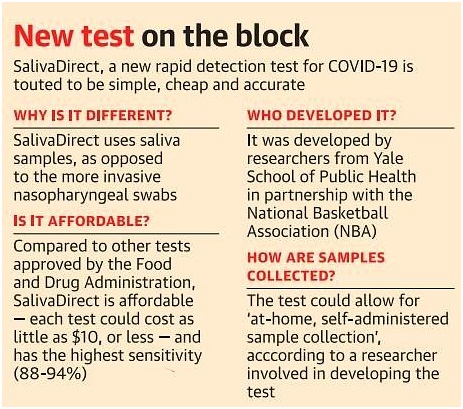 How is the saliva test different from RT-PCR?
Like RT-PCR, a saliva test too converts the virus RNA into DNA, then amplifies the DNA to detect presence of the virus.
What makes the SalivaDirect kit unique is that the researchers have done away with a separate step or specialised equipment to extract the virus RNA.
It can be broadly implemented as it does not require saliva collection tubes containing preservatives and does not require specialized reagents or equipment for nucleic acid extraction.
What are the limitations of the saliva test?
In the case of the kit developed by Rutgers, the specimens must be transported and stored at ambient temperature and tested within 48 hours of collection.
Again, the possibility of false negatives remains. As noted by the US FDA, SARS-CoV-2 nucleic acid is generally detectable in saliva specimens during the acute phase of infection.
Negative results must be combined with clinical observations, patient history, and epidemiological information.
Negative results for SARS-CoV-2 RNA from saliva should be confirmed by testing of an alternative specimen type if clinically indicated.
Researchers have also flagged the fact that saliva from patients can contain blood or mucus, which can interfere with testing and results.
Vaccine Nationalism
---
Recently, the World Health Organization (WHO) has warned against "vaccine nationalism", cautioning richer countries that if they keep treatments to themselves they cannot expect to remain safe if poor nations remain exposed.
It is being feared that such advance agreements will make the initial few vaccines unaffordable and inaccessible to everyone apart from the rich countries in a world of roughly 8 billion people.
Vaccine Nationalism
Vaccine nationalism occurs when a country manages to secure doses of vaccine for its own citizens or residents before they are made available in other countries.
This is done through pre-purchase agreements between a government and a vaccine manufacturer.
For example, the United States, the United Kingdom, Japan, and the European Union have spent tens of billions of dollars on deals with vaccine frontrunners such as Pfizer Inc, Johnson & Johnson and AstraZeneca Plc even before their effectiveness is proven.
If seen country wise, the US has already agreed to buy some 800 million doses from six drug makers, and the UK 280 million from five.
Past Example of Vaccine Nationalism
H1N1 Flu Pandemic
The present race to hoard Covid-19 vaccines harks back to a similar situation that happened in 2009 during the H1N1 flu pandemic.
Australia, the first country to come up with a vaccine, blocked exports while some of the wealthiest countries entered into pre-purchase agreements with several pharmaceutical companies. The US alone obtained the right to buy 600,000 doses.
Only when the 2009 pandemic began to unwind and demand for a vaccine dropped did developed countries offer to donate vaccine doses to poorer economies.
Laws to prevent Vaccine Nationalism
Interestingly, even though vaccine nationalism runs against global public health principles, there are no provisions in international laws that prevent pre-purchase agreements.
Problems Posed by Vaccine Nationalism
Poor Countries are Hard Hit:The most immediate effect of vaccine nationalism is that it further disadvantages countries with fewer resources and bargaining power.
Non-access to Health Goods:It deprives populations from timely access to vital public health goods.
Prioritizing Wealthy Countries: Taken to its extreme, it allocates vaccines to moderately at-risk populations in wealthy countries over populations at higher risk in developing economies.
Disrupting Global Supply Chains: Thus, if countries with a large number of cases lag in obtaining the vaccine, the disease will continue to disrupt global supply chains and, as a result, economies around the world.
Against Fundamental Principle of Vaccine Development:Vaccine nationalism also runs against the fundamental principles of vaccine development and global public health.Most vaccine development projects involve several parties from multiple countries.
WHO Solution against Vaccine Nationalism
The alternative to arrest vaccine nationalism is global collaboration.
In order to bring about equitable and broad access, WHO, the Coalition for Epidemic Preparedness Innovations, and Gavi, the Vaccine Alliance, have come up with an initiative known as "Covax Facility".
The facility aims to procure at least two billion doses of Covid-19 vaccines by the end of next year for deployment and distribution mainly in the low- and middle-income countries.
The countries that join the initiative are assured supply of vaccines whenever they become successful.
Moreover, the countries will get assured supplies to protect at least 20 percent of their populations.
Need of the Hour
Nationalism is at odds with global public health principles. Yet, there are no provisions in international laws that prevent pre-purchase agreements like the ones described above. There is nothing inherently wrong with pre-purchase agreements of pharmaceutical products.
Further, vaccines typically do not generate as much in sales as other medical products. If used correctly, pre-purchase agreements can even be an incentive for companies to manufacture vaccines that otherwise would not be commercialised.
But more needs to be done. International institutions — including the WHO — should coordinate negotiations ahead of the next pandemic to produce a framework for equitable access to vaccines during public health crises.
Equity entails both, affordability of vaccines and access opportunities for populations across the world, irrespective of geography and geopolitics.
The world needs to prevent vaccine nationalism by sharing finite supplies strategically and globally, in order to have upper hand in fight against the COVId-19 pandemic.
Covid-19 Travel Bubble
---
Recently, the Baltic countries of Estonia, Latvia and Lithuania have opened their borders to one another, creating a coronavirus "travel bubble".
This is the first "travel bubble" in Europe since nations began shutting their borders earlier this year in response to the coronavirus outbreak.
In the Estonia-Latvia-Lithuania travel bubble, residents would be able to travel freely by rail, air, and sea without quarantine measures.
The three European Union (EU) states, who have launched this measure, have so far remained comparatively unscathed by the virus, recording less than 150 combined Covid-19 deaths as of May 17, 2020.
Need
The Baltic economies are expected to shrink by 8 percent this year.
Travel Bubble
Creating a travel bubble involves reconnecting countries or states that have shown a good level of success in containing the novel coronavirus pandemic domestically.
Such a bubble would allow the members of the group to rekindle trade ties with each other, and kick start sectors such as travel and tourism.
According to a report, potential travel bubbles among better-performing countries around the world would account for around 35 percent of the global GDP.
Such arrangements are especially being favoured by smaller countries, which are likely to benefit after being able to trade again with larger partners.
Mandate for Travel Bubble
Those wanting to enter this corridor from countries outside would first have to go into isolation for 14 days.
To be able to freely travel in the zone, one should not have travelled outside the three countries in the past 14 days, should not be infected with coronavirus, and should not have come in contact with anyone who has been coronavirus infected.
Other Countries to Start Travel Bubble
Australia and New Zealand reached an agreement to form a travel bubble between the two countries once it becomes safe to operate flights between them.
Both have had success in suppressing the pandemic domestically. Once it opens, the trans-Tasman zone will allow travel without a quarantine period.
China and South Korea, who have also enjoyed success in containing the outbreak, have launched a fast track channel for business travellers.
In the US, travel bubbles are being suggested to group states who are faring well against the pandemic, but constitutional challenges are also being cited as a possible roadblock for such plans.
Associated Challenge
The biggest challenge to re-opening international travel right now is the lack of consensus on the kind of protections needed to limit the risk of spreading Covid-19.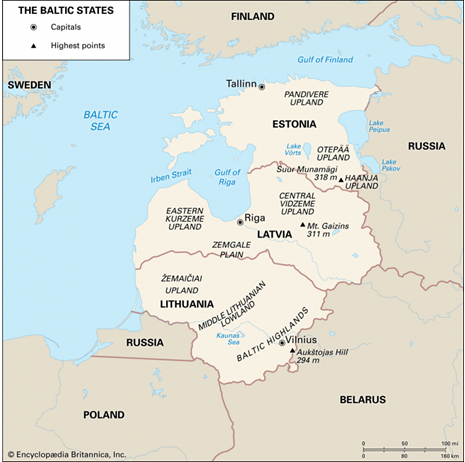 Significance
With the pandemic throwing both international and domestic trade and travel out of gear since earlier this year, such 'travel bubbles' are now being recommended to keep at least parts of the global economy afloat.
Travel bubble may prove useful as a model for other nations where tourism represents a large portion of GDP, and for airline and tour operators around the world that have seen their businesses collapse.
Baltic States
The Baltic States, also known as the Baltic countries, Baltic republics, Baltic nations, or simply the Baltics, is a geopolitical term, typically used to group the three sovereign states in Northern Europe on the eastern coast of the Baltic Sea: Estonia, Latvia, and Lithuania.
The Baltic States are bounded on the west and north by the Baltic Sea, which gives the region its name, on the east by Russia, on the southeast by Belarus and on the southwest by Poland and an exclave of Russia.
The three countries do not form an official union, but engage in intergovernmental and parliamentary cooperation.
The most important areas of cooperation between the three countries are foreign and security policy, defence, energy, and transportation.
All three countries are members of NATO, the eurozone, and the OECD, and are members of the European Union.
In 2020 and 2021, Estonia is also a non-permanent member of the United Nations Security Council.
All three are classified as high-income economies by the World Bank and maintain a very high Human Development Index.
All three countries are members of the New Hanseatic League, a group of Northern European countries in the EU formed to advocate a common fiscal position.
Disease Becoming Endemic
---
According to the World Health Organization (WHO), like HIV, the novel coronavirus could become endemic and "may never go away", and urged for a "massive effort" to contain the spread of COVID-19.
What is an endemic disease?
A disease is endemic when its presence or usual prevalence in the population is constant.
In simple terms, an endemic disease is "the constant presence of a disease or infectious agent within a given geographic area or population group; may also refer to the usual prevalence of a given disease within such an area or group."
Some examples of endemics include the chicken pox and malaria, where there are predictable numbers of cases every year in certain parts of the world.
What happens when a disease becomes endemic?
When epidemics become endemic, they become "increasingly tolerated" and the responsibility of protecting against it shifts from the government to the individual.
This means, rather than government agencies actively engaging in tracking and identifying cases, the individuals themselves will be responsible for managing risk from the disease and seeking care.
Further, the sociopolitical response to the disease may also change, with investment in the disease becoming institutionalised along with the disease-inducing behavioural changes in people.
Once people become aware of the risks of infection, they will alter their behaviour and mitigate the consequences.
Types of Endemic Diseases
Holoendemic Diseases: This infection is highly prevalent in the early years of life. The adult population does not show traces of diseases as much as children do. This kind of endemic disease affects mostly children .E.g. Malaria
Hyperendemic Diseases: These types of endemic diseases are constantly present at a high rate and are found among all age groups equally. E.g. Chicken Pox.

When does a disease become endemic?
One mathematical modelling published in the Journal of Epidemiology and Community Health states that if R0, which is the rate at which the virus is transmitted is equal to 1, then the disease is endemic.
When R0>1, it implies that the cases are increasing and that the disease will eventually become an epidemic.
If R0<1, it implies the number of cases of the disease are decreasing.
Here, R0 refers to the number of people infected by a person who has the disease.
What is the concern about an epidemic?
Epidemic diseases typically have higher mortality and morbidity than endemic diseases, owing to lack of clinical experience and knowledge, as well as innate pathogenicity.
Over time, effective prevention and treatment interventions emerge.
Epidemic vs. Pandemic
A simple way to know the difference between an epidemic and a pandemic is to remember the "P" in pandemic, which means a pandemic has a passport.
A pandemic is an epidemic that travels.
Epidemic vs. Endemic
An epidemic is actively spreading; new cases of the disease substantially exceed what is expected. More broadly, it's used to describe any problem that's out of control, such as "the opioid epidemic."
An epidemic is often localized to a region, but the number of those infected in that region is significantly higher than normal.
For example, when COVID-19 was limited to Wuhan, China, it was an epidemic. The geographical spread turned it into a pandemic.
Endemics, on the other hand, are a constant presence in a specific location.
Malaria is endemic to parts of Africa.
Ice is endemic to Antarctica.
Endemic vs. Outbreak
Going one step farther, an endemic can lead to an outbreak, and an outbreak can happen anywhere.
2019 dengue fever outbreak in Hawaii is as an example. Dengue fever is endemic to certain regions of Africa, Central and South America, and the Caribbean.
Mosquitoes in these areas carry dengue fever and transmit it from person to person. But in 2019 there was an outbreak of dengue fever in Hawaii, where the disease is not endemic.
It's believed an infected person visited the Big Island and was bitten by mosquitoes there.
The insects then transferred the disease to other individuals they bit, which created an outbreak.
Immunity Passport
---
As countries around the world are struggling to lift lockdowns due to the novel coronavirus pandemic, policymakers are deliberating how to deal with future outbreaks as and when they emerge.
Among the ideas being considered is an "immunity certificate" or "immunity passport", whose holders would be able to get back to work.
Need
Lockdowns around the world have severely impacted the global economy, with many governments facing glaring challenges such as high unemployment and fall in production.
Under increasing pressure to reopen their economies, parts of Europe and the US have been considering issuing immunity certificates to people who have recovered from COVID-19 and have its antibodies– thus presumed to be immune to the disease.
What is Immunity passport or certificate?
Idea behind the concept is that the people who are issued these certificates would be allowed to go back to work and move about freely.
In Germany, researchers have suggested testing 1 lakh people, and issuing certificates to those who have antibodies for the novel coronavirus.
UK has suggested that such a certificate could be in the form of a wristband.
The idea has also become popular in Italy, where the lockdown exit strategy includes compulsory antibody tests as the country seeks to set up the certificate system.
Why WHO is against Immunity Passport?
The World Health Organization (WHO) has warned against issuing "immunity passports" to people who have recovered from Covid-19, as there is no evidence that they will be protected from a second infection.
Instead, the certificates could pose a health risk by providing unjustified assurances of protection to individuals and their communities.
People who assume that they are immune to a second infection because they have received a positive test result may ignore public health advice.
The use of such certificates may therefore increase the risks of continued transmission.
There have been reports, including from China and South Korea, of patients who appeared to have recovered from the disease testing positive again.
Further it said that the issue of false negative and false positive both hinder the efforts to stop the public transmission of the disease and in the circumstances when accuracies of different models of testing across different countries are not 100 percent, the issuance of Immunity passport will further deepen the crisis.
Would such a certificate be reliable?
Experts have cautioned governments against acting in haste, since much still remains to be understood about the spread of the virus, as well as immunity to it.
Lack of necessary information would make categorising between immune and non-immune persons a challenging as well as potentially dangerous task, they insist.
There are also logistical problems, as not enough test kits are still available around the world to be able to issue such certificates on a large scale.
Also, many researchers continue to remain sceptical about entirely relying on antibody tests to issue certificates.
At the same time, experts have said that issuing such certificates would create resentment among members of the community, and raise the possibility of stigmatisation.
As younger populations are known to be more resilient to the virus, they would be more favoured to get immunity certificates, as opposed to older people, leading to divisions.
How would this help in the response to the Coronavirus pandemic?
If everything works, the antibody tests and the assumption that recovered people get enough immunity to not get COVID-19 again, then immunity passports would help us get out of stay-at-home orders and economic shutdown.
In theory, people who have an immunity passport could safely return to work because they would not get sick again and start passing the virus around.
As tests become available, then business and activity could slowly return to normal.
Cytokine Storm Syndrome
---
Recently, there has been emerging evidence that a subset of the infected patients develop severe COVID-19 because of an overreaction of their immune systems, which triggers what is known as a "Cytokine Storm Syndrome" (CSS).
Till now, various studies have shown that the disease has more severe consequences for those above the age of 60 years, especially those with existing complications such as heart disease, chronic respiratory disease and cancer.
But some countries have also reported deaths of younger people, including teenagers, after catching the infection.
First let's know, what are Cytokines?
Cytokines are cell signalling molecules that aid cell to cell communication in immune responses and stimulate the movement of cells towards sites of inflammation, infection and trauma.
Examples of cytokines include the agents interleukin and the interferon which are involved in regulating the immune system's response to inflammation and infection.
There are more specific names given to cytokines based on either the type of cell that makes them or the action they have in the body:

Lymphokines (made by lymphocytes)
Monokines (made by monocytes)
Chemokines (associated with chemotactic actions)
Interleukins (made by one leukocyte but act on other leukocytes)
Functions
Acute inflammation
Chronic inflammation
Regulation of metabolic pathways within cells of muscle, adipose tissue, central nervous system, and liver.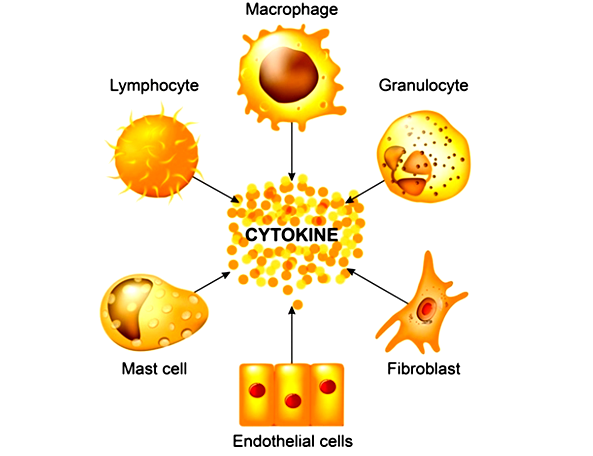 About Cytokines Storm Syndrome (CSS)
Cytokine Storm Syndromes (CSS) are a group of disorders representing a variety of inflammatory etiologies with the final common result of overwhelming systemic inflammation, hemodynamic instability, multiple organ dysfunction, and potentially death.
CSS is seen as a likely major cause of mortality in both the 1918-20 Spanish Flu , the H1N1 (swine flu) and H5N1 (bird flu) outbreaks in recent years
An elevated serum ferritin test is usually done for screening for CSS.
Explanation
The immune system gets activated by things that the body does not recognize as its own. These things are called antigens, and include bacteria, fungi and viruses.
An effective immune system response involves inflammation, an important and indispensable part of the process.
For example, one hurt his knee or ankle — the area of this external injury becomes red and swollen, and the immune system in response deploys white blood cells to the injured area to begin work on repairs.
Without such an immune response, injuries would not heal, and infections would become deadly.
The release of inflammatory mediators increases the blood flow to the area, which allows larger numbers of immune system cells to be carried to the injured tissue, thereby aiding the repairing process.
However, if this inflammatory response is not regulated, very dangerous consequences can follow. This is when a 'cytokine storm' can be triggered.
The damage to the surrounding cells can be catastrophic, leading to sepsis and potentially, death.
Role of Cytokines in Immune System
Cytokines are signalling proteins that are released by cells at local high concentrations — a CSS is characterised by the overproduction of immune cells and the cytokines themselves because of a dysregulation in the process.
A severe immune reaction, leading to the secretion of too many cytokines in the bloodstream, can be harmful since an excess of immune cells can attack healthy tissue as well.
According to the United States National Cancer Institute (NCI), a cytokine storm can occur due to an infection, auto-immune condition, or other diseases.
Signs and symptoms include high fever, inflammation (redness and swelling), severe fatigue, and nausea.
CSS Impact in COVID-19 Patient
Cytokine storms are not exclusive to coronavirus patients.
In the case of any flu infection, a cytokine storm is associated with a surge of activated immune cells into the lungs, which, instead of fighting off the antigen, leads to lung inflammation and fluid build-up, and respiratory distress.
Increased pro-inflammatory cytokine responses against human coronaviruses such as SARS-CoV-1 (which caused SARS), SARS-CoV-2 (which is responsible for the current COVID-19 pandemic), and MERS can result in acute lung injury and acute respiratory distress syndrome (ARDS).
If the clinical features of CSS are not recognised and adequate treatment is not promptly instituted, it may result in multiple organ failure.
Convalescent Plasma Therapy
---
With no specific treatment available for novel coronavirus disease and a vaccine, recently, the US Food and Drug Administration (FDA) last week approved use convalescent plasma therapy to treat severely critical COVID-19 patients.
About Convalescent Plasma Therapy (CPT)
Patients who have recovered from a disease have permanent antibodies generated by the immune system floating in their blood plasma, the liquid component of blood.
To turn that into a drug, the plasma is harvested, tested for safety, and purified to isolate those protective antibodies.
When injected into a new patient, the plasma-derived therapy, provides "passive immunity" until the patient's immune system can generate its own antibodies.
Recent Use of CPT
The United States used plasma of recovered patients to treat patients of Spanish flu (1918-1920).
Hong Kong used it to treat Severe Acute Respiratory Syndrome (SARS) patients in 2005.
In 2009, H1N1(Swine Flu) patients were treated with CPT.
Convalescent serum was also used in the 2013 West African Ebola epidemic.
A protocol for treatment of Middle East respiratory syndrome (MERS) coronavirus with convalescent plasma was established in
Process
The process to infuse plasma in a patient can be completed quickly. It only requires standard blood collection practices, and extraction of plasma.
If whole blood is donated (350-450 ml), a blood fractionation process is used to separate the plasma.
Otherwise, a special machine called aphaeresis machine can be used to extract the plasma directly from the donor.
While blood is indeed extracted from the donor, the aphaeresis machine separates and extracts the plasma using a plasma kit, and the remaining blood components are returned into the donor's body.
WHO Guidelines Regarding CPT
WHO guidelines in 2014 mandate a donor's permission before extracting plasma.
Plasma from only recovered patients must be taken, and donation must be done from people not infected with HIV, hepatitis, syphilis, or any infectious disease.
If whole blood is collected, the plasma is separated by sedimentation or centrifugation, then injected in the patient.
If plasma needs to be collected again from the same person, it must be done after 12 weeks of the first donation for males and 16 weeks for females.
Chance of Success in case of COVID-19 Treatment
The treatment has been successful in other disease outbreaks.
As a disease develops, the body has already begun developing antibodies against the virus.
Infusing convalescent plasma is essentially like topping with more antibodies hoping that increased amount of antibodies will dampen the disease progression.
Antibodies in the plasma bind to the virus and prevent them from entering the cells.
But by the time it is given, many cells have already been infected. Hence, convalescent plasma therapy might not prove effective against COVID-19 treatment.
Associated Benefits
COVID-19 convalescent sera can be used for either prophylaxis of infection or treatment of disease.
In a prophylactic mode, the benefit of convalescent serum administration is that it can prevent infection and subsequent disease in those who are at high risk for disease, such as vulnerable individuals with underlying medical conditions, health care providers, and those with exposure to confirmed cases of COVID-19.
Used therapeutically, convalescent serum would be administered to those with clinical disease in an effort to reduce their symptoms and mortality.
Associated Risks
Risks of passive administration of convalescent sera fall into two categories, known and theoretical.
Known risks are those associated with transfer of blood substances, which include inadvertent infection with another infectious disease agent and reactions to serum constituents, including immunological reactions such as serum sickness.
The theoretical risk involves the phenomenon of antibody-dependent enhancement of infection (ADE). ADE can occur in several viral diseases and involves an enhancement of disease in the presence of certain antibodies.
Another theoretical risk is that antibody administration to those exposed to SARS-CoV-2 may prevent disease in a manner that attenuates the immune response, leaving such individuals vulnerable to subsequent reinfection.
Implication in India
CPT can be done in India, but it is important to control the risk of infection during transfusion, and the patient's acceptance is required.
India has facilities for removing 500 ml of plasma from a donor using aphaeresis.
For this experimental therapy to be tried out, the Drug Controller General of India will first have to grant blood banks approval for removal of plasma from recovered COVID-19 patients.
However, treatment could be effective for patients in the age group 40-60, but may be less effective for people aged beyond 60 years.
Herd Immunity
---
The outbreak of disease caused by the new coronavirus (COVID-19) has raised questions about a phenomenon known as "herd immunity" and whether it might play a role in how the pandemic progresses.
What is Herd Immunity?
It refers to preventing an infectious disease from spreading by immunising a certain percentage of the population.
While the concept is most commonly used in the context of vaccination, herd community can also be achieved after enough people have become immune after being infected.
For herd immunity, it doesn't matter whether the immunity comes from vaccination, or from people having had the disease. The crucial thing is that they are immune.
With the new coronavirus infection, as more and more people become infected, there will be more people who recover and who are then immune to future infection.
How does Herd Immunity work?
The scientific principle is that the presence of a large number of immune persons in the community, who will interrupt the transmission, provides indirect protection to those who are not immune.
It means that if a certain percentage of the population is immune, members of that group can no longer infect another person.
This breaks the chain of infection through the community ("herd"), and prevents it from reaching those who are the most vulnerable.
To estimate the extent of spread and immunity, epidemiologists use a measure called the 'basic reproductive number' (R0). This indicates how many persons will be infected when exposed to an single case; an R0 of more than 1 indicates one person can spread the infection to multiple persons.
On the basis of the available evidence from China, and according to various experts, R0 COVID-19 ranges between 2 and 3.
This means that, if no other measures are taken, herd immunity would kick in when between 50% and 70% of a population is immune.
Recent Example of Herd Immunity
Zika virus, a mosquito-borne illness that caused a epidemic panic in 2015 because of a link to birth abnormalities.
Two years later, in 2017, there was no longer nearly so much to worry about.
A Brazilian study found by checking blood samples that 63% of the population in the northeastern beach city of Salvador had already had exposure to Zika; the researchers speculated that herd immunity had broken that outbreak.
Spreading of Infection in Community
There are three ways in which an infection can spread in a community.
The first scenario looks at a community that is not immunised. With two infectious cases, there is a possibility of the entire community being infected, with a few exceptions.
In the second scenario, there may be some persons who have been immunised; and only these immunised persons will not be infected when at least two infectious cases are introduced in the community.
The third scenario is when the majority of the community is immunised. So, when two infectious cases are introduced, the spread can take place only in exceptional cases, like in the elderly or other vulnerable persons.Even in such a situation, the immunised persons protect the non-immunised by acting as a barrier — which is herd immunity.
When does a population achieve Herd Immunity?
It depends on multiple factors like-
how effective the vaccine for a given disease is
how long-lasting immunity is from both vaccination and infection
which populations form critical links in transmission of the disease.
Mathematically, it is defined on the basis of a number called "herd immunity threshold", which is the number of immune individuals above which a disease may no longer circulate.
The higher the R0, the higher the percentage of the population that has to be immunised to achieve herd immunity.
For eg.
Polio has a threshold of 80% to 85%, while measles has 95%.
With the current data for COVID-19, experts have estimated a threshold of over 60%. That means more than 60% of the population needs to develop immunity to reach the stage of herd immunity.
Why is herd immunity as a strategy against COVID-19 questionable?
It is very risky to seek herd immunity by allowing a large proportion of the population to get infected.
Allowing the virus to pass through the population means a surge of patients, putting pressure on existing medical infrastructure.
Further, it can take months, or even longer, to build group immunity to COVID-19. During that time, the need is to protect people who are at greater risk.
However, the coronavirus is a new strain of which we do not know enough. Much about the behaviour of the COVID-19 is still unclear. Moreover, in this scenario, when there is a significant mortality rate, talking about herd immunity would be controversial at best.
So, what are the ways to minimise further spread of COVID-19 infection?
Flattening the Curve
Flattening the curve means preventing the number of daily cases from peaking over the numbers we can treat.
This will minimise burden on medical staff. For this, we need to practise interventions, mainly social distancing.
Social Distancing
This is the act of keeping social contact to a minimum to pre-emptively minimise the spread of the disease, by staying home as much as possible, and avoiding crowds, public places, transport. This is not the same as being in quarantine or isolation.
Quarantine and Isolation
Quarantine is needed in a situation where one may be infected, because he/she have been exposed to high-risk people, but have not been tested yet.
Once you are tested positive, however, that person is put into an isolation facility. It has a strict criterion for the type of air filters, flooring and walls.
Coronavirus Declared Public Health Emergency Of International Concern
---
Recently, an outbreak of the Wuhan coronavirus in China has caused global concern.
With the rise in new coronavirus cases outside China, the World Health Organization (WHO) on 30th January, 2020, decided to declare the novel coronavirus outbreak, a public health emergency of international concern (PHEIC).
What is Coronavirus?
Coronaviruses are a large family of viruses that typically attack the respiratory system. The name comes from the Latin word corona, meaning crown, because of the spiky fringe that encircles these viruses.
2019 Novel Coronavirus (2019-nCoV)
The 2019 Novel Coronavirus, or 2019-nCoV, is a new respiratory virus first identified in Wuhan, Hubei Province, China, belongs to the coronavirus family, which includes SARS (severe acute respiratory syndrome) and MERS (Middle East respiratory syndrome).
Origin of nCov
Several people in Wuhan, the capital and largest city in Hubei province, report symptoms caused by a virus that is later tied to the Huanan Seafood Market, which sells primarily fish and shellfish, but also wild game like beavers, porcupines and snakes.
Since the outbreak was detected about a month ago, scientists have been able to piece together considerable amount of information about the origin, transmission and lethality of the 2019-nCoV, but several questions are still being investigated.
Types
Coronaviruses belong to the family Coronaviridae, and there are seven types that can infect humans.
Common Human Coronaviruses
The following four types are often referred to as community-acquired coronaviruses because they are common and infect people all over the world-
229E (alpha coronavirus)
NL63 (alpha coronavirus)
OC43 (beta coronavirus)
HKU1 (beta coronavirus)
Other Human Coronaviruses
The other three coronaviruses are more worrisome because they have been linked to severe complications, like pneumonia and death. These are-
MERS-CoV (the beta coronavirus that causes Middle East Respiratory Syndrome, or MERS)
SARS-CoV (the beta coronavirus that causes severe acute respiratory syndrome, or SARS)
2019 Novel Coronavirus (2019-nCoV)
Severe Acute Respiratory Syndrome (SARS)
SARS is a viral respiratory illness caused by a coronavirus called SARS-associated coronavirus (SARS-CoV).
It first appeared in China in November 2002 and was identified in February 2003.
Middle East Respiratory Syndrome (MERS)
MERS is viral respiratory illness that is new to humans. It was first reported in Saudi Arabia in 2012 and has since spread to several other countries, including the United States.
Most people infected with MERS-CoV developed severe respiratory illness, including fever, cough, and shortness of breath.
Mode of Transmission
Usually Coronaviruses are zoonotic, meaning they are transmitted between animals and human beings possibly through the food chain. This happened during the 2003 outbreak of SARS (Severe Acute Respiratory Syndrome), which too was caused by a coronavirus and originating in China.
Human-to-human transmission has been confirmed in case of 2019-nCoV.
But a new study, published in The New England Journal of Medicine on 30th January, 2020, has documented the first case in which the virus was transmitted from one person to the other, even before the symptoms had become evident in the first person. Such transmissions are called
Symptoms
Like other coronaviruses, 2019-nCoV manifests itself initially in the form of mild fever and cough, and affects mainly the respiratory system in human beings.
The most common symptoms were fever, cough, muscle pain, and fatigue; less common were headache, diarrhea, and coughing up mucus or blood.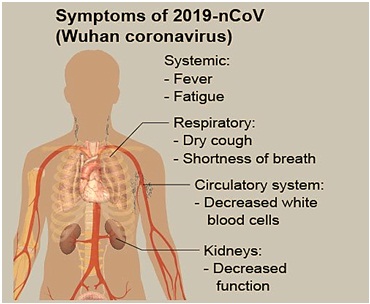 Treatment
To date, there is no specific medicine recommended to prevent or treat the new coronavirus (2019-nCoV).
Impact on Global Economy
The World Health Organization's declaring the novel coronavirus PHEIC could stoke investor's fears about the disease and the economic risks it poses, mainly impacting travel, entertainment, hospitality sectors across the globe.
It is affecting China's economy, the world's second-largest, with a growing number of countries advising their citizens to avoid all non-essential travel to the country.
The economic impact is likely to be magnified by the on-going US-China trade frictions. Trade between the US and China has already been disrupted by trade wars and imposition on tariffs on US and Chinese exports. Although tensions have been eased by a signing of the phase-one trade deal, the underlying dispute has had an important impact in disrupting supply chains and underlying exports.
The main short-term impacts will be weaker global equities and a decline in oil prices.
However, declaring an emergency means the WHO sees the disease as a serious global threat and will ramp up international resources to develop treatments and a vaccine for nCoV as soon as possible.
Public Health Emergency of International Concern(PHEIC)
The WHO declares a Public Health Emergency of International Concern when there is an extraordinary event which is determined to constitute a public health risk to other states through the international spread of disease.
Objective
The declaration aims to prevent or reduce the cross-border spread of disease while averting needless obstruction of trade and travel.
It also aims to accelerate the development of vaccines and treatments, while stopping the spread of rumours and misinformation.
Measures under Declaration
Under the designation, the WHO is able to review public health measures carried out by countries to ensure they meet proper health standards.
WHO issues temporary recommendations. These recommendations are not enforceable, but there is pressure on countries to follow them, as member states are bound by the WHO's 2005 International Health Regulations.
The designation pushes nations to coordinate funding, personnel and other resources, and helps countries persuade residents to follow health recommendations.
Previous Declared Global Public Health Emergencies
Swine flu, 2009 - The H1N1 virus spread across the world in 2009, with death toll estimates ranging from 123,000 to 575,400.
Polio, 2014 - Although closer than ever to eradication in 2012, polio numbers rose in 2013.
Zika, 2016 - The WHO declared Zika a public health emergency in 2016 after the disease spread rapidly through the Americas.
Ebola, 2014 and 2019 - The first emergency over the virus lasted from August 2014 to March 2016 as almost 30,000 people were infected and more than 11,000 died in West Africa. A second emergency was declared last year as an outbreak spread in DR Congo.
Significance
A PHEIC is meant to mobilize international response to an outbreak.
It gives the WHO capabilities to hasten the response of governments and organisations globally that are rushing to contain an outbreak.
It also tells the world that the outbreak is a serious health emergency.
Urgent Global Health Challenges For Next Decade
---
On 13th January, 2020, the World Health Organization (WHO) released a list of 13 urgent health challenges the world will face over next decade.
All the challenges included on the list are urgent, and several are interlinked and demand a response from more than just the health sector, including Governments, communities, and international agencies to work together in order to address the looming health challenges.
13 Health Challenges
1. Climate Crisis as a Health Crisis
The world's climate crisis has major health implications, with air pollution alone killing an estimated seven million people annually, while it causes more extreme weather events, exacerbates malnutrition and fuels the spread of infectious diseases such as malaria.
2. Health Care Delivery in Areas of Conflict and Crisis
In 2019, most disease outbreaks requiring the highest level of WHO response occurred in countries with protracted conflict.
There is continuation of a disturbing trend in which health workers and facilities are targeted.
3. Making Health Care Fairer
Persistent and growing socio-economic gaps result in major discrepancies in the quality of people's health. There is an 18-year difference between the life expectancy of people in low- and high-income countries, as well as significant differences in life expectancies among people living within the same countries and cities.
4. Access to Medicines
About one-third of the world's people lack access to medicines, vaccines, diagnostic tools and other essential health products. Limited access to these products fuel drug resistance and threaten people's lives and health.
5. Preventing Infectious Diseases
Infectious diseases like HIV, tuberculosis, viral hepatitis, malaria, neglected tropical diseases and sexually-transmitted infections will kill an estimated 4 million people in 2020, most of them poor.
6. Preparing for Epidemics
An airborne and highly infectious virus pandemic is inevitable. The countries around the world continue to spend more on responding to these emergencies than preparing for them.
This leaves countries unprepared for when another pandemic strikes and potentially threatens the lives of millions of people.
7. Protecting People from Unsafe Products
Nearly one-third of today's global disease burden is attributed to a lack of food, unsafe food, and unhealthy diets.
Further, there's been an increase in tobacco and e-cigarette use in most countries, raising additional health concerns.
8. Underinvestment in Health Workers
Chronic under-investment in the education and employment of health workers, coupled with a failure to ensure decent pay, has led to health worker shortages all over the world. This jeopardizes health and social care services and sustainable health systems.
An additional 18 million health workers, including nine million nurses and midwives, will be needed across the world by 2030.
9. Adolescent Safety
More than 1 million adolescents aged 10-19 years die every year due to road injury, HIV, suicide, lower respiratory infections, and interpersonal violence.
A number of factors including harmful alcohol use, unprotected sex, and lack of physical activity, increase the risks of these types of death.
10. Earning Public Trust
Public health is compromised by the uncontrolled dissemination of misinformation in social media, as well as through an erosion of trust in public institutions.
11. Harnessing New Technologies
Genome editing, synthetic biology and digital health technologies such as artificial intelligence can solve many problems, but also raise new questions and challenges for monitoring and regulation.
Without a deeper understanding of their ethical and social implications, these new technologies could harm the people they are intended to help.
12. Threat of Anti-Microbial Resistance
Anti-microbial resistance (AMR) has the potential to undo decades of medical advancements and has increased due to a number of factors, including limited access to quality and low-cost medications, unregulated prescription and use of antibiotics and poor infection prevention control.
13. Keeping Health Care Clean
Roughly one in four health facilities globally lack basic water services. The lack of these basics in health facilities leads to poor-quality care and an increased chance of infection for patients and health workers.
WHO's Course of Action towardsChallenges
Challenge 1
In 2020, WHO will work towards developing a set of policy options for governments to prevent or reduce the health risks of air pollution.
Challenge 2
WHO is working to save lives and prevent suffering by working with countries and partners to strengthen health systems, improve preparedness and expand the availability of long-term contingency financing for complex health emergencies.
Challenge 3
WHO is working with its partners to improve child and maternal care, nutrition, gender equality, mental health, and access to adequate water and sanitation.
It is calling for all countries to allocate 1% more of their gross domestic product to primary health care, to give more people access to the quality essential services they need, close to home.
Challenge 4
Coming year, WHO will sharpen its focus on priority areas for global access. These include fighting substandard and falsified medical products; enhancing the capacity of low-income countries to assure the quality of medical products through out the supply chain; and improving access to diagnosis and treatment for non-communicable diseases, including diabetes.
Challenge 5
There's an urgent need for greater political will and increased funding for essential health services; strengthening routine immunization; improving the quality and availability of data to inform planning, and more efforts to mitigate the effects of drug resistance.
Challenge 6
WHO is advising countries on evidence-based investments to strengthen health systems and infrastructure to keep populations safe when health emergencies strike.
Challenge 7
WHO is engaged in developing evidence-based public policies, investments and private sector reforms to reshape food systems, and provide healthy and sustainable diets.
Challenge 8
To trigger action and encourage investment in education, skills and jobs, the World Health Assembly has designated 2020 the 'Year of the Nurse and the Midwife'.
Challenge 9
In 2020, WHO will issue new guidance for policymakers, health practitioners and educators, called 'Helping Adolescents Thrive'. The aim is to promote adolescent's mental health and preventive measures towards better health.
Challenge 10
WHO is working with countries to strengthen primary health care, so people can access effective and affordable services easily, from people they know and trust, in their own communities.
Challenge 11
In 2019,WHO set up new advisory committees for human genome editing and digital health, bringing together the world's leading experts to review evidence and provide guidance.
Challenge 12
WHO, along with national and international authorities, is working to reduce the threat of AMR by addressing its root causes, while advocating for research and development into new antibiotics.
Challenge 13
WHO and its partners are currently working with 35 low and middle-income countries to improve the water, sanitation and hygiene conditions in their health facilities. The global goal is for all countries to have included WASH services in plans, budgets and implementation efforts by 2023 and by 2030 all health care facilities globally should have basic WASH services.
WHO Launches First World Report On Vision
---
Recently, World Health Organisation (WHO) released its first world report on vision, addressing the increasing eye problems across the globe.
Aims
To raise awareness of the global magnitude and impact of eye conditions and vision impairment.
To draw attention to effective strategies to respond to eye care needs
To take stock of progress, and identify the main challenges facing the field of eye care
To make recommendations for action to be implemented by all countries to improve eye care.
Key Findings of the Report
Globally, at least 2.2 billion people have a vision impairment or blindness.
More than 1 billion people worldwide are living with vision impairment because they do not get the care they need for conditions like short and far sightedness, glaucoma and cataract.
Rates of cataract and trachomatous trichiasis are higher among women, particularly in low- and middle-income countries.
The burden of eye conditions is far greater in people living in rural areas, those with low incomes, women, older people, people with disabilities, ethnic minorities and indigenous populations.
Vision impairment in low and middle-income regions is estimated to be four times higher than in high-income regions.
Low- and middle-income regions of western and eastern sub-Saharan Africa and South Asia have rates of blindness that are eight times higher than in all high-income countries.
US$14.3 billion is needed to address the backlog of 1 billion people living with vision impairment or blindness.
The report hailed India's National Programme for Control of Blindness (NPCB). NPCB has provided cataract surgery to 6.5 million people- a cataract surgical rate of over 6,000 per million population in 2016-17.
Causes of Rising Vision Impairment
Due to weak or poorly integrated eye care services, many people lack access to routine checks that can detect conditions and lead to the delivery of appropriate preventive care or treatment.
Eating habits are also a factor, since, in type 2 diabetes, the number of retinopathy cases increase.
Increased time spent indoors and increased "near work" activities are leading to more people suffering from myopia. Increased outdoor time can reduce this risk.
Different Eye Disorders
Myopia
It is a common vision condition in which one can see objects near to him clearly, but objects farther away are blurry.
It occurs when the shape of your eye causes light rays to bend (refract) incorrectly, focusing images in front of your retina instead of on retina.
Age-Related Macular Degeneration (AMD)
AMD is a disease that blurs the sharp, central vision needed to see straight-ahead. It affects the part of the eye called the macula that is found in the center of the retina. The macula lets a person see fine detail and is needed for things like reading and driving.
Glaucoma
There are different types of glaucoma, but all of them cause vision loss by damaging the optic nerve. Glaucoma is called the "sneak thief of sight" because people don't usually notice a problem until some vision is lost.
The most common type of glaucoma happens because of slowly increasing fluid pressure inside the eyes.
Diabetic Retinopathy
It is basically a diabetes complication, which affects eyes by causing damage to the blood vessels spread throughout the light sensitive tissues of the retina (the back of the eye).
Anyone having type 1 or type 2 diabetes can develop this eye condition, especially those who have diabetes for a long time with fluctuating blood sugar levels. Usually, both eyes get affected by diabetic retinopathy.
Presbyopia
It occurs when your eyes gradually lose the ability to see things clearly up close. It is a normal part of aging.
Trachomatous Trichiasis
It is caused by a bacterium called Chlamydia trachomatis. This infection causes inflammation and scarring of the surface of the eye, which results in the eyelid turning in (entropion) so that the eyelashes touch the eyeball. This is known as trachomatous trichiasis.
Impact
Young children with early onset severe impairment can experience delayed motor, language, emotional, social and cognitive development with lifelong consequences.
School-age children with vision impairment can also experience lower levels of educational achievement and self-esteem.
Vision impairment severely impacts quality of life (QoL) among adult populations.
Adults with vision impairment often have lower rates of workforce participation and productivity and higher rates of depression and anxiety than the general population.
In the case of older adults, vision impairment can contribute to social isolation.
It can lead to higher rates of violence and abuses, including bullying and sexual violence are more likely to be involved in motor vehicle accidents and can find it more difficult to manage other health conditions.
Vision impairment also poses an enormous global financial burden as it impacts the loss of productivity and efficieny.
International Initiative towards Eye Care
Universal Eye Health: Global Action Plan (2014 – 2019)
It was adopted by Member States at the World Health Assembly (WHA) in 2013 WHA resolution 66.4.
The plan supports the provision of effective and accessible eye care services for effectively controlling visual impairment including blindness.
Aims
To reduce visual impairment as a global public health problem
To secure access to rehabilitation for visually impaired services
VISION 2020: The Right to Sight
Launched in 1999, it is the global initiative for the elimination of avoidable blindness, a joint programme of the World Health Organization (WHO) and the International Agency for the Prevention of Blindness (IAPB).
The initiative was set up to intensify and accelerate prevention of blindness activities so as to achieve the goal of eliminating avoidable blindness by 2020.
National Initiative
National Programme for Control of Blindness and Visual Impairment (NPCB&VI)
It was launched in the year 1976 as a 100% centrally sponsored scheme (now 60:40 in all states and 90:10 in North East States) with the goal of reducing the prevalence of blindness to 0.3% by 2020.
Suggestive Measures
Integrated Eye Health System: The report sets out concrete proposals to address challenges in eye care. The key proposal is to make integrated people centred eye care, embedded in health systems and based on strong primary health care, the care model of choice and scale it up widely
Integrated People-Centred Eye Care (IPCEC): It seeks to stimulate action in countries to address these challenges by proposing integrated people-centred eye care (IPCEC) as an approach to health system strengthening that builds the foundation for service delivery to address population needs
Universal Health Coverage: IPCEC will also contribute to achieving universal health coverage (UHC) and Sustainable Development Goal 3 (SDG3): "Ensure healthy lives and promote well-being for all at all ages".
Way Forward
The government not only in India but across the globe should reorient the model of care based on a strong primary care by engaging and empowering the people and communities in order to raise awareness about eye care needs.
It should focus on creating an enabling environment, specifically the inclusion of eye care in national health strategic plans, the integration of relevant eye care relevant data within health information systems, and the planning of the eye care workforce according to population needs.
In addition, International organizations, donors, and the public and private sectors must work together to provide the long-term investment and management capacity to scale up integrated people-centred eye care.
UN High-Level Meeting On Universal Health Coverage
---
On 23rd September, 2019, the United Nations General Assembly held the first ever high-level meeting on Universal Health Coverage (UHC) under the theme- Universal Health Coverage: Moving Together to Build a Healthier World.
Aim
The meeting aims at mobilizing the global community to secure political commitment from Heads of State and Government to accelerate progress toward achieving UHC by 2030.
It aims to accelerate progress toward universal health coverage (UHC), including financial risk protection, access to quality essential health-care services and access to safe, effective, quality and affordable essential medicines and vaccines for all.
Background
In 2015, Heads of States and Governments made a bold commitment to achieve universal health coverage by 2030.
The September 23rd, 2019 meeting was called for in December 2017 when the UN passed a resolution on global health and foreign policy, addressing the health of the most vulnerable for an inclusive society.
Source: ESMO
Key Outcomes
The World Leaders adopted a high-level United Nations Political Declaration on universal health coverage (UHC).
In adopting the declaration, U.N. Member States committed to advance towards UHC by investing in major areas around primary health care. These include mechanisms to ensure no one suffers financial hardship and implementing high-impact health interventions to combat diseases and protect women's and children's health.
In addition, countries must strengthen health workforce and infrastructure and reinforce governance capacity.
Universal Health Coverage (UHC)
UHC means that all people and communities can receive essential, quality health services, from health promotion to prevention, treatment, rehabilitation, and palliative care, without suffering financial hardship.
UHC is founded on the 1948 United Nation's Universal Declaration of Human Rights that states that health is a basic human right and everyone everywhere should be able to enjoy the highest possible attainable standard of health.
It focuses on three dimensions:

Percentage of the population covered by health services
Reduction of the patient's portion of direct costs for health services
Number and quality of health services offered by the national health system.
Significance
The declaration comes the day after the World Health Organization (WHO) and partners stressed the need to double health coverage between now and 2030 or leave up to 5 billion people unable to access health care.
This declaration represents a landmark for global health and development. The world has 11 years left to make good on its sustainable development goals (SDGs) and universal health coverage is key to achieve within the given tine framework.
India's Effort towards UHC
Indian Prime Minister while addressing first ever high-level meeting on UHC stressed the importance of UHC as healthy life is every person's right.
He highlighted the bold steps taken by India to achieve UHC by adopting a holistic approach on four main pillars of healthcare which are:

Preventive Healthcare:

In order to promote preventive healthcare, special emphasis on Yoga, Ayurveda and Fitness and wellness centers have been made, helping in controlling life style diseases such as diabetes, blood pressure, depression etc.
Immunization campaigns and greater awareness through Clean India campaign have also contributed to health promotion.

Affordable Healthcare:

To ensure affordable healthcare, India has rolled out the world's largest health insurance scheme - Ayushman Bharat Scheme.

Supply Side Improvement:

The government has taken several important steps for quality medical education and medical infrastructure development in the country.

Mission Mode Intervention:

Among mission mode interventions, the Poshan Abhiyan (National Nutrition Mission) has been launched to improve nutritional status of mother and child.
Recent Initiatives in UHC
National Digital Health Blueprint (NDHB)
On 16th July, 2019, the government released the National Digital Health Blueprint (NDHB), bringing in the National Digital Health Eco-system (NDHE) that can ensure the availability of healthcare services on a wider scale.
It encapsulates the goals of National Health Policy-2017 and aims to leapfrog to the digital age by providing a wide range of digital health services.
It will support the quality of healthcare, universal health coverage (UHC) in an efficient, accessible, inclusive, affordable, timely and safe manner through the provision of a wide range of data, information, and infrastructure services
Ayushman Bharat (National Health Protection Mission)
Launched in September, 2018, it is a national initiative as the part of National Health Policy 2017, in order to achieve the vision of Universal Health Coverage (UHC). This initiative has been designed on the lines as to meet SDG and its underlining commitment, which is "leave no one behind".
It comprises two inter-related components:

Establishment of Health and Wellness Centres: The first component, pertains to creation of 1,50,000 Health and Wellness Centres which will bring health care closer to the homes of the people.
Pradhan Mantri Jan Arogya Yojana (PM-JAY): It is one significant step towards achievement of Universal Health Coverage (UHC) and Sustainable Development Goal-3. It aims to provide health protection cover to poor and vulnerable families against financial risk arising out of catastrophic health episodes.
Poshan Abhiyan (National Nutrition Mission)
Launched in March, 2018, it aims to improve nutritional outcomes for children, pregnant women and lactating mothers. The POSHAN (Prime Minister's Overarching Scheme for Holistic Nutrition) Abhiyaan directs the attention of the country towards the problem of malnutrition and address it in a mission-mode.
Four point strategy/pillars of the mission are:

Inter-sectoral convergence for better service delivery
Use of technology for real time growth monitoring and tracking of women and children
Intensified health and nutrition services for the first 1000 days
Jan Andolan
National Health Policy, 2017
The policy envisages as its goal the attainment of the highest possible level of health and wellbeing for all at all ages, through a preventive and promotive health care orientation in all developmental policies, and universal access to good quality health care services across the country.
Challenges in Achieving Universal Health Coverage
Disparity in Quality of Healthcare Services: Wide disparity in the quality of healthcare services in the public and private sector is prevalent as regulatory standards are neither established nor enforced properly by the Government of India.
Lack of Medical Professionals: The issue of under trained and traditional healers treating patients at the grass-root level is a serious concern which reflects the poor availability of healthcare services and service providers in rural areas.
Non-affordability of Health Services: Given the large number of people still living below the poverty line in India, the affordability of quality healthcare is a major problem across the country leading to serious health situations.
Lack of Adequate Infrastructure: The existing healthcare centres especially in rural areas are under-financed, with below quality equipment, lack of beds, etc. which provide a major challenge towards delivering effective health care system.
Way Forward
It is high time for India as well as other countries to acknowledge the need for redefining health in light of the SDGs. Universal health coverage should be designed based on the revised definition of health. That will lead to a better understanding, and attainment, of holistic health and well-being.
Universal Health Care is expected to bridge inequalities relating to health and its access. As UHC evolves, it must take into consideration providing additional benefits to poor and vulnerable belts of people.
One Health Concept
---
The World Organization of Animal Health, commonly known as OIE (an abbreviation of its French title), summarises the One Health concept as "human health and animal health are interdependent and bound to the health of the ecosystems in which they exist".
Relevance of the News: One health concept highlights the interdependence of all living creatures on earth and the concept of ecological inter-connectedness.
What is One Health?
One Health recognises inter-connectivity among human health, the health of animals, and the environment and the importance of each for the sustainability of the other two.
It is not a new concept as in 400 BC, Hippocrates in his treatise On Airs, Waters and Places had urged physicians that all aspects of patients' lives need to be considered including their environment and disease was considered a result of imbalance between man and environment.
Why it has received interest now?
With the expansion of populations around the world, greater contact is established among living creatures including humans, animals and environment which provides more opportunities for diseases to pass from one to the other.
Climate change, deforestation and intensive farming further disrupt environment characteristics, while increased trade and travel result in closer and more frequent interaction, thus increasing the possibility of transmission of diseases.
Facts highlighted by the World Organization of Animal Health:
1.60% of existing human infectious diseases are zoonotic i.e. they are transmitted from animals to humans;
2.75% of emerging infectious human diseases have an animal origin.
3.Of the five new human diseases appearing every year, three originate in animals.
4.It is estimated that zoonotic diseases account for nearly two billion cases per year resulting in more than two million deaths — more than from HIV/AIDS and diarrhoea.
5.One-fifth of premature deaths in poor countries are attributed to diseases transmitted from animals to humans.
Concern for India:
1.Developing countries like India rely too much on agricultural systems which results in uncomfortably close proximity of animals and humans.
2.The size of India's human and animal populations is almost the same; 121 crore people (2011 Census) and 125.5 crore livestock and poultry.
3.A network of 1.90 lakh health institutions in the government sector form the backbone of health governance, supported by a large number of private facilities but there are only 65,000 veterinary institutions which tend to the health needs of 125.5 crore animals which includes 28,000 mobile dispensaries and first aid centres with bare minimum facilities.
4.Private sector presence in veterinary services is close to being nonexistent.
The World Organization of Animal Health highlights the following Steps that can be taken as a Safeguard:
1.Veterinary institutions and services must be strengthened.
2.The most effective and economical approach is to control zoonotic pathogens at their animal source.
3.Close collaboration at local, regional and global levels among veterinary, health and environmental governance is needed and also greater investment in animal health infrastructure.
4.Humans require a regular diet of animal protein.
5.There could not be a stronger case for reinventing the entire animal husbandry sector to be able to reach every livestock farmer, not only for disease treatment but for prevention and surveillance to minimise the threat to human health.
6.Early detection at animal source can prevent disease transmission to humans and introduction of pathogens into the food chain, so a robust animal health system is the first and a crucial step in human health.
7.Disease surveillance has to go beyond humans and encompass preventive health and hygiene in livestock and poultry, improved standards of animal husbandry for greater food safety, and effective communication protocols between animal and public health systems.
---