Night trials of Ballistic Missile Agni V
---
On December 15, 2022, India has successfully conducted night trials of nuclear-capable ballistic missile Agni V.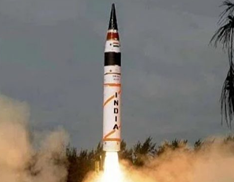 The missile is capable of striking targets at ranges up to 5,000 kilometers with very high degree of accuracy.
The missile test firing was conducted from APJ Abdul Kalam Island off the Odisha coast at around 5.30 pm.
About Agni Missiles
The Agni missile class is the backbone of India's nuclear launch capability, as are Prithvi short-range ballistic missiles, submarine-launched ballistic missiles, and fighter aircraft.
Agni-1 to 5 missiles are designed & developed by Defence Research and Development Organisation (DRDO).
Other Ranges of Agni Missiles:

Agni I: Range of 700-800 km.
Agni II: Range more than 2000 km.
Agni III: Range of more than 2,500 Km
Agni IV: Range is more than 3,500 km and can fire from a road mobile launcher.
Agni-V: The longest of the Agni series, an Inter-Continental Ballistic Missile (ICBM) with a range of over 5,000 km.

Agni-5 is an ingeniously built advanced surface-to-surface ballistic missile developed under the Integrated Guided Missile Development Programme (IGMDP).
It is a fire-and-forget missile, which cannot be stopped without an interceptor missile.
The missile has the capability of hitting targets beyond the range of 5000 km and is crucial for India's self-defense systems.
The Integrated Guided Missile Development Programme (IGMDP) was launched in 1982-83 by the Indian Government which saw the projects of:
Prithvi (Short range surface to surface missile)
Trishul (short range surface to air missile)
Aakash (Medium range surface to air missile)
Nag (Third generation anti-tank missile)
Agni-I (Agni missile was later separated from the IGMDP due to its strategic importance)
Deployment of 'Pralay' Missile
---
The defence ministry has cleared a proposal to procure around 120 Pralay ballistic missiles, which will be deployed along the borders with China and Pakistan.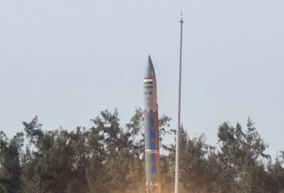 About the Missile
Type: 'Pralay' is a quasi-ballistic surface-to-surface missile.
Range: It can hit targets 150-500 kms away. The missile's range can be extended significantly if the need arises.
Ammunition: The missile can carry 350-700 kg high grade explosive, Penetration-Cum-Blast explosive, and Runway Denial Penetration Submunition.
Engine: Two stage rocket motor, with third stage MaRV (maneuverable reentry vehicle) is a type of warhead for ballistic missiles that is capable of maneuvring and changing its trajectory.
MaRV can be capable of autonomously tracking ground targets to make sure the missile does not miss the target, because of the frequent trajectory shifts. This often requires some terminal active homing guidance (like Pershing II active radar homing).
Special Utility
Target High Value Installations & Weapons: It is designed to target radar and communication installations, command and control centers and advance airfields using conventional warhead.
Defeat Interceptor Missiles: It has been developed to defeat interceptor missiles as it has the ability to change its path mid-air.
Army gets New Indigenously-Developed Equipment & Systems
---
On 16th August 2022, Raksha Mantri Shri Rajnath Singh handed over indigenously-developed equipment and systems to the Indian Army.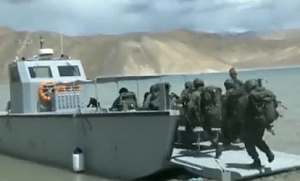 Features & Utilities if the New Systems
Future Infantry Soldier as a System (F-INSAS)
Future Infantry Soldier is being equipped with three primary sub systems:
The first sub system is the modern state of art assault rifle along with day and night holographic and reflex sights. The sights are mounted on the weapon and also on helmet to enable a 360-degree visibility and accuracy in operational conditions. In addition to the primary weapon system, the soldiers will also be kitted with multi-mode hand grenade which has also been procured indigenously along with multi-purpose knife.
The second sub system is protection system. This gives protection through a specially designed helmet and a bullet proof jacket.
The third sub system consists of communication and surveillance system. This F-INSAS system is capable of further upgradation by incorporating real time data connectivity.
Anti-Personnel mine 'Nipun'
For a long time, the Indian Army has been using vintage NMM 14 mines.
With the efforts of Armament Research and Development Establishment, Pune and the Indian industry, a new Indian mine named 'Nipun' has been developed.
The mine is more potent and effective than the existing anti-personnel mine.
Hand Held Thermal Imager (Uncooled)
This equipment is for surveillance and detection. It gives visibility in both day and night and in adverse weather conditions to the soldiers to detect enemy movement and activities.
Commander Thermal Imaging Sight for T-90 tank
This equipment gives enhanced visibility and range to the commanders of armoured columns.
Earlier, in T-90 tanks had image intensification systems which had its own limitations and constraints. The limitations have been overcome by use of thermal imaging sight produced by India Optel Limited.
Downlink Equipment with Recording Facility
This downlink equipment helps the helicopters in carrying out constant reconnaissance and surveillance of the borders and operational areas.
While on missions, reconnaissance data observed is recorded in the system and can be accessed only when the helicopter returns to the base.
The equipment, produced indigenously by M/s Exicom Private Limited, is fitted on the Advanced Light Helicopter.
Semi Ruggedised Automatic Exchange System Mk-II
Indian Army had exchanges that provided line communications to the operationally deployed units. However, there were limitations in terms of numbers of subscribers and quantum of data that could be communicated. Also, the equipment could not work with latest internet protocol technology.
A new system has been developed by the Bharat Electronics Limited, Kotdwar, which overcomes all inadequacies of the older system.
Upgraded Radio Relay (Frequency Hopping)
In challenging forward areas, where no lines or other forms of communication are available, Indian Army has to extend its communication system. With this radio relay system, forward troops are in a position to operate their communication equipment and radio sets at much longer ranges and in greater depths than hither-to-fore.
This is an advanced system with frequency hopping technology and very high capacity. It has been developed by Bharat Electronics Limited, Bengaluru.
Solar Photovoltaic Energy Project
One of the most challenging terrain and operational sectors of the country is the Siachen Glacier. The complete power requirement in the area to operate various equipment was met only through captive generator supply.
A solar photo-voltaic plant has been installed to improve the overall energy requirements and also obviate dependence on fossil fuels.
This plant at Partapur was virtually dedicated to the Nation by the Raksha Mantri.
Landing Craft Assault (LCA)
There are boats operating in Pangong Tso lake, however, they have limited capabilities.
The LCA is much more versatile and has overcome the limitations of launch, speed and capacity. It has enhanced the capability to operate across the water obstacles in Eastern Ladakh.
LCA has been indigenously developed by M/s Aquarius Ship Yard Limited, Goa.
Mini Remotely Piloted Aerial System (RPAS)
RPAS removes the operational limitations faced by the Indian Air Force aircraft and the heron Unmanned Aerial Vehicles at tactical level.
It empowers the Indian Army by removing the restricted capability for surveillance, detection and reconnaissance at the infantry battalion and mechanised units level.
Infantry Protected Mobility Vehicle (IPMV)
IPMV provides mobility and more protection to a large number of infantry soldiers posted at the Northern Borders. It has been made by M/s Tata Advance Systems Limited.
Quick Reaction Fighting Vehicle (Medium)
The second vehicle along with the Infantry Mobility Protected Vehicle for enhanced mobility of our troops in Eastern Ladakh is the Quick Reaction Fighting Vehicle (Medium).
It facilitates quick deployment of troops and will enable much faster reaction. The vehicles have been procured from Tata Advanced Systems Ltd.
These are tailor made vehicles with high mobility, enhanced firepower & protection.
It will facilitate in creating moral ascendency in our Northern Borders.
'Agnipath' Scheme: A Major Policy Reform in Defence
---
On 14 June 2022, Defence Minister Rajnath Singh and chiefs of the Army, Navy and Air Force announced a significant reform on how soldiers across the three services will be recruited under the new 'Agnipath' scheme which will come into effect immediately.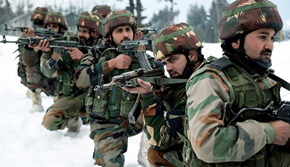 (Image Source: The Print)

About the Scheme
4 Years' Service: Under the scheme, most Indian soldiers will leave the service in just four years.
25% for Longer Duty: Of the 45,000 to 50,000 recruited annually, only 25 per cent will be allowed to continue for another 15 years under permanent commission.
Agniveers: Soldiers recruited under the scheme will be called Agniveers.
Age and Recruitment Procedure: It is only for personnel below officer ranks (those who do not join the forces as commissioned officers), aspirants between the ages of 17.5 years and 21 years will be eligible to apply. The recruitment standards will remain the same, and recruitment will be done twice a year through rallies.
Training/Perks: Once selected, the aspirants will go through training for six months and then will be deployed for three and a half years. During this period, they will get a starting salary of Rs 30,000, along with additional benefits which will go up to Rs 40,000 by the end of the four-year service. During this period, 30 per cent of their salary will be set aside under a Seva Nidhi programme, and the government will contribute an equal amount every month, and it will also accrue interest. At the end of the four-year period, each soldier will get Rs 11.71 lakh as a lump sum amount, which will be tax-free. They will also get a Rs 48 lakh life insurance cover for the four years. In case of death, the payout will be over Rs 1 crore, including pay for the unserved tenure.
Benefit
Reduce Govt. Expenses towards Pensions: The move will considerably reduce the defence pension bill, which has been a major concern for governments for many years.
Forces will get Techno-savvy Personnel: A youthful armed forces will allow to be easily trained for new technologies.
Address Regiment System: Recruitment will begin within 90 days under the scheme which will bring "all India, all class" recruitment to the services. This is especially significant for the Army, where the regiment system has region and caste bases, and with time that will be eliminated to allow anybody from any caste, region, class or religious background to become part of existing regiments.
Create Employment Opportunity: This short service will increase employment opportunities and because of the skills and experience acquired during the four-year service such soldiers will get employment in various fields. This will also lead to availability of a higher-skilled workforce to the economy which will be helpful in productivity gain and overall GDP growth.
Young Force: The average age in the forces is 32 years today, which will go down to 26 in six to seven years. It will create "future-ready" soldiers.
Indigenous Warships 'Surat' & 'Udaygiri' Launched
---
On 17 May 2022, two indigenous frontline warships of Indian Navy were launched concurrently at Mazgaon Docks Limited, Mumbai.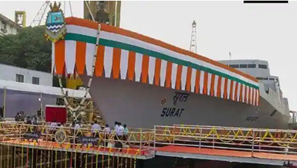 (Image Source: livemint)
INS Surat: A Project 15B Destroyer
'INS Surat' is the fourth ship of Project 15B Destroyers.
It is named after the commercial capital of the state of Gujarat. Surat city has a rich maritime & ship building history and vessels built at the city in the 16th and 18th centuries were known for their longevity (of more than 100 years).
The first warship of Project 15B, INS Visakhapatnam had joined the Indian Navy last year i.e. 2021 while the remaining two, INS Marmugao and INS Imphal, are undergoing trials.
Project 15B
The Project 15B class of ships are the next-generation stealth guided-missile destroyers of the Indian Navy, being built at the MDL, which are follow-on class of the weapon intensive P15A (Kolkata Class) Destroyers.
INS Udaygiri: A Project 17A Frigate
'Udaygiri' is the reincarnation of erstwhile 'Udaygiri', the Leander Class ASW Frigate.
'Udaygiri'is named after a mountain range in the state of Andhra Pradesh.
It is the third ship of Project 17A Frigates.
Under Project17A, a total of 07 frigates were to be built in the country. Of these, four were to be constructed at MDL, Mumbai and the remaining three at GRSE, Kolkata.
P17-A Frigates
P17A Frigates are warships that are follow-on class of the P17 (Shivalik Class) Frigates with improved stealth features, advanced weapons & sensors and platform management systems.
Seven P17A Frigates are under various stages of construction at MDL and Garden Reach Shipbuilders & Engineers (GRSE).
Indigenous Development of Light Tanks
---
India has given in-principle approval for indigenous design and development of light tanks for mountain warfare, a need for which was felt during the current stand-off with China at the Line of Actual Control (LAC).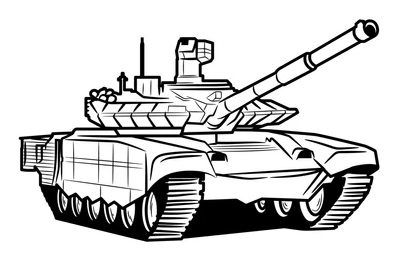 (Image Source: shutterstock.com)

The Russians had earlier offered its Sprut light tanks to the Indian Army — a proposal that is being considered — even as private firm Larsen and Toubro was working with the DRDO to convert the tracked 155 mm howitzer Vajra into a light tank.
The in-principle approval of light tank development forms part of the ministry's approval of nine defence projects. Four, including the light tank, come under the procedure's Make-I, or "government funded" project category, while the remaining five are under the Make-II, or "industry-funded" project category.
The ministry also approved the autonomous combat vehicle project and an integrated surveillance and targeting system for the Indian Army. The remaining approvals — full motion simulators for the Apache and Chinook helicopters — were given to the Indian Air Force.
DRDO Successfully Test-fires Abhyas
---
On 23rd December, 2021, Defence Research and Development Organisation (DRDO) successfully conducted the flight test of indigenously developed High-speed Expendable Aerial Target (HEAT) Abhyas.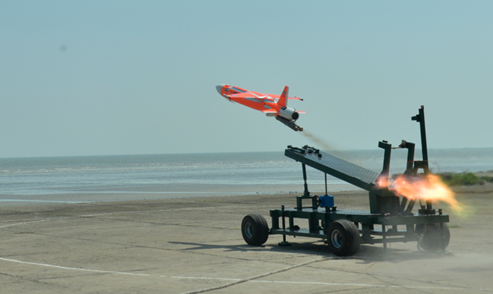 Abhyas
It was launched from Integrated Test Range (ITR), Chandipur, off the coast of Odisha.
Bengaluru based DRDO laboratory Aeronautical Development Establishment (ADE) along with other DRDO laboratories has developed this indigenous unmanned aerial target system to meet the requirement of aerial targets of Indian Armed Forces.
During the launch, two boosters provided initial acceleration and a small turbo jet engine sustained high subsonic speed with long endurance.
The indigenous data link designed by Bengaluru based industry partner has been successfully flown and tested during the flight.
The aircraft is controlled from a ground based controller and indigenously developed MEMS-based (micro-electromechanical system) Inertial Navigation System along with the Flight Control Computer which helps it to follow the pre-designated path in a fully autonomous mode.
During the flight trial, high subsonic speed trajectory at a very low altitude with high endurance was demonstrated.
The performance of the system during the entire flight duration has been confirmed from the data captured by various range instruments deployed.
INS Vela Commissioned
---
INS Vela, the fourth submarine in the series of six submarines of Project-75, was commissioned on 25 Nov 21.
The Scorpene Class submarines are being built in India by the Mazagon Dock Shipbuilders Limited (MDL) Mumbai, under collaboration with M/s Naval Group (earlier DCNS), France.
The Scorpene submarines are extremely potent platforms, they have advanced stealth features and are also equipped with both long range guided torpedoes as well as anti-ship missiles. These submarines have a state of the art SONAR and sensor suite permitting outstanding operational capabilities. They also have an advanced Permanent Magnetic Synchronous motor (PERMASYN) as its propulsion motor.
The first of the six subs, INS Kalvari, was commissioned in 2017. After Kalvari, two more submarines under the contract, INS Khanderi and INS Karanj, were commissioned. Vela is the fourth, and sea trials are ongoing for Vagir, while the sixth, Vagsheer, is under construction.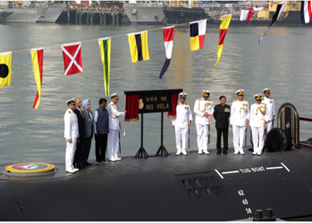 Y 12704 (Visakhapatnam): Navy Receives First Ship of 'Project 15B'
---
On 28th October 2021, Y 12704 (Visakhapatnam), the lead ship of Project 15B stealth guided missile destroyers being built at Mazgaon Docks Limited (MDL), was delivered to the Indian Navy.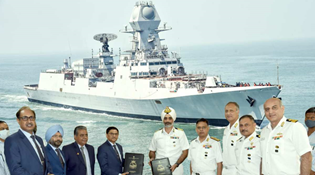 (Image Source: Indian Express)
The contract for four ships of Project 15B, as the Visakhapatnam class ships are known, was signed on 28 January 2011.
This project is a follow-on of the Kolkata class (Project 15A) destroyers commissioned in the last decade.
Designed by Directorate of Naval Design, Indian Navy's in-house design organisation; and built by M/s Mazagon Dock Shipbuilders Ltd, Mumbai; the four ships are christened after major cities from all four corners of the country viz. Visakhapatnam, Mormugao, Imphal and Surat.
The 163 metres long warship has a full load displacement of 7400 tonnes and maximum speed of 30 knots.
The overall indigenous content of the project is approx. 75%. Apart from myriad indigenous equipment in the 'Float' and 'Move' categories, the destroyer is also installed with major indigenous weapons which include:

Medium Range Surface-to-Air Missiles (BEL, Bangalore).
BrahMos Surface-to-Surface Missiles (BrahMos Aerospace, New Delhi).
Indigenous Torpedo Tube Launchers (Larsen & Toubro, Mumbai).
Anti-Submarine Indigenous Rocket Launchers (Larsen & Toubro, Mumbai).
76mm Super Rapid Gun Mount (BHEL, Haridwar).
Indigenous Long-Range Bomb Successfully Flight Tested
---
Defence Research and Development Organisation (DRDO) and Indian Air Force (IAF) team jointly flight tested indigenously developed Long-Range Bomb (LRB) successfully from an aerial platform on October 29, 2021.
The LR Bomb, after release from the IAF fighter aircraft, guided to a land-based target at a long range with accuracy within specified limits.
The LR Bomb has been designed and developed by Research Centre Imarat (RCI), a DRDO laboratory located at Hyderabad in coordination with other DRDO laboratories.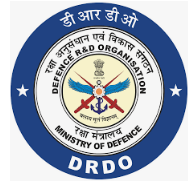 Indian Stealth Frigate 'Tushil' Launched in Russia
---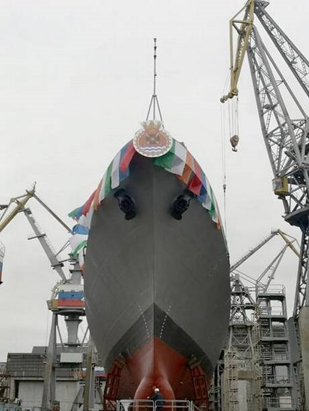 The 7th Indian Navy Frigate of P1135.6 class was launched on 28 Oct 2021 at Yantar Shipyard, Kaliningrad, Russia.
The ship was formally named as 'Tushil' - a Sanskrit word meaning Protector Shield.
Indo-Russian Agreement
Based on an Inter-Governmental Agreement (IGA) between the Government of Republic of India and Government of Russian Federation for construction of two ships of Project 1135.6 ships in Russia and two ships in India at M/s Goa Shipyard Limited (GSL), the contract for construction of two ships was signed between India and Russia in Oct 18.
Features of 'Tushil'
Three-Dimensional Warfare: The construction of these ships is based on Indian Navy's specific requirements to meet the entire spectrum of naval warfare in all three dimensions of Air, Surface and Sub-surface.
Indo-Russian Weaponry: The ships with a potent combination of state-of-art Indian and Russian Weapons and Sensors are equipped to operate in Littoral and Blue waters, both as a single unit and as consort in a naval task force.
Stealth Technology: They feature "stealth technology" in terms of low radar and under water noise signatures.
Major Indian Equipment: These ships are being equipped with major Indian supplied equipment such as Surface to Surface Missiles, Sonar system, Surface Surveillance Radar, Communication Suite and ASW system along with Russian Surface to Air Missiles and gun mounts.
Agni-5 successfully Test-fired
---
On 27th October 2021, a Surface to Surface Ballistic Missile (SSBM), Agni-5 was successfully tested at APJ Abdul Kalam Island, Odisha.
The missile, which uses a three-stage solid fuelled engine, is capable of striking targets at ranges up to 5,000 kilometres with a very high degree of accuracy with the speed of 24 Mach (24 times that of speed of sound).
The successful test of Agni-5 is in line with India's stated policy to have 'credible minimum deterrence' that underpins the commitment to 'No First Use'.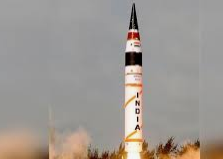 'Akash Prime' Test Fired Successfully
---
On 27th September 2021, a new version of the Akash Missile, 'Akash Prime' was successfully flight- tested from Integrated Test Range at Chandipur in Odisha.
In comparison to the existing Akash System, Akash Prime is equipped with an indigenous active Radio Frequency seeker for improved accuracy.
Other improvements also ensure more reliable performance under low temperature environments at higher altitudes.
Akash Prime system will further boost the confidence of the users Indian Army and Indian Air Force as the Akash system is already inducted and now getting improved with more lethal missiles.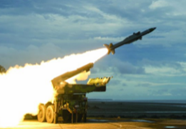 Source: DRDO

---