Indigenous Development of Light Tanks
---
India has given in-principle approval for indigenous design and development of light tanks for mountain warfare, a need for which was felt during the current stand-off with China at the Line of Actual Control (LAC).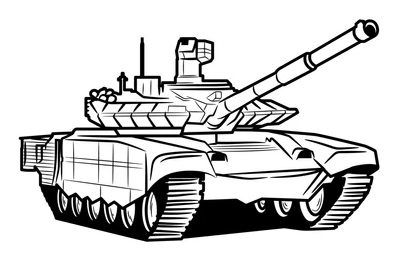 (Image Source: shutterstock.com)

The Russians had earlier offered its Sprut light tanks to the Indian Army — a proposal that is being considered — even as private firm Larsen and Toubro was working with the DRDO to convert the tracked 155 mm howitzer Vajra into a light tank.
The in-principle approval of light tank development forms part of the ministry's approval of nine defence projects. Four, including the light tank, come under the procedure's Make-I, or "government funded" project category, while the remaining five are under the Make-II, or "industry-funded" project category.
The ministry also approved the autonomous combat vehicle project and an integrated surveillance and targeting system for the Indian Army. The remaining approvals — full motion simulators for the Apache and Chinook helicopters — were given to the Indian Air Force.
DRDO Successfully Test-fires Abhyas
---
On 23rd December, 2021, Defence Research and Development Organisation (DRDO) successfully conducted the flight test of indigenously developed High-speed Expendable Aerial Target (HEAT) Abhyas.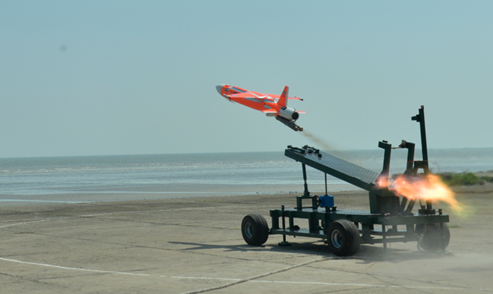 Abhyas
It was launched from Integrated Test Range (ITR), Chandipur, off the coast of Odisha.
Bengaluru based DRDO laboratory Aeronautical Development Establishment (ADE) along with other DRDO laboratories has developed this indigenous unmanned aerial target system to meet the requirement of aerial targets of Indian Armed Forces.
During the launch, two boosters provided initial acceleration and a small turbo jet engine sustained high subsonic speed with long endurance.
The indigenous data link designed by Bengaluru based industry partner has been successfully flown and tested during the flight.
The aircraft is controlled from a ground based controller and indigenously developed MEMS-based (micro-electromechanical system) Inertial Navigation System along with the Flight Control Computer which helps it to follow the pre-designated path in a fully autonomous mode.
During the flight trial, high subsonic speed trajectory at a very low altitude with high endurance was demonstrated.
The performance of the system during the entire flight duration has been confirmed from the data captured by various range instruments deployed.
INS Vela Commissioned
---
INS Vela, the fourth submarine in the series of six submarines of Project-75, was commissioned on 25 Nov 21.
The Scorpene Class submarines are being built in India by the Mazagon Dock Shipbuilders Limited (MDL) Mumbai, under collaboration with M/s Naval Group (earlier DCNS), France.
The Scorpene submarines are extremely potent platforms, they have advanced stealth features and are also equipped with both long range guided torpedoes as well as anti-ship missiles. These submarines have a state of the art SONAR and sensor suite permitting outstanding operational capabilities. They also have an advanced Permanent Magnetic Synchronous motor (PERMASYN) as its propulsion motor.
The first of the six subs, INS Kalvari, was commissioned in 2017. After Kalvari, two more submarines under the contract, INS Khanderi and INS Karanj, were commissioned. Vela is the fourth, and sea trials are ongoing for Vagir, while the sixth, Vagsheer, is under construction.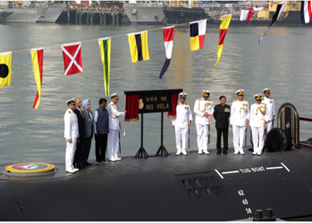 Y 12704 (Visakhapatnam): Navy Receives First Ship of 'Project 15B'
---
On 28th October 2021, Y 12704 (Visakhapatnam), the lead ship of Project 15B stealth guided missile destroyers being built at Mazgaon Docks Limited (MDL), was delivered to the Indian Navy.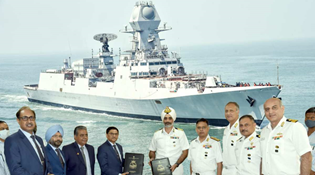 (Image Source: Indian Express)
The contract for four ships of Project 15B, as the Visakhapatnam class ships are known, was signed on 28 January 2011.
This project is a follow-on of the Kolkata class (Project 15A) destroyers commissioned in the last decade.
Designed by Directorate of Naval Design, Indian Navy's in-house design organisation; and built by M/s Mazagon Dock Shipbuilders Ltd, Mumbai; the four ships are christened after major cities from all four corners of the country viz. Visakhapatnam, Mormugao, Imphal and Surat.
The 163 metres long warship has a full load displacement of 7400 tonnes and maximum speed of 30 knots.
The overall indigenous content of the project is approx. 75%. Apart from myriad indigenous equipment in the 'Float' and 'Move' categories, the destroyer is also installed with major indigenous weapons which include:

Medium Range Surface-to-Air Missiles (BEL, Bangalore).
BrahMos Surface-to-Surface Missiles (BrahMos Aerospace, New Delhi).
Indigenous Torpedo Tube Launchers (Larsen & Toubro, Mumbai).
Anti-Submarine Indigenous Rocket Launchers (Larsen & Toubro, Mumbai).
76mm Super Rapid Gun Mount (BHEL, Haridwar).
Indigenous Long-Range Bomb Successfully Flight Tested
---
Defence Research and Development Organisation (DRDO) and Indian Air Force (IAF) team jointly flight tested indigenously developed Long-Range Bomb (LRB) successfully from an aerial platform on October 29, 2021.
The LR Bomb, after release from the IAF fighter aircraft, guided to a land-based target at a long range with accuracy within specified limits.
The LR Bomb has been designed and developed by Research Centre Imarat (RCI), a DRDO laboratory located at Hyderabad in coordination with other DRDO laboratories.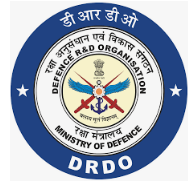 Indian Stealth Frigate 'Tushil' Launched in Russia
---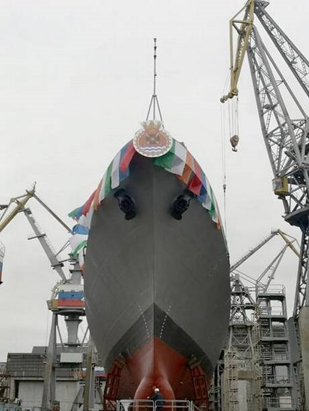 The 7th Indian Navy Frigate of P1135.6 class was launched on 28 Oct 2021 at Yantar Shipyard, Kaliningrad, Russia.
The ship was formally named as 'Tushil' - a Sanskrit word meaning Protector Shield.
Indo-Russian Agreement
Based on an Inter-Governmental Agreement (IGA) between the Government of Republic of India and Government of Russian Federation for construction of two ships of Project 1135.6 ships in Russia and two ships in India at M/s Goa Shipyard Limited (GSL), the contract for construction of two ships was signed between India and Russia in Oct 18.
Features of 'Tushil'
Three-Dimensional Warfare: The construction of these ships is based on Indian Navy's specific requirements to meet the entire spectrum of naval warfare in all three dimensions of Air, Surface and Sub-surface.
Indo-Russian Weaponry: The ships with a potent combination of state-of-art Indian and Russian Weapons and Sensors are equipped to operate in Littoral and Blue waters, both as a single unit and as consort in a naval task force.
Stealth Technology: They feature "stealth technology" in terms of low radar and under water noise signatures.
Major Indian Equipment: These ships are being equipped with major Indian supplied equipment such as Surface to Surface Missiles, Sonar system, Surface Surveillance Radar, Communication Suite and ASW system along with Russian Surface to Air Missiles and gun mounts.
Agni-5 successfully Test-fired
---
On 27th October 2021, a Surface to Surface Ballistic Missile (SSBM), Agni-5 was successfully tested at APJ Abdul Kalam Island, Odisha.
The missile, which uses a three-stage solid fuelled engine, is capable of striking targets at ranges up to 5,000 kilometres with a very high degree of accuracy with the speed of 24 Mach (24 times that of speed of sound).
The successful test of Agni-5 is in line with India's stated policy to have 'credible minimum deterrence' that underpins the commitment to 'No First Use'.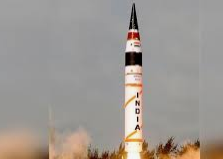 'Akash Prime' Test Fired Successfully
---
On 27th September 2021, a new version of the Akash Missile, 'Akash Prime' was successfully flight- tested from Integrated Test Range at Chandipur in Odisha.
In comparison to the existing Akash System, Akash Prime is equipped with an indigenous active Radio Frequency seeker for improved accuracy.
Other improvements also ensure more reliable performance under low temperature environments at higher altitudes.
Akash Prime system will further boost the confidence of the users Indian Army and Indian Air Force as the Akash system is already inducted and now getting improved with more lethal missiles.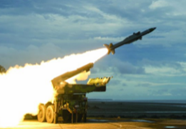 Source: DRDO

---