Current News - National - Defence
'Akash Prime' Test Fired Successfully
---
On 27th September 2021, a new version of the Akash Missile, 'Akash Prime' was successfully flight- tested from Integrated Test Range at Chandipur in Odisha.
In comparison to the existing Akash System, Akash Prime is equipped with an indigenous active Radio Frequency seeker for improved accuracy.
Other improvements also ensure more reliable performance under low temperature environments at higher altitudes.
Akash Prime system will further boost the confidence of the users Indian Army and Indian Air Force as the Akash system is already inducted and now getting improved with more lethal missiles.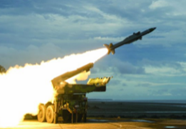 Source: DRDO

---