PM Narendra Modi And Xi Jinping Meet
Why is it in News?
The two leaders met in Bishkek, the capital of Kyrgyzstan, on 13 June where they will participate in the Shanghai Cooperation Organisation (SCO) summit.
Relevance of the News: The meeting between the two leaders and their deliberations mark an important event in India-China bilateral relations.
Highlights of the Meeting between two Leaders:
Both agreed to expedite the dialogue on the India-China boundary talks in order to reach at a fair solution to the issue.
Special Representatives have been asked to expedite the discussion in this regard for achieving reasonable and mutually acceptable solution.
The last round of talks were held in November 2018, when Ajit Doval of India and Wang Yi of China met in Chengdu, China for the 21st round of talks between the Special Representatives. The border dispute dates back to the 1962 India-China war and even after 21 rounds of talks results have not yielded.
Both leaders agreed that the approach to the border issue should be "constructive", keeping in mind the ties between both sides in the coming years.
Xi highlighted the need for regional cooperation and connectivity and hailed the Bangladesh-China-India-Myanmar (BCIM) economic corridor as an example for expanding the India-China ties, which had entered a "new phase" after the Wuhan informal summit.
The two sides agreed to celebrate the 70th anniversary of their diplomatic ties in a "fitting manner" by holding 70 events – 35 each – in both countries. India acknowledged Chinese efforts in getting Masood Azhar listed at the UN.
Wuhan Summit:
Wuhan summit was an informal and agendaless meeting between the Indian PM and Chinese President Xi Jinping held in 2018. It is of great significance as it marked the start of new India-China relations after the bilateral ties soured by the 73-day Doklam standoff.
By definition, informal summits lack the protocol and ceremony of formal ones, including delegation-level talks and a pre-set agenda for discussions.
Bangladesh-China-India-Myanmar (BCIM)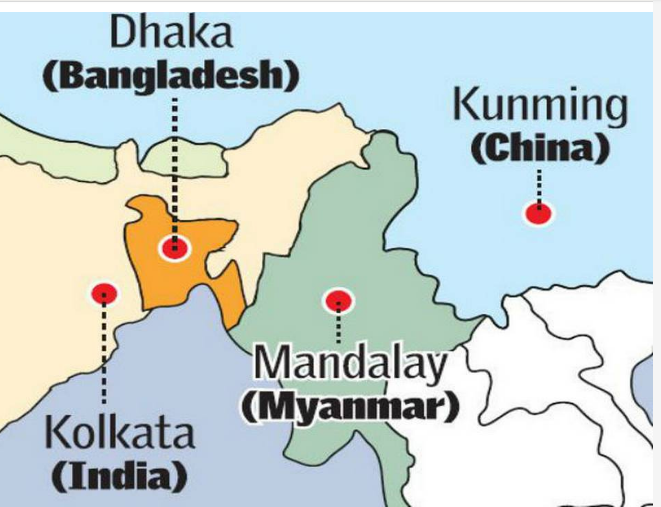 BCIM is a proposed multi-modal economic corridor which will be the first expressway between India and China and will pass through Myanmar and Bangladesh.
The corridor will cover 1.65 million square kilometers, encompassing China's Yunnan Province, Bangladesh, Myanmar and Bihar in Northern India through the combination of road, rail, water and air linkages in the region.
Its advantages will be accrued from greater market access for goods, services and energy, elimination of non-tariff barriers, better trade facilitation, joint exploration and development of natural resources.
It seeks to develop value and supply chains by translating comparative advantages into competitive advantages, and through closer people to people contact.
Earlier BCIM was a part of the Belt and Road Initiative, however recently it has been removed from the BRI by China after India's decision to not participate in the Second BRI Forum held last month.
Source : The Hindu