First Mega Food Park In Telangana Inaugurated
Recently, the first Mega Food Park (MFP) in Telangana located in the village Lakkampally, NandipetMandal of Nizamabad district was inaugurated making it the 17thoperational food Park in the country.
The Park will provide direct and indirect employment to 50,000 youth and benefit about 1 lakh farmers.
Mega Food Park Scheme (MFPS)
MFPS is the flagship program of the Ministry of Food Processing Industries which proposes a demand driven/pre-marketed model with strong backward/forward linkages and sustainable supply chain.
These parks are being implemented by the government under its Scheme for Agro-Marine Processing and Development of Agro-Processing Clusters (SAMPADA) and the Make in India initiatives.
It is based on "Cluster" approach and envisages creation of state of art support infrastructure in a well-defined agri-horticultural zone for setting up of modern food processing units with well-established supply chain.
It is implemented by a Special Purpose Vehicle (SPV) which is a Body Corporate registered under the Companies Act.
Features
A Mega Food Park located in the area of a minimum of 50 acres work in a cluster based approach based on a Hub and Spoke model.This includes a Central Processing Centre (CPC), which is the Hub, and Primary Processing Centres (PPCs) and Collection Centres (CCs), which act as the Spokes.
It includes common facilities and enabling infrastructure at Central Processing Centre like modern warehousing, cold storage, IQF, sorting, grading, packaging, pulping, ripening chambers and tetra packaging units roads, electricity, water, effluent treatment plant( ETP)facilities etc.
State Government, State Government entities and Cooperatives are not required to form a separate SPV for implementation of Mega Food Park project.
Under the scheme, the Centre provides financial assistance of up to Rs 50 crore.
Aims
To facilitate establishment of integrated value chain, with processing at the core and supported by requisite forward and backward linkage.
Providing a mechanism to link agricultural production to the market by bringing together farmers, processors and retailers.
To ensure maximizing value addition, minimizing wastage, increasing farmers income and creating employment opportunities particularly in rural sector.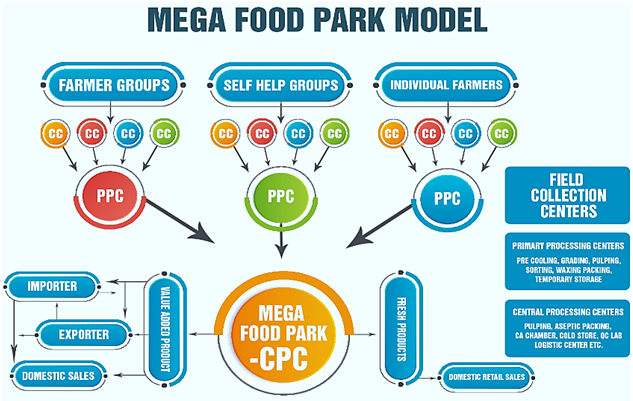 16 Mega Food Parks Operational in India
Srini Mega Food Park, Chittoor, Andhra Pradesh.
Godavari Mega Aqua Park, West Godavari, Andhra Pradesh.
North East Mega Food Park, Nalbari, Assam.
Gujarat Agro Mega Food Park, Surat, Gujarat.
Cremica Mega Food Park, Una, Himachal Pradesh.
Integrated Mega Food Park, Tumkur, Karnataka.
Indus Mega Food Park, Khargoan, Madhya Pradesh.
Paithan Mega Food Park, Aurangabad, Maharashtra.
Satara Mega Food Park, Satara, Maharashtra.
MITS Mega Food Park, Rayagada, Odisha.
International Mega Food Park, Fazilka, Punjab.
Greentech Mega Food Park, Ajmer, rajasthan.
Patanjali Food and Herbal Park, Haridwar, Uttarakhand.
Himalayan Mega Food Park, Udham Singh Nagar, Uttarakhand.
Jangipur Bengal Mega Food Park, Murshidabad, West Bengal.
Tripura Mega Food Park, West Tripura, Tripura.
Benefits
Modern infrastructure for food processing at the park would benefit the farmers, growers, processors and consumers immensely and prove to be a big boost to the growth of the food processing sector in the country.
Benefit to local population through full/partial direct and indirect employment generation
New employment opportunities within rural areas which will reduce rural-urban migration, unplanned urbanisation, slums/social problems in cities
Provide efficient supply chain management from farm gate to retail outlet.
Elimination/reduction in the layers of the middle-men, training and technology transfer.
Farmers can utilise the cold storages, ripening chambers, and warehouses. So, less wastage of productsand no distress sales, leading to higher income.
Benefit to Industry by helping in value addition by providing modern common infrastructure facilities, induction of advanced technology and exporting opportunities.
Benefit to traders through increase in product range and better quality and to consumers through availability of better products at lesser price.
Food entrepreneur can establish backward linkages (with farmers) and forward linkage (with retailers) which will provide compact supply chain and more profits.
Quality assurance of processed food products through better process control and meeting of environmental and safety standards are other major benefits of MFPs.
Significance
The MFPShelps in delivering a major impetus to the food processing sector by adding value and reducing food wastage at each stage of the supply chain with particular focus on perishables.
It helps in providing an environment that is smooth, transparent and easy for investors wanting to start an enterprise in India and in a bid to make India a resilient food economy.
Challenges to MFPS
Land AcquisitionIssues:Like most other infrastructure projects, the key challenge in setting up food parks lies in land acquisition. Most of the projects have failed to take off mainly because of the bottlenecks involved in land acquisition. For example, land acquisition is a problem in West Bengal as the West Bengal Land Reforms Act of 1955, puts a land ceiling limit of 24.7 acreson a piece of land for industrial use.
Financial Issues:Financial issues are found to be one of major reasons for incomplete Mega Food Park projects. One of the main reasons has been the failure of the promoters in raising finance for the MFPs as they have difficulties in convincing the banks about the new concept and hence failed to secure loans required for mounting the projects. The other challenge is in being able to attract the right set of tenants, basically, manufacturers and ancillary players, who can come forward and set up base in a food park.
Issues Related to Clearances:The process of creating infrastructure involves state clearances and approvals from different organisations like power, water, sanitation and environment. Often, projects get delayed due to non-approvals and in coordination with various state agencies. For examples, it took both Jharkhand Mega Food Park Private Limited and India Mega Food Park Private Limited, 36 months to get permission for sub-leasing of land and Satara Mega Food Park Private Limited (Maharashtra) and International Mega Food Park Limited reported facing issues in getting environmental clearance from the state.
Issues Related to Single Window Clearances: Even though single window facility exists in almost all states, yet they failed to provide timely and holistic clearances. For example, Integrated Food Park Private Limited (Karnataka) had to approach multiple departments to get respective approvals and clearances in-spite of presence of fast track single window clearance agency.
High Rental Issues:In order to create world class facilities, all the food parks has to import machineries from abroad which are expensive. Hence the rent or the lease amount for these facilities is also expected to be high. Even if the PPC has a state of the art infrastructure the users may not be willing or may not have the ability to pay a high rental.
Way Forward
The government is focused on boosting the food processing industry so that agriculture sector grows exponentially and becomes a major contributor to doubling farmer's income and Make in India initiative.
The timely completion of MFPswill provide a big boost to the growth of the food processing sector in the concerned state, help in providing better price to farmers and creating huge employment opportunities especially in rural areas. These will also help in stabilizing prices of food products and contain inflation in the country. Should it falter, it will only be adding yet another layer of middlemen which would make the scheme more of a liability than a panacea.