Mahila Kisan Sashaktikaran Pariyojna – Step Towards Feminization Of Agriculture
The Department of Rural Development, Ministry of Rural Development is implementing Mahila Kisan Sashaktikaran Pariyojana (MKSP) to empower women in agriculture by making systematic investments to enhance their participation and productivity.
Need For MKSP
Women in Agriculture are generally not able to access extension services and production assets like seed, water, credit, subsidy etc. As most of them are not recognized as farmers for want of ownership of land, they are not considered as beneficiaries of various government programmes/services.
The wage differentials between men and women being adverse to them, the situation are further aggravated. Some of the tasks performed by the women are not valued adequately and considered less important economically.
Further, due to multiple roles that a woman has to perform within the family and the farm, her access to knowledge and information, is constrained and therefore her opportunities get limited.
Mahila Kisan Sashaktikaran Pariyojna (MKSP)
Launched in 2010-11, MKSP is a sub-component of Deendayal Antyodaya Yojana-National Rural Livelihood Mission (DAY-NRLM).
To improve the present status of women in Agriculture, and to enhance the opportunities for her empowerment, MKSP recognizes the identity of "Mahila" as "Kisan" and strives to build the capacity of women in the domain of agro-ecologically sustainable practices.
Objectives
To create sustainable agricultural livelihoods opportunities for women in agriculture
To enhance the participation of women in agriculture in productive manner
To enhance the managerial capacities of women in agriculture for better management of bio-diversity
To improve the skills and capabilities of women in agriculture to support farm and non-farm-based activities.
To improve the capacities of women in agriculture to access the resources of other institutions and schemes with a convergence framework.
Salient Features
Focus Area
The focus of MKSP is on capacitating smallholders to adopt sustainable climate resilient agro-ecology.
It focuses mainly on two themes: Sustainable agriculture and enhance livelihood of Non-timber forest producers (NTFP).
Sustainable agriculture practices include Community Managed Sustainable Agriculture (CMSA), Non Pesticide Management (NPM), Zero Budget Natural Farming (ZBNF), Pashu-Sakhi model for doorstep animal care services.
Implementation Strategy
MKSP projects implemented by partners- Community based Organisations(CBOs) and NGOs.
Promoting sustainable models on agriculture, Livestock and targeting the Ultra-Poor
Creating social capital (Community Resource Persons/Pashu Sakhis/ Skilled extension workers)
Scaling up successful Ultra-Poor models with the help of the social capital
Funding
Ministry of Rural Development (MoRD) provides funding support of up to 75% (90% for North East and hill states) to the project submitted by the State Governments under MKSP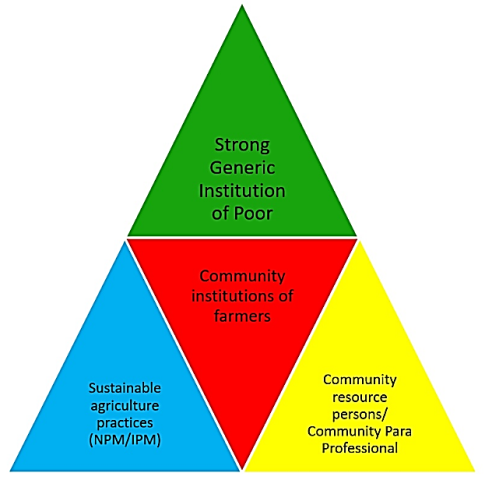 Significance
Skill Enhancement: The MKSP will enhance the skill base of the women in Agriculture to enable them to pursue their livelihoods on a sustainable basis.
Benefits to Vulnerable Women Group: The MKSP will strategize in a manner to target the Poorest of the Poor and most vulnerable women such as SC/ST, minorities, landless and the Primitive Tribal Groups.
Way Forward
Rural women play a significant and crucial role in agricultural development and allied fields including in the main crop production, livestock production, horticulture, post-harvest operations, agro/social forestry, fisheries, etc.
Rural women form the most productive work force in the economy of majority of the developing nations including India.
Maximum participation of women in agriculture will lead to the sustainable development agriculture, rural economy and the country on the whole.