Saansad Adarsh Gram Yojana
According to the Ministry of Rural Development, only 252 MPs have adopted gram panchayats under Phase-4 of Saansad Adarsh Gram Yojana(SAGY) -208 members of Lok Sabha and 44 members of Rajya Sabha.
Saansad Adarsh Gram Yojana
Also known as the Model Village Programme, it was launched on 11th October, 2014 on the birth anniversary of LokNayak Jai Prakash Narayan, in New Delhi.
The goal was to develop three Adarsh Grams by March 2019, of which one was to be achieved by 2016. There after, five such Adarsh Grams (one per year) will be selected and developed by 2024.
Aim
To translate Gandhi's vision of an ideal Indian village into reality
Main Objectives
To trigger processes which lead to holistic development of the identified Gram Panchayats
To substantially improve the standard of living and quality of life of all sections of the population through

improved basic amenities
enhanced human development
better livelihood opportunities
reduced disparities
access to rights and entitlements
wider social mobilization

To nurture the identified Adarsh Grams as schools of local development to train other Gram Panchayats
Approach
In order to achieve these objectives, SAGY would be guided by the following approach:
Leveraging the leadership, capacity, commitment and energy of the Members of Parliament (MP) to develop model Gram Panchayats (GP).
Engaging with and mobilizing the community for participatory local level development.
Converging different government programmes and private and voluntary initiatives to achieve comprehensive development in tune with people's aspirations and local potential.
Building partnerships with voluntary organisations, co-operatives and academic and research institutions.
Focusing on outcomes and sustainability.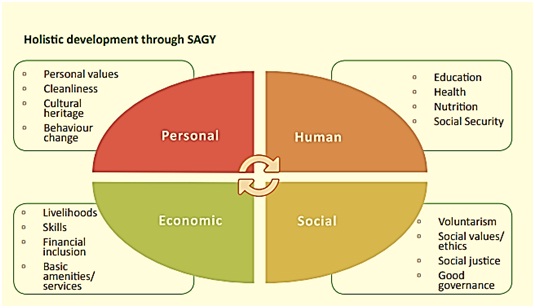 Progress till Date
In Phase-1 of SAGY, 703 MPs had adopted gram panchayats but that number went down to 497 in Phase-2 and 301 in Phase-3, showing a gradual decline in subsequent phases.
The latest data shows that more than six months after the formation of the 17th Lok Sabha, about two-thirds of the members of the Lower House are yet to select a gram panchayat under Phase-4.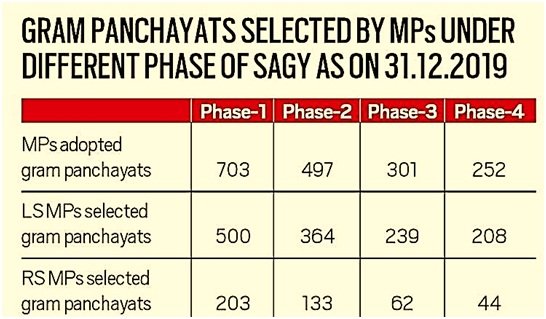 Source:India Express
Issues with SAGY
No Dedicated Fund
A major drawback is that there is no separate fund for this scheme by the government. MPs have to funnel money to adopted villages through the convergence of 21 ongoing schemes such as Indira Awaas Yojana for rural housing, Pradhan Mantri Gram Sadak Yojana, Mahatma Gandhi National Rural Employment Gurantee Act, etc. Lack of funds is the primary reason behind the low interest in the village adoption scheme.
Selection of Village:
According to the guidelines, an MP can select any village except his own village or his spouse's village. This makes very difficult for an MP to select the villages in his constituency and ignore the others.
However, in urban areas, even the selection of villages is a complicated process since most villages identified by MPs don't meet the SAGY guidelines.
Monitoring Issue
It has been difficult for MPs to monitor the on-ground development on a regular basis, in the absence of a platform where they can oversee the progress on different interventions, specified in the Village Development Plan (VDP) as well as irregular meetings of the district level committee.
Implementation Issue
While the SAGY talks about convergence and effective utilisation of available Central and state schemes, most MPs raise the point that it is extremely difficult to know about the provisions under each scheme and the structure and framework for its implementation on the ground.
Also in most cases, the VDP has not been prepared in accordance with the guidelines of the programme.
Lack of Coordination
Lack of coordination among different ministries, departments, schemes of central government, state government and the private sector is one of the major issues, further holding back MPs to adopt villages.
Lack of Participation
SAGY is meant to focus on community participation. In fact, it is plagued by the lack of participation of all sections of society, especially the marginalized and the aged group, limiting the scope of the scheme.
Way Forward
For meaningful change through SAGY, motivation of MP is crucial but proactiveness of the panchayat and villagers is also necessary. The government must work towards resolving the underlying issues with SAGY, in order to make the scheme holistic and achieve its desired goal of making the village of country, a model village.