---
Ranking Of States On Support To Startup Ecosystems
---
On 11th September, 2020, the Ministry of Commerce & Industry released the second edition of Ranking of States on Support to Startup Ecosystems-2019, conducted by the Department for Promotion of Industry and Internal Trade (DPIIT).
A total of 22 states and 3 Union Territories participated in the exercise, including four states from North East India.
Objectives
To help bring to fore progress made by the States/ UTs for promoting Startup ecosystem
To foster competitiveness & propel the States/ UTs to work proactively
To facilitate States/ UTs to identify, learn and replicate good practices
About States Startup Ranking 2019
Intervention Areas
The framework is spread across 7 areas of intervention with a total of 30 action points, as compared to the 38 action points in previous years' Ranking Framework.
7 Pillar wise Participation of States
It cover parameters such as Institutional Support, Simplifying Regulations, Ease in Public Procurement, Incubation Support, Seed Funding support, Venture Funding support, and Awareness and Outreach.
Categorization
To establish uniformity and ensure standardization in the ranking process, States and UTs have been divided into two groups.

Category X: All other States and UT of Delhi.
Category Y: All UTs except Delhi and all States in North East India except Assam.

For the purposes of Ranking, States are classified into 5 Categories:

Best Performers
Top Performers
Leaders
Aspiring Leaders
Emerging Startup Ecosystems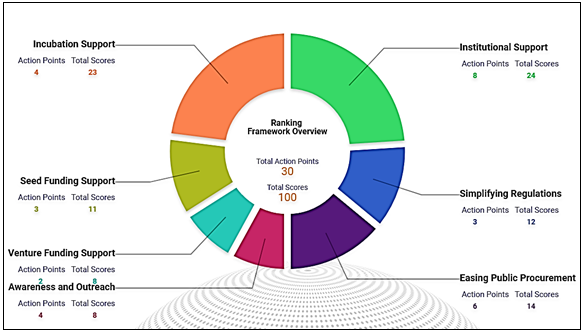 Source: DPIIT
Results
Category X
Best Performer: Gujarat (State), Andaman & Nicobar Islands (UT)
Top Performers: Karnataka and Kerala
Leaders: Bihar, Maharashtra, Odisha, Rajasthan, Chandigarh
Aspiring Leaders: Haryana, Jharkhand, Punjab, Telangana, Uttrakhand
Emerging Startup Ecosystem: Andhra Pradesh, Assam, Chhattisgarh, Delhi, Himachal Pradesh, Madhya Pradesh, Sikkim, Tamil Nadu, Uttar Pradesh
Category Y
Best Performer: Andaman and Nicobar Islands
Leader: Chandigarh
Aspiring Leader: Nagaland
Emerging Startup Ecosystems: Mizoram, Sikkim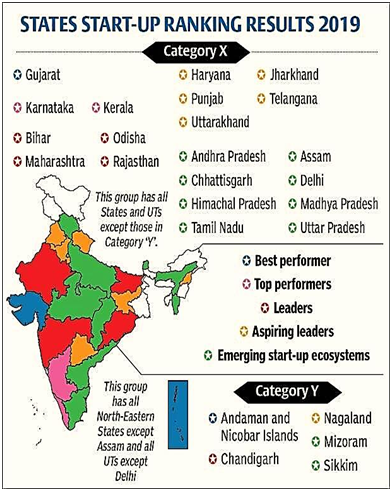 Source: DPIIT
Significance
The ranking will not help the states and UTs, but also the entrepreneurs, and will help in expansion of the startups and launching of new ventures.
Implemented as capacity development exercise, it will help to encourage mutual learning among all states and to provide support in policy formulation and implementation.
Startup
A startup venture could be defined as, a new business that is in the initial stages of operation, beginning to grow and is typically financed by an individual or small group of individuals.
An entity will be considered a startup if it fulfils overarching conditions mentioned below:
Entity Type
Incorporated as a private limited company (as defined in the Companies Act, 2013) or
Registered as a partnership firm (registered under section 59 of the Partnership Act, 1932) or
Registered as a limited liability partnership (under the Limited Liability Partnership Act, 2008) in India.
Age
10 years from date of incorporation.
Turnover
Must not exceed one hundred crore rupees in any fiscal year.
Nature of Activity
Given that the entity is working towards-
Innovation
Development or improvement of products or processes or services
Scalability
Job Creation
Wealth Creation
Opportunities for Startups
Indian markets provide numerous opportunities for startups.
India's Large Population: The population of India is a huge asset for the country. By 2020, it is expected that the working age population would surpass the non-working population. This unique demographic advantage will offer a great opportunity to any startup. Various infrastructure issues and the bottom- of the- pyramid market would provide huge opportunities for the startups.
Change of Mind Set of Working Class: Traditional career paths will be giving way to Indian startup space. Challenging assignments, good compensation packages would attract talented people to startups. Also, it is seen that several high-profile executives are quitting their jobs to start or work for startups.
Huge Investments in Startups: The startup ecosystem is getting substantial support from foreign and Indian investors, who have shown more faith in the industry and have provided funds to help these companies to grow leaps and bounds.
Government Initiatives: Government and semi-governmental initiatives are currently supporting startups through infrastructure, financial and technical assistance and easier compliance norms.
Startup Landscape in India
Some key outcomes of the India's startup growth story as on 31st March 2020 are as follows –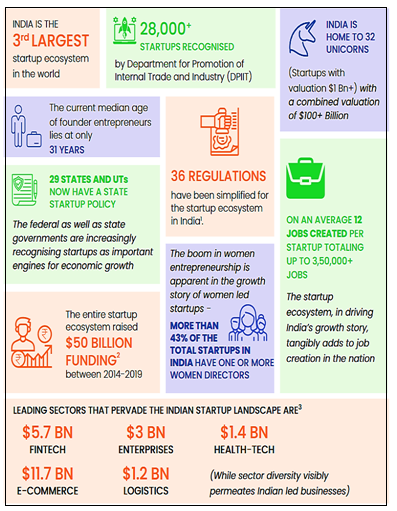 Source: DPIIT
Issues and Challenges of Startups
Dearth of Financial Resources:Availability of finance is critical for the startups and is always a problem to get sufficient amounts.Proper cash management is critical for the success of the startups. A recent report paints a gloomy picture with 85% of new company's reportedly underfunded indicating potential failure
Poor Revenue Generation: Several startups fail due to poor revenue generation as the business grows. As the operations increase, expenses grow with reduced revenues forcing startups to concentrate on the funding aspect. Therefore, the challenge is not to generate enough capital but also to expand and sustain the growth.
Supporting Infrastructure: Various support mechanisms that play asignificant role in the life cycle of startups which include incubators, science and technology parks, business development centers etc. Lack of access to such support mechanisms increases the risk of failure.
Lack of Awareness in Markets: Startups fail due to lack of attention to limitations in the markets. The environment for a startup is usually more difficult than for an established firm due to uniqueness of the product.
Complex Regulatory Environment: Starting a business requires a number of permissions from government agencies. Despite the perceptible change in recent years, it is still a challenge to register a company. Further, regulations pertaining to labor laws, intellectual property rights, dispute resolution etc. are rigorous in India.
Lack of Mentor ship:Lack of proper guidance and mentor ship is one of the biggest problems that exist in the Indian startup ecosystem. Most of startups have brilliant ideas and/or products, but have little or no industry, business and market experience to get the products to the market.
Lack of an Effective Branding Strategy:Absence of an effective branding strategy is another issue that prevents startups from flourishing. Branding is of paramount importance for startups as it gives an identity and occupies a space in the consumers' minds.
Recent Regulatory Reforms towards Startups
Ministry of Corporate Affairs has introduced the Companies Fresh Start Scheme in March 2020 to provide a first of its kind opportunity to Companies to make good any filing related defaults, irrespective of the duration of default, and make a fresh start as a fully compliant entity.
As part of the Government of India's Ease of Doing Business (EODB) initiative, the Ministry of Corporate Affairs has launched a new integrated Web Form christened 'SPICe+' replacing the existing SPICe form. SPICe+ would offer 10 services by 3 Central Govt Ministries & Departments (Ministry of Corporate Affairs, Ministry of Labour & Department of Revenue in the Ministry of Finance) and One State Government(Maharashtra), thereby saving as many procedures, time and cost for Starting a Business in India.
Introduction of Companies (Incorporation) 5th Amendment Rules, 2019, which provides for new regulations on resemblance with an existing company name, new categories of undesirable names of a company and list of words which can beused only after obtaining approval.
The Ministry of Corporate Affairs issued a notification in August 2019 increasing the period in which ESOPs could be granted to promoters and directors(holding more than 10% equity) of startups, from 5 years to 10 years from the date of incorporation and the rebyaligned the provisions of the Companies (Share Capital and Debentures).
Amendment in Section 54GB of Income Tax Act w.e.f 1 April 2020 (August 2019).
Amendment in Section 79 of the Income Tax Act (August 2019).
The investment made by Venture Capital Fund of Category-I Alternate Investment Fund(AIF) in a startup was exempted from the applicability of the provisions of section 56(2)(viib) of the IT Act. This exemption has been extended to all sub-categories of Category-I AIF and Category-II AIF via the introduction of "specified funds" in the said section (August 2019).
The Finance Act 2020 provides for amendment in section 80-IAC to provide for income tax exemption to eligible startups for a period of three consecutive assessment years out of ten years vis-à-vis the earlier norm of seven years such that the turnover does not exceed hundred crore rupees.
The Finance Act 2020 provides for amendment in section 80-IAC to provide for income tax exemption to eligible startups for a period of three consecutive assessment years out of ten years whose turnover does not exceedhundred crore rupees vis-à-vis the earlier norm of twenty-five crore rupees.
Amendment in the definition of a Startup: An entity shall be considered as a Startup upto a period of ten years from the date of incorporation/ registration and turnover of the entity for any of the financial years since incorporation/registration has not exceeded one hundred crore rupees. (February 2019).
Government Initiatives
Aatmanirbhar Bharat ARISE-Atal New India Challenge (ANIC) Program
Launched on 9th September, 2020, the Aatmanirbhar Bharat ARISE-Atal New India Challenge (ANIC) Program, launched by the government, is a national initiative to promote research & innovation and increase competitiveness of Indian startups and Micro, Small and Medium Enterprises (MSMEs).
AIM-iCREST
Launched by Atal Innovation Mission (AIM) in July, 2020, it is an Incubator Capabilities Enhancement program for a Robust Ecosystem focused on creating high performing Startups.
It has been designed to act as a growth support for AIM's Atal and Established Incubators across the country.
National Startup Advisory Council
Startup India
Announced by the government on 15th August 2015, the initiative aims to build a strong eco-system for nurturing innovation and Startups in the country that will drive sustainable economic growth and generate large scale employment opportunities.
To achieve the objectives of the Startup India initiative, an Action Plan for Startup India on 16th January 2016. The Action Plan comprises of 19 action items spanning across areas such as "Simplification and handholding", "Funding support and incentives" and "Industry academia partnership and incubation".
Make in India
Launched in 2014, its ultimate aim is to transform India into a global design and manufacturing hub. This initiative facilitates investments, skill development, encourages innovation, protect intellectual property rights to achieve this objective.
Mudra Yojna
Through this scheme, startups get loans from the banks to set up, grow and stabilize their businesses.
SETU (Self-Employment and Talent Utilization) Fund
Government has allotted Rs 1,000 Cr in order to create opportunities for self-employment and new jobs mainly in technology-driven domains.
E-Biz Portal
Government launched e-biz portal that integrates 14 regulatory permissions and licenses at one source to enable faster clearances and improve the ease of doing business in India.
Way Forward
Startups are currently an important asset that needs to be supported through fast-paced infrastructure growth. Additionally, the government must push banks and other financial institutions to give low-interest loans to innovative startups. These startups must be given free training so that they can survive the competitive market.
India has a huge demographic base. The lack of necessary skills and education are preventing India from realising the human capital's potential. Reforms in these aspects is a need of the hour.
As part collective initiative, the Centre and States would need to work together and build required infrastructure, dedicated system, pool of intellect and financial resources for all age groups.
Reforms must be made to the current restrictive legislative structure and regulatory norms in a way that allows the startups to flourish and develop across the country.