---
Composite Water Management Index 2.0
---
On 23rd August, 2019, the National Institute for Transforming India (NITI) Aayog released the 2nd edition of Composite Water Management Index (CWMI) 2.0.
This index has been prepared by NITI Aayog in partnership with Ministry of Jal Shakti, Ministry of Rural Development and all the States/ Union Territories.
Objectives
To keep tab on the momentum on management of water.
To supplement the efforts of Jal Shakti Ministry towards Jal Sanchay, Jal Sanrakshan and Jal Sinchan across the country.
About the CWMI 2.0
The CWMI-2019 measures the performance of States on a comprehensive set of water indicators and reports relative performance in 2017-18 as well as trends from previous years (2015-16 & 2016-17).
The Index comprises of 9 themes, and covers 25 states and 2 UTs.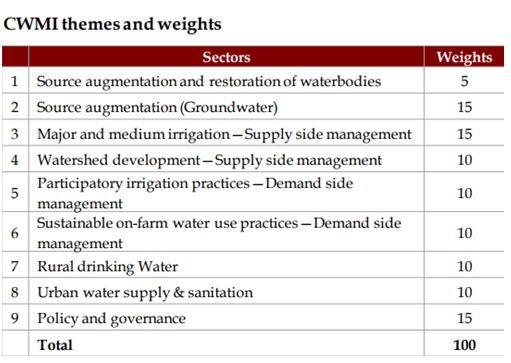 The nine themes are further sub-divided into 28 indicators which account for equal weightages within respective themes.
Critical areas such as source augmentation; major and medium irrigation; watershed development; participatory irrigation practices; sustainable on-farm water use practices; rural drinking water; urban water supply and sanitation; and policy & governance have been accorded high priority.
Composite Water Management Index (CWMI)
In 2018, NITI Aayog developed the Composite Water Management Index (CWMI) to enable effective water management in Indian states in the face of extreme water stress.
Objectives
To establish a clear baseline and benchmark for state-level performance on key water indicators.
To uncover and explain how states have progressed on water issues over time, including identifying high-performers and under-performers, thereby inculcating a culture of constructive competition among states.
To identify areas for deeper engagement and investment on the part of the states.
Key Findings of the Report
Gujarat hold on to its rank one in the reference year (2017-18), followed byAndhra Pradesh, Madhya Pradesh, Goa, Karnataka and Tamil Nadu.
In North Eastern and Himalayan States, Himachal Pradesh has been adjudged number 1 in 2017-18 followed by Uttarakhand, Tripura and Assam.
The Union Territories have first time submitted their data and Puducherry has been declared as the top ranker.
In terms of incremental change in index (over 2016-17 level), Haryana holds number one position in general States and Uttarakhand ranks at first position amongst North Eastern and Himalayan States.
On an average, 80% of the states assessed on the Index over the last three years have improved their water management scores, with an average improvement of +5.2 points.
Jharkhand, Uttar Pradesh, Odisha, Bihar, Nagaland, and Meghalaya still scoreless than 40 points.
Uttar Pradesh, Rajasthan, Kerala, and Delhi, 4 of the top 10 contributors to India'seconomic output, have scores ranging from 20 points to 47 points.
None of the top 10 agricultural producers in India, except Gujarat and Madhya Pradesh, score more than 60 points on the CWMI.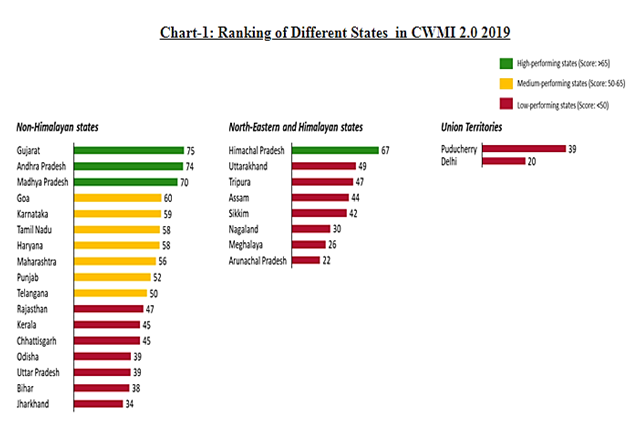 Significance
Tool of Assessment:It is an important tool to track performance in the water sector and take corrective measures timely for achieving better outcomes thereby meeting the citizens' expectations satisfactorily.
Helps in Better Water Management:It would provide useful information for the States and also for the concerned Central Ministries/Departments enabling them to formulate and implement suitable strategies for better management of water resources. This benchmarking exercise can go a long way in creating a common frame for progress for water in India and also highlight the need for specific improvements.
Encouraging Cooperative Federalism: It represents a major step towards creating a culture of data-based decision-making for water in India, which can encourage competitive and cooperative federalism in the country's water governance and management.
State Water Conservation Models
Mukhya Mantri Jal Swavlambhan Abhiyan , Rajasthan
Launched in 2016, it is a multi-stakeholder programme which aims to make villages self-sufficient in water through a participatory water management approach.
It focuses on converging various schemes to ensure effective implementation of improved water harvesting and conservation initiatives.
Use of advanced technologies such as drones to identify water bodies for restoration is one unique feature of the programme.
Neeru-Chettu Programme, Andhra Pradesh
Launched in 2015, the programme has a strong emphasis on improving irrigationand focuses on ensuring water supply in drought-prone areas and reducing the ayacut10 gap through scaled-up adoption of scientific water management practices.
Repair, renovation, and maintenance of irrigation assets are key activities and completing such activities before monsoons is a priority under the programme.
Jalyukt Shivar Abhiyan, Maharashtra
It was launched in 2015-16 with the mission to make Maharashtra drought-free by 2019, and an aim of making 5000 villages water scarcity free, every year.
Focus areas under the programme include deepening and widening of streams, construction of cement and earthen stop dams, work on nullahs and digging of farm ponds.
The programme also involves geotagging of water bodies and use of a mobile application to enable web-based monitoring.
Mission Kakatiya, Telangana
Launched in 2014, it aims to restore over 46,000 tanks across the state18 and bring over 20 lakh acres land under cultivation.
The programme objectivesinclude enhancing the development of minor irrigation structures, promoting community-basedirrigation management, and restoration of water tanks.
Sujalam Sufalam Yojana, Gujarat
It focuses on deepening of water bodies before monsoons and increasing water storage for rainwater collection.
Its inaugural run was from 1stMay, 2018 – 31st May, 2018. The programme involved desilting of water bodies across the state and encouraged a participative approach.
Pani Bachao Paise Kamao, Punjab
Launched in 2018, it is aimed at checking depletion of underground water.
Under this, the farmers are being provided with a fixed electricity quota and receiving INR 4 per kilowatt hour for every unit of electricity saved through direct benefit transfers (DBTs).
Way Forward
Scientific management of water is increasingly recognized as being vital to India's growth and ecosystem sustainability. From policy perspective, water management has four major dimensions: Access, Quality, Sustainability and Efficiency. In order to get better outcomes, each dimension can be developed as a simple index reflecting the performance of the states.
The Index and its annual reporting are one step in a long journey towards improved water management, and focus on setting the necessary foundation of a high-quality data culture within federal and state water institutions.
Importantly, Government along with states must supplement urgent top-down water legislations with a grassroots management approach that involves local community organizations, NGOs, farmer groups, and industry bodies in ideation and implementation of water related policies and projects and make sure that the index should not just restrict itself to becoming a common platform for water data.