---
Government To Link MNREGA Wages To Inflation
---
On 18th September, 2019, the Centre decided to inject more money into the flagship Mahatma Gandhi National Rural Employment Guarantee Act (MGNREGA) scheme by linking wages under the Act to an updated inflation index, which will be revised annually.
The Ministry of Statistics and Programme Implementation and the Labour Bureau had already begun the work to update the consumer price indices for rural areas (CPI-R) and agricultural labourers (CPI-AL)
The index is used for determining minimum wages and those for the government's rural jobs programme under the Mahatma Gandhi National Rural Employment Guarantee Act (MGNREGA).
Objective
To address the slowdown in economy.
To increase wages, thus increasing purchasing power and reviving rural demand.
Need for such Action
Wage Gap:The national average wage of an MGNREGA worker is 178.44 per day,less than half of the Rs.375 per day minimum wage recommended by a Labour Ministry. According to the latest Periodic Labour Force Survey, market wages for men were higher than MGNREGA wages by 74% in 2017-18, while for women, it was a 21% gap.
Drastic Change in Rural Consumption Pattern over Time:The consumption basket of CPI-AL (which determines MGNREGA wage revisions) has not been updated for more than three decadesand rural consumption patterns have changed drastically in that time.
Less Spending on Food Items:Food items make up more than two-thirds of the CPI-AL consumption basket, but rural workers today spend a much smaller percentage of their money on subsidised food, and an increasingly larger amount on health, education and transport costs.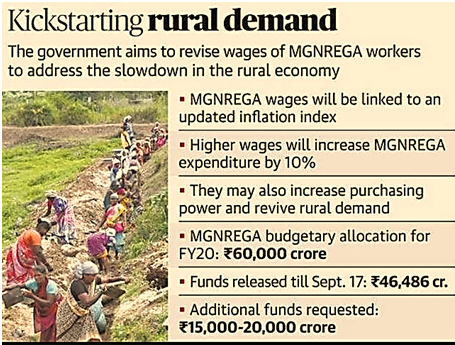 Consumer Price Index for Agricultural Labourers and Rural Labourers (CPI-AL/RL)
Labour Bureau has been compiling CPI Numbers for Agricultural Labourers since September, 1964.
The base of CPI(AL) was 1960-61=100. This series of CPI Numbers was then replaced by CPI for (i) Agricultural and (ii) Rural Labourers with base 1986-87=100 from November, 1995 onwards .
CPI for Agricultural and Rural labourers on base 1986-87=100 is a weighted average of 20 constituent state indices and it measures the extent of change in the retail prices of goods and services consumed by the agricultural and rural labourers as compared with the base period viz 86-87. This index is released on the 20th of the succeeding month.
CPI-AL is basically used for revising minimum wages for agricultural labour in different States.
As stated earlier, the Labour Bureau has kick-started the exercise of revising the base year for consumer price index for agricultural and rural labourers (CPIAL/RL) to 2019-20, from 1986-87, besides developing an index for all states and Union Territories (UTs).
The CPI basket combines over 45% expenditure on food and beverages, 10% on housing, over 6.8% on fuel and light, 6.5% on clothing and footwear, and 18% on miscellaneous expenditure, including on education and health.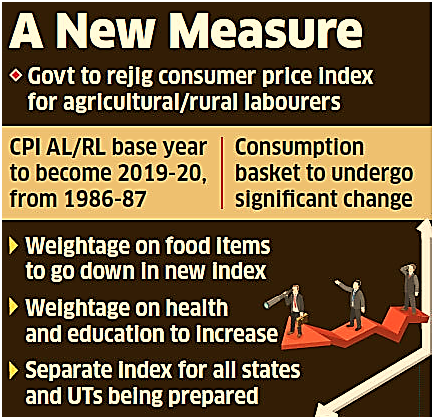 Issue
Currently, CPI-AL/RL with 1986-87 base is available for only 20 states. As a practice, states or UTs with no dedicated index often use the index of neighbouring states to determine their minimum or MNREGA, giving rise to various problems.
For example, Sikkim had recently refused to use the index for West Bengal, saying there is significant difference in the state's consumption baskets.
Hence, there has been a demand from states and UTs to determine a separate index for each of them, depending on their consumption basket, and revise the base year to reflect the current pattern of consumption.
Impact
The new index will take into account significant change in the consumption basket over the past three decades and could result in upward revision in MGNREGA wages as well as minimum wages that will be determined under the Code on Wages.
MGNREGA
It was introduced in 2005 through the National Rural Employment Guarantee Act, 2005.
Aim
Enhancing the livelihood security of people in rural areas by guaranteeing 100 days of wage-employment.
Implementing Agency
The Ministry of Rural Development (MRD)
Coverage
The scheme covers the entire country with the exception of districts that have a hundred percent urban population.
Significance
It creates livelihood opportunities for rural population and sets a minimum wage threshold for low income earners.
It provides an opportunity to rural households to earn minimum income.
It led to social inclusion with large scale participation of women, SCs/STs and other traditionally marginalised sections of society.
Led to the strengthening the rural economy through the creation of assets.
Has helped in strengthening Panchayati Raj Institutions (PRIs) like the gram sabha by involving them in planning and monitoring of the scheme.
Recent Developments
Skill training under 100- day Agenda
Under its 100-day agenda, the Centre is all set to revamp MGNREGA, which guarantees 100 days of employment to the rural poor.
To ensure maximum participation of workers, the ministry would make good the loss of daily livelihood of the family by providing Rs. 200-250 daily.
The MRD plans to undertake 10 lakh water conservation works under MNREGA under its 100-day programme.
Another major initiative under 100-day agenda is PradhanMantri Gram SadakYojana Phase III, which would involve building 1.25 lakh kilometres of roads connecting markets and mandis and other places of economic importance in rural India.
Direct Benefit Transfer under MGNREGS
To streamline the fund flow mechanism and bring down delay in payment of wages, the Ministry of Rural Development has implemented National Electronic Fund Management System (NeFMS).
Around 99% of the wages are being paid electronically (FY 2018-19) into the Bank/Post Office accounts of MGNREGA workers through Electronic Fund Management System (eFMS).
GeoMGNREGA
It is a unique endeavor of the Ministry of Rural Development in association with National Remote Sensing Centre (NRSC), ISRO and National Informatics Centre for geo-tagging therural assets created under MGNREGS in each gram panchayat.
Note: In January 2017, Kangra, in Himachal Pradesh became the first district in the country to geotag all the assets created under the MGNREGA.
Janmanrega - Citizen-centric Mobile Application
An initiative towards good governance, Janmanrega is an interface to improve quality of public services.
It enables for information flow to and from ground-level, which will connect citizens with the system.
e-Saksham:
It is a digital learning platform, a GIS supported course on Integrated Natural Resource Management planning under MGNREGA.
Capacity building of functionaries on planning, training of State/ District/ Block level Technical Resource team is taken up under e-Sakshamtraining programme.
Reasons for Under Performance of MNREGA
Less Number of Working Days
Even though the scheme aims at providing 100 days of guaranteed employment, below 50 days of employment was actually provided on an average at an all-India level in FY-18.
Low Wage Rate
MGNREGA wage rates of 17 states are less than the corresponding state minimum wages. The ridiculously low wage rates have resulted in lack of interest among workers in working for MGNREGA schemes, making way for contractors and middle men to take control, locally.
Insufficient Budget Allocation
Budget allocation over the years has been insufficient. The fund that centre allocates during the budget proves to be inadequate and more funds are sought by the rural development ministry to finance MGNREGA. This results in delay in payments which adversely affects workers.
Regular Payment Delays
According to a finding, 78 percent of payments were not made on time, and as many as 45 percent payments did not include compensation for delayed payment as per guidelines which is 0.05 percent per day of the wages earned.
In FY17 alone Rs 11,000 crore of wages remained unpaid to workers. Only 32 percent of the payments in the first two quarters of FY17-18 were made on time.
Late payment to existing workers discourages other labourers to work for MGNREGA.
Corruption
In 2012, a scam was uncovered in Karnataka where 10 lakh fake job cards were detected, which resulted in Rs. 600 crore losses to the exchequer.
In 2018, Rural Development and Panchayath Raj (RDPR) report pointed out that in just one financial year FY18, 596 cases were registered against officials and non-officials for violation of rules and guidelines.
Rural workers often complain that funds that are sanctioned for public works are going into the pockets of middlemen.