---
Niti Aayog Releases School Education Quality Index
---
On 30th September, 2019, NITI Aayog along with the Ministry of Human Resource Development and the World Bank released a report titled 'The Success of Our Schools-School Education Quality Index' (SEQI) which evaluates the performance of states and union territories in the school education sector.
SEQI used 2016-17 as the reference year and 2015-16 as the base year.
Aim
To drive policy reforms that will improve the quality of school education.
To institutionalise a focus on enhancing education outcomes by driving improvements in learning levels, access, equity, infrastructure and governance processes.
About the Index
Developed through a collaborative process including key stakeholders such as MHRD, the World Bank and sector experts, the index consists of 30 critical indicators that assess the delivery of quality education.
The index is largely based on the data from the National Achievement Survey(NAS) of 2017-18 and the Unified District Information on School Education(2016-17).
West Bengal did not participated in the evaluation process, therefore has not been included in the index.
The indicators are categorized as follows:
Category 1: Outcomes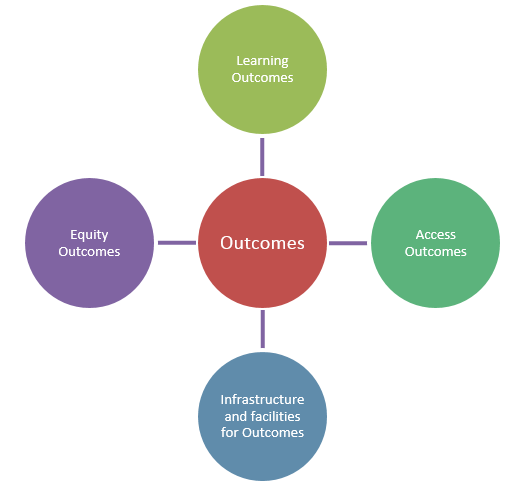 Category 2: Governance Processes Aiding Outcomes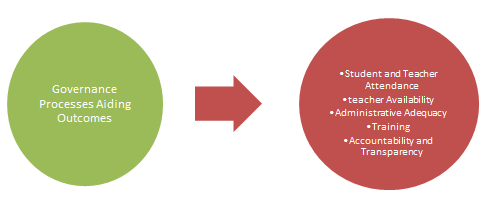 Key Findings of the Report
Large States
The overall performance score for Large States ranged from 6 percent for Kerala to 36.4 percent for Uttar Pradesh.
Small States
Among the eight Small States, five showed an improvement in their overall performance score between 2015-16 and 2016-17, of which three stood out (Meghalaya, Nagaland and Goa), with gains of 14.1, 13.5 and 8.2 percentage points respectively.
Union Territories
All seven UTs showed an improvement in their overall performance score between 2015-16 and 2016-17. Three of them (Daman & Diu, Dadra & Nagar Haveli and Puducherry) stood out for the size of the increase, with gains of 16.5, 15.0 and 14.3 percentage points, respectively
Outcomes Category Performance
Karnataka leads the Large States on the Outcomes category, with a score of 81.9 percent. Uttar Pradesh scores the lowest at 34.1 percent.
Tamil Nadu was the top performer in access and equity outcomes.
Haryana had the best infrastructure and facilities.
Manipur ranks first among the Small States on the Outcomes category, with a score of 82.1 percent. Arunachal Pradesh has the lowest score at 27.2 percent.
Chandigarh is the best performing UT on the Outcomes category, with a score of 88.4 percent, while Lakshadweep received the lowest score (28.9 percent)
Governance Processes Aiding Category Outcomes Performance
Kerala leads the Large States in this category, with a score of 79.0 percent, while Jharkhand has the lowest score of 21.0 percent.
Mizoram ranks first among Small States, with a score of 47.5 percent, while Arunachal Pradesh ranks last with a score of 18.3 percent.
Chandigarh is the best-performing UT, with a score of 69.5 percent, while Dadra & Nagar Haveli received the lowest score of 33.5 percent.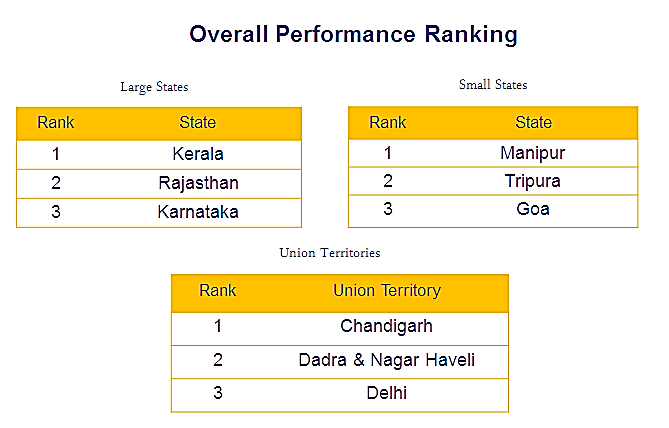 Source: NITI Aayog
Significance
The rankings present incredible insights on the status of school education across States/UTs and their relative progress over time SEQI assigns almost half its weight to learning outcomes. This sends a strong signal across the nation to ensure the focus remains centred on learning.
It focuses on indicators that drive improvements in the quality of education rather than on inputs or specific processes. The index thus seeks to institutionalise a focus on improving education outcomes with respect to learning, access, equity and governance in India.
It put emphasis to bring an 'outcomes' focus to education policy by providing States and UTs with a platform to identify their strengths and weaknesses and undertake requisite course corrections or policy interventions.
It present a vision to ensure that our school education system reorients its priorities on enhancing learning outcomes, along with strengthening governance processes.
Challenges to Education Sector
Dearth of Finance: Funds are the major reasons for the education problem in India. Shrinking allocation to education in government budgets have led to a funding crunch in public higher education in India. The demand for financial resources far exceeds the supply. Very small amount is available for innovative programs and ideas.
Low Enrolment: Enrolment rates are obviously higher in urban areas. Hence, this implies that rural enrolment is poor. The problem of students dropping out, and absenteeism, is particularly acute in BIMARU states—Bihar, Rajasthan, Uttar Pradesh and Madhya Pradesh —that together have over 51 million children, or 46% of India's total child population between the ages of 11 and 16 years.
Low Quality: The quality of education provided to children in India is on a downward spiral, especially in rural areas and government run school. In addition, the mushrooming of private institutions has led to a situation where degrees are awarded by poorly regulated entities
Lack of Adequate Infrastructure: Despite the government's best efforts to bring our education sector on par with the international standards, it's the inadequate infrastructure that holds it back. The schools in rural India have really poor infrastructure. There is a huge lack of teachers, especially well-trained ones which disturbs the student-teacher ratio extensively. This leads to very poor quality of education being imparted, hardly fulfilling the need of education.
Way Forward
Education is the backbone of our nation. It is an instrument to national human resource Listed among the fastest growing economies in the world, India stands way behind in the line, when it comes to education.Howevder, in the recent years , government has tried its best to strengthen the education system in the country.
In July, 2019, the government came out with the National Education Policy, 2019 , which envisions an India-centred education system that contributes directly to transforming our nation sustainably into an equitable and vibrant knowledge society, by providing high quality education to all.
In December 2018, the Government of India published that 3.43 million candidates had enrolled in the Pradhan Mantri Kaushal Vikas Yojana (PMKVY) 2016-20 scheme. Up to January 24, 2019 as many as 2.53 million candidates were trained under under the scheme's Short Term Training (STT).
In August 2018, Innovation Cell and Atal Ranking of Institutions on Innovation Achievements (ARIIA) were launched to assess innovation efforts and encourage a healthy competition among higher educational institutions in the country.
In August 2018, Government of India launched the second phase of 'Unnat Bharat Abhiyan' which aims to link higher educational institutions in the country with at least five villages.
The Ek Bharat Shreshtha Bharat (EBSB) campaign is undertaken by Ministry of Human Resource Development to increase engagement between states, union territories, central ministries, educational institutions and general public.
A high-quality Education system is a pre-requisite for our country to achieve global excellence. For addressing India's Education crisis, it require resolute political leadership with a clear vision for education that is able to unite the forces of government, corporate houses and civil society organisations towards building the nation of our dream.
India has a positive demographic opportunity, with half of its population in the working-age group. Needless to say, education is tool required to realise this demographic potential.