---
India Innovation Index - 2019
---
Recently, the NITI Aayog in collaboration with the Institute for Competitiveness as the knowledge partner released the first ever India Innovation Index (III) 2019.
The Index is developed on the lines of Global Innovation Index (GII) and looks into the innovation ecosystem of Indian states and union territories to help policymakers design policies to drive innovation across regions.
Aims
To provide stakeholders with an effective tool to track the progress of innovation both at national and state level
To create an extensive framework for the continual evaluation of the innovation environment
About the India Innovation Index
It is an outcome of extensive research and analysis, which looked holistically at the innovation landscape in the country by examining the innovation capabilities and performance of the States and UTs.
The index is based on seven pillars which include five enablers and two performance indicators:
Enablers Parameters: human capital, investment, knowledge workers, business environment, safety and legal environment
Performance Parameters: knowledge output and knowledge diffusion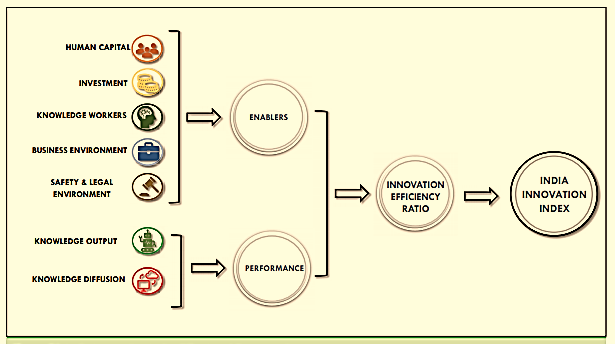 Source: NITI Aayog
Need for Index
As India is passing through a phase of demographic transition, so India can reap immense benefits if it maintains focus on developing human capital and encouraging innovation.
Also, the demographic dividend is not available in all states at the same time. Southern states, for instance, are experiencing a decline in their fertility earlier than the rest of the states across India. The demographic dividend in states like Kerala and Tamil Nadu is expected to close in the next five years. Thus, the capacity to innovate varies spatially across India and so does the area of focus.
India is shifting its policy focus on building innovation capacities like other countries in order to gain a greater market share around the world.
Key Highlights of Index
The states have been categorized into three categories:
Major states
North-east and hill states
Union territories/Small states
Karnataka is the most innovative major state in India. Tamil Nadu, Maharashtra, Telangana, Haryana, Kerala, Uttar Pradesh, West Bengal, Gujarat, and Andhra Pradesh form the remaining top ten major states respectively.
Sikkim and Delhi take the top spots among the north- eastern & hill states, and union territories/city states/small states respectively.
Delhi, Karnataka, Maharashtra, Tamil Nadu, Telangana, and Uttar Pradesh are the most efficient states in translating inputs into output.
Karnataka topped the index among major states in terms of attracting investment, followed by Maharashtra, Haryana, Kerala, Tamil Nadu, Gujarat, Telangana, Rajasthan, and Uttar Pradesh.
Bihar, Jharkhand, and Punjab were the least attractive states for investment.
Among North East and the Hill States, Manipur, Arunachal Pradesh, and Tripura were the top three states; while among the UTs, Lakshadweep, Delhi and Goa were the top three regions.
The average score of Enablers stand at 18.3 while that of Performance comes out to be 12.8. Since the Enablers outperform Performance, it is evident that the country has not been able to utilise the available drivers of innovation to their maximum potential.
Even though India performs relatively well on enablers of innovation, that there is a vast disparity among its pillars. The country performs the best with respect to human capital, while it faces a challenge of investing towards building innovative capacities.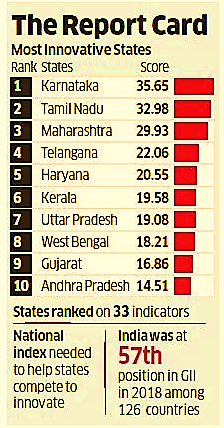 Source: ToI
Significance of the Report
Unlocking Innovative Capacities: This report attempts to decipher the innovative capacities for India at the state level. It has been formulated with the intent of better understanding the innovation landscape across India and drawing regional insights to drive data-based decision making.
Help to create Conducive Innovative Ecosystem: It will help create a conducive ecosystem for innovation to flourish across the country. Such an index will not only help to devise their own strategy for fostering an innovation climate, it will also enable them to benchmark their performance with other states.
Benchmarking Instrument: It is expected that the report will come to be recognized as a benchmarking instrument and an invaluable tool for facilitating public-private dialogue, whereby policymakers, business leaders, and other stakeholders can evaluate progress on a continual basis.
Tool for Economic Growth: It can be used by the government to identify the challenges to be addressed and strengths to build on when designing the economic growth policies for the country.
Global Approaches for Measuring Innovation
Bloomberg Innovation Index
The Bloomberg Innovation Index analyses each country in a range of areas including education, research and development, and manufacturing.
The countries are ranked on the basis of their overall ability to innovate considering seven-equal weighted metrics such as research & development intensity, manufacturing value-added, productivity, high-tech density, tertiary efficiency, researcher concentration, patent activity.
The Global Innovation Index
It is published by the Cornell University, INSEAD, and the World Intellectual Property Organization (WIPO) as co-publishers, and their Knowledge Partners.
It consist of two sub-indices-the Innovation Input and the Innovation Outputs.
Five input pillars capture elements of the national economy that enable innovative activities: (1) Institutions, (2) Human capital and research. (3) Infrastructure. (4) Market sophistication, and (5) Business sophistication. Two output pillars capture actual evidence of innovation outputs: (6) Knowledge and technology outputs and (7) Creative outputs.
Dubai Innovation Index
The Dubai Innovation Index was conceptualized in 2015 as an effort to baseline Dubai's position compared to with 28 leading global innovative cities and to measure the innovation maturity of Dubai's private sector to achieve sustainable economic growth and identify areas of improvement.
The Index takes into account both enablers (as the input) and performance (as the output) as equal contributors towards innovation.
Massachusetts Innovation Economy
The Index has been published by the Innovation Institute at the Mass Tech Collaborative annually since 1997.It analyses 22 indicators that covers the following categories:

- Economic Impact

- Research

- Technology

- business Development

- Capital

- Talent
Way Forward
The India Innovation Index, 2019 comes at a time when innovation has become a subject of significant concern for policymakers in the country. With India among the fastest growing economies in the world, the next big challenge is to sustain that level of growth for a longer period of time.
Understanding the state of innovation at the regional level is also important for policy-making. For a country the size of India, a policy just at national level is not enough. Each state needs to formulate its own policy which caters to its needs and resources. Therefore, for understanding the opportunities and challenges in every state and union territory, there is a need for a robust framework which can be regularly updated to incorporate the progress made by regions.
The challenges faced by India due to its pluralistic society and a rapidly growing population are vastly different from the West. With a population of over 1.3 billion, growing at 1.1% a year — India faces scarcity on a large scale across the board: from water and food to oil and gas, to challenges in primary education and basic health care. To overcome these challenges Ina must transform itself from a factor-driven to an innovation-driven economy by efficiently using its existing resources to become a global innovation hub. To be successful in this endeavor, the country must bring about the right institutional, industrial, and policy reforms.
Recognizing the role of innovation as a key driver of growth and prosperity for India Therefore, innovation needs to be the focus, if the Indian economy is to make a successful transition from being factor-driven to an innovation-driven economy.