---
India Innovation Index-2020
---
NITI Aayog has released the second edition of the India Innovation Index-2020.
Objective
The objective of the India Innovation Index is to scrutinize the innovation capacities and performance of Indian states.
The index provides an extensive framework for the constant evaluation of the innovation ecosystem of the 28 Indian states and 9 union territories.
The index intends to accomplish the following three functions:
Rank all states and union territories based on their index score
Identify opportunities and challenges
Assist in modifying governmental policies to foster innovation
Methodology
The India Innovation Index measures innovation inputs through 'Enablers' and innovation output as 'Performance.'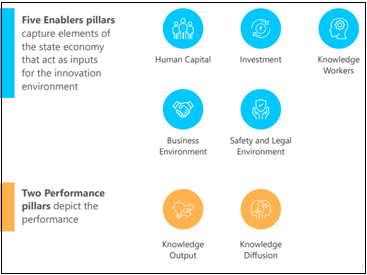 In the India Innovation Index-2020, the States and Union Territories have been divided into 17 Major States, 10 North-East and Hill States and nine Union Territories and Small States for effectively comparing their performance.
Performance of States/UTs
Major States: In the 2020 ranking, Karnataka retained its first position in the Major States category. Maharashtra moved one position higher and stood at 2nd spot while Tamil Nadu slid to 3rd position.
North East and Hill States: In the North East and Hill States category, Himachal Pradesh stands at first position followed by Uttarakhand and Manipur.
UTs/Small States: Delhi stands at the first position while Chandigarh retained its second spot in the Union Territories and small States category.
Overall Performance
Indian states have achieved an average score of 23.4 in the Innovation Index that ranges from a scale of 0 (worst-case scenario) to 100 (best-case scenario).
The score shows that India has immense scope for improvement in the space of innovation.
The 'Performance' score falling below 'Enablers' indicates that the innovation capabilities of the country are not utilised to their optimum level. For example, despite the high number of engineering graduates in the country, their low employability in the knowledge economy results in a level of Knowledge Output and knowledge diffusion that does not correspond with the level of human capital available to be leveraged for innovation. Besides the deficiency in knowledge workers, the low expenditure in R&D, higher education, science, technology and environment, and the lack of venture capital investment also thwart innovation in India.