---
Annual Report On Road Accidents In India – 2018
---
On 19th November, 2019, the Ministry of Road Transport and Highway released the Road Accidents in India- 2018.
It is an annual publication brought out by the Transport Research Wing of the Ministry of Road Transport and Highways which reports on accidents, related deaths and injuries, calendar year-wise, based on information supplied by the Police Departments of States and UTs.
Major Findings
Increase in Road Accidents
Road accidents in the country have increased marginally by 0.46 % during 2018.
More than 1.5 lakh people lost their lives in road crashes in the country in 2018, registering an increase of 2.4% as compared to the year before, when there were 1.47 lakh fatalities.
Decrease Compound Annual Growth Rate of Accidents
The Compound annual growth rate of accidents as well as accident related deaths in the period 2010-2018 dropped drastically and was the least when compared with the previous decades, despite the very high rate of growth of automobiles.
National and State Highways Accidents
National Highways accounted for 2 percent of total road accidents and 35.7 per cent of deaths in 2018.
State Highways accounted for 2 percent and 26.8 percent of accidents and deaths respectively.
Type of Road Users Accident
In terms of accident related killings by type of road user, the number of Pedestrians killed accounted for 15%, the share of cyclists was 2.4% and that of two wheelers was 36.5%.
Together these categories explain 9% of the accident related killings and are the most vulnerable category quite in line with global trends.
Age-Group Related Accidents
During 2018, young adults in the age group of 18 - 45 years accounted for nearly 69.6 percent of road accident victims.
The working age group of 18 – 60 accounted for a share of 84.7 percent in the total road accident deaths.
Male More Prone to Accident
The share of males in number of total accident deaths was 86% while the share of females hovered around 14% in 2018.
State Scenario
The State of Tamil Nadu recorded the highest number of road accidentsin 2018 while the highest numbers reported as killed in 2018 were in the State of Uttar Pradesh.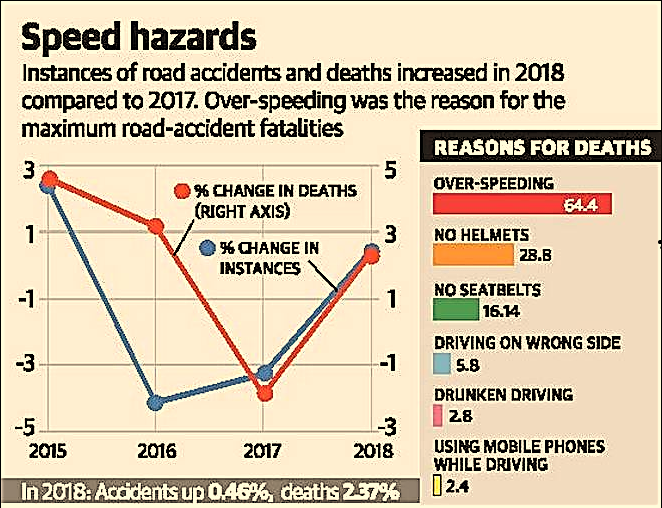 Source: The Hindu
Major Causes of Road Accidents
Overspeeding
It is the most common cause of deaths on roads in India, accounting for 64 percent of road deaths.
Drink Driving
Another common cause of road accidents in India. However, there has been a decline in drink driving cases by 14 percent between 2017 and 2018.
Non-uasge of Safety Gears
Non usage of safety devices such as helmets and seatbelts do not cause accidents but are critical for averting fatal and grievous injuries in an event road accident occurs.
Poor Enforcement Of Traffic Laws
India's traffic laws are stricter than those of other countries but these laws are not enforced.
India's enforcement of laws on speeding and drink driving are rated 3 and 4 out of 10, respectively, compared to 8 and 9 in China by the Global Road Safety Report 2018.
Poor Road Infrastructure
The problem of poorly constructed roads is long engraved in India, both in the rural as well rural areas.Potholes, roads under construction, poorly concreted speed breakers and down-and-out drainage system on the roads, improper warning signs are a cause of increasing accidents, deaths and health problems in the country.
Overloading
Vehicle overloading is another major cause of accidents in Indiawhich poses serioustraffic hazard, risking itself and other road users.
Weather
Adverse weather conditions such as heavy rain, thick fog and hail storm saffects both the road surface condition and the visibility of the motorist, thereby increasing the chances of accidents.
Government Initiatives towards Road Safety
Motor Vehicles Amendment Act- 2019
Motor Vehicles (Amendment) Act-2019 which amends the Motor Vehicles Act, 1988,came into force from 1st September, 2019.
The act is intended to bring reforms in the area of road safety, bring citizen facilitation, transparency, and reduce corruption with the help of information technology and removing intermediaries.
The Act will help strengthening the public transport, safeguard and protect Good Samaritan and bring in reforms in the insurance and compensation regime.
National Road Safety Policy-2017
It outlines various policy measures such as promoting awareness, encouraging safer road infrastructure including application of intelligent transport, enforcement of safety laws trauma care etc.
Mitigation Measures
Education and Awareness Measures
It relies on dissemination of road safety awareness and regulation through media and non-governmental organizations (NGOs).
The Ministry has been making various efforts to make road safety a social Movement. The Government has been undertaking various publicity measures in the form of telecasting on T.V, Radio, Cinema, printing calendars with road safety messages as also by conducting seminars &exhibitions on road safety with messages for various segments of road users viz. Pedestrians, cyclists, school children, heavy vehicle drivers, etc.
Engineering (both of roads and vehicles) Measures
High Priority has been accorded for identification and rectification of black spots (accidents prone spots on National Highways). Concerted efforts towards improvement of road safety through engineering measures on National Highways have been made.
Road Safety Audits
Detailed guidelines for taking up road safety audits on National Highways have been notified. Road Safety Audits at different stages have been made part and parcel of all road development projects on Engineering, Procurement and Construction (EPC) and Build, Operate, Transfer (BOT) modes.
Proper Enforcement of Road Safety Laws
Through Motor Vehicle Amendment act, 2019, government is avid regarding the enforcement of traffic rules, which are extremely important components of road safety and accident mitigation measures.
Way Forward
Expansion in road network, motorization and urbanization in the country has been accompanied by a rise in road accidents leading to road traffic injuries and fatalities as a majordevelopmental issue and a public health concernin India.
While India has less than 3 percent of the world's vehicles, it accounts for about 12 percent of the world's road deaths.
Containing road accidents needs to be a multi-sectoral effort that involves law enforcement, governance, (the issue of driving licenses and vehicle registration), engineering (appropriate road design) awareness raising and post-accident trauma care and management.