---
Human Development Report – 2019
---
On 9th December, 2019, United Nations Development Programme (UNDP) released the Human Development Report (HDR), 2019.
The HDR, 2019 entitled "Beyond income, beyond averages, beyond today: inequalities in human development in the 21st Century,"says that just as the gap in basic living standards is narrowing for millions of people, the necessities to thrive have evolved.
The 2019 Report retains all the composite indices from the family of human development indices—the Human Development Index (HDI), the Inequality
adjusted Human Development Index (IHDI), the Gender Development Index (GDI), the Gender Inequality Index (GII) and the Multidimensional Poverty Index (MPI).
Major Findings
Top and Worst Performers
Globally, Norway, Switzerland, Ireland occupied the top three positionson the 2019 Human Development Index (HDI respectively.
Germany is placed fourth along with Hong Kong, and Australia secured the fifth rank on the global ranking.
While, Niger, the Central African Republic, South Sudan, Chad and Burundi have the lowest scores in the HDI's measurement of national achievements in health, education and income.
India and its Neighbouring Countries Performance
India ranks 129 out of 189 countries on the 2019, HDI — up one slot from the 130th position last year i.e. 2018.
Between 1990 and 2018, India's HDI value increased by 50 percent (from 0.431 to 0.647), which places it above the average for countries in the medium human development group (0.634) and above the average for other South Asian countries (0.642).
Among India's neighbours, Sri Lanka (71) and China (85) are higher up the rank scale while Bhutan (134), Bangladesh (135), Myanmar (145), Nepal (147), Pakistan (152) and Afghanistan (170) were ranked lower on the list.
In the Gender Inequality Index (GII), India is at 122 out of 162 countries.China (39), Sri Lanka (86), Bhutan (99), Myanmar (106) were placed above India.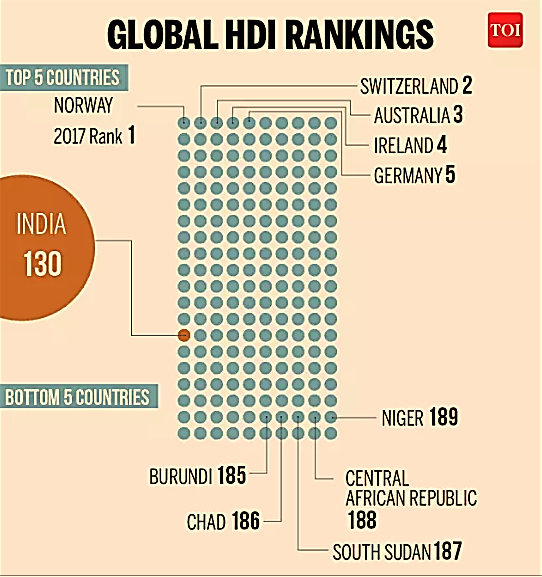 Source: ToI
Regional Performance
As per the report, South Asia was the fastest growing region in human development progress witnessing a 46% growth over 1990-2018, followed by East Asia and the Pacific at 43%.
Significance of Report
Focus on Inequalities: The HDR, 2019 is significant because it focuses on inequalities in development. It shows inequalities beyond income which exist in society. It gives us a much broader understanding of the factors shaping unequal life chances, from birth and through life.
Opening of New Generation of Inequalities: The report warns that new forms of inequalities will manifest in future through climate change and technological transformation which have the potential to deepen existing social and economic fault lines.
Sustainable Development Goals (SDGs) Still Too Far: It notes that the world is not on track to achieve gender equality by 2030 as per the UN's Sustainable Development Goals. With the current development scenario, it may take 202 years to close the gender gap in economic opportunity.
Focus on Gender Inequality: The report presents a new index indicating how prejudices and social beliefs obstruct gender equality, which shows that only 14% of women and 10% of men worldwide have no gender bias.
Human Development Index(HDI)
The HDI is a statistical tool used to measure a country's overall achievement in its social and economic dimensions. Nations that rank higher on this index have a higher level of education, a higher lifespan, and a higher gross national income per capita than nations with a lower score.
The HDI was first launched in 1990 and has been released annually ever since, with the exception of 2012.
Indicators
Longevity: It is measured by life expectancy at birth. Life expectancy at birth means how many years a newly born infant can hope to live in this world. This represents element of health in the Human Development Index (HDI).
Education or Knowledge: It is measured by the weighted average of adult literacy and mean years of schooling. For this 2/3rd weight is given to adult literacy and 1/3rd weight is given to the mean years of schooling.
Standard of Living: It is measured by real per capita income of a country at purchasing power parity (PPP) prices, which is, adjusted for purchasing power of currencies of different countries.
Significance
HDI is one of the best tools to keep track of the level of development of a country, as it combines all major social and economic indicators that are responsible for economic development.
Shortcomings
It omits several factors that can have a significant influence on quality of life, such as environmental degradation. Industrial pollution and deforestation, for example, can lead to complex health problems (e.g. lymphatic filariasis) or mental health conditions that do not necessarily have an impact on mortality rates but which can severely impair one's mobility or quality of living.
On the other hand, for estimating literacy rate, expected years of schooling by children at the entrance age is used which overstates the literacy rate as in many countries (including India) many children who join primary school later drop out at some stage.
Besides, human development index still does not take into account social, economic and political freedoms as well as human rights.