---
Good Governance Index
---
On 25th December, 2019, on the occasion of Good Governance Day, the government launched Good Governance Index (GGI) to assess the state of governance in the country.
Objective
To provide quantifiable data to compare the state of governance in all States and Union territories.
To enable states and UTs to formulate and implement suitable strategies for improving governance and shift to result oriented approaches and administration.
Need for GGI
Till now, there was no uniform index to objectively assess the state of good governance in the states.
Background
In recent year, India has seen a resurgence in the spirit co­operative federalism. In the interest of furthering this spirit, the Government of India constituted a Group of Secretaries (GoS) on Governance who recommended developing of an index to gauge the performance of the states of India.
The Department of Administration Reform and Public Grievances (DARPG), Government of India partnered Centre for Good Governance (CGG), Hyderabad as its technical partner in its endeavor to prepare the Good Governance Index (GGI).
Draft GGI report was finalised by DARPG and circulated in November, 2018 to all Ministries/Departments and States and UTs for feedback/input.
About the GGI
The GGI consists of ten broad sectors and 50 indicators. These indicators are given different weightage under one governance sector to calculate the value.
The ten sectors are-agriculture and allied sectors, commerce and industries, human resource development, public health, public infrastructure and utilities, economic governance, social welfare & development, judicial and public security, environment and citizen-centric governance.
While identifying the governance sectors, a zero­based approach was adopted and guidance from existing frameworks was taken. Schedule VII (List II and III) of Indian Constitution (Article 246) and Sustainable Development Goals (SDGs) of United Nations were also considered.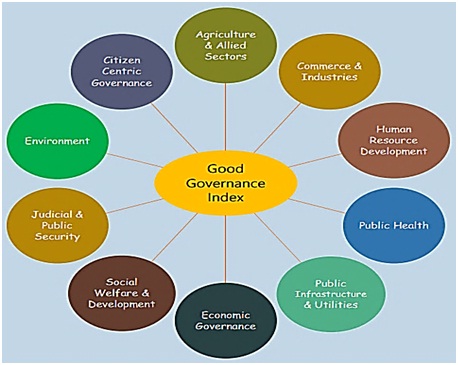 Major Findings
The states and union territories have been divided into three groups - big states, north-east and hill states, and union territories, for the rankings based on certain indicators separately.
Big States
Tamil Nadu (1st) bagged the top position in the composite ranking for good governance index (GGI), followed by Maharashtra (2nd) and Karnataka (3rd).
While Orissa (14th), Bihar (15th), Goa (16th), Uttar Pradesh (17th) and Jharkhand (18th) were categorised as poor performers.
North-East and Hill States
Himachal Pradesh topped the list followed by Uttrakhand and Tripura.
Meghalaya, Arunachal Pradesh and Nagaland are the least performing states.
Union Territories
In this category, Pondicherry, Chandigarh, and Delhi lead the ranking, with Lakshwadeep at the bottom of the Index.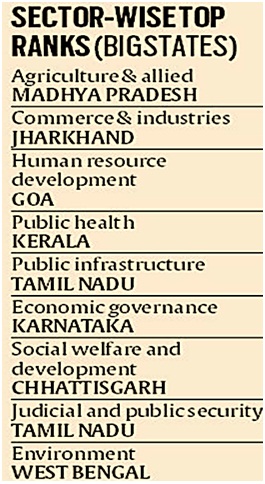 Source: IE
Significance
Tool of Assessment: The good governance index is a uniform tool across states to assess the status of governance and impact of various interventions taken up by the state government and union territories.
Providing Information: The intent of the index is to provide information, so that State Governments can act and improve upon for the well-being and overall development of the State. In addition, it would also provide some insights to Central Ministries and Departments to act in accordance.
Good Governance Day
Good Governance Day (GGD) is observed annually on 25th December to create awareness of accountability in government among the Indians.
National Good governance day was established in 2014 to honor former Prime Minister Atal Bihari Vajpayee by fostering awareness among the people of accountability in government.