---
India State Of Forest Report –2019
---
Recently, the ministry for Environment, Forest and Climate Change released the biennial "India State of Forest Report (ISFR)-2019, providing an assessment of the country's forest resources.
The report provides information on forest cover, tree cover, mangrove cover, growing stock inside and outside the forest areas, carbon stock in India's forests, Forest Types and Biodiversity, Forest Fire monitoring and forest cover in different slopes & altitudes.
Objectives
To monitor forest cover and changes therein at the National, State and District levels
To generate information on forest cover in different density classes and changes therein
To produce forest cover and other thematic maps derived from it for the whole country
To provide primary base layer for assessment of different parameters including growing stock, forest carbon
To provide information for international reporting
About the India State of Forest Report (ISFR)
The report is published by the Forest Survey of India (FSI) which has been mandated to assess the forest and tree resources of the country including wall-to-wall forest cover mapping in a biennial cycle.
Starting from1987, 15 assessments have been completed so far. ISFR 2019 is the 16th report in the series.
Major Findings
Total Forest Cover
The total forest cover of the country is 7,12,249sq km which is 21.67% of the geographical area of the country. The tree cover of the country is estimated as 95,027 sq km which is 2.89% of the geographical area.
The total Forest and Tree cover of the country is 8,07,276sq km which is 24.56% of the geographical area of the country.
It shows an increase of 3,976 sq km (0.56%) of forest cover, 1,212 sq km (1.29%) of tree cover and 5,188 sq km (0.65%) of forest and tree cover put together, at the national level as compared to the ISFR 2017.
Forest Cover in States
Area-wise Madhya Pradesh has the largest forest cover in the country followed by Arunachal Pradesh, Chhattisgarh, Odisha and Maharashtra.
The top five States in terms of increase in forest cover are Karnataka (1,025 sq km), Andhra Pradesh (990 sq km), Kerala (823 sq km), Jammu & Kashmir (371 sq km) and Himachal Pradesh (334 sq km).
In terms of forest cover as percentage of total geographical area, the top five States are Mizoram (85.41%), Arunachal Pradesh (79.63%), Meghalaya (76.33%), Manipur (75.46%) and Nagaland (75.31%).
Forest Cover in North East Region
Total forest cover in the North Eastern region is 1,70,541sq km, which is 65.05% of its geographical area. The current assessment shows a decrease of forest cover to the extent of 765 sq km (0.45%) in the region. Except Assam and Tripura, all the States in the region show decrease in forest cover.
Forest Cover in Hill and Tribal Districts
It shows an increase of 544 sq km (0.19%) in 140 hill districts of the country.
The current assessment shows a decrease of 741 sq km of forest cover within the RFA/GW in the tribal districts and an increase of 1,922 sq km outside.
Mangrove
Mangrove cover in the country has increased by 54 sq km (1.10%) as compared to the previous assessment.
Top three states showing mangrove cover increase are Gujarat (37 sq km) followed by Maharashtra (16 sq km) and Odisha (8 sq km).
Total Carbon Stock
The total carbon stock in country's forest is estimated 7,124.6 million tonnes and there an increase of 42.6 million tonnes in the carbon stock of country as compared to the last assessment of 2017. The annual increase in the carbon stock is 21.3 million tonnes, which is 78.2 million tonnes CO2 eq.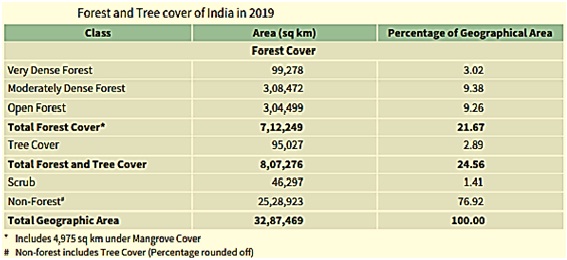 Wetlands
There are 62,466 wetlands covering 3.83% of the area within the Recorded Forest Area/Green Wash(RFA/GW) of the country.
The total number of wetlands located within the RFA/GW is 8.13%. Amongst the States, Gujarat has largest area of wetlands within RFA in the country followed by West Bengal.
Fire Prone Areas
Fire prone forest areas of different severity classes have been mapped in the grids of 5km x 5km based on the frequency of forest fires. The analysis reveals that 21.40% of the forest cover of the country is highly to extremely fire prone.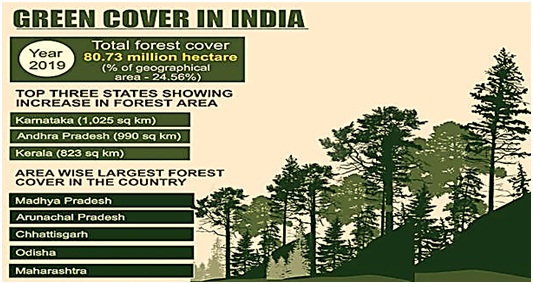 Forest Cover
Forest cover includes all tree patches which have canopy density more than 10% and area of 1 ha or more in size, irrespective of their legal status and species composition.
Recorded Forest Area
Recorded Forest Area is used for all such lands which have been notified as forest under any Government Act or Rules or recorded as 'forest' in the Government records. Recorded forest area mayor may not have forest cover.
Green Wash
The extent of wooded areas generally shown in light green colour on the Survey. The green wash has been used as substitute to RFA in respect of those States and UTs from where the usable digitized boundaries of recorded forest areas could not be made available to FSI.
Significance
It provides relevant information pertaining to each State such as biodiversity assessment, slope and altitude wise forest cover which would be very useful in formulating policies and strategies for conservation, management and enhancement of their forest and tree resources.
The report contains dedicated chapters on Bamboo Resources, Forest Fires, Carbon Stock, People and Forests and Forest Types and Bio-diversity. It will be of great relevance to the entire spectrum of stake holders from the policy makers, academicians, administrators, forest managers, and community based organizations to the citizens of the country at large.
In tune with the Government of India's vision of Digital India, FSI's assessment is largely based on digital data whether it is satellite data, vector boundaries of districts or data processing of field measurements.
Forest Survey of India (FSI)
Headquarters: Dehradun, Uttarakhand
Established in 1981, it is a premier national organization responsible for assessment and monitoring of the forest resources of the country on regular basis.
FSI succeeded the "Pre-investment Survey of Forest Resources" (PISFR), a project initiated in 1965 by Government of India with the sponsorship of FAO and UNDP.
The National Commission on Agriculture(1976), in its report recommended for the creation of a National Forest Survey Organization for a regular, periodic and comprehensive forest resources survey of the country leading to creation of FSI.