---
First Global Social Mobility Report –2020
---
On 20th January, 2020, the World Economic Forum (WEF) released its first-ever Global Social Mobility Report to provide a much needed assessment of the current state of the paths to social mobility around the world.
Aim
It seeks to measure parameters necessary for creating societies where every person has the same opportunity to fulfill his potential in life irrespective of socio-economic background.
Need
Not with standing fast global growth, inequalities have been growing across the world. The rise of inequality has not only created massive social unrest but also adversely affected the global consensus on the kind of economic policies that countries follow.
Social mobility has become the pressing issue of modern life, and as the index highlights, while major improvements have been made in some areas, notably extreme poverty, in others, the situation is deteriorating.
About the Index
The WEF's Global Social Mobility Index assesses the 82 economies on "10 pillars" spread across the following five key dimensions of social mobility:

Health
Education (access, quality and equity, life-long learning)
Technology
Work (opportunities, wages, conditions)
Protection and Institutions (social protection and inclusive institutions)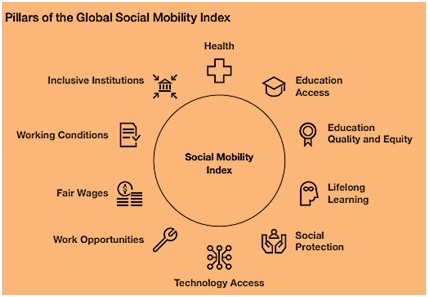 Source: WEF
Key Findings
Need for Social Mobility Agenda to Tackle Inequality
The Index shows that very few economies have the right conditions to foster social mobility and consequently income inequalities have become entrenched. On average, across key developed and developing economies, the top 10% of earners have nearly 3.5 times the income of the bottom 40%.
Greatest Global Challenges
Low wages, lack of social protection and poor lifelong learning systems are the greatest challenges globally.
In many countries, the root cause of low social mobility is related to economic development issues that go beyond income—namely, qualityof and access to education, access to work, poor working conditions and health disparities. Digital leapfrogging will not happen unless these issues are addressed decisively.
Fourth Industrial Revolution, Globalization and Technology
Globalization and the Fourth Industrial Revolution have generated significant benefits, but have also exacerbated inequalities. The Fourth Industrial Revolution, and with it, continuing and future disruption to labour markets, will likely compound differences in social mobility for those countries unprepared to take advantage of new opportunities.
Increasing Social Mobility
If countries included in this report were to increase their social mobility index score by 10 points, this would result in an additional GDP growth of 41% by 2030 in addition to vast social cohesion benefits.
Countries that adhere to the "stakeholder capitalism" model tend to perform better than countries with a focus on "shareholder value maximization" or "state capitalism".
Country Rankings
Top Performers
Denmark tops the rankings with a social mobility score of 85.2, closely followed by Finland (83.6), Norway (83.6), Sweden (83.5) and Iceland (82.7).
Low Performers
Cote d'Ivoire (82nd rank) is last on the Index preceded by Senegal, Cameron, Pakistan and Bangladesh.
Emerging Economies
Among the world's large emerging economies, the Russian Federation is the most socially mobile of the BRICS grouping, ranking 39th, with a score of 64 points, followed by the China (45th), Brazil (60th), India (76th) and South Africa (77th).
Top Gainer in Social Mobility
The economy with the most to gain is China, whose economy could grow by an extra USD 103 billion a year or USD 1 trillion dollars over the decade.
USA would make the second-largest gains, at USD 87 billion a year.
Next is India, followed by Japan, Germany, Russia, Indonesia, Brazil, the UK and France.
India's Performance
India is ranked at 76th out of 82 economies. It ranks 41st in lifelong learning and 53rd in working conditions.
The Areas of improvement for India include social protection (76th) and fair wage distribution (79th).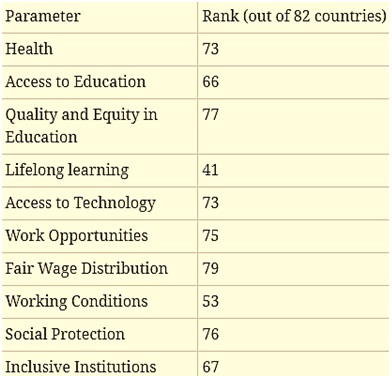 Source: Indian Express
Significance
Benchmarking Tool: The index benchmarks a country's ability to foster social mobility across its population. It measures the extent to which fundamental drivers—both old and new—of equality of opportunity are in place as well as the enabling environment factors that help translate these drivers into actual social mobility out comes.
Guidance to Policy-Makers: The Index is designed to equip policy-makers and other leaders seeking to take informed action on a reinvigorated social mobility agenda with a useful tool to identify areas for improving social mobility and promoting equally shared opportunities in their economies and societies.
Tool to Improve Social Mobility: It aims to point the way toward the need for establishing a new standard to identify priority policy actions and business practices focused on improving social mobility, as part of a global shift towards stakeholder capitalism and equitable and sustainable economies.
Suggestive Measures to Increase Social Mobility
Creating a New Financing Model
A new financing model for social mobility is necessary through taxation but must be complemented by a new mix of spending and tailored approaches.
Improving tax progressivity on personal income, policies that address wealth accumulation and broadly re-balancing the sources of taxation can support the social mobility agenda.
Forging a New Social Contract
Forging a new social contract that provides adequate social protection beyond full-time employment contracts is important across economies.
A new policy agenda aimed at creating holistic protections and support for all individuals irrespective of their status in employment is urgently needed.
Improving Education and Embracing Lifelong Learning
Countries should consider increasing their spending on education focusing on programmes targeted on disadvantaged children and the youth.
Improving Health Outcomes
Public investment in health has the potential to improve social mobility over the life course and across generations—for example, by cushioning income losses or necessary labour market changes when health issues arise.
Role of Businesses
Businesses should promote a culture of meritocracy based on performance, aptitude, potential and interest, and prevent any form of discrimination when hiring, developing and promoting talent.
Further more, paying fair wages and eliminating the gender pay gap will also be crucial to boost social mobility.
What is Social Mobility?
Social mobility can be understood as the movement in personal circumstances either "upwards" or "downwards" of an individual in relation to those of their parents. In absolute terms, it is the ability of a child to experience a better life than their parents.
On the other hand, relative social mobility is an assessment of the impact of socio-economic background on an individual's outcomes in life.
It can be measured against a number of outcomes ranging from health to educational achievement and income.
The concept was introduced by the Russian-born American sociologist and political activist Pitirim Sorokin in his book "Social and Cultural Mobility."
Dimensions of Social Mobility
Intra-generational Mobility: The ability for an individual to move between socio-economic classes within their own lifetime.
Intergenerational Mobility: The ability for a family group to move up or down the socio-economic ladder across the span of one or more generations.
Absolute Income Mobility: The ability for an individual to earn, in real terms, as much as or more than their parents at the same age.
Absolute Educational Mobility: The ability for an individual to attain higher education levels than their parents.
Relative Income Mobility: How much of an individual's income is determined by their parent's income.
Relative Educational Mobility: How much of an individual's educational attainment is determined by their parent's educational attainment.
Factors Responsible Social Mobility
Motivation: Each individual has a desire not only to have a better way of living but also to improve his social status. This desiremotivates and without such motivation social mobility is not possible.
Achievements and Failures: Remark able achievements affect status. For instance, instance,a poor man who has acquired wealth or anun known writer who has won a literary prize will improve his status.
Education: Education not only helps an individual to acquire knowledge and works like a passport to a higher prestige – occupational/ positional. Education facilitates upward mobility,where as lack of education can lead to downward mobility.
Skills and Training: Each society makes provision to impart skill and training to the younger generation. Skill and training facilitate in theim provement of social position, thus leading to social mobility.
Migration: People migrate from one place to another either dueto push or pull factors. Migration affects one's position and results in social mobility; it can be both ways – upward or downward.
Industrialization: The industrial revolution ushered new social system in which people were given status according to their ability and training. There fore, industrialization facilitates social mobility.
Urbanization: Urban settlements offer lots of work and educational facilities to people keeping aside their ascribed status. There fore, urbanization facilitates social mobility by removing those factors which hinder social mobility.
Legislation: Enactment of new laws also facilitates social mobility.Legislations like right to education to all, property rights to women and secularisation and so on help people to grab opportunities and prosper, therefore resulting in social mobility.