---
Democracy Index-2019
---
On 22nd January, 2020, the Economist Intelligence Unit (EIU) released the Democracy Index under the title-A Year of Democratic Setbacks and Popular Protest.
Democracy Index
First published year 2006, Democracy Index provides a snapshot of the state of democracy worldwide for 165 independent states and two territories.
It based on the ratings for 60 indicators, grouped into five categories:

Electoral process and pluralism
Civil liberties
Functioning of government
Political participation
Political culture.

The category indexes are based on the sum of the indicator scores in the category, converted to a 0 to 10 scale. Adjustments to the category scores are made if countries do not score a 1 in the following critical areas for democracy:

Whether national elections are free and fair
The security of voters
The influence of foreign powers on government
The capability of the civil service to implement policies.

The index values are used to place countries within one of four types of regime:

Full democracies (scores of 8-10)
Flawed democracies ( score of 6 to 7.9)
Hybrid regimes (scores of 4 to 5.9)
Authoritarian regimes (scores below 4)
Key Findings
Worst Performance Since 2006
The average global score fell from 48 in 2018 to 5.44 (on a scale of 0-10). This is the worst score since the index was first produced in 2006.
The decline in the average global score was driven by sharp regressions in Latin America and Sub-Saharan Africa. Latin America was the worst-performing region in 2019.
The average score for Asia and Australasia, eastern Europe, North America and western Europe stagnated in 2019.
Almost one-half (48.4%) of the world's population live in a democracy of some sort, although only 5.7% reside in a full democracy.
Country Performance
The overall list was topped by Norway, followed by Iceland and Sweden, New Zealand and
Full Democracies
Three countries-Chile, France and Portugal, moved from the "flawed democracy" category to become "full democracies".
Other "full democracies" include Germany, the United Kingdom and France.
Flawed Democracies
The United States, with a score of 7.96 that is just below the benchmark for a "full democracy", is a "flawed democracy".
India, too, with a score of 7.23, find its place in the "flawed democracy" category, along with the Bangladesh (5.88).
Hybrid Regimes
Pakistan, with a score of 4.25, is categorised as a "hybrid democracy".
Authoritarian Regimes
China having score of 2.26 and North Korea (bottom-ranked with 1.08) are categorised as "authoritarian regimes".
SELECTED COUNTRIES, 2019

Country

Score

Rank

Norway

9.87

1

Iceland

9.58

2

Sweden

9.39

3

New Zealand

9.26

4

Germany

8.68

13

UK

8.52

14

France

8.12

20

United States

7.96

25

Israel

7.86

28

India

6.90

51

Brazil

6.86

52

Sri Lanka

6.27

69

Bangladesh

5.88

80

Nepal

5.28

92

Pakistan

4.25

108

Myanmar

3.55

122

Russia

3.11

134
Source: Indian Express
India's Performance
The world's biggest democracy slipped 10 places in the 2019 global ranking to 51st place.
India's overall score fell from 7.23 to 6.9, on a scale of 0-10, within a year (2018-2019) — the country's lowest since 2006.
The Index categorises India under "flawed democracies", countries that hold free and fair elections and where basic civil liberties are respected, but have significant weaknesses in aspects of democracy, such as problems in governance, an under developed political culture and low levels of political participation.
India was graded in electoral process and pluralism (8.67), government functioning (6.79), political participation (6.67), political culture (5.63) and civil liberties (6.76).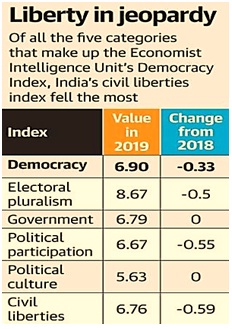 Source: The Hindu
Causes of Democratic Regression
The primary cause of the democratic regression was an erosion of civil liberties in the country. According to the report, the following events led to Democratic Regression in the country.
Revocation of the special status of Jammu and Kashmir with the repeal of Articles 370 and 35 and the various security measures that followed the bifurcation of the state including deployment of large number of troops, restriction of internet access and placing local leaders under house arrest.
The NRC exercise in Assam excluded 1.9 million people from the final list, and that the vast majority of people excluded from the NRC being Muslims.
According to the report, the Citizenship Amendment Act law has enraged the large Muslim population, stoked communal tensions and generated large protests in major cities, across the country.
Full Democracies
Countries in which not only basic political freedoms and civil liberties arerespected, but also tend to be underpinned by a political culture conducive to the flourishing of democracy. The functioning of government is satisfactory.
Media are independent and diverse. There is an effective system of checks and balances. The judiciary is independent and judicial decisions are enforced. There are only limited problems in the functioning of democracies.
Flawed Democracies
These countries also have free and fair elections and, even if there are problems (such as infringements on media freedom), basic civil liberties are respected.
However, there are significant weaknesses in other aspects of democracy, including problems in governance, an underdeveloped political culture and low levels of political participation.
Hybrid Regimes
Elections have substantial irregularities that often prevent them from being both free and fair. Government pressure on opposition parties and candidates may be common. Serious weaknesses are more prevalent than in flawed democracies—in political culture, functioning of government and political participation.
Corruption tends to be widespread and the rule of law is weak. Civil society is weak. Typically, there is harassment of and pressure on journalists and the judiciary is not independent.
Authoritarian Regimes
In these states, state political pluralism is absent or heavily circumscribed. Some formal institutions of democracy may exist, but these have little substance.
Elections, if they do occur, are not free and fair. There is disregard for abuses and infringements of civil liberties. Media are typically state-owned or controlled by groups connected to the ruling regime. There is repression of criticism of the government and pervasive censorship. There is no independent judiciary.